The Rice Snacks market is set for a rapid growth over the forecast period. In terms of revenue, the Global Rice Snacks Market accounted for USD 6,160.49 Million in 2019 and is expected to reach USD 10,481.01 Million by 2026, growing at a CAGR of 7.89%.
Global Rice Snacks Market: Overview
In some countries, rice is such an essential food that "to eat" means "to have rice." Almost half of the people across the globe get about 50 percent of their calories by eating rice.
White and brown rice are the same grain, milled differently. The brown rice kernels have an intact bran layer, whereas it has been polished away in white rice. The production of the bran layer outside brown rice makes it more nutritious than white, even though some white rice is fortified. Moreover, brown rice takes longer time to cook due to the presence of bran layer. Thus, brown rice snacks are more nutritious.
Brown rice can help regulate blood sugar levels for people with diabetes. Whole grains such as brown rice contain more fiber than packaged foods. This can lower cholesterol and reduce the risk of heart disease and stroke. Brown rice contains three different types of phenols, which are antioxidants that normally occur in plants. By preventing free radicals from destroying cells, antioxidants may decrease cancer risk. Regular bowel movements are facilitated by the insoluble fiber in brown rice. It can also avoid hemorrhoids and improve control of the intestines. Since it is gluten-free, brown rice for individuals with celiac disease is a healthy food option. Some grains may not be digested by those with celiac disease and may have trouble having all the nutrients they need.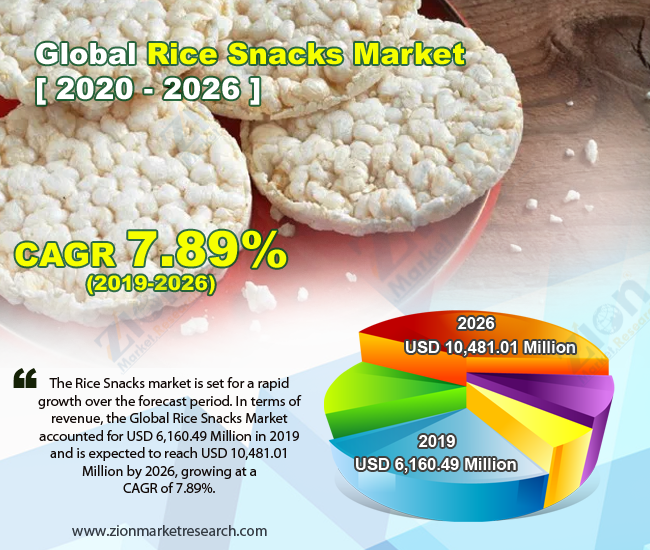 Global Rice Snacks Market: Growth Factors
There are many benefits associated with the growth of global rice snacks market such as fiber, energy, low in calories and mood benefits. Rice cakes or snacks that are made of brown rice, are good for heath, since they are high in fiber.
Rice being rich in carbohydrates, it also provides immunity to last a whole day. Unlike refined grains that can be digested easily, they have longer-lasting capacity. Rice cakes are perfect for those on a diet. These snacks are limited in calories. They also do not contain some fat or salt that is dangerous to a person who needs to lose any extra pounds. Snacking on this food item can often help feel satisfied for longer, so one can stop eating food more often than they feel like.
Besides physical wellbeing, rice snacks can also improve mental well-being, since they are considered to control mood. Eating rice releases a neurotransmitter named serotonin that may boost the mood. All these factors highly contribute to the growth of rice snacks market globally.
Global Rice Snacks Market: Segmentation
The global Rice Snacks market can be segmented into products, distribution channel, and region. By product, the market is segmented into rice cakes, rice chips, rice crisps and others.
In recent years, rice cakes have become a very popular snack. More and more people prefer rice cakes and now enjoy them as a snack so that they can keep away from unsafe choices like chips and fries.
Rice crackers are produced by adding high pressure and temperature to rice grains, which allows them to grow and stack tightly together, creating a similar texture to popcorn. Depending on the brand and the form of rice cracker (plain or puffed rice cracker, etc.), the maker can also apply additives and preservatives. Rice crackers and cakes are heavily refined and vary depending on the brand and the ingredients added, such as sugar, salt and preservatives.
In case of rice crisps, depending on the brand purchased or the recipe adopted, rice crispy treats vary between 250 calories to up to 600 calories per slice. Many of such calories are carbs and fats, which have very little protein.
Global Rice Snacks Market: Regional Analysis
Based on regions, the global rice snacks market can be divided into five main regions: North America, Europe, Asia Pacific, Latin America, and the Middle East and Africa. Asia Pacific was the largest packaged rice snack market in 2019, and during the forecast period, the region will continue to grow, providing full growth opportunities to the vendors. One of the main reasons that will greatly affect the growth of the demand for packaged rice snacks is the increasing customer propensity toward rice-based food products. Vendors often rely on creativity in order to improve their product line up. Presence of growing economies that are known of rice snacks such as Japan, India, and China are expected to boost the market growth.
Due to the growing demand for healthy snacks, increasing Asian American population and rising buying power, and preference for ready-to-eat snacks, the North American market is anticipated to expand in the near future.
Global Rice Snacks Market: Competitive Players
Some main participants of the Rice Snacks market are Element Snacks Inc., Blue Diamond Growers, General Mills Inc., Kellogg Co., KAMEDA SEIKA CO. LTD., PepsiCo Inc., Lundberg Family Farms, Topco Associates LLC, Ricegrowers Ltd., and Umeya Inc. among others.
Global Rice Snacks Market: Regional Segment Analysis
North America
Europe

France
The UK
Spain
Germany
Italy
Rest of Europe

Asia Pacific

China
Japan
India
South Korea
Southeast Asia
Rest of Asia Pacific

Latin America

Brazil
Mexico
Rest of Latin America

Middle East & Africa

GCC
South Africa
Rest of Middle East & Africa