The packaged food market is set for rapid growth over the forecast period. In terms of revenue, the global packaged food market accounted for USD 2.94 Trillion in 2019 and is expected to reach USD 4.51 Trillion by 2026, growing at a CAGR of 6.27%
Global Packaged Food Market: Overview
Any material ingested to provide adequate nutrition to the body is referred to as food. In order to sustain the body's growth, food includes carbohydrates, fats, proteins, vitamins, and minerals. Due to various factors such as easy cooking, consumption, and protection from external contamination, the idea of packaged food came into existence. The key factors propelling the growth of the packaged food market are changing lifestyles, ease of consumption, and increased health consciousness. The materials used in food packaging should be easy to carry, display, open, and close. Food pollution, government legislation and the rise of local brands are some of the main impediments to market growth. Mergers and alliances have been crucial strategies for the major players in the packaged food industry to extend their market presence.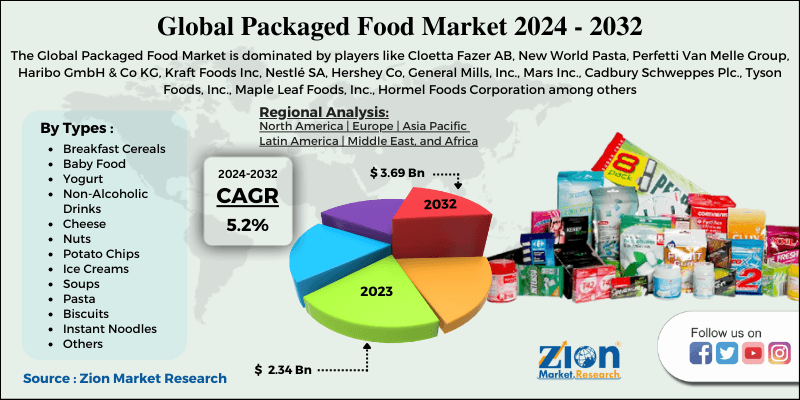 Request Free Sample
Global Packaged Food Market: Growth Factors
Growth in the global packaged food market is powered by creative manufacturing techniques to improve the shelf life of food items. Snack foods and beverages are projected to boost overall consumer demand. Technological advances, changing lifestyles, modern retail sectors and the increased popularity of fast-service restaurants are main demand factors, driving the growth of packaged food market. The evolution of science and nanotechnology has reshaped the food and processing industry over the past few years. Nanotechnology has pioneered. In the field of functional foods, packaging processing, preservation, and food production. In the food industry, food packaging is the first commercial application of nanotechnology. Various nanomaterials and nanotechnologies may be used to enhance or construct a range of packaging features for packaged products. Natural clays, for example, are used in packaging to boost characteristics including barrier properties and strength. Nanoapplications are designed to manufacture lightweight materials, integrate customer information indicators or sensors, and enhance biodegradability and recyclability. Nanomaterials are capable of altering gas permeability, reducing the number of different materials used to promote recycling, and improving biodegradable packaging. Increasing food packaging safety concerns, such as food contamination scandals and product recalls, could, however, pose a challenge to the industry.
One of the main drivers of the global packaged food market is the enticing ads and simple accessibility of packaged food. The key market players of global packaged food market are concentrating on expanding their advertising channels by releasing new items on a number of social media platforms. Furthermore, organizations make their goods easily available via online websites. Both of these factors will raise global demand for packaged food items. On the other hand, increasing government focus on product production and packaging solutions over the forecast period is likely to impede market growth.
Global Packaged Food Market: Segmentation
The global packaged food market is divided into product type and geography. Based on product type, the baby food market is expected to grow at the fastest CAGR during the forecast period. The growth is due to obvious factors such as the growing number of employed or working parents and safer and healthy food choices for infants and toddlers.
Breakfast is commonly recognized as the most important meal of the day, and this strong market attention on the morning meal is propelling the packaged food industry forward. This demand is growing due to rising health concerns, fitness, portability and convenience.
The demand for more natural products is, however, the main driving force behind the baked food market. Innovation and advancement in the baking industry is the factor driving the growth of the baked food industry. The use of baked food items is growing as people become more health conscious, and the market is becoming more competitive as a result of the existence of various players producing baked food products. Global players including Kellogg's, Nestle, and Kraft Foods are investing in product innovation and product growth. Europe is the highest revenue-generating region in the baked food industry. Asia-Pacific, however, is anticipated to grow at the fastest rate during the forecast period.
Global Packaged Food Market: Regional Analysis
By Geography, the packaged food market is segmented into North America, Europe, Latin America, Asia Pacific, and Middle East and Africa.
North America holds a large share of the global packaged food market, fuelled by huge markets in the U.S. and Canada. Immensely short on time owing to hectic schedules, consumers in these countries have been increasingly buying prepared ready-to-eat food products instead of traditional meals. As a result, staple food products have seen decreased demand in the wake of the widespread popularity of processed foods. Another aspect that helps the North American market is that food producers revise their product lines to include snack food items as well as healthy packaged foods. The increasing demand for less artificial ingredients in packaged food is a big factor noticed in this regional market.
Asia Pacific is one of the most lucrative markets for packaged food, where countries such as China and India play a significant role in terms of production and consumption. In India, the increase in the number of female workers has had a big effect on the demand for ready-to-eat and packed food. Moreover, urban development, changing lifestyles and increasing disposable incomes have resulted in an increased intake of packaged foods. This market has also benefited greatly from the rising availability of packaged food items in rural areas. China's packaged food market has seen remarkable growth due to the launch of premium products by manufacturers and growing awareness regarding health among customers.
Global Packaged Food Market: Competitive Players
The major players in the global packaged food market include
Cloetta Fazer AB,
New World Pasta,
Perfetti Van Melle Group,
Haribo GmbH & Co KG,
Kraft Foods Inc,
Nestlé SA,
Hershey Co,
General Mills, Inc.,
Mars Inc.,
Cadbury Schweppes Plc.,
Tyson Foods, Inc.,
Maple Leaf Foods, Inc.,
Hormel Foods Corporation among others.
Packaged Food Market: Report Scope
Report Attributes
Report Details
Report Name
Packaged Food Market Report
Market Size in 2019
USD 3.93 Trillion
Market Forecast in 2026
USD USD 13.83 Trillion
Growth Rate
CAGR of 23.4%
Number of Pages
110
Key Companies Covered
Microsoft Corporation, IBM Corporation, SAP, Hitachi, Schneider Electric, SAS, General Electric, TIBCO Software Inc., Softweb Solutions, and PTC among others.
Segments Covered
By Component, By Deployment, By Organization Size, By End Use Industry and By Region
Regions Covered
North America, Europe, Asia Pacific (APAC), Latin America, Middle East, and Africa (MEA)
Base Year
2019
Historical Year
2015 to 2019
Forecast Year
2020 - 2026
Customization Scope
Avail customized purchase options to meet your exact research needs. Request For Customization
The report segment of the global packaged food market is as follows:
Global Packaged Food Market: Type Segment Analysis
Baby Food
Yogurt
Non-Alcoholic Drinks
Cheese
Nuts
Potato Chips
Ice Creams
Soups
Pasta
Biscuits
Instant Noodles
Others
Global Packaged Food Market: Regional Segment Analysis
North America
Europe

France
The UK
Spain
Germany
Italy
Rest of Europe

Asia Pacific

China
Japan
India
South Korea
Southeast Asia
Rest of Asia Pacific

Latin America

Brazil
Mexico
Rest of Latin America

Middle East & Africa

GCC
South Africa
Rest of Middle East & Africa