Industry Prospective:
The global quantum computing market size was valued at around USD 457.9 million in 2021 and is predicted to reach around USD 5274.9 million by 2030 while growing at a compound annual growth rate (CAGR) of roughly 31.21% between 2022 and 2030. The report analyzes the global quantum computing market drivers, restraints/challenges, and opportunities during the projection period. In addition, the report explores regional and competitive insights while highlighting some recent developments in the global market.
Quantum Computing Market: Overview
Quantum computing refers to computing technology that works on the concepts of quantum mechanics like entanglement, interference, and superposition. Quantum mechanics is a branch of physics. It is a fundamental theory and details the physical properties of nature surrounding living organisms with the scale diving deep into subatomic particles and atoms. Technologies and devices used for computing or digitally providing solutions for quantum calculations are known as quantum computers.
The current computers may not necessarily outperform classical computers in the case of practical applications, however, the scientific community is hopeful that larger systems can solve exceptionally difficult concepts in quantum mechanics including integer factorization. Quantum computing can be considered one step ahead of supercomputing since there are several issues that supercomputers cannot solve. Quantum computers are rapidly gaining traction in the global science scenario, especially at large research facilities that are investing in finding more answers about the universe.
Key Insights
As per the analysis shared by our research analyst, the global quantum computing market is estimated to grow annually at a CAGR of around 31.29% over the forecast period (2022-2030)
In terms of revenue, the global quantum computing market size was valued at around USD 457.9 million in 2021 and is projected to reach USD 5274.9 million, by 2030.
The market is projected to grow at a significant rate due to the sheer potential of quantum computers in solving complex problems
Based on industry segmentation, BFSI was predicted to show maximum market share in the year 2021
Based on technology segmentation, quantum annealing was the leading type in 2021
On the basis of region, North America was the leading revenue generator in 2021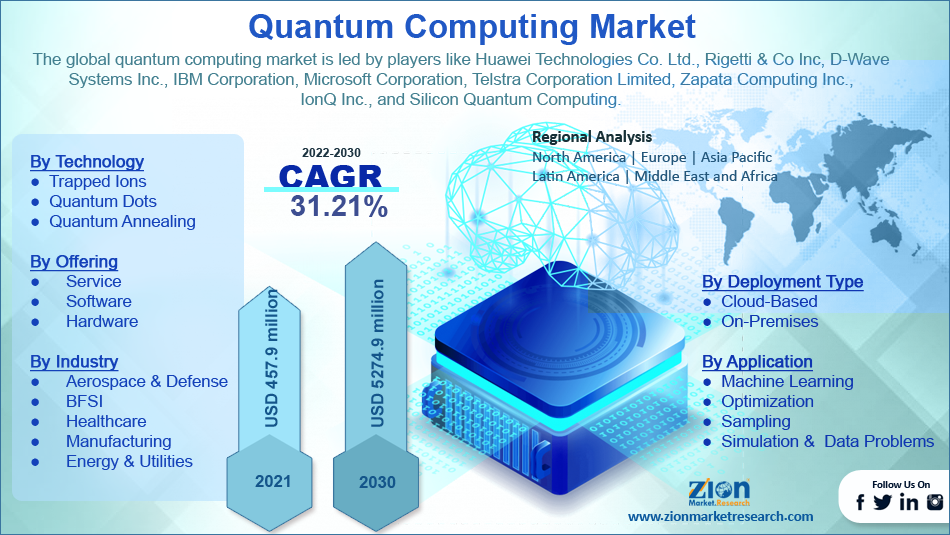 Request Free Sample
Quantum Computing Market: Key Drivers
Sheer potential of quantum computers to drive market demand
The global quantum computing market is projected to grow due to the immense potential that quantum computing technology and the associated computer hold in terms of solving complex problems that currently available commercial computers cannot solve. Quantum physics and its mechanics are considered one of the toughest, most promising, and most interesting branches of physics that is expected to have answers to the questions that have been bothering mankind since science and technology came into existence. Although the currently existing quantum computers are similar to classic computers, there is a key point of differentiation.
The most advanced quantum computers can actually create quantum outcomes that their counterparts fail to produce, which is the main reason why the science community is not willing to give up on a quantum computer that can function like no other computer that has ever been built. The growing interest of dominant companies like IBM and Honeywell in producing quantum computers and computing techniques to help the research community across the globe is expected to help the global market continue to hold the momentum that it gained in the last decade.
Quantum Computing Market: Limitations
Complexities associated with building quantum computers to limit market expansion
Quantum computing can only be carried out on quantum computers and they are exceptionally difficult to design or build. The current versions are full of external errors like faults or loss in quantum coherence and loud noise. These factors cause the computers to collapse before the program can successfully run. The loss of coherence also known as decoherence is a result of electromagnetic waves, temperature fluctuations, vibrations, and interactions with the external environment.
Quantum Computing Market: Opportunities
Quantum computing in pharmaceuticals to provide new growth opportunities
Quantum computing can radically change the understanding of the world that mankind currently possesses. The most lucrative market segment in the coming years can be expected in the pharmaceutical industry since the use of quantum computers is expected to help drug makers simulate chemical systems like drugs and their reactions with other proteins down to their molecular state. This could potentially help pharmaceutical companies find cures for medical problems that have long persisted.
Quantum Computing Market: Challenges
Managing noise to act as a major challenge
One of the major hurdles faced in quantum computing systems is the management of interactions that happen between the environment and the qubits of quantum computers. A qubit is defined as the quantum mechanical version of the classical bit. The interaction leads to noise causing the qubit to fail in maintaining a superposition state. Engineers are currently working on finding an accurate solution to this major problem.
Quantum Computing Market: Segmentation
The global quantum computing market is segmented based on technology, offering industry, deployment type, application, and region
Based on technology, the global market is divided into trapped ions, quantum dots, and quantum annealing.
Quantum annealing (QA) is expected to emerge as the most dominant segment during the forecast period
QA is used to solve problems related to combinational optimization. It utilized quantum mechanics laws to derive the energy state
Quantum computers can only work at temperatures as low as -191.1°C
Based on industry, the global market is divided into aerospace & defense, BFSI, healthcare, manufacturing, and energy & utilities.
The global market generated more than USD 145.39 million in the Banking, Financial Services, and Insurance (BFSI) segment in 2021
Quantum computing can help the segment make predictions related to economic changes and phenomena by analyzing the current financial market, making the technology highly beneficial for the market players
Based on application, the global market is segmented as machine learning, optimization, sampling, and simulation & data problems.
The global market is currently dominated by the optimization segment, with more than 61% of the segmental share, as the main goal of any business is to optimize the results
Companies and businesses run on the accuracy of all current data and forecast information which can be achieved using quantum computing
Quantum Computing Market Report Scope:
Report Attributes
Report Details
Report Name
Quantum Computing Market Research Report
Market Size in 2021
USD 457.9 Million
Market Forecast in 2030
USD 5274.9 Million
Compound Annual Growth Rate
CAGR of 31.21%
Number of Pages
182
Forecast Units
Value (USD Million), and Volume (Units)
Key Companies Covered
Huawei Technologies Co. Ltd., Rigetti & Co Inc, D-Wave Systems Inc., IBM Corporation, Microsoft Corporation, Telstra Corporation Limited, Zapata Computing Inc., IonQ Inc., and Silicon Quantum Computing.
Segments Covered
By Technology, By Offering, By Industry, By Deployment Type, By Application, And By Region
Regions Covered
North America, Europe, Asia Pacific (APAC), Latin America, Middle East and Africa (MEA)
Countries Covered
North America: U.S and Canada
Europe: Germany, Italy, Russia, U.K, Spain, France, Rest of Europe
APAC: China, Australia, Japan, India, South Korea, South East Asia, Rest of Asia Pacific
Latin America: Brazil, Argentina, Chile
The Middle East And Africa: South Africa, GCC, Rest of MEA
Base Year
2021
Historical Year
2016 to 2020
Forecast Year
2022 - 2030
Customization Scope
Avail customized purchase options to meet your exact research needs. Request For Customization
Recent Developments:
November 2022:
The International Business Machines Corporation (IBM), at the IBM Quantum Summit 2022, announced some new breakthrough developments in quantum software and hardware while talking about its vision toward quantum computing. The annual event was witness to the company's range of partners, clients, and developers partnering together to bring momentous change in the quantum world.
November 2022:
IBM announced the launch of the company's most powerful quantum computer called the Osprey which is a 433-qubit machine. The system is an upgrade from the previous Eagle machine launched by the same firm with three times less qubit than Osprey. The director of the company stated that the management is focusing on developing a computer that is equipped with 1000 qubits which will require the adoption of a new approach.
Quantum Computing Market: Regional Analysis
North America to dominate the global market growth
The global quantum computing market is projected to be dominated by North America during the forecast period with the United States acting as the majority shareholder. The regional growth is expected to be driven by the presence of the necessary infrastructure to promote and encourage quantum computing systems.
The region is already far ahead in terms of technological developments related to quantum mechanics as compared to any other nation across the globe. Factors like the availability of a supportive ecosystem inclusive of the multiple partners required to develop such an advanced technology and government support are projected to help North America generate higher revenue. The US government runs the National Quantum Initiative Act which works toward pushing forward Quantum Information Science and related technologies.
Quantum Computing Market: Competitive Analysis
The global quantum computing market is led by players like
Huawei Technologies Co. Ltd.
Rigetti & Co Inc
D-Wave Systems Inc.
IBM Corporation
Microsoft Corporation
Telstra Corporation Limited
Zapata Computing Inc.
IonQ Inc.
Silicon Quantum Computing.
The global quantum computing market is segmented as follows:
By Technology
Trapped Ions
Quantum Annealing
By Offering
Service
Software
Hardware
By Industry
Aerospace & Defense
BFSI
Healthcare
Manufacturing
Energy & Utilities
By Deployment Type
By Application
Machine Learning
Optimization
Simulation & Data Problems
By Region
North America
Europe

France
The UK
Spain
Germany
Italy
Rest of Europe

Asia Pacific

China
Japan
India
South Korea
Southeast Asia
Rest of Asia Pacific

Latin America

Brazil
Mexico
Rest of Latin America

Middle East & Africa

GCC
South Africa
Rest of Middle East & Africa