FTIR Spectrometer Industry Prospective:
The global FTIR spectrometer market size was worth around USD 1493.01 million in 2022 and is predicted to grow to around USD 2105.63 million by 2030 with a compound annual growth rate (CAGR) of roughly 4.36% between 2023 and 2030.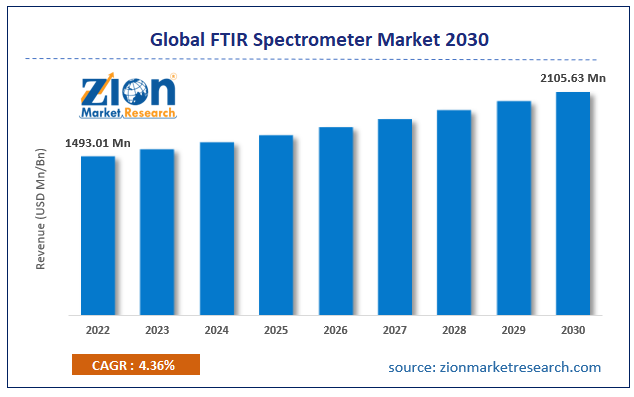 Request Free Sample
FTIR Spectrometer Market: Overview
Fourier transformed infrared (FTIR) spectrometers are used in FTIR spectroscopy. It is a widely popular analytical instrumental technique in contemporary and modern science. FTIR spectroscopy is practiced on a large scale since it offers a unique combination of flexibility, sensitivity, robustness, and specificity when used in laboratories and research. FTIR spectrometers have applications in growing industries such as chemical engineering, food & beverages, clinical research or settings, pharmaceutical, and biomass industries. FTIR spectrometers are derivatives or originally used Infrared (IR) spectrometers used during IT spectroscopy. It was used for learning about the interaction between IR radiation and the given sample for determining chemical identification. Near-IR 14000-4000 cm-1, mid-IR 4000-400 cm-1, and the far-IR 400-10 cm-1 are the three main areas under IR spectroscopy with the mid-IR region holding significant interest in the research community. However, since IT spectrometers were slow in performance and took a longer time to deliver results, FTIR spectrometers were introduced that are capable of measuring all frequencies at once along with other advantages such as offering wavenumber accuracy and improved signal-to-noise ratios.
Key Insights:
As per the analysis shared by our research analyst, the global FTIR spectrometer market is estimated to grow annually at a CAGR of around 4.36% over the forecast period (2023-2030)
In terms of revenue, the global FTIR spectrometer market size was valued at around USD 1493.01 million in 2022 and is projected to reach USD 2105.63 million, by 2030.
The FTIR spectrometer market is projected to grow at a significant rate due to the growing launch of new and advanced spectrometers
Based on application segmentation, the pharmaceutical industry was predicted to show maximum market share in the year 2022
Based on type segmentation, laboratory type and portable type grew at a steady pace in 2022
On the basis of region, North America was the leading revenue generator in 2022
FTIR Spectrometer Market: Growth Drivers
Growing launch of new and advanced spectrometers to drive market growth
The global FTIR spectrometer market is expected to grow owing to the rising number of new device launches offering better performance, higher flexibility, and meeting the changing consumer requirements. For instance, in March 2023, Edinburgh Instruments announced the launch of a new benchtop FTIR Spectrometer called the IR5. The device was designed and created in the company's headquarters based in Scotland. The IR5 is the first FTIR spectrometer by the company and its novel technology allows it to be configured with a second detector within a second. It also offers Fourier Transform Photoluminescence (FT-PL) capability that helps in transforming IR5 into a PL and combined absorption spectrometer in the mid-IR category. Some of the key features associated with the product are the option to upgrade to FT-PL with a laser source, high spectral resolution & sensitivity, simple operation, minimal maintenance, and a powerful, modern, intuitive MiracleTM software specifically designed for IR5.
In July 2023, Bruker Optics, another crucial market player, launched the MOBILE-IR II FTIR spectrometer. It is a portable and battery-powered spectrometer delivering high spectral performance. With MOBILE-IR II users will be equipped to bring FT-IR applications to the field. The product is designed focusing on OPUS® TOUCH software, easy-to-use hardware, and fault-tolerant operation. These advancements allow users to have a wider range of options to choose from depending on their final requirements. Furthermore, the constant end-user needs and expectations from FTIR spectrometers can only be met by introducing features that solve the current drawbacks of Fourier transform infrared spectrometers.
FTIR Spectrometer Market: Restraints
High cost of new FTIR spectrometers to restrict market growth
The global FTIR spectrometer market growth is expected to be restricted due to the high cost of new FTIR spectrometers. These devices work on sophisticated technology and include intricately designed structures consisting of interferometers, detectors, optical equipment, and other necessary systems. Furthermore, FTRI are required to deliver accurate results with zero scope for error which can only be achieved by using top-notch software programs powering the tool and parts made of superior materials. In India, the market price of an average FTIR spectrometer is around INR 15 lakh.
FTIR Spectrometer Market: Opportunities
Growing applications in the pharmaceutical industry to create growth opportunities
The FTIR spectrometer industry revenue is expected to gain extended momentum due to the increasing application of FTIR spectrometers in the expanding pharmaceutical industry. These tools are an essential part of the drug development procedure as they are used throughout the process including initial research to final drug development. FTIR spectrometers are essential for determining if the final drug composition contains an accurate amount of chemicals and other components. Furthermore, they are also used in procedures such as quality control, stability testing, new compound identification, and in-process monitoring. FTIR has long been used as a fingerprint for the created drug ingredients and also has applications in being used as reference spectra during the time of raw material production and marketing. The increasing rate of new drug development, clinical research, and the growing manufacturing of generic medicines could act as crucial growth propellers during the forecast period.
The global pharma industry is rapidly changing with the changing needs of the healthcare sector. It includes the emergence of new partnerships and investments that will work in favor of the global FTIR spectrometer market size. For instance, in May 2023, Teva Pharmaceutical Industries Ltd. announced the development of a new strategic framework with the aim of strengthening the company portfolio by focusing on UZEDY, AUSTEDO®, biosimilars, and AJOVY®.
FTIR Spectrometer Market: Challenges
Long product lifecycle and growing market for reused spectrometers to challenge market growth
Fourier transformed infrared (FTIR) spectrometers are long-lasting devices. Their lifecycle extends for more than 6 to 7 years and may go even longer when maintained properly. This results in a restricted replacement period. Moreover, several end-user consumers are shifting toward using preowned FTIR spectrometers further restricting the sale of new devices. Other factors that could challenge the FTIR spectrometer industry growth include uncertainty over the global economy, changing prices of raw materials, and disruptions in the supply chain of the final producers or spectrometer parts.
FTIR Spectrometer Market: Segmentation
The global FTIR spectrometer market is segmented based on application, type, and region.
Based on application, the global market is divided into pharmaceutical industry, petrochemical industry, food analysis, and others. In 2022, the highest application was registered in the pharmaceutical segment since FTIR spectrometers are one of the most extensively used analytical tools in the drug manufacturing sector. FTIR spectrometers remain unmatched in terms of result accuracy. They are highly versatile and cost-effective laboratory tools. The growing investments in the global pharmaceutical industry and increasing research on novel drugs or treatment therapies are expected to create more demand for advanced, intelligent, and intuitive FTIR spectrometers. In 2022, the total revenue in the pharmaceutical industry was over USD 1.3 trillion.
Based on type, the FTIR spectrometer industry is fragmented into laboratory type and portable type. While the demand for laboratory and portable types remained significantly high in 2022, during the forecast period, a higher growth rate can be associated with the portable variant. Manufacturers of FTIR spectrometers are investing heavily in introducing more flexibility to the device by using lighter materials for portable devices that allow consumers to gain more control over the FTIR spectroscopy process. However, bench-top or laboratory spectrometers will continue to enjoy considerable revenue share due to extensive applications in clinical and research labs. The error range of both types of spectrometers is ± 0.01 cm-1.
FTIR Spectrometer Market : Report Scope
Report Attributes
Report Details
Report Name
FTIR Spectrometer Market
Market Size in 2022
USD 1493.01 million
Market Forecast in 2030
USD 2105.63 million
Growth Rate
CAGR of 4.36%
Number of Pages
227
Key Companies Covered
Bruker Corporation, Thermo Fisher Scientific, Metrohm, ABB Bomem, PerkinElmer, Gasera Ltd., Shimadzu Corporation, Biotage AB, Analytik Jena AG, Agilent Technologies, Foss Analytical, JASCO, Nanophoton Corporation, HORIBA Scientific, Specac Ltd., Agilent Technologies, ABB Group, MKS Instruments, Smiths Detection, PIKE Technologies., and others.
Segments Covered
By Application, By Type, and By Region
Regions Covered
North America, Europe, Asia Pacific (APAC), Latin America, Middle East, and Africa (MEA)
Base Year
2022
Historical Year
2017 to 2021
Forecast Year
2023 - 2030
Customization Scope
Avail customized purchase options to meet your exact research needs. Request For Customization
FTIR Spectrometer Market: Regional Analysis
North America to expand at a high CAGR during the assessment timeframe
The global FTIR spectrometer market is expected to witness the highest growth in North America with the US dominating the largest part of the regional revenue. The primary growth driver is the presence of a technologically rich and innovation-oriented pharmaceutical industry strengthened by the presence of giant drug developers such as Pfizer, Novartis, Roche, Jhonson & Jhonson, and many more. These companies are at the forefront of novel drug development and catering to the medical needs of the global healthcare sector.
Increasing integration between regional pharmaceutical companies and technology corporations is expected to push the revenue boundaries of the US pharma sector. For instance, in May 2023, Google Cloud announced the launch of a new artificial intelligence (AI) powered tool with an aim to assist pharmaceutical and biotech companies in accelerating drug development. In June 2023, the United States Food & Drugs Administration (FDA) announced new steps to modernize clinical trial procedures in the country. Growing innovation in terms of FTIR spectrometers and rising strategic collaboration with cross-border companies for the supply of these analytical tools will work in the favor of North America.
FTIR Spectrometer Market: Competitive Analysis
The global FTIR spectrometer market is led by players like:
Bruker Corporation
Thermo Fisher Scientific
Metrohm
ABB Bomem
PerkinElmer
Gasera Ltd.
Shimadzu Corporation
Biotage AB
Analytik Jena AG
Agilent Technologies
Foss Analytical
JASCO
Nanophoton Corporation
HORIBA Scientific
Specac Ltd.
Agilent Technologies
ABB Group
MKS Instruments
Smiths Detection
PIKE Technologies.
The global FTIR spectrometer market is segmented as follows:
By Application
Pharmaceutical Industry
Petrochemical Engineering
Food Analysis
Others
By Type
Laboratory Type
Portable Type
By Region
North America
Europe

France
The UK
Spain
Germany
Italy
Rest of Europe

Asia Pacific

China
Japan
India
South Korea
Southeast Asia
Rest of Asia Pacific

Latin America

Brazil
Mexico
Rest of Latin America

Middle East & Africa

GCC
South Africa
Rest of Middle East & Africa