Description
The AI chipsets market is set for a rapid growth over the forecast period. In terms of revenue, the global AI chipsets market accounted for USD 7.99 Billion in 2019 and is expected to reach USD 66.82 Billion by 2026, growing at a CAGR of 35.44%.
Global Artificial Intelligence (AI) Chipsets Market: Overview
Artificial Intelligence (AI) chipsets are silicon-based chipsets with AI technology that provide powerful computational capabilities to link devices such as smart wearables, laptops, and smartphones. With advanced analytics functions such as Augmented Reality (AR), and Virtual Reality, AI chips increase the device's operational efficiency and user experience.
In terms of year-on-year growth, the market is expected to fall slightly in 2020. This is mainly due to fragmented supply chains and restricted AI adoption in various end-user industries in 2020 as a result of market lockdowns and changing priorities. The current COVID-19 pandemic has triggered economic instability. It is likely to disrupt supply chains and push businesses and whole sectors to reconsider and adapt to the global supply chain paradigm. Many manufacturing firms have stopped production, causing collateral harm to the supply chain and the industry. This disturbance has delayed the adoption of AI-powered hardware and software products. The industries have begun to restructure their business models for 2021, and many small, medium and large-scale organizations have stopped or delayed many new technological improvements in order to recover from the losses incurred by the lockdown and economic downturn. COVID-19 has had a positive impact on the educational sectors, with ed-tech firms embracing AI technology to provide education during the lockdown. AI solutions have been deployed by ed-tech companies to improve students' online learning and virtual classroom experiences.
Several sectors have been hit the hardest by this pandemic, but others have benefited from it. However, AI adoption is expected to increase. As a result, it is anticipated that the COVID-19 will drive the AI (chipsets) market in some industries.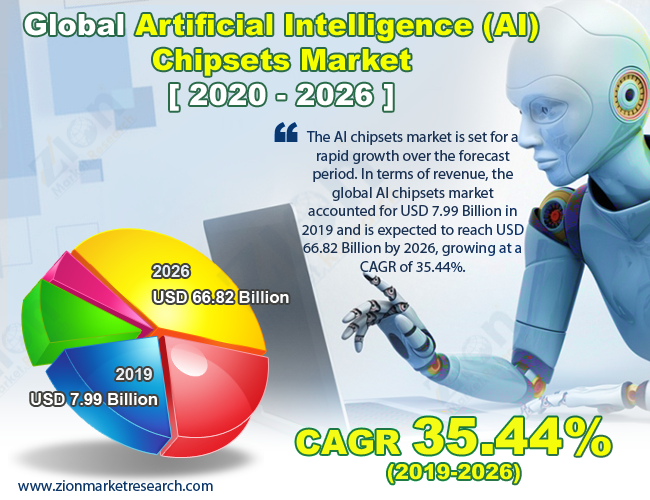 Global Artificial Intelligence (AI) Chipsets Market: Growth Factors
Quantum computing system is increasingly used by companies around the world to solve complex problems and conduct analytical calculations. For example, Google LLC's Sycamore quantum computer is one of the fastest computers, capable of completing a task in about 200 seconds. AI, computer vision, big data, machine learning, AR/VR, and other innovations are being built into quantum computers. Therefore, the advent of quantum computing is anticipated to boost market development. Moreover, quantum computing is used in a variety of applications such as risk management, fraud detection, portfolio optimization, and applications that require instant data response. As a result, it is easier for a single processor to conduct complex calculations in a matter of seconds. Thus, these factors are anticipated to propel the growth of the global AI chipsets industry. The increasing adoption of advanced micro devices, virtual assistance devices, self-driving cars, medical lasers, and other innovations are some of the secondary drivers for this market.
Cloud-based artificial intelligence chipsets are computational chipsets that are specifically designed for AI training and inference functions. Cloud technological advancements will open up new opportunities for market players. The global expansion of data centres in industries such as IT and telecommunications, automotive, and others is expected to fuel demand for cloud-based AI chipsets. Moreover, cloud-based AI chipsets are available from companies such as Intel Corporation, NVIDIA Corporations, Alibaba Group Holding Limited, and others. These industry players are concentrating on the launch of advanced cloud-based solutions to handle vast file storage and business data. Furthermore, growing investments in Industry 4.0 and the adoption of smart manufacturing technology by enterprises aids the growth of the artificial intelligence chipsets market. PricewaterhouseCoopers (PwC) reports that European industries such as manufacturing, automotive, electronics, and others have invested approximately USD 182.04 billion in industry 4.0 solutions by 2020.
Global Artificial Intelligence (AI) Chipsets Market: Segmentation
The memory segment is expected to grow at a fastest rate during the forecast period. AI technologies such as computer vision, machine learning, and predictive analytics necessitate a vast amount of data to test, train, and verify neural network algorithms, which can pose storage challenges for data administrators. Memory requirements have skyrocketed in recent years. Independent of computing architecture, high-bandwidth memory is being designed and implemented for AI applications. A few start-up companies are researching high-bandwidth parallel file systems in order to improve throughput and productivity.
In 2020, the cybersecurity industry had the largest share of the AI chipsets market. Because of the increase in cybersecurity attacks around the world, AI is being used extensively in antivirus and antimalware solutions. Growing use of mobile devices for a variety of applications such as social networking, e-mail, phone banking, remote monitoring, and data storage leaves the door open for hackers to attack, making networks more vulnerable to threats. The rapid adoption of cloud-based services, combined with the user-friendly strategy of antivirus/antimalware solutions, is helping to drive the development of this segment in AI chipsets market.
Deep learning technology is expected to be widely used during the forecast era. Deep learning is a form of machine learning (ML) that uses multiple algorithms to create relationships between data. Deep learning employs artificial neural networks to learn from multiple levels of data, including images, texts, and sounds. Its algorithms aid in the identification of patterns in a set of unstructured data. The increasing use of deep learning algorithms is a major driving force of the AI chipsets market. Deep learning technology is currently used in a variety of applications, including fraud detection, image recognition, voice recognition, recommendation engines, voice search, motion detection, and sentiment analysis among others.
On the basis of function, the AI chipsets market is divided into two categories: training and inference. The inference segment is expected to have the largest market share in the upcoming years. The growing demand for edge computing, owing to security and privacy issues is expected to drive segment growth. The training function is expected to exhibit the highest CAGR due to its ability to process large parallel architectures.
Global Artificial Intelligence (AI) Chipsets Market: Regional Analysis
By Geography, the AI chipsets market is segmented into North America, Europe, Latin America, Asia Pacific, and Middle East and Africa.
In North America, growing concern about the protection of critical infrastructure and sensitive data has resulted in increased government involvement in recent years, resulting in the use of AI chipsets in security applications. The high consumerization of fitness wearable devices, personal care goods, and routine checkup medical equipment is leading to the development of AI-enabled healthcare devices, thereby the demand for AI chipsets in North America. Government support, especially in the United States, is propelling the growth of AI chipsets in the region's automotive applications. The involvement of major key players including Google LLC, NVIDIA Corporation, Intel Corporation, and others is also increasing demand for AI chipsets in the United States and Canada. To broaden their product line, these companies are concentrating on the introduction of advanced AI chipsets.
Asia Pacific is projected to rise at the fastest pace during the forecast period. The region's emerging economies, such as India, China, and others, provide a vibrant and startup ecosystem, aided by an increasing number of skilled workers, which drives market growth. Moreover, the Singapore government in 2018 has formed an AI Ethics Advisory Council as a part of its AI strategy to implement AI applications across different industries.
Global Artificial Intelligence (AI) Chipsets Market: Competitive Players
The major players in the global AI chipsets market include Intel Corporation, NVIDIA Corporation, Samsung Electronics Co., Ltd., Alibaba Group Holding Limited, Micron Technology, Inc., Microsoft Corporation, Alphabet, Inc., Qualcomm Technology, Inc., General Vision, Inc., Fujitsu Limited, Amazon Web Services (AWS), and XMOS Limited among others.
The report segment of global AI chipsets market are as follows:
Global Artificial Intelligence (AI) Chipsets Market: Product Type Segment Analysis
Graphics Processing Unit (GPU)
Application Specific Integrated Circuit (ASIC)
Central Processing Unit (CPU)
Field-Programmable Gate Array (FPGA)
Global Artificial Intelligence (AI) Chipsets Market: Technology Segment Analysis
Natural Language Processing (NLP)
Robotic Process Automation (RPA)
Computer Vision
Machine Learning
Others
Global Artificial Intelligence (AI) Chipsets Market: Computing Technology Segment Analysis
Edge Computing
Cloud Computing
Global Artificial Intelligence (AI) Chipsets Market: Function Segment Analysis
Global Artificial Intelligence (AI) Chipsets Market: Industry Vertical Segment Analysis
Media & Advertising
Consumer Electronics
BFSI
IT & Telecom
Retail
Healthcare
Automotive
Others
Global Artificial Intelligence (AI) Chipsets Market: Regional Segment Analysis
North America
Europe

France
The UK
Spain
Germany
Italy
Rest of Europe

Asia Pacific

China
Japan
India
South Korea
Southeast Asia
Rest of Asia Pacific

Latin America

Brazil
Mexico
Rest of Latin America

Middle East & Africa

GCC
South Africa
Rest of Middle East & Africa