Polyols (Polyester and Polyether) Industry Prospective:
The global polyols (polyester and polyether) market size was worth around USD 13.27 billion in 2022 and is predicted to grow to around USD 18.02 billion by 2030 with a compound annual growth rate (CAGR) of roughly 3.92% between 2023 and 2030.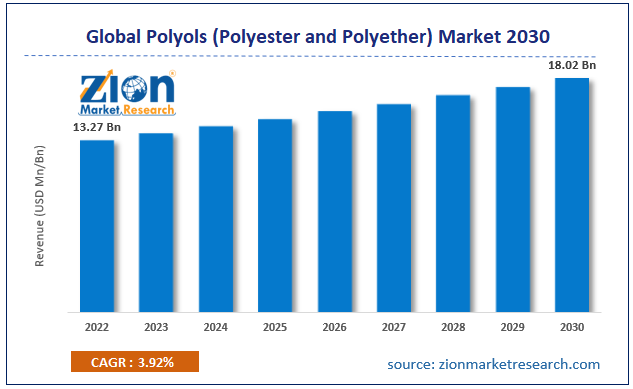 Request Free Sample
Polyols (Polyester and Polyether) Market: Overview
Polyester and polyether fall in the category of polyols. They are organic compounds that contain multiple hydroxyl (OH) groups. Polyether polyols are produced by the reaction between glycol and organic oxide. Some of the main organic oxides used in the reaction are propylene oxide, ethylene oxide, epichlorohydrin, and butylene oxide where glycols such as water, ethylene glycol, sucrose, glycerine, propylene glycol, and others may be used. These variants are used extensively in the production of polyurethanes that have further applications. Polyester polyols, in their primary form, are made of mixtures consisting of triols, diols, dibasic acids, or anhydrides. They are available in several forms determined by their final application and can include crystalline solids, liquids at room temperature, solvent cuts, and waxy solids. The use of common polyester polyols including polyglycolide, polycaprolactone, and polylactide can be found in biodegradable polyurethanes. Both polyol variants have several end-user applications resulting in higher growth in the polyols industry. However, specific challenges including supply-chain disruption may lead to a limited expansion trajectory.
Key Insights:
As per the analysis shared by our research analyst, the global polyols (polyester and polyether) market is estimated to grow annually at a CAGR of around 3.92% over the forecast period (2023-2030)
In terms of revenue, the global polyols (polyester and polyether) market size was valued at around USD 13.27 billion in 2022 and is projected to reach USD 18.02 billion, by 2030.
The polyols market is projected to grow at a significant rate due to the growing demand for polyurethane
Based on application segmentation, flexible polyurethane foam was predicted to show maximum market share in the year 2022
Based on end-user segmentation, furniture was the leading segment in 2022
On the basis of region, Asia-Pacific was the leading revenue generator in 2022
Polyols (Polyester and Polyether) Market: Growth Drivers
Growing demand for polyurethane to drive market growth
The global polyols (polyester and polyether) market is projected to grow owing to the increasing demand for polyurethane the production of which is incomplete without polyether. Polyurethane is a widely popular material used for the production of foam products. It is one of the most popular materials used for home furnishing products such as bedding, furniture, and carpet underlay. Its intrinsic properties such as high thermal insulation and the ability to produce comfortable foams, are driving the demand for polyurethane to manufacture comfortable, durable, and supportive home furniture. The growing disposable income and rising rate of urbanization have resulted in higher consumption of polyurethane leading to more revenue in the polyols, especially the polyether industry. In October 2023, Covestro AG, a German polycarbonate and polyurethane raw materials producing company, started the construction of a new thermoplastic polyurethanes (TPU) production site in China. The unit is expected to be built in 3 phases and total production capacity is anticipated to reach 120,000 tons of TPU. The first phase is likely to be completed by 2025. Furthermore, the growing demand for luxurious and long-lasting home furnishing items will drive the market growth rate.
Growing demand for polyester in the apparel industry may push market growth trends to new heights
During the projection period, the demand for polyester is projected to improve due to its wide use in the global apparel industry as it is used for the production of clothing items. Polyester is a less expensive raw material and is most significantly used to produce low-cost and budget-friendly clothing wear resulting in high global market demand. Furthermore, since it is highly durable and does not require high maintenance, the demand for polyester clothes has grown significantly strengthened by the growing number of economical online clothes-selling platforms such as Amazon, Shein, and others. After a 2022 funding round, Shein was valued at USD 100 billion. The site is well known for producing low-cost fashionable clothing items.
Polyols (Polyester and Polyether) Market: Restraints
Rising concerns over environmental impact of polyester and polyether may restrict market growth
The polyols (polyester and polyether) industry is projected to be restricted due to the growing concerns over the serious environmental impact of excessive consumption of these materials. For instance, polyester is not biodegradable. It takes 20 to 200 years to completely decompose. Furthermore, clothing products made of polyester have led to an increasing rate of textile pollution that deals with the impact of the pilling volume of discarded clothes. Since less expensive clothes are more affordable, they are typically bought in large quantities. However, polyester clothes are not sustainable since there is a general lack of policies ensuring the recycling of these items. This results in the products being left in the environment causing air, water, and soil pollution. As per the latest research, more than 92 million tons of textile waste is generated every year.
Polyols (Polyester and Polyether) Market: Opportunities
Growing research and development to improve exo-friendliness may create growth opportunities
The global polyols market growth opportunities are anticipated to expand due to the ongoing efforts and initiatives undertaken by market players to produce polyol options that are eco-friendly and deliver the same level of performance as their synthetic counterparts. In September 2022, Covertro launched its range of environmentally-friendly options of polyether polyols made using bio-circular feedstock. The comprehensive range of new materials includes climate-neutral methylene diphenyl diisocyanate (MDI) and renewable toluene diisocyanate (TDI), thus making Covertro one of the few companies supplying both essential raw materials needed for producing environmentally less damaging polyurethane. Biocircular feedstock is an amalgamation of biomass and circular economy. The research in sustainable alternative raw materials and manufacturing techniques is crucial to market survival as world leaders continue to emphasize the importance of reducing environmental stress and pollution. In August 2023, a group of University of Copenhagen chemists announced that they had developed a breakthrough solution that deals with issues related to polyester recycling. The new findings and solutions are projected to revolutionize the textile industry in favor of sustainability.
Polyols (Polyester and Polyether) Market: Challenges
Strict regulatory procedures and changing supply chain dynamics may restrict market growth
The polyols industry growth is projected to be challenged by the strict regulatory procedures related to the production, distribution, and use of environmentally impacting chemicals and materials including polyols. For instance, the European chemical industry is governed by the Registration, Evaluation, Authorization, and Restriction of Chemicals (REACH) regulations. These agencies and laws are specific to each nation and navigating through the complex web may be challenging.
Polyols (Polyester and Polyether) Market: Segmentation
The global polyols (polyester and polyether) market is segmented based on application, type, end-user, and region.
Based on application, the global market segments are elastomers, adhesives & sealants, flexible polyurethane foam, rigid polyurethane foam, and others. In 2022, the highest demand was observed in the flexible polyurethane foam segment due to the high application of these products in several home and commercial furnishing products such as cushions and mattresses. The growing rate of home remodeling, increasing demand for interior decoration, and rising sales of furniture products through online sales are projected to drive market growth. Between 2023 and 2030, the global home furnishing market is expected to grow at a CAGR of 5.31%.
Based on type, the polyols industry divisions are polyester polyols and polyether polyols.
Based on end-user, the polyols industry is fragmented into carpet backing, furniture, packaging, transport, construction, and others. In 2022, the furniture segment will be the leading end-user of polyols (polyester and polyether). Factors such as growing population, changing consumer patterns, and availability of affordable and aesthetically pleasing furniture products for residential and commercial settings are leading factors for high segmental growth. The global revenue of the world's leading furniture solution provider IKEA was around 45 billion in 2022.
Polyols (Polyester and Polyether) Market: Report Scope
Report Attributes
Report Details
Report Name
Polyols (Polyester and Polyether) Market
Market Size in 2022
USD 13.27 Billion
Market Forecast in 2030
USD 18.02 Billion
Growth Rate
CAGR of 3.92%
Number of Pages
213
Key Companies Covered
Covestro AG, BASF SE, Mitsui Chemicals, The Dow Chemical Company (now Dow Inc.), Stepan Company, Huntsman Corporation, INOVYN, Shell Chemicals, INOVYN, Covestro AG, Wanhua Chemical Group, and others.
Segments Covered
By Application, By Type, By End-User, and By Region
Regions Covered
North America, Europe, Asia Pacific (APAC), Latin America, Middle East, and Africa (MEA)
Base Year
2022
Historical Year
2017 to 2021
Forecast Year
2023 - 2030
Customization Scope
Avail customized purchase options to meet your exact research needs. Request For Customization
Polyols (Polyester and Polyether) Market: Regional Analysis
Asia-Pacific to register the highest growth rate during the projected period
The global polyols (polyester and polyether) market will be dominated by Asia-Pacific during the forecast period as the region holds control over a major segment of the global revenue. China remains an undefeated market in terms of the chemical and materials industry since it is home to some of the largest producers of polyester and polyether. The country has been pumping more investments to increase the production rate. In December 2021, Wanhua Chemical Group Co. announced its plan to build an 850,000-ton/year polyether polyol project. In October 2020, Taiwan witnessed the entry of Huntsman Corporation in the regional market in the form of a new production facility for 22,000-ton TEROL® aromatic polyester polyols. The unit will be built in an area of 3,600 square meters. Furthermore, the growing domestic use of polyester in the textile industry especially in Asian countries such as China and Bangladesh is projected to further fuel the regional market. China is one of the leading contributors in the global fast fashion industry that relies on polyester clothing material for survival.
Polyols (Polyester and Polyether) Market: Competitive Analysis
The global polyols (polyester and polyether) market is led by players like:
Covestro AG
BASF SE
Mitsui Chemicals
The Dow Chemical Company (now Dow Inc.)
Stepan Company
Huntsman Corporation
INOVYN
Shell Chemicals
INOVYN
Covestro AG
Wanhua Chemical Group
The global polyols (polyester and polyether) market is segmented as follows:
By Application
Elastomers
Flexible Polyurethane Foam
Coatings
Rigid Polyurethane Foam
Others
By Type
Polyester Polyols
Polyether Polyols
By End-User
Carpet Backing
Furniture
Packaging
Transport
Construction
Others
By Region
North America
Europe

France
The UK
Spain
Germany
Italy
Rest of Europe

Asia Pacific

China
Japan
India
South Korea
Southeast Asia
Rest of Asia Pacific

Latin America

Brazil
Mexico
Rest of Latin America

Middle East & Africa

GCC
South Africa
Rest of Middle East & Africa