Soft Gelatin Capsules (Softgels) Industry Prospective:
The global soft gelatin capsules (softgels) market size was worth around USD 8.03 billion in 2022 and is predicted to grow to around USD 15.37 billion by 2030 with a compound annual growth rate (CAGR) of roughly 8.55% between 2023 and 2030.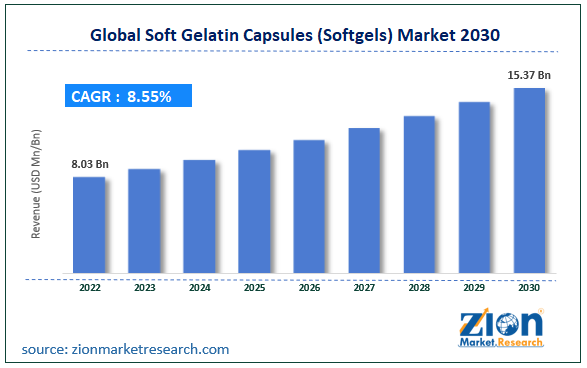 Request Free Sample
Soft Gelatin Capsules (Softgels) Market: Overview
A soft gelatin capsule or a softgel is an oral form of medicine. The main difference between a softgel and other tablets is that the former is enclosed in a specialized capsule. The medicine in the form of liquid is encapsulated in a gelatin-based shell which is made of water, gelatin, a plasticizer, and an opacifier. The famous Rotary Die Encapsulation process is used to produce softgels. The name is derived from Robert Pauli Scherer.
He is the name who invented the process. In comparison to counterparts such as hard medicine, softgel capsules are known to be thicker. They are produced using additional raw materials or ingredients such as glycerine which helps in achieving the soft texture of the medicine. In the pharmaceutical industry, this form of medication has a high production rate as it offers considerable value to the patient just like in the case of hard medicines. Studies show that softgels are known to dissolve within 20 to 30 minutes in the stomach. This is due to the shell's ability to dissolve when in contact with water. However, depending on the final application of the softgel, the dissolution properties can be changed by adding varying shell formulations and components inside the shell.
Key Insights:
As per the analysis shared by our research analyst, the global soft gelatin capsules (softgels) market is estimated to grow annually at a CAGR of around 8.55% over the forecast period (2023-2030)
In terms of revenue, the global soft gelatin capsules (softgels) market size was valued at around USD 8.03 billion in 2022 and is predicted to grow to around USD 15.37 billion, by 2030.
The soft gelatin capsules market is projected to grow at a significant rate due to the rise in the production of plant-based softgels
Based on application segmentation, vitamins & dietary supplements was predicted to show maximum market share in the year 2022
Based on manufacturer segmentation, nutraceutical companies was the leading manufacturers in 2022
On the basis of region, North America was the leading revenue generator in 2022
Soft Gelatin Capsules (Softgels) Market: Growth Drivers
Rise in the production rate of plant-based softgels to drive market growth
The global soft gel capsules (softgel) market is expected to grow due to the rising investments in the production of plant-based softgels. These medicines are free of any form of animal content and hence target a broader group of patients. Softgels derived from plants are better absorbed in the body and do not contain harsh ingredients. Furthermore, they are free of allergens such as gluten or eggs which makes them an ideal choice of medicine for people who refrain from eating animal-based products.
In August 2023, Sirio Europe (SIRIO), one of the leading contract development and manufacturing organizations (CDMO) specializing in nutraceuticals, announced the launch of two new softgels targeting the growing consumer group preferring natural actives. These softgels will be used to improve eye health and manage concerns induced due to menopause. Similarly, in April 2023, IFF, a company that manufactures and provides functional excipients, ingredients, and flavors targeting pharmaceutical products and dietary supplements, launched VERDIGEL™ SC. It is a pectin-based technology and the move helped IFF expand its portfolio of vegan softgel. Manufacturers can now produce carrageenan-free products which currently have huge demand in the market.
Growing efforts toward preventive care to push market revenue
The understanding and acceptance of preventive care have gained momentum in the last few years. This method of medicinal care has become more popular after COVID-19 and has translated into better results for the manufacturers and suppliers of softgels. Many people have initiated consuming nutritional supplements such as softgel-based vitamin D and vitamin E medicines.
Soft Gelatin Capsules (Softgels) Market: Restraints
Advisory against choking hazards especially in children to limit market growth rate
One of the key growth restrictions in the global soft gelatin capsules market is related to the advisory issue mentioning choking hazards when consuming softgels. There have been several incidents where children below the age of 5 years have choked on soft gelatin capsules since sometimes the outer shell can get stuck in the throat. In addition to this, the limitations that arise on the type of drug that can be sold in softgel form have played a crucial role in restricted sales. For instance, only semi-solids and liquids can be stored in softgel form. When compared to direct tablets, soft gelatin capsules can be expensive. All of these factors determine if a certain medicine will make enough sales in the commercial market.
Soft Gelatin Capsules (Softgels) Market: Opportunities
Rise in number of clinical trials in support of softgels to create higher growth opportunities
The global sales volume of soft gelatin capsules industry may take a massive jump due to the rise in the number of clinical trials that support the efficiency of softgels against several medical conditions. A prime example is the 2018 clinical trial conducted by InnoPharmax Inc., which intended to study the effect of D07001 softgel medicine in patients who were undergoing first-line combined chemoradiotherapy (CCRT) or chemotherapy to treat locally advanced or unresectable metastatic biliary tract cancer (BTC).
Rise in partnerships and strategic measures undertaken by key industry players to deliver higher growth avenues
The growing number of strategic partnerships globally between key players in the industry manufacturing and supplying soft gelatin capsules (softgels) is likely to affect the global market in a positive way. For instance, in September 2022, Everstone announced the acquisition of a controlling stake in Softgel Healthcare (SHPL). The company caters to the pharmaceutical, nutraceutical, and OTC segments.
Soft Gelatin Capsules (Softgels) Market: Challenges
Loss of patent exclusivity to challenge market growth
The global soft gelatin capsules (softgels) market may face challenges owing to the loss incurred by companies due to the loss of patent exclusivity. Pharmaceutical companies have to deal with repercussions of intellectual property (IP) rights after a few years. Although the companies invest resources in fighting off competition from generic medicine, the market remains less supportive of large corporations.
Soft Gelatin Capsules (Softgels) Market: Segmentation
The global soft gelatin capsules (softgels) market is segmented based on application, type, manufacturers, and region.
Based on application, the global market is segmented into anti-inflammatory drugs, antacid & antiflatulent preparations, vitamin & dietary supplements, health supplements, antianemic preparations, pregnancy, and others. In 2022, the vitamin and dietary supplements segment held control over 26% of the overall market share. To protect vitamin integrity since they are sensitive to atmospheric oxidation, soft gelatin capsules act as the ideal choice for improving medicinal shelf life and protection against ultraviolet (UV) radiation. Studies show that vitamins in softgel form are more likely to be absorbed in the body propelling a higher adoption rate.
Based on type, the soft gelatin capsules industry is divided into non-animal-based and gelatin/animal-based.
Based on manufacturers, the global market segments are cosmeceutical companies, pharmaceutical companies, contract manufacturing organizations, and nutraceutical companies. In 2022, the industry was dominated by the nutraceutical segment which controlled over 38.1% of the total market share. These companies develop vital minerals, vitamins, and other supplements. As the demand for dietary supplements is on the rise as a means of preventive care, segmental growth will continue the current trend.
Soft Gelatin Capsules (Softgels) Market: Report Scope
Report Attributes
Report Details
Report Name
Soft Gelatin Capsules (Softgels) Market
Market Size in 2022
USD 8.03 Billion
Market Forecast in 2030
USD 15.37 Billion
Growth Rate
CAGR of 8.55%
Number of Pages
230
Key Companies Covered
Captek, Fuji Capsules Co Ltd, Eurocaps, Sirio Pharma, Soft Gel Technologies Inc., Patheon, Aenova, Catalent, Procaps Laboratories, Capsugel., and others.
Segments Covered
By Application, By Type, By Manufacturers, and By Region
Regions Covered
North America, Europe, Asia Pacific (APAC), Latin America, Middle East, and Africa (MEA)
Base Year
2022
Historical Year
2017 to 2021
Forecast Year
2023 - 2030
Customization Scope
Avail customized purchase options to meet your exact research needs. Request For Customization
Soft Gelatin Capsules (Softgels) Market: Regional Analysis
North America registered the highest market share
The global soft gelatin capsules (softgels) market will be dominated by North America during the forecast period. The region contributed around 30% of the global revenue in 2022. One of the main reasons is the high demand for vitamin & dietary supplements and health supplements driven by consumer awareness rate and a proactive approach toward physical well-being. Additionally, the growing number of research & development programs to develop softgel medicines for severe medical conditions such as cancer has improved regional market statistics.
The US is home to some of the most dominant nutraceutical companies including Makers Nutrition, ABS Corporation, and Elitefill Inc. In October 2020, Catalent Inc., a US-based multinational corporation, announced the launch of Optigel DR softgel capsules. The medicines are formed using pectin and are produced using OptiGel DR technology. The company plans to expand its product in other regions including Germany, Brazil, Canada, and many more. Asia-Pacific may grow at a CAGR of over 8%. The rise in the number of patients, increasing healthcare expenditure, and growing population are the main growth propellers.
Soft Gelatin Capsules (Softgels) Market: Competitive Analysis
The global soft gelatin capsules (softgels) market is led by players like:
Captek
Fuji Capsules Co Ltd
Eurocaps
Sirio Pharma
Soft Gel Technologies Inc.
Patheon
Aenova
Catalent
Procaps Laboratories
Capsugel.
The global soft gelatin capsules (softgels) market is segmented as follows:
By Application
Anti-Inflammatory Drugs
Antacid & Antiflatulent Preparations
Vitamins & Dietary Supplements
Health Supplements
Antianemic Preparations
Pregnancy
Others
By Type
Non-Animal-Based
Gelatin/Animal-Based
By Manufacturers
Cosmeceutical Companies
Pharmaceutical Companies
Nutraceutical Companies
By Region
North America
Europe

France
The UK
Spain
Germany
Italy
Rest of Europe

Asia Pacific

China
Japan
India
South Korea
Southeast Asia
Rest of Asia Pacific

Latin America

Brazil
Mexico
Rest of Latin America

Middle East & Africa

GCC
South Africa
Rest of Middle East & Africa