Global Adhesives & Sealants Market Size And Industry Analysis
The global adhesives and sealants market size was worth USD 52.10 billion in 2021 and is estimated to grow to USD 69.0248 billion by 2028, with a compound annual growth rate (CAGR) of approximately 4.80 percent over the forecast period. The report analyzes the adhesives and sealants market's drivers, restraints/challenges, and their effect on the demands during the projection period. In addition, the report explores emerging opportunities in the adhesives and sealants market.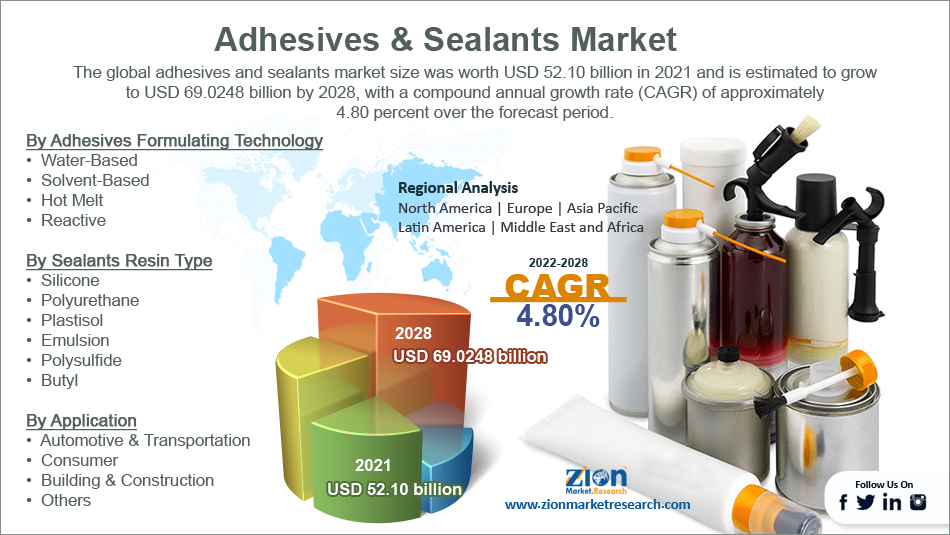 Request Free SampleAdhesives and Sealants Market: Overview
Adhesives are chemicals that firmly and permanently join at least two surfaces. Sealants are substances that bond to at least two surfaces, filling the gap between them to produce a barrier or protective layer. Adhesives and sealants are complex materials extensively utilized in industrial sectors ranging from flexible packaging and textile to structural applications because of their great bonding strength. Adhesives and sealants are manufactured using comparable methods and chemicals and used in several applications. Sealants are semi-solid compounds that are primarily used to prevent fluid leaks. Filling gaps between substrates to seal components and joints creates a barrier or protective covering.
Adhesives and sealants are commonly used on metals, wood, glass, and plastics and come in various compositions such as organic, inorganic, acrylic-, polyurethane-, and silicone-based. Adhesives and sealants are utilized in various sectors, including electronics, aircraft, vehicles, food and beverage, and transportation. Sealants are more flexible than adhesives, but their strength is lower. As a result, they are employed to maintain substrates in place and fill gaps.
The growing need for lightweight, low-emission automobiles drives the global adhesive sealants market. The growing popularity of lightweight passenger vehicles with improved fuel efficiency and fewer emissions has increased sales of high-performance adhesives worldwide. These adhesives are used in a variety of interior and exterior car applications. Other important factors projected to drive the worldwide adhesive sealants market growth include adopting new manufacturing technologies and using novel materials for manufacturing adhesives and sealants.
Covid-19 Impact:
COVID-19 has caused several issues in the building industry. The epidemic has badly impacted major economies throughout the world, including the United States, Germany, the United Kingdom, Italy, South Korea, Spain, and Japan. Social distancing measures, supply chain disruptions, and workforce dispersion have resulted in the halting of building activity in most nations due to supply chain disruptions and a lack of raw materials and personnel. Construction firms with huge debts and low cash reserves faced a financial crisis. With the coronavirus epidemic, however, the number of temporary hospitals and quarantine facilities surged.
Key Insights
As per the analysis shared by our research analyst, the global adhesives & sealants market value is expected to grow at a CAGR of 4.80 % over the forecast period.
In terms of revenue, the global adhesives & sealants market size was valued at around USD 52.10 billion in 2021 and is projected to reach USD 69.024 billion by 2028.
Rising demand for adhesives in the medical business, increased demand for adhesives & sealants in the building & construction industry, and expansion in the appliances industry are the primary market drivers.
By adhesives formulating technology, the reactive category dominated the market in 2021.
By sealant resin type, the polyurethane category dominated the market in 2021.
Asia-Pacific dominated the global adhesives & sealants market in 2021.
Adhesives and Sealants Market: Growth Drivers
Adhesives and sealants are in high demand in the building and construction industries.
The residential building is driven by rising population and urbanization in emerging nations such as China, India, Indonesia, Vietnam, Brazil, and Mexico. In these nations, there is a rising demand for permanent housing, boosting the global adhesives and sealants market. Adhesives and sealants are used in various building applications, including carpet, tiling, wallpaper, and external insulation systems. Curtain wall panels and insulating glass modules are also held with adhesives and sealants.
Adhesives and Sealants Market: Restraints
North American and European environmental legislation to restrict market expansion
Environmental rules govern the manufacture of chemical and petroleum-based goods in Europe and North America. The manufacture of solvent-based goods in these regions is governed by organizations such as the Epoxy Resin Committee (ERC) and the European Commission (EC). This has an impact on manufacturing capacity in Europe and North America. Environmental laws are driving manufacturers to work on manufacturing environmentally friendly adhesives.
Adhesives and Sealants Market: Opportunity
The need for non-hazardous and environmentally friendly adhesives is increasing.
The United States Environmental Protection Agency (USEPA), Europe's Registration, Evaluation, Authorization, and Restriction of Chemicals (REACH), Leadership in Energy and Environmental Design (LEED), and other regional regulatory bodies have compelled adhesive and sealant manufacturers to develop eco-friendly products with no- or low-VOC levels. There is a growing need for environmentally friendly or green constructions, which allows for the development of green and sustainable adhesive solutions made from renewable, recycled, remanufactured, or biodegradable materials.
Adhesives and Sealants Market: Challenges
Rules are changing, and standards are shifting thereby posing challenges for market growth.
The adhesives and sealants sector are subject to periodic changes in standards and regulations. Due to the new laws, manufacturers must shoulder the increased burden of labeling & documentation and higher external testing expenses. Additional material warnings concentrating on biocides and waste packaging are issued regularly, causing regulatory requirements to shift. Producers must follow the norms and changing requirements to market their products, adhesives, and sealants. This presents a problem for producers.
Adhesives and Sealants Market: Segmentation
The global adhesives and sealants market is segregated based on adhesive formulating technology sealant resin type, application, and region.
Based on adhesive formulating technology, the market is segmented into water-based, solvent-based, hot-melt, and reactive. The reactive & others category dominated the global adhesives & sealants market. Reactive technology-based goods provide various benefits and drive the segment's growth. These benefits include faster manufacturing speeds due to the reduced setting time, increased heat resistance, and good adhesive qualities to various substrates. The hot-melt category is expected to increase rapidly. Polyester hot melt adhesives have gained popularity in textiles and fabrics during the previous decade. Over the last few years, the product has seen increased application in the cotton, wool, and textiles sub-sector.
Based on sealant resin type, the market is segmented into silicone, polyurethane, plastisol, emulsion, polysulfide, and butyl. During the forecast period, polyurethane is expected to expand quickly in the sealants market. Polyurethane sealants are a popular technology for both new building and restoration projects. These sealants come in single-component and multi-component compositions. These sealants outperform silicone sealants in tenability, adhesion, and abrasion resistance. They are frequently used in automobile, parking deck & sidewalk sealing, construction, and marine industries.
Based on application, the market is segmented into automotive & transportation, consumer, building & construction, and others. The building & construction segment dominates the adhesives & sealants industry. Sealants also serve as adhesives in a variety of applications. Sealants, for example, bind the glass to the building framework in structural glazing on glass-walled buildings. Sealants, unlike adhesives, do not have strong tensile strength but have improved durability and reliability when subjected to high humidity, chemical assault, or electrical stress.
Recent Development:
February 2020: Henkel has opened two new production plants in Kurkumbh, India, near Pune. The business unit seeks to fulfill the rising need for high-performance solutions in adhesives, sealants, and surface treatment products in Indian industries with a total investment of around USD 57 million.
November 2020: To fulfill the ever-increasing industrial need for natural-based hygiene solutions, H.B. Fuller has created Full-Care 5885. This glue delivers exceptional performance by combining high-performance 100% cotton bonding with a low usage cost.
To know more about this report, request a FREE sample copy.
Report Scope:
Report Attributes
Report Details
Report Name
Adhesives & Sealants Market Research Survey Report
Market Size in 2021
USD 52.10 billion
Market Forecast by 2028
USD 69.0248 billion
Compound Annual Growth Rate
CAGR of 4.80%
Number of Pages
287
Forecast Units
Value (USD Billion), and Volume (Units)
Key Companies Covered
Arkema S.A, The 3M Company, BASF SE, Evonik Industries AG, Scott Bader Co, H.B. Fuller, Henkel AG & Co. KGAA, Lord Corporation, Sika AG, and Uniseal Inc.
Segments Covered
By Adhesives Formulating Technology, By Sealants Resin Type, By Application, And By Region
Regions Covered
North America, Europe, Asia Pacific (APAC), Latin America, Middle East, and Africa (MEA)
Countries Covered
North America: U.S and Canada
Europe: Germany, Italy, Russia, U.K, Spain, France, Rest of Europe
APAC: China, Australia, Japan, India, South Korea, South East Asia, Rest of Asia Pacific
Latin America: Brazil, Argentina, Chile
The Middle East And Africa: South Africa, GCC, Rest of MEA
Base Year
2021
Historical Year
2016 to 2020
Forecast Year
2021 - 2028
Customization Scope
Avail customized purchase options to meet your exact research needs. Request For Customization
Adhesives and Sealants Market: Regional Landscape
Asia-Pacific dominates the adhesive & sealants market in 2021
In 2021, Asia Pacific led the global adhesive and sealant market, accounting for the largest. In 2020, the COVID-19 pandemic significantly influenced several industries such as textiles & clothing, construction, automotive, and overseas commerce. According to government data, textile commerce between China and India fell 12.4 percent yearly in the first two months of 2020 compared to the previous year. Since the third quarter of 2020, the market has shown a solid recovery and gathered speed in 2021. The Asia Pacific region is expected to be the fastest expanding market due to the emerging countries' strong economic performance, which drives strong market demand, and population growth, which continues to provide new demand to the market. Due to the effect of online retail business patterns, developed regions such as Europe and North America are expected to witness significant expansion in their packaging sectors.
Government economic recovery activities are expected to promote infrastructure development in Central and South America. Argentina, Colombia, and Peru are likely to have developed in the construction industry throughout the projection period. This is expected to increase demand for adhesives and sealants across Central and South America. For example, Peru's economic growth may be ascribed primarily to a rise in building and associated commercial operations.
Adhesives and Sealants Market: Competitive Landscape
Some of the main competitors dominating the global adhesives and sealants market include Arkema S.A., The 3M Company, BASF SE, Evonik Industries AG, Scott Bader Co., H.B. Fuller, Henkel AG & Co. KGAA, Lord Corporation, Sika AG, and Uniseal, Inc.
Global Adhesives & Sealants Market is segmented as follows:
By Adhesives Formulating Technology
Water-Based
Solvent-Based
Hot Melt
Reactive
By Sealants Resin Type
Silicone
Polyurethane
Plastisol
Emulsion
Polysulfide
Butyl
By Application
Automotive & Transportation
Consumer
Building & Construction
Others
By Region
North America
Europe

France
The UK
Spain
Germany
Italy
Rest of Europe

Asia Pacific

China
Japan
India
South Korea
Southeast Asia
Rest of Asia Pacific

Latin America

Brazil
Mexico
Rest of Latin America

Middle East & Africa

GCC
South Africa
Rest of Middle East & Africa