Abstract
The report encloses the forecast and the current estimate for silicone elastomers market on a global and regional level. The study provides the data from previous years 2015 to 2017 and the forecasts from 2018 to 2024 based on volume and revenue. The volume of silicone elastomers market is in kilotons and the revenue is measured in USD million. The study also provides the impact and the descriptive analysis of major drivers, restraints, and opportunities of the global silicone elastomers market.
The study also offers the market attractiveness and the Porter's Five Forces model analysis to gauge the competitive landscape of major vendors of the global silicone elastomers market. This comprehensive study also provides you the detailed analysis and overview of each segment included in the study.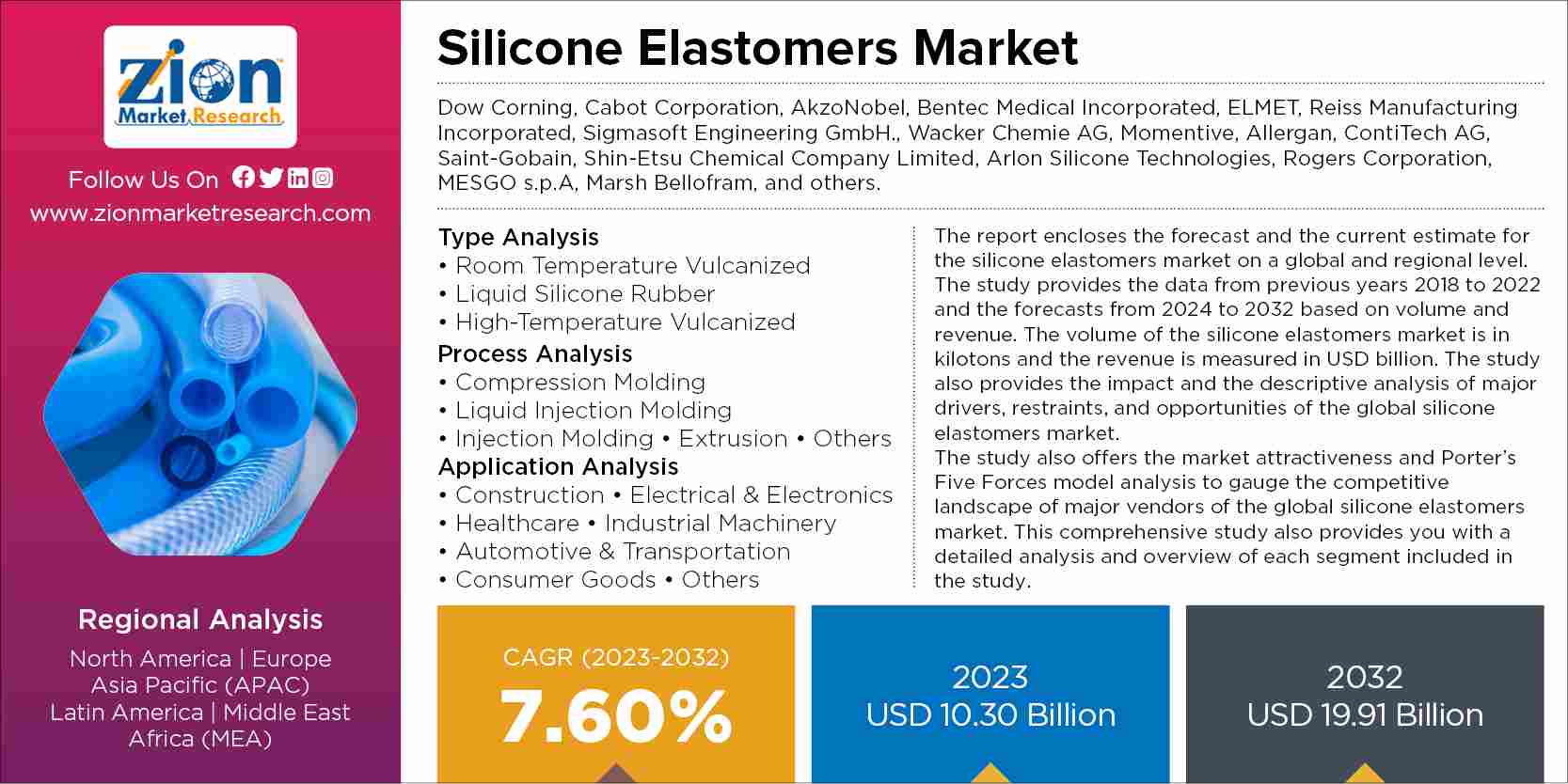 The report segmentation includes the major type, process, application and regional bifurcation. Based on the end-use industry, the market is categorized as construction, electrical & electronics, healthcare, industrial machinery, automotive & transportation, consumer goods, and others. On the basis of type, the silicone elastomers market is segregated into room temperature vulcanized, liquid silicone rubber, and high temperature vulcanized. The process segment is fragmented into compression molding, liquid injection molding, injection molding, extrusion, and others. Regional segmentation covers the major regions and countries such as North America, Europe, Asia Pacific, Latin America, and the Middle East & Africa. Furthermore, it is segmented into major countries including the U.S., the UK, Germany, France, China, India, Japan, and Brazil.
Key industry participants analyzed and profiled in this study includes Dow Corning, Cabot Corporation, AkzoNobel, Bentec Medical Incorporated, ELMET, and Reiss Manufacturing Incorporated. Other players influencing the market are Sigmasoft Engineering GmbH., Wacker Chemie AG, Momentive, Allergan, ContiTech AG, Saint-Gobain, Shin-Etsu Chemical Company Limited, Arlon Silicone Technologies, Rogers Corporation, MESGO s.p.A, and Marsh Bellofram.
The global Silicone Elastomers Market has been segmented as follows:
Silicone Elastomers Market: Type Analysis
Room Temperature Vulcanized
Liquid Silicone Rubber
High Temperature Vulcanized
Silicone Elastomers Market: Process Analysis
Compression Molding
Liquid Injection Molding
Injection Molding
Extrusion
Others
Silicone Elastomers Market: Application Analysis
Construction
Electrical & Electronics
Healthcare
Industrial Machinery
Automotive & Transportation
Consumer Goods
Others
Silicone Elastomers Market: Regional Analysis
North America
Europe
Asia Pacific
Latin America
The Middle East and Africa