Metaverse In Gaming Industry Prospective:
The global metaverse in gaming market size was worth around USD 16.25 billion in 2022 and is predicted to grow to around USD 242.54 billion by 2030 with a compound annual growth rate (CAGR) of roughly 40.23% between 2023 and 2030.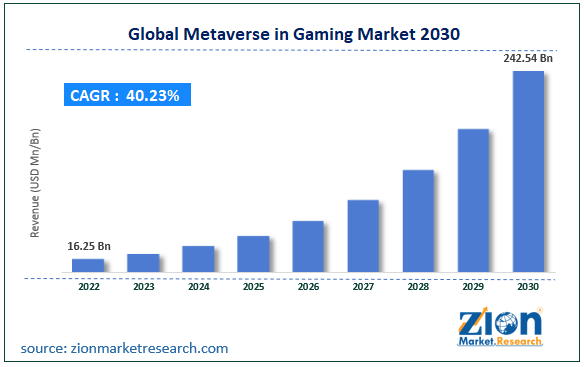 Request Free Sample
Metaverse In Gaming Market: Overview
Metaverse is regarded as the next generation of internet technology. A metaverse is defined as an extensive network of immersive, shared digital or virtual worlds that connect people mimicking the real world. It means in the shared virtual world they can connect, play games, become friends, shop, and do other activities that they would in real life. Metaverse in gaming means a 3-dimensional cyberspace for all gaming enthusiasts allowing them to connect over the internet with the help of virtual reality (VR), augmented reality (AR), or mixed reality (MR) tools. It can be regarded as an online community for players to use advanced digital mediums to compete in various types of games. They can also take one step further and play solo games with artificial intelligence (AI). Apart from this, metaverse in gaming provides the players access to connect to their friends for socializing and enjoying the virtual experience together. However, to relish the digital world, players have to invest in modern systems such as high-speed internet connection and VR or AR headsets that can be expensive. The industry for the metaverse in gaming is projected to grow rapidly during the forecast period.
Key Insights:
As per the analysis shared by our research analyst, the global metaverse in gaming market is estimated to grow annually at a CAGR of around 40.23% over the forecast period (2023-2030)
In terms of revenue, the global metaverse in gaming market size was valued at around USD 16.25 billion in 2022 and is projected to reach USD 242.54 billion, by 2030.
The metaverse in gaming market is projected to grow at a significant rate due to the growing trend of accessing online activities as a means of escapism
Based on game genre segmentation, strategy was predicted to show maximum market share in the year 2022
Based on hardware segmentation, software was the leading segment in 2022
On the basis of region, North America was the leading revenue generator in 2022
Metaverse In Gaming Market: Growth Drivers
Growing trend of accessing online activities as a means of escapism to drive market growth
The global metaverse in gaming market is expected to grow owing to the increasing inclination of the general population to shift to online measures as a means to avoid the harsh realities of life or escape unfriendly situations in the real world. This shift has especially picked up after COVID-19 during which more people became accustomed to the confines of their homes. A growing rate of people are becoming more reclusive and do not prefer to socialize more in real life. Instead, they resort to virtual worlds where they have more control over their environment as opposed to the practical world. In April 2023, Japanese officials reported that around 1.5 million people in the developed island have been living in isolation since COVID-19. The main reasons for these statistics are related to challenging relationship issues or work-related problems.
Growing number of products launched to push the market revenue further
The metaverse in gaming industry is expected to come across higher growth as the market players are aggressively launching new products and trying to improve the overall experience for their consumers. For instance, in October 2022, Meta Platforms announced the launch of the next generation of their highly popular VR gaming headset. It is called Meta Quest Pro which is considered as one of the first few highly advanced VR headsets that is built to explore endless realities in the virtual world. In May 2023, Lydian.world, a new entry in the market, announced the addition of a new feature in its metaverse gaming set where players could start building units on their virtual plots.
Metaverse In Gaming Market: Restraints
High initial cost of investment for buying the supporting hardware and software may restrict market growth
The global metaverse in gaming market growth is expected to be limited mainly due to the high cost of the devices, including hardware and software, that allow access to the metaverse in gaming events. For instance, Meta Quest Pro is currently priced at USD 999. At the time of the launch, it could be bought for USD 1499. These tools cannot be considered everyday consumer goods and are mostly regarded as luxury goods thus targeting a certain section of the society.
Metaverse In Gaming Market: Opportunities
Increasing integration of blockchain technology in metaverse gaming to create a comprehensive growth ecosystem
The creators of the gaming metaverse are increasingly promoting the use of blockchain technology to tap into the world of digital currencies. This trend is mostly observed in the integration of non-fungible tokens (NFTs) with online games. In September 2023, gaming giant Krafton, the maker of world-renowned PUBG games, announced that it will launch a new NFT-driven metaverse game called Overdare in the coming months. The game is expected to soft launch by December 2023 and will be powered by a Krafton-made blockchain called Settlus. In February 2023, in February 2023, Jump.trade, a leading NFT platform, launched its first NFT-based racing game in metaverse format.
Untapped potential of emerging economies to deliver higher results
Creators of the gaming metaverse universe are increasingly targeting emerging economies since these nations have high untapped potential with the growth in the middle-income and upper-middle-income groups. The quick expansion strategies are likely to work in the favor of the global metaverse in gaming market players.
Metaverse In Gaming Market: Challenges
Separating the real world from virtual world experiences to challenge market growth
There has been a growing rate of online gaming addiction among the younger generation. It directly impacts the overall growth of a person as they stop experiencing the real world. It is a crucial challenge for the creators of the metaverse in gaming industry to ensure that they are educating their consumers to avoid getting completely engrossed in the virtual world. Rising crime rates influenced by the gaming metaverse is another crucial aspect that needs more focus and attention from the responsible authorities.
Metaverse In Gaming Market: Segmentation
The global metaverse in gaming market is segmented based on game genre, hardware, component, and region.
Based on game genre, the global market divisions are role-playing, action, sports & racing, simulation, casual, strategy, and others. In 2022, the highest growth was observed in the strategy segment as these games are generally meant for a large group of players that get to work together to explore an open and vast world while tackling unwanted situations. It allows more communication where teams have to invest time in developing strategies for moving ahead in the game. It also challenges the users on several personal traits such as leadership and decision-making skills. In November 2022, Dubai-based industry newcomer Rekts raised over USD 1.5 million to launch its first gaming metaverse.
Based on hardware, the metaverse in gaming industry is divided into MR devices, VR devices, AR devices, and others.
Based on component, the metaverse in gaming industry is segmented into software, hardware, and services. In 2022, the most revenue-generating segment was software which includes tools such as geospatial mapping, gaming engines, volumetric video devices, 3D modeling & reconstruction tools, financial platforms, and metaverse platforms. However, the hardware and services segments are significant contributors since they allow the users to enter the online realm of the gaming metaverse. The increasing focus on the comprehensive development of the most user-friendly hardware while enhancing the software systems will directly impact the overall market growth. Research indicates that the average price of a metaverse headset can range between USD 400 to USD 3500.
Metaverse in Gaming Market: Report Scope
Report Attributes
Report Details
Report Name
Metaverse in Gaming Market
Market Size in 2022
USD 16.25 Billion
Market Forecast in 2030
USD 242.54 Billion
Growth Rate
CAGR of 40.23%
Number of Pages
223
Key Companies Covered
Unity Technologies, Roblox Corporation, Activision Blizzard, Epic Games, Mojang Studios, Electronic Arts (EA), Alphabet (Google), Tencent, Twitch, Niantic, Microsoft, Sony Interactive Entertainment, Electronic Sports League, Facebook (Meta Platforms Inc.), Nintendo., and others.
Segments Covered
By Game Genre, By Hardware, By Component, and By Region
Regions Covered
North America, Europe, Asia Pacific (APAC), Latin America, Middle East, and Africa (MEA)
Base Year
2022
Historical Year
2017 to 2021
Forecast Year
2023 - 2030
Customization Scope
Avail customized purchase options to meet your exact research needs. Request For Customization
Metaverse In Gaming Market: Regional Analysis
North America to generate the highest growth during the projected period
The global metaverse in gaming market will be led by North America during the forecast period with the US acting as the leading region. The higher acceptance rate of online gaming tools strengthened by growing awareness about new technologies introduced in digital gaming experiences such as metaverse are the main reasons for regional expansion. A recent survey indicated that around 71 million American citizens are currently using virtual reality at least once a month.
Additionally, the region is home to some of the most dominant and revolutionary technological companies that are making bold investments in the metaverse universe specifically targeting the gaming industry. In September 2023, in a bit to reach more consumers, Horizon Worlds by Meta was made accessible on web and mobile platforms. The users can now access the metaverse platform using the Meta Quest application on Android devices. The US region has shown tremendous response to the gaming metaverse world as indicated by official surveys. One such report mentions that over 51% of American citizens have complete faith in the metaverse to completely change the gaming industry.
Metaverse In Gaming Market: Competitive Analysis
The global metaverse in gaming market is led by players like:
Unity Technologies
Roblox Corporation
Activision Blizzard
Epic Games
Mojang Studios
Electronic Arts (EA)
Alphabet (Google)
Tencent
Twitch
Niantic
Microsoft
Sony Interactive Entertainment
Electronic Sports League
Facebook (Meta Platforms Inc.)
Nintendo.
The global metaverse in gaming market is segmented as follows:
By Game Genre
Role-Playing
Action
Sports & Racing
Casual
Strategy
Others
By Hardware
MR Devices
VR Devices
Others
By Component
Software
Hardware
Services
By Region
North America
Europe

France
The UK
Spain
Germany
Italy
Rest of Europe

Asia Pacific

China
Japan
India
South Korea
Southeast Asia
Rest of Asia Pacific

Latin America

Brazil
Mexico
Rest of Latin America

Middle East & Africa

GCC
South Africa
Rest of Middle East & Africa