The report encloses a forecast and current estimates for the hard luxury goods market on a global and regional level. The study provides historical data from 2016 to 2018 along with a forecast from 2019 to 2026 based on revenue (USD Billion). The study also provides the impact and the descriptive analysis of major drivers, restraints, and opportunities of the global hard luxury goods market.
The study also offers the market attractiveness and Porter's Five Forces Model analysis to gauge the competitive landscape of major vendors of the global hard luxury goods market. This comprehensive study also provides a detailed analysis and overview of each segment included in the study.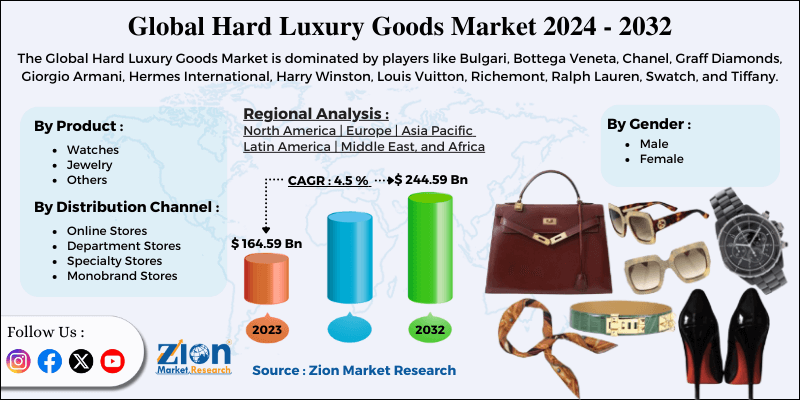 The report also includes a crucial view of the market based on product type, distribution channel, gender, and region. All the segments have been analyzed based on present and future trends and the market is estimated from 2019 to 2026. The regional segment includes the historic and forecast demand for North America, Europe, Asia Pacific, Latin America, and the Middle East and Africa.
Some key participants operating in the global hard luxury goods market are Bulgari, Bottega Veneta, Chanel, Graff Diamonds, Giorgio Armani, Hermes International, Harry Winston, Louis Vuitton, Richemont, Ralph Lauren, Swatch, and Tiffany.
This report segments the global hard luxury goods market into:
Global Hard luxury goods market: Product Type Analysis
Global Hard luxury goods Market: Distribution Channel Analysis
Online Stores
Department Stores
Specialty Stores
Monobrand Stores
Global Hard luxury goods Market: Gender Analysis
Global Hard luxury goods Market: Regional Analysis
North America
Europe
Asia Pacific
Latin America
Middle East and Africa