Jewelry Industry Prospective:
The global jewelry market size was worth around USD 334.59 billion in 2022 and is predicted to grow to around USD 461.26 billion by 2030 with a compound annual growth rate (CAGR) of roughly 4.08% between 2023 and 2030.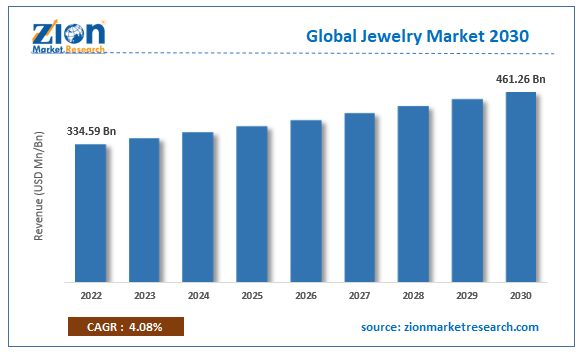 Request Free Sample
Jewelry Market: Overview
Jewelry is a piece of decorative accessory used for personal adornment. The industry for jewelry products deals with the sale and use of items such as earrings, brooches, necklaces, rings, bracelets, pendants, and cufflinks. These are some of the most commonly used jewelry products however, the industry is vast and can consist of any item that a person may wear as an accessory. Jewelry has been a part of human history for ages and is considered one of the oldest types of archaeological artifact giving the modern world a view of older times. With time jewelry designs and materials have evolved but modern jewelry products are known to be inspired by contemporary jewelry products.
Apart from acting as adornment products, jewelry sometimes also acts as a representation medium since certain types of ornaments can be associated with cultural norms, ethnicities, traditions, and tribes. It is also considered as a representation of the wearer's financial or social status. In modern times, some of the most common materials used to manufacture jewelry are platinum, gold, silver, and diamonds. The materials may be used in association with rare stones or gemstones to enhance overall appearance including precious stones such as emerald, amber, jade, sapphire, and many more.
Key Insights:
As per the analysis shared by our research analyst, the global jewelry market is estimated to grow annually at a CAGR of around 4.08% over the forecast period (2023-2030)
In terms of revenue, the global jewelry market size was valued at around USD 334.59 billion in 2022 and is projected to reach USD 461.26 billion, by 2030.
The jewelry market is projected to grow at a significant rate due to the growing demand for bridal jewelry
Based on material segmentation, gold was predicted to show maximum market share in the year 2022
Based on product type segmentation, ring was the leading segment in 2022
On the basis of region, Asia-Pacific was the leading revenue generator in 2022
Jewelry Market: Growth Drivers
Growing demand for bridal jewelry to drive market growth
The global jewelry market is expected to grow owing to the increasing demand for bridal jewelry. These ornaments hold high cultural importance in the present times. Bridal jewelry is worn by brides on their wedding day and is a part of bridal trousseau. Each ethnic group has a specific preference in terms of the kind of jewelry that a bride receives on her wedding day. The market segment for bridal jewelry is expanding at a rapid rate with the increasing number of marriages and weddings taking place every day. For instance, 2022 witnessed an extremely high number of weddings driven by the influence of the COVID-19 lockdown. In India alone, more than 32 lakh weddings took place in 2022, as per research.
Growing demand for imitation jewelry to generate high returns
One of the fastest-growing segments in the global jewelry market is imitation jewelry. These variants mimic the appearance of expensive jewelry but are made of artificial raw materials. They are low in cost and hence can be worn more regularly as opposed to expensive counterparts that are at risk of getting stolen or being lost leading to severe financial setbacks. The improved craft detailing in terms of imitation jewelry similar to original pieces may create higher revenue during the forecast period.
Jewelry Market: Restraints
High cost of jewelry material to restrict market growth
Ornaments made of gold, diamond, platinum, and in some cases, even silver are considered luxury items since the cost of the material is high. For instance, as of September 2023, the cost of diamonds per carat is USD 939.41 as per official records. Even though the final price changes every day, it typically remains in the upper pricing group making it unaffordable for a large part of the population, especially people with limited income and other priorities. Additionally, there is a growing segment of people who refrain from spending on jewelry products since they are getting less inclined toward materialistic objects and spend the money on gaining experiences such as travel or vacation. The growing trend of a shift in priorities toward experience could restrict the jewelry industry expansion.
Jewelry Market: Opportunities
Growing adoption of technology in jewelry designing and manufacturing could reshape the industry
The industry for jewelry products is witnessing growing adoption of modern-age technologies that have the potential to redefine the market. For instance, the adoption of 3D printing to create intricately designed jewelry has reduced the scope for human error. A recent example is the use of 3D printing technology by Energy Addicts brand of jewelry using biopolymer and gold. In addition to this, other technologies being explored include cutting tools, the production of lightweight but exquisite jewelry, and the use of plastic & metal matrixes or Artificial Intelligence (AI) for jewelry designing. The DaVinci Diamond Factory is a novel diamond shaping and cutting automated laser used for transforming rough diamonds into desired and unique shapes that contribute to its overall improved value. Several ornament makers are investing in exploring electroforming procedures that aim to design comfortable and lightweight earrings to meet the demands of the modern consumer.
Growing demand for office wear and minimal jewelry to create expansion possibilities
The rising demand for minimal and office wear jewelry holds exceptional opportunities for the jewelry industry's further expansion. People are seeking homegrown and international brands that offer a range of affordable, chic, and minimal jewelry that can be worn every day without being too heavy or loud. In addition to this, companies operating in this segment can leverage the consumer reach of e-commerce websites to reach a broader group of audience.
Jewelry Market: Challenges
Consistently changing consumer preferences and keeping up with the trend is a challenging factor
Jewelry is ever-evolving in terms of design and consumer preference. In efforts to keep up with the changing trend, there is rising concern over the amount of waste generated especially from materials made of inexpensive qualities that easily fall apart and it is a major challenge for the global jewelry market players to overcome. Other factors such as the supply of raw materials and their fluctuating prices and the risk of counterfeiting are areas that require more attention.
Jewelry Market: Segmentation
The global jewelry market is segmented based on material, product type, and region.
Based on material, the global market segments are diamond, platinum, gold, and others. In 2022, the gold segment was the leading revenue generator and it is expected to grow at a CAGR of 5% during the forecast period. High demand for gold jewelry in emerging nations and higher returns on gold jewelry investments are the leading growth drivers. Demand for rose and white gold is an ongoing trend with high future potential.
Based on product type, the global market segments are ring, necklace, bracelet, earring, and others. The most significant revenue generator was the ring segment in 2022 as it held control over 33.79% of the total share. During the forecast period, it is expected to grow at a CAGR of 34.7% driven by higher demand for unique wedding rings and bands. It is a unisex jewelry segment worn by people of all genders. Rising demand for minimal yet unique rings is predicted to help the segment lead with high margins.
Jewelry Market: Report Scope
Report Attributes
Report Details
Report Name
Jewelry Market
Market Size in 2022
USD 334.59 Billion
Market Forecast in 2030
USD 461.26 Billion
Growth Rate
CAGR of 4.08
Number of Pages
219
Key Companies Covered
Harry Winston, Tiffany & Co., Boucheron, Cartier, Swarovski, Bulgari, Chopard, Van Cleef & Arpels, Mikimoto, Pandora, Piaget, David Yurman, Tacori, Buccellati, Graff, and others.
Segments Covered
By Material, By Product Type, and By Region
Regions Covered
North America, Europe, Asia Pacific (APAC), Latin America, Middle East, and Africa (MEA)
Base Year
2022
Historical Year
2017 to 2021
Forecast Year
2023 - 2030
Customization Scope
Avail customized purchase options to meet your exact research needs. Request For Customization
Jewelry Market: Regional Analysis
Asia-Pacific to deliver the best results during the forecast period
The global jewelry market will be dominated by Asia-Pacific during the projection period and will hold dominance over 60.1% of the global market revenue. The main growth propeller is the importance of jewelry given in Asian countries, especially gold ornaments, and jewelry made with gemstones and other precious stones. Jewelry in several Asian cultures holds high importance. For instance, China and India are two of the leading nations that produce and consume 24-karat gold jewelry. The demand is higher during festival and wedding seasons.
The rising population and increasing disposable income have created an extensive market for jewelry sellers and producers. India is home to the world's biggest diamond market with the Surat Diamond Bourse acting as the largest diamond trading hub extending over 660,000 square meters. Several jewelry makers and distributors operate in Asia including brands such as Wallace Chan, Tanishq, and Malabar Golds and Diamonds. The Middle East region is expected to deliver exceptional results. The presence of a large network of gold jewelry providers with high international tourism especially attracted to the regional jewelry market are reasons for high regional growth.
Jewelry Market: Competitive Analysis
The global jewelry market is led by players like:
Harry Winston
Tiffany & Co.
Boucheron
Cartier
Swarovski
Bulgari
Chopard
Van Cleef & Arpels
Mikimoto
Pandora
Piaget
David Yurman
Tacori
Buccellati
Graff
The global jewelry market is segmented as follows:
By Material
Diamond
Platinum
Gold
Others
By Product Type
Ring
Necklace
Bracelet
Earring
Others
By Region
North America
Europe

France
The UK
Spain
Germany
Italy
Rest of Europe

Asia Pacific

China
Japan
India
South Korea
Southeast Asia
Rest of Asia Pacific

Latin America

Brazil
Mexico
Rest of Latin America

Middle East & Africa

GCC
South Africa
Rest of Middle East & Africa