Description
Market Overview
The global precious metals market accounted for USD 142.54 Billion in 2020 and is expected to reach more than USD 240.08 Billion by 2028, growing at a CAGR of 7.6% from 2021 to 2028.
Gold and silver have been envied for a long time owing to their value. Even today, investors are investing in a portfolio in these precious metals. Precious metals can be a good portfolio to invest in as it diversifies and hedge the risk against inflation. Gold isn't the only metal out there in which investors are willing to invest. Platinum, Silver, and palladium can be added to the portfolio as each metal has its own opportunities and unique risks.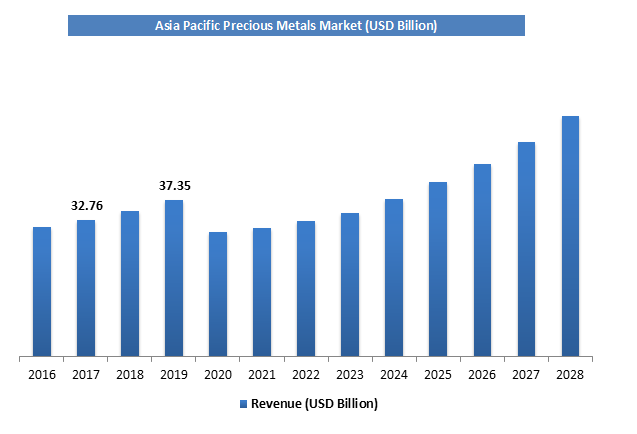 COVID-19 Impact Analysis
COVID-19 severely impacted demand and supply for precious metal market. The Petrochemical and automobile industry which are the major consumers of the market are negatively affected by pandemic owing to lockdown rules and regulations on transportation. Several countries went into lockdown due to pandemic, which led to minimal use of personal vehicles, thus affecting negatively the demand of automotive catalysts which are used in the vehicle exhaust streams. This resulted in decrease in the demand for precious metal catalysts.
Growth Factors
Gold and silver, specifically in jewelry market, is estimated to witness a steady growth over the forecast period. Gold and silver have played an important part in marriages, especially in China and India. A significant amount of gold and silver is used in the form of ornaments and jewelry. The wedding market segment of India and China is likely to show numerous growth opportunities for the gold and silver jewelry market over the coming years.
Precious metals like gold are also used for investment purposes. It is usually traded in stock exchange market associated with decreasing share prices attributed to its intensifying high prices.
Report Scope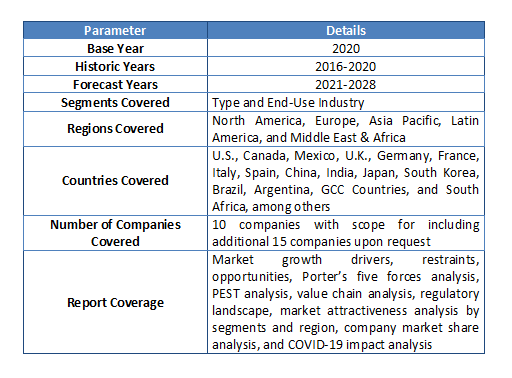 Type Segment Analysis Preview
Platinum is projected to grow at a CAGR of around 6.5% over the forecast period. Platinum catalyst helps in reducing carbon dioxide (CO2) emission. It is widely used in automobile sector to lower down the harmful effect of pollutants released by industrial processing units. It can also be validated by increase in sale of diesel consuming vehicles. Platinum is also used as one of the important emission control catalysts. The auto-catalysts helps in reducing emissions from diesel and gasoline engines and enhance the energy efficiency.
Moreover, Platinum is used to improve medical technology to enhance health care. Platinum is also used in pharmaceutical sector as many catalysts rely on palladium, platinum, ruthenium, iridium, rhodium, and osmium. ?Sources like refinery & petrochemical complexes, automobiles, chemical industries, natural gas processing plants, oil, and pharmaceutical industries, among others, are getting familiar with an increase number of applications for platinum-based emission catalysts and thus increasing the market.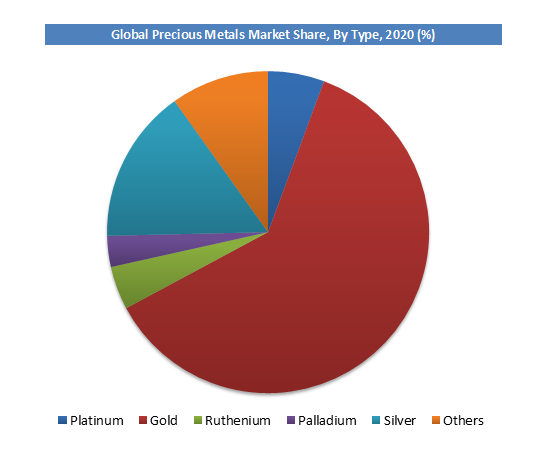 End-Use Industry Segment Analysis Preview
Investment segment is projected to grow at a CAGR of around 7% from 2021 to 2028. The ongoing declining prices of gold, platinum have generated a greater attraction from the investors and is likely to continue in the future. Industrial segment held a substantial share in the market owing to the growth in electrical industry wherein silver is one of the main metals used.
Jewelry segment has also contributed majorly in the overall market growth. Gold and silver have played an important part in marriages, especially in China and India. The wedding market of both the countries offers round the year opportunities for the vendors, thereby driving the demand for precious metals, mainly gold and silver.
Regional Analysis Preview
Asia Pacific accounted for a share of around 35% in 2020. China has an extensive influence over the precious metals market. The country is leading in consumption of gold and PGM. Strong manufacturing sector of China is the main factor spurring the demand in the country. India as an alternative powerhouse of the region. India is the second largest consumer for gold in Asia Pacific. India also has a strong jewelry market due to the wedding industry. Similarly, the country is also evolving its capabilities in manufacturing industry by attracting foreign investors in the field of energy, construction, automotive, chemical, and many more.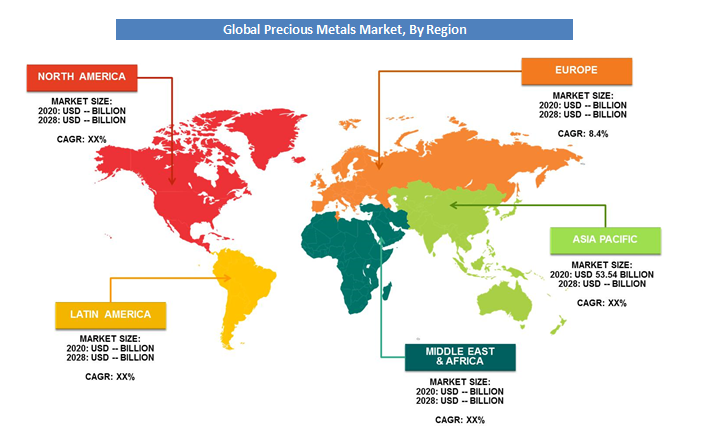 Key Market Players & Competitive Landscape
Some of key players in Precious Metals Market are Barrick Gold, First Quantum Minerals, Gold Fields Limited, Goldcorp Inc., Goldcorp Freeport McMoRan Copper & Gold Inc., Gabriel Resources Ltd, Lundin Mining, Harmony Gold Mining Company Ltd., North American Palladium Ltd., BASF, Clariant, Johnson Matthey, Umicore Galvanotechnik GmbH, GlencoreXstrata, and Evonik Industries AG, among others. The industry players are focusing in joint ventures to mine and explore precious goods in African countries, where there are many untapped reserves are yet to be discovered.
The global precious metals market is segmented as follows:
By Type
Platinum
Gold
Ruthenium
Palladium
Silver
Others
By End-Use Industry
Automotive
Electronics
Jewelry
Chemicals
Investment
Others
By Region
North America
Europe

France
The UK
Spain
Germany
Italy
Rest of Europe

Asia Pacific

China
Japan
India
South Korea
Southeast Asia
Rest of Asia Pacific

Latin America

Brazil
Mexico
Rest of Latin America

Middle East & Africa

GCC
South Africa
Rest of Middle East & Africa