Lithium Fluoride Industry Prospective:
The global lithium fluoride market size was worth around USD 561.49 million in 2022 and is predicted to grow to around USD 1302.39 million by 2030 with a compound annual growth rate (CAGR) of roughly 11.10% between 2023 and 2030.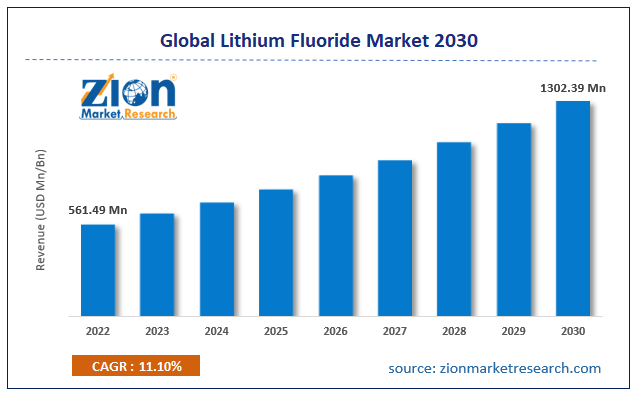 Request Free Sample
Lithium Fluoride Market: Overview
Lithium fluoride is an essential part of the global chemicals and materials sector. This inorganic compound is known by its widely recognized chemical formula LiF and like other inorganic compounds that play significant roles as coatings, pigments, catalysts, surfactants, fuels, and medicine, LiF is also extremely versatile with several end-user applications. In its original form, LiF is a colorless solid and transitions to white while decreasing crystal size. It does not exhibit any odor but has a bitter-saline taste. LiF, in its structural form, is similar to sodium chloride but has less water solubility. In terms of applications, it is primarily used as a component of molten salts. Studies indicate that lithium fluoride releases the highest energies per mass of reactants or specific energy, following beryllium oxide (BeO) owing to two main reasons. The primary is the presence of light elements that are lithium (Li) and fluoride (F) and the secondary is the high reactivity of F2. The preparation of lithium fluoride requires the use of hydrogen fluoride and lithium carbonate or lithium hydroxide.
Key Insights:
As per the analysis shared by our research analyst, the global lithium fluoride market is estimated to grow annually at a CAGR of around 11.10% over the forecast period (2023-2030)
In terms of revenue, the global lithium fluoride market size was valued at around USD 561.49 million in 2022 and is projected to reach USD 1302.39 million, by 2030.
The lithium fluoride market is projected to grow at a significant rate due to the rising nuclear energy investments
Based on grade segmentation, the battery segment was predicted to show maximum market share in the year 2022
Based on application segmentation, nuclear power generation was the leading segment in 2022
On the basis of region, Asia-Pacific was the leading revenue generator in 2022
Lithium Fluoride Market: Growth Drivers
Rising nuclear energy investments to drive market growth
The global lithium fluoride market is anticipated to grow due to the growing investments in nuclear energy and research in which LiF is one of the primary components, especially in liquid-fluoride nuclear reactors. LiF forms the basic component in the preferred mixture of fluoride salt used in liquid-fluoride nuclear reactors. It is a type of molten salt reactor also known as LFTR that uses fluoride-based molten fuel or salt and thorium fuel cycle. LFTR falls in the range of molten salt-fueled reactors (MSRs) which are a class of nuclear fission reactors responsible for supplying nuclear fuel mixed into molten salt. LFTRs are constructed using sophisticated technology and offer several advantages over traditionally used water-cooled or solid-fuel nuclear reactors. The main advantage of liquid-fluoride nuclear reactors is that they are safer to use due to the design structure and inherent nature. Moreover, they produce negligible nuclear waste as compared to other reactors. Research proves that radioactive fission products from nuclear waste produced by LFTRs do not survive longer in the environment. As world leaders and research giants continue to explore nuclear energy to meet the energy demands of the growing commercial world, the need for LiF and its consumption is expected to reach new heights.
This trend is evident in the recent large-scale investments in the construction of new and improved nuclear reactors. In August 2022, Thorizon, a company of nuclear professionals based in the Netherlands, announced that it had raised over EUR12.5 million in funds for the development of a new MSR. The company intends to use long-lived waste for generating carbon-dioxide-free energy and short-lived waste.
Lithium Fluoride Market: Restraints
Health risks associated with the compound may restrict market growth
The global lithium fluoride market growth is projected to be impacted by the increasing awareness of the health impacts of irresponsible or negligent handling of LiF. When the chemical is used in a controlled environment and safety protocols are followed, it does not pose any harm. However, as per official data, if LiF comes in contact with acid, it can lead to the release of toxic gasses. Furthermore, in case of accidental ingestion, lithium fluoride can be life-threatening due to its toxic content. Other side effects related to close exposure to the chemicals are skin irritation, respiratory conditions, and eye irritation. On the other hand, long-term exposure may lead to the onset of breathing issues and the development of related systemic problems.
Lithium Fluoride Market: Opportunities
Growing research in fluoride-ion batteries is an opportunity worth exploring
The lithium fluoride industry players must explore the ongoing research on fluoride-ion batteries in the expanding electric vehicle sector as the world is seeking measures to reduce dependency on non-renewable and environmentally polluting fuels such as diesel and petrol. The EV market is growing at a rapid rate across the public & private sectors and while current electric vehicles are powered by Lithium-ion (Li-ion) batteries, there is a significantly growing segment of researchers trying to leverage the advantages of fluoride-ion batteries as they try to get ahead in the EV technology game. A recent report discussed in detail the efforts undertaken by Japanese automakers to develop next-generation batteries that can travel around 1000 kilometers after a single charge as per predictions, fluoride-ion batteries have the potential to become a viable option as early as 2030. These batteries offer 6 to 7 times higher energy density than lithium-ion batteries and require fewer materials reducing production costs. The market continues to remain limited but with time, more investments are expected in this segment where compounds such as LiF may gain more exposure.
Existing use in the production of Li-ion batteries to continue pushing market growth
The industry for lithium fluoride is thriving due to the growing EV industry since LiF is an important component used in the production of Li-ion batteries that also has other significant buyers such as electronic product manufacturers. Li-ion batteries are essential components for electric products since these batteries are highly energy-efficient. The growing sale of EVs will continue to impact the consumption rate for lithium-fluoride along with other applications of Li-ion batteries.
Lithium Fluoride Market: Challenges
Limited applications and changing global industry dynamics may challenge market growth
The global lithium fluoride market growth is projected to be challenged by the limited application of lithium fluoride. Although it is an essential compound, it is used only in specific industries, unlike other chemicals and materials that have large-scale uses. This results in a limited number of suppliers and producers which in turn leads to high price volatility. In addition to this, the changing market dynamics due to unstable global order can lead to sudden disruptions in the supply chain impacting further application of the compound.
Lithium Fluoride Market: Segmentation
The global lithium fluoride market is segmented based on application, grade, and others.
Based on application, the global market segments are metallurgy processes, glass, optics, nuclear power generation, pharmaceuticals, ceramics, and others. In 2022, the highest growth trend was related to nuclear power generation and the same pattern can be expected during the projection period. The compound is used extensively in LFTRs across the globe as a prominent neutron absorber and helps in regulating fission reactions. The growing investments in nuclear power including generation and research are expected to trigger segmental growth. In 2020, around 20.28% of Russia's total electricity generation was powered using nuclear energy.
Based on grade, the lithium fluoride industry divisions are battery and technical. In 2022, the former segment was a leading revenue generator fueled by growing demand for energy-efficient Li-ion batteries and the use of LiF for producing these power-storing devices. Battery-grade LiF tends to showcase higher purity levels while technical-grade may be less pure and hence not applicable for use in the production of lithium-ion batteries. In 2022, the Li-ion battery market was valued at over USD 47 billion as the consumption rate in the EV industry grew.
Lithium Fluoride Market: Report Scope
Report Attributes
Report Details
Report Name
Lithium Fluoride Market
Market Size in 2022
USD 561.49 Million
Market Forecast in 2030
USD 1302.39 Million
Growth Rate
CAGR of 11.10%
Number of Pages
210
Key Companies Covered
SQM, FMC Corporation, Sigma-Aldrich, Albemarle Corporation, Merck KGaA, Jiangxi Ganfeng Lithium Co. Ltd., Reade Advanced Materials, China Lithium Products Technology Co. Ltd., Arkema, Noah Technologies Corporation, American Elements, Dalian Richfortune Chemicals Co. Ltd., Spectrum Chemical Manufacturing Corp., Beijing Easpring Material Technology Co. Ltd., Honeywell International Inc., Shanghai China Lithium Industrial Co. Ltd., and others.
Segments Covered
By Application, By Grade, and By Region
Regions Covered
North America, Europe, Asia Pacific (APAC), Latin America, Middle East, and Africa (MEA)
Base Year
2022
Historical Year
2017 to 2021
Forecast Year
2023 - 2030
Customization Scope
Avail customized purchase options to meet your exact research needs. Request For Customization
Lithium Fluoride Market: Regional Analysis
Asia-Pacific to witness the highest growth rate during the forecast period
The global lithium fluoride market is projected to register the highest growth rate in Asia-Pacific with countries such as India, China, and South Korea as these nations are considered among the top suppliers and producers of chemical products. Asian nations are home to some of the largest chemicals and materials manufacturing facilities. In addition to this, Asia-Pacific is one of the leading regions for EV markets as China, in 2022, remained the top producer and exporter of electric vehicles across the price range. These vehicles, powered by Li-ion batteries, created a huge demand for lithium fluoride, an essential component for lithium-ion batteries. Furthermore, increased sales of portable smart devices such as laptops and smartphones led to higher investments in the regional Li-ion battery market.
Europe is expected to deliver significant results as the region continues to upgrade investments in nuclear energy. As per the latest findings, around 28% of Europe's electricity is produced using nuclear power. The latest nuclear power plant in Finland Olkiluoto 3 has a nameplate capacity of 1600 MW.
Lithium Fluoride Market: Competitive Analysis
The global lithium fluoride market is led by players like:
SQM
FMC Corporation
Sigma-Aldrich
Albemarle Corporation
Merck KGaA
Jiangxi Ganfeng Lithium Co. Ltd.
Reade Advanced Materials
China Lithium Products Technology Co. Ltd.
Arkema
Noah Technologies Corporation
American Elements
Dalian Richfortune Chemicals Co. Ltd.
Spectrum Chemical Manufacturing Corp.
Beijing Easpring Material Technology Co. Ltd.
Honeywell International Inc.
Shanghai China Lithium Industrial Co. Ltd.
The global lithium fluoride market is segmented as follows:
By Application
Metallurgy Processes
Glass
Optics
Nuclear Power Generation
Pharmaceuticals
Ceramics
Others
By Grade
By Region
North America
Europe

France
The UK
Spain
Germany
Italy
Rest of Europe

Asia Pacific

China
Japan
India
South Korea
Southeast Asia
Rest of Asia Pacific

Latin America

Brazil
Mexico
Rest of Latin America

Middle East & Africa

GCC
South Africa
Rest of Middle East & Africa