Hydrotalcite Industry Prospective:
The global hydrotalcite market size was worth around USD 269.83 million in 2022 and is predicted to grow to around USD 451.26 million by 2030 with a compound annual growth rate (CAGR) of roughly 6.59% between 2023 and 2030.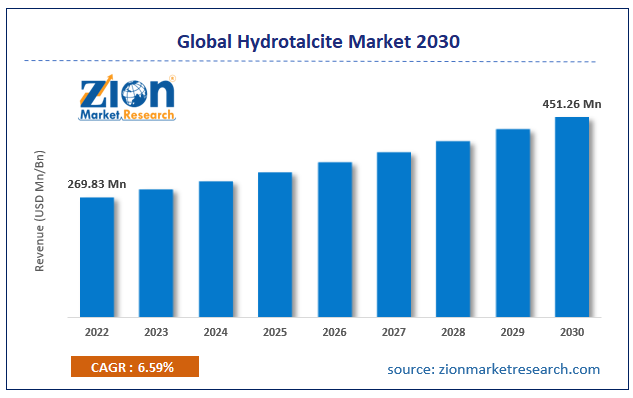 Request Free Sample
Hydrotalcite Market: Overview
Hydrotalcites are materials classified as Smectite or Cationic type. It was previously known as Völknerite consisting of layered double hydroxide (LDH) with general formula Mg6Al2CO3(OH)16·4H2O. Hydrotalcite has a high water content and derives its name due to its appearance resembling talc. The material was first discovered in 1842 and since has been explored extensively to understand its chemical and physical properties followed by several experiments determining its versatile applications. For instance, hydrotalcite is used in several end-user verticals including medical and fuel processing. In the medical industry, it is used for the production of antacids such as magnesium-aluminum oxide while in fuel generation it is specifically used for nuclear fuel processing. The industry for hydrotalcite is growing steadily and during the forecast period, several growth opportunities can be expected.
Key Insights:
As per the analysis shared by our research analyst, the global hydrotalcite market is estimated to grow annually at a CAGR of around 6.59% over the forecast period (2023-2030)
In terms of revenue, the global hydrotalcite market size was valued at around USD 269.83 million in 2022 and is projected to reach USD 451.26 million, by 2030.
The hydrotalcite market is projected to grow at a significant rate due to the increasing application in processing nuclear fuel
Based on application segmentation, catalysis was predicted to show maximum market share in the year 2022
Based on end-user industry segmentation, chemicals was the leading segment in 2022
On the basis of region, Asia-Pacific was the leading revenue generator in 2022
Hydrotalcite Market: Growth Drivers
Increasing application in processing nuclear fuel to drive market growth
The global hydrotalcite market is expected to grow due to the increasing application of the material as a potential getter in nuclear fuel processing. Hydrotalcite is used in these procedures because it exhibits uncompromised anion exchange capabilities. Nuclear fuels are power-providing substances that help in maintaining and sustaining nuclear fission reactions conducted in research facilities or nuclear power generation plants. Hydrotalcites are mainly used as getters for iodide components as these materials help in immobilizing radioactive waste thus helping in preventing radioactive contaminants from entering the environment. The rising number of new nuclear power plants to meet the changing needs of the evolving world may result in higher consumption and use of hydrotalcite. In May 2023, a pioneer in modern technology, Bill Gates announced the opening of a recently completed nuclear power plant in Wyoming under TerraPower. The company plans to manage climate conditions and support energy independence in America with the help of the new plant. In addition to this, the nuclear fuel processing industry is subject to strict guidelines by several regional and international environment regulating bodies since radioactive waste can lead to ecosystem damage beyond repair.
Growing applications in wastewater management to generate higher revenue
During the forecast period, the industry for hydrotalcite can expect higher growth revenue owing to the rising applications of the material in managing wastewater. As compared to lime, treating wastewater or mining water by creating hydrotalcite can help reduce sludge levels to a considerable extent. The adsorbing properties of hydrotalcite promote the use of these materials in wastewater treatment. It is known to adsorb critical and harsh components such as phosphate ions, heavy metals, and arsenic content. Further, hydrotalcite also aids in the neutralization of acidic water. The growing emphasis on treating water from mining, oil refineries, and other industries before being directed back to the source has led to higher use of hydrotalcite in recent times.
Hydrotalcite Market: Restraints
High cost of hydrotalcite processing and difficulty in scaling production quantity may restrict market growth
The global hydrotalcite market growth is likely to be restricted due to the high cost of hydrotalcite processing. Additionally, the expense increases even further when scaling is taken into consideration to meet the changing demands from end-user verticals. The high processing cost is mainly associated with the kind of raw materials used for hydrotalcite production along with the need to maintain accurate conditions for the synthesis process. On the other hand, managing product quality can be difficult, especially in facilities with limited infrastructure.
Hydrotalcite Market: Opportunities
Surging research on medical properties of hydrotalcite may open more doors for growth
The hydrotalcite industry will achieve a necessary boost due to the growing rate of research on understanding and applying medicinal properties of the material mainly focusing on its antacid properties. The material is used for the production of the popular antacid Maalox by Sanofi useful in reducing stomach acid. It is also prescribed for other conditions such as heartburn, indigestion, duodenal or stomach ulcers, and gastroesophageal reflux disease. The increasing number of people suffering from acidity problems will fuel demand for more antacids subsequently impacting the industry of hydrotalcite. As per reports by the National Institute of Health (NIH), gastroesophageal reflux disease is extremely common in North America. In this region, the condition has a prevalence rate of 18.1–27.8% and almost 50% of the adult population is known to report the condition at some point in their lives. Furthermore, factors such as rising healthcare expenditure, surging investments in healthcare infrastructure development, growing patient awareness, and other factors are likely to push the demand for new medicines including antacids.
Growing enhancements in material application will work in the favor of the industry
Hydrotalcite has multiple applications and is known to be a highly effective material leading to more investments toward improving the application range of hydrotalcites. For instance, a study published in February 2023 discusses in detail the role of ceria and gold-modified nickel aluminide (NiAl) hydrotalcite material as catalyst precursors for methane dry forming. Moreover, other discussions include understanding the application and synthesis of organically modified hydrotalcite.
Hydrotalcite Market: Challenges
Limited end-user knowledge and higher use of alternate solutions to challenge market growth
The global hydrotalcite market growth is expected to be challenged by the prevalence of limited awareness about hydrotalcite as compared to other materials. The market is not completely explored in terms of determining material benefits over alternate solutions in each end-user industry. For instance, the wastewater industry uses biological treatment procedures and activated carbon to treat contaminated water. These alternative solutions enjoy higher demand.
Hydrotalcite Market: Segmentation
The global hydrotalcite market is segmented based on application, type, end-user industry, and region.
Based on application, the global market segments are nuclear waste management, anion exchange, catalysis, antacid production, solid sorbents, and polymer additives. In 2022, the highest demand was observed in the catalysis segment since hydrotalcite is known as an excellent catalyst in several complex and simple chemical reactions. In this segment, the role of hydrotalcite is spread across industries, especially the chemical sector. As of 2022, the global catalyst market was valued at USD 30 billion.
Based on type, the hydrotalcite industry is fragmented into synthetic hydrotalcite and Mineral hydrotalcite.
Based on end-user industry, the global market is divided into power generation, chemicals, pharmaceuticals, and others. In 2022, the highest revenue was registered in the chemical sector due to the extensive application of the material in the chemical synthesis process. The growing chemical industry expected to grow at a CAGR of over 6.5% by 2030 is likely to push segmental revenue.
Hydrotalcite Market: Report Scope
Report Attributes
Report Details
Report Name
Hydrotalcite Market
Market Size in 2022
USD 269.83 Million
Market Forecast in 2030
USD 451.26 Million
Growth Rate
CAGR of 6.59%
Number of Pages
230
Key Companies Covered
Sakai Chemical Industry Co. Ltd., Kyowa Chemical Industry Co. Ltd., Clariant AG, SkySpring Nanomaterials Inc., Sasol Germany GmbH, Brunauer-Emmett-Teller (BET) Chemicals, Doobon, ALB Materials Inc., BASF SE, Sinwon Chemical Co. Ltd., and others.
Segments Covered
By Application, By Type, By End-User Industry, and By Region
Regions Covered
North America, Europe, Asia Pacific (APAC), Latin America, Middle East, and Africa (MEA)
Base Year
2022
Historical Year
2017 to 2021
Forecast Year
2023 - 2030
Customization Scope
Avail customized purchase options to meet your exact research needs. Request For Customization
Hydrotalcite Market: Regional Analysis
Asia-Pacific to witness the highest growth rate during the forecast period
The global hydrotalcite market is expected to witness the highest growth rate in Asia-Pacific driven by the existence of large chemical and polymer-producing regional markets. China, India, and South Korea are leading nations with a dominating presence in the global chemical industry. Asian countries have necessary raw materials used in the production of hydrotalcites including industrial facilities, affordable labor, and favorable government policies promoting additional growth in the chemical and mineral sector. In addition to this, the rising population has resulted in higher demand for medicinal products such as antacids. Large-scale pharmaceutical giants are making their way in Asian nations since the growth scope is tremendous. The regional governments are also promoting the development of domestic pharma companies. For instance, the total investments in South Korea's pharma industry totaled USD 30 billion in 2020 as per research. Europe is projected to grow at a steady pace driven by the growing number of companies researching hydrotalcite applications. The increased investments in nuclear fuel processing may further impact regional growth.
Hydrotalcite Market: Competitive Analysis
The global hydrotalcite market is led by players like:
Sakai Chemical Industry Co. Ltd.
Kyowa Chemical Industry Co. Ltd.
Clariant AG
SkySpring Nanomaterials Inc.
Sasol Germany GmbH
Brunauer-Emmett-Teller (BET) Chemicals
Doobon
ALB Materials Inc.
BASF SE
Sinwon Chemical Co. Ltd.
The global hydrotalcite market is segmented as follows:
By Application
Nuclear Waste Management
Anion Exchange
Catalysis
Antacid Production
Solid Sorbents
Polymer Additive
By Type
Synthetic Hydrotalcite
Mineral Hydrotalcite
By End-User Industry
Power Generation
Chemicals
Pharmaceuticals
Others
By Region
North America
Europe

France
The UK
Spain
Germany
Italy
Rest of Europe

Asia Pacific

China
Japan
India
South Korea
Southeast Asia
Rest of Asia Pacific

Latin America

Brazil
Mexico
Rest of Latin America

Middle East & Africa

GCC
South Africa
Rest of Middle East & Africa