Healthcare Cloud Infrastructure Industry Prospective:
The global healthcare cloud infrastructure market size was worth around USD 56.34 billion in 2022 and is predicted to grow to around USD 193.45 billion by 2030 with a compound annual growth rate (CAGR) of roughly 16.71% between 2023 and 2030.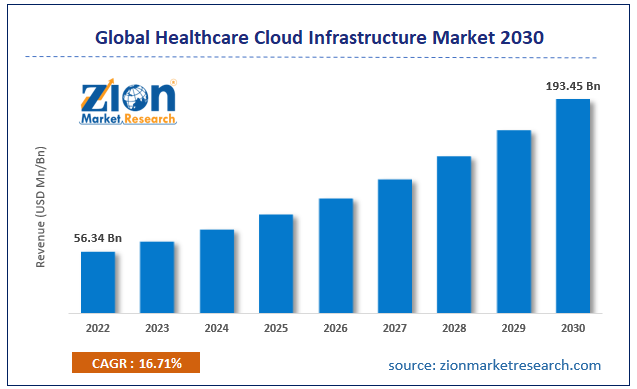 Request Free Sample
Healthcare Cloud Infrastructure Market: Overview
Healthcare cloud infrastructure is a set of advanced and contemporary cloud-based technological systems used in the healthcare industry. It deals with practices undertaken to promote the use of remote servers enabling storing, managing, or accessing medical records and all other forms of healthcare-related data. The main difference between healthcare cloud infrastructure and traditional on-site IT infrastructure is the absence of a server-supporting environment within the hospital premises. This means that the hospital management does not have to worry about the technical aspects of maintaining, securing, and accessing patient-related information.
Cloud service providers ensure that the data is secure and can be accessed when needed. The healthcare cloud infrastructure industry has gained momentum in the last few years owing to the long list of advantages offered including better information management and reduced cost. It directly translates to enhanced patient care which is the ultimate goal of all healthcare providers. While certain countries are promoting the use of healthcare cloud infrastructure voluntarily, healthcare units in certain countries have been pushed to adopt cloud services due to the introduction of laws such as the Electronic Medical Records (EMR) Mandate in the US.
Key Insights:
As per the analysis shared by our research analyst, the global healthcare cloud infrastructure market is estimated to grow annually at a CAGR of around 16.71% over the forecast period (2023-2030)
In terms of revenue, the global healthcare cloud infrastructure market size was valued at around USD 56.34 billion in 2022 and is predicted to grow to around USD 193.45 billion, by 2030.
The healthcare cloud infrastructure market is projected to grow owing to the increasing efforts undertaken by healthcare service providers to ensure that emergency or urgent medical situations are handled efficiently.
Based on end-user segmentation, healthcare providers was predicted to show maximum market share in the year 2022
Based on component segmentation, services was the leading component in 2022
On the basis of region, North America was the leading revenue generator in 2022
Healthcare Cloud Infrastructure Market: Growth Drivers
Growing efforts to meet medical requirements in urgent medical situations to promote market growth
The global healthcare cloud infrastructure market is expected to witness high growth owing to the increasing efforts undertaken by healthcare service providers to ensure that emergency or urgent medical situations are handled efficiently. This idea was further promoted by the unprecedented situations that arose due to COVID-19 when the majority of the hospitals and medical centers were not equipped with essential resources to handle remote patient care. For instance, in April 2022, Google Cloud partnered with HCA Healthcare, a US-based healthcare facilities operator to pool information important for patient care. This included information on details such as Intense Care Unit (ICU) bed availability and utilization, total number of Covid test results including positive, negatives, and the ones pending final results. The list further listed data on ventilator utilization and supply and patients who had been discharged. The platform was managed by SADA systems. International healthcare agencies such as the World Health Organization (WHO) along with other regional units have been trying to ensure that the global medical infrastructure is better equipped in the future.
Increasing adoption of artificial intelligence (AI) and Virtual Reality (VR) in healthcare could lead to higher growth
The increasing use of AI and VR for medical care could further assist the cloud infrastructure to penetrate deeper into the healthcare systems. For instance, hospitals are leveraging the technological assistance provided by AI to diagnose and treat several serious medical conditions by analyzing vast volumes of medical data, tests, images, and sensors. So far, AI has helped detect stroke, cancer, and other fatal conditions. Similar medical professionals use VR to create a safe environment for the patient. It has also proven to be time-saving and a cost-effective technology. A prime example is the use of machine learning (ML) by GNS Healthcare to create a perfect match between patients and the treatment that would best suit their medical condition.
Healthcare Cloud Infrastructure Market: Restraints
Rising cases of online threats and data breaches to restrict market expansion
The healthcare cloud infrastructure industry is likely to register certain growth restrictions led by the increasing number of online threats and data breaches observed globally. Medical centers store extremely confidential data related to patient health and any compromise on data integrity can lead to severe repercussions. When hospitals deploy cloud services, they inherently allow service providers to become responsible for managing and handling data security. A July 2023 report by Thales Group claimed that nearly 39% of companies using cloud technology have experienced data breaches. In June 2023, MOVEit, a file transfer tool became the victim of a cyber-attack that impacted over 200 companies including the US Department of Health and Human Services.
Changing regional laws surrounding patient data transfer to create obstacles against growth
Every nation is governed by regional laws and certain countries do not allow sharing of patient data across different platforms. For instance, Canada has placed the Personal Information and Electronic Documents Act (PIPEDA) in place that protects personal information and safeguards aspects such as data gathering, utilization, and disclosure. Additionally, the European Union has strict data protection directives to track information being shared from one location to another.
Healthcare Cloud Infrastructure Market: Opportunities
Increased interest in dominant technology companies in the healthcare industry could create growth opportunities
Dominant technology-oriented companies such as Microsoft, Amazon, and others along with smaller companies have been eyeing the healthcare industry. In recent times, there has been a steady growth in the number of service providers working toward providing solutions targeting the issues and problems in the medical and healthcare system. For instance, in July 2021, Amazon launched Amazon Web Services (AWS) for Health cloud services targeting genomics, healthcare, and biopharma sectors. The positive response from the medical community has further encouraged companies to deploy novel systems with added security and privacy settings. A recent incident was observed in February 2022, when SAP and IBM partnered to ease the process of moving data from SAP to the cloud for their clients.
Healthcare Cloud Infrastructure Market: Challenges
Training employees and overall cost-efficiency of cloud infrastructure to challenge growth
Although cloud infrastructure simplifies several processes in the long term and is known to be highly beneficial for its end-users, the initial change can be difficult to adopt especially for workers and employees who are not comfortable with advanced technical systems. Additionally, healthcare companies adopting cloud systems must ensure that the total cost of investment shows a positive return on investment. An ill-informed decision can lead to a loss of profit margin thus impacting the operation performance of the cloud services as well.
Healthcare Cloud Infrastructure Market: Segmentation
The global healthcare cloud infrastructure market is segmented based on end-user, component, and region.
Based on end-user, the global market segments are healthcare providers and healthcare payers. In 2022, the highest growth was observed in the healthcare providers segment. It dominated over 59% of the total segmental share driven by the growing number of hospitals and medical centers incorporating cloud services influenced by the growing number of patients and increasing demand for improvement in patient care. Cloud services facilitate such actions as they allow hospitals to make informed decisions on time reducing the burden of going through large amounts of medical records manually. Factors that could promote higher growth during the projection period include the launch of new services and rising confidence between service providers and users.
Based on component, the global healthcare cloud infrastructure industry is segmented into services and hardware. In 2022, the former held control over 79.1% of the total share. Many medical care centers lack the necessary resources to run advanced software systems. They are not equipped with sufficient bandwidth in terms of human resources either. This results in greater demand for healthcare cloud infrastructure in the form of services where a third party is responsible for managing all the technical aspects of the service. Additionally, the growing popularity of hybrid systems further helps segmental growth.
Healthcare Cloud Infrastructure Market: Report Scope
Report Attributes
Report Details
Report Name
Healthcare Cloud Infrastructure Market
Market Size in 2022
USD 56.34 Billion
Market Forecast in 2030
USD 193.45 Billion
Growth Rate
CAGR of 16.71%
Number of Pages
229
Key Companies Covered
Netwave Systems B.V., DANELEC MARINE, Consilium AB Publ, Northrop Grunman Sperry Marine B.V., INTERCHALT, Totem Plus Ltd., Japan Radio Co, IBM, Microsoft, Dell Inc., Hewlett Packard Enterprise Development LP, and others.
Segments Covered
By End-User, By Component, and By Region
Regions Covered
North America, Europe, Asia Pacific (APAC), Latin America, Middle East, and Africa (MEA)
Base Year
2022
Historical Year
2017 to 2021
Forecast Year
2023 - 2030
Customization Scope
Avail customized purchase options to meet your exact research needs. Request For Customization
Healthcare Cloud Infrastructure Market: Regional Analysis
North America to generate the highest revenue
The global healthcare cloud infrastructure is expected to be headed by North America during the forecast period. In 2022, the region generated over 51% of the total global revenue. Increased spending by health centers on technology as a result of a higher level of acceptance and comfort with advanced systems is a major reason impacting regional dominance. Additionally, the presence of key market players and early adoption have been crucial for the region's revenue. Rising demand for quality care and a proactive approach to managing medical emergencies along with gaining better control over resource allocation are projected to become the driving factors in the coming years.
In July 2020, Allscripts Healthcare Solutions and Microsoft announced a partnership that will work toward the development of healthcare IT solutions based on cloud technology. Asia-Pacific is likely to emerge as a prominent region by 2030 led by countries like China, Japan, and South Korea with India showing a steady adoption rate. The number of patients in these countries is rising and hospitals need better patient management systems. These regions are most likely to witness growth in the number of smaller service providers that can help the nations achieve region-specific cloud solutions.
Healthcare Cloud Infrastructure Market: Competitive Analysis
The global healthcare cloud infrastructure market is led by players like:
Netwave Systems B.V.
DANELEC MARINE
Consilium AB Publ
Northrop Grunman Sperry Marine B.V.
INTERCHALT
Totem Plus Ltd.
Japan Radio Co
IBM
Microsoft
Dell Inc.
Hewlett Packard Enterprise Development LP
The global healthcare cloud infrastructure market is segmented as follows:
By End-User
Healthcare Providers
Healthcare Payers
By Component
By Region
North America
Europe

France
The UK
Spain
Germany
Italy
Rest of Europe

Asia Pacific

China
Japan
India
South Korea
Southeast Asia
Rest of Asia Pacific

Latin America

Brazil
Mexico
Rest of Latin America

Middle East & Africa

GCC
South Africa
Rest of Middle East & Africa