The report covers a forecast and an analysis of the mHealth solutions market on a global and regional level. The study provides historical data from 2015 to 2017 along with a forecast from 2018 to 2024 based on revenue (USD Billion). The study includes drivers and restraints for the mHealth solutions market along with the impact they have on the demand over the forecast period. Additionally, the report includes the study of opportunities available in the mHealth solutions market on a global and regional level.
In order to give the users of this report a comprehensive overview of the mHealth solutions market, we have included a competitive landscape and an analysis of Porter's Five Forces model for the market. The study encompasses a market attractiveness analysis, wherein all the segments are benchmarked based on their market size, growth rate, and general attractiveness.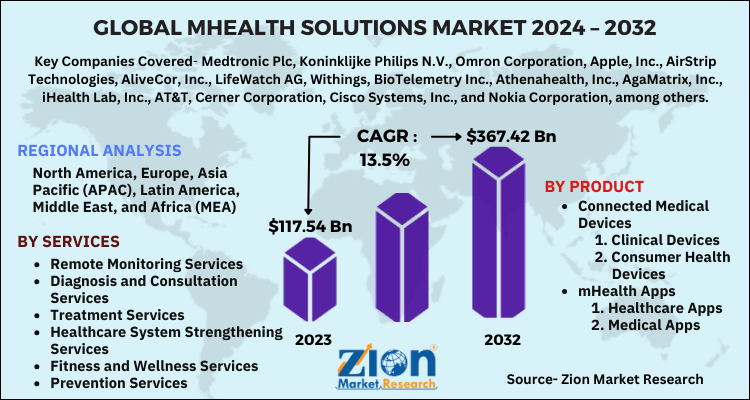 Request Free Sample
The report provides company market share analysis to give a broader overview of the key market players. In addition, the report also covers key strategic developments of the market including acquisitions & mergers, new product launch, agreements, partnerships, collaborations & joint ventures, research & development, and regional expansion of major participants involved in the mHealth Solutions market on a global and regional basis.
The study provides a decisive view of the mHealth solutions market by segmenting the market based on product and services and region. Based on products and services, the market is segmented into mHealth applications (apps), connected medical devices, and mHealth services. Connected medical devices segment is further segmented into clinical and consumer devices. The clinical devices segment is further classified into vital signs monitoring devices and fetal monitoring devices, peak flow meters, multi-parameter trackers, sleep apnea monitors, neurological monitoring devices, and other connected medical devices. Vital signs monitoring devices are sub-segmented into blood glucose monitors, blood pressure monitors, ECG monitors/heart rate monitors, and pulse oximeters. Other clinical devices segment includes coagulation monitors, thermometers, fetal maternity monitors, and digital skin sensors.
The mHealth applications segment is divided into healthcare applications and medical applications. Healthcare applications segment is divided into chronic care management apps, general health and fitness applications, medication management apps, personal health record (PHR) apps, women's health apps, and other healthcare apps (dermatological treatment, sleep monitoring, and emergency response (vital tracking)). General health and fitness apps are classified into weight & obesity management apps, health-tracking apps, and fitness and nutrition apps. Chronic care management apps are classified into diabetes management apps, behavioral disorder and mental health management apps, cancer therapy management apps, blood pressure & ECG monitoring apps, and other chronic care management apps (kidney disorders and respiratory diseases & infections management apps). Women's health apps are classified into fertility apps, breastfeeding apps, pregnancy apps, and other women health apps (apps for sleep, activity, and stress level tracking). Medical apps are made for medical professionals and are classified into continuing medical education apps, consulting and communication apps, medical reference apps, and patient management & monitoring apps.
The mHealth services segment includes diagnosis and consultation services, remote monitoring, healthcare system strengthening services, treatment services, prevention services, and fitness and wellness services.
The regional segmentation includes the current and forecast demand for North America, Europe, Asia Pacific, Latin America, and the Middle East and Africa with its further division into major countries including the U.S., Canada, Germany, France, UK, China, Japan, India, and Brazil.
Some key players of the global mHealth solutions market include Medtronic Plc, Koninklijke Philips N.V., Omron Corporation, Apple, Inc., AirStrip Technologies, AliveCor, Inc., LifeWatch AG, Withings, BioTelemetry Inc., Athenahealth, Inc., AgaMatrix, Inc., iHealth Lab, Inc., AT&T, Cerner Corporation, Cisco Systems, Inc., and Nokia Corporation, among others.
This report segments the global mHealth solutions market into:
Global mHealth Solutions Market: By Product and Services
Connected Medical Devices

Clinical Devices

Vital Signs Monitoring Devices

Blood Pressure Monitors
Blood Glucose Meters
ECG/Heart Rate Monitors
Pulse Oximeters

Peak Flow meters
Fetal Monitoring Devices
Multiparameter Trackers
Sleep Apnea Monitors
Neurological Monitoring Devices
Other Clinical Devices

Consumer Health Devices

mHealth Apps

Healthcare Apps

General Health and Fitness Apps

Health Tracking Apps
Obesity and Weight Management Apps
Fitness and Nutrition Apps

Chronic Care Management Apps

Mental Health and Behavioral Disorder Management Apps
Diabetes Management Apps
Blood Pressure and ECG Monitoring Apps
Cancer Therapy Management Apps
Other Chronic Care Management Apps (Respiratory Diseases and Kidney Disorders, Infections Management Apps)

Medication Management Apps
Women's Health Apps

Pregnancy Apps
Fertility Apps
Breastfeeding Apps
Other Women's Health Apps

Personal Health Record Apps
Other Healthcare Apps

Medical Apps

Medical Reference Apps
Continuing Medical Education Apps
Patient Management and Monitoring Apps
Communication and Consulting Apps

mHealth Services

Remote Monitoring Services
Diagnosis and Consultation Services
Treatment Services
Healthcare System Strengthening Services
Fitness and Wellness Services
Prevention Services
Global mHealth Solutions Market: By Region
North America
Europe
Asia Pacific
Latin America
Middle East and Africa