Safety Service Industry Prospective:
The global safety service market size was worth around USD 3127.48 million in 2022 and is predicted to grow to around USD 6138.97 million by 2030 with a compound annual growth rate (CAGR) of roughly 8.80% between 2023 and 2030.
The report analyzes the global safety service market drivers, restraints/challenges, and the effect they have on the demands during the projection period. In addition, the report explores emerging opportunities in the safety service market.
Safety Service Market: Overview
The safety service industry refers to the sector that is responsible for providing or ensuring the safety of organizations, individuals, and communities. The main goal of the companies operating in the sector is to ascertain that the stakeholders involved in any process along with other associated factors are safe from external harmful agents. The services included in the industry are of several types. For instance, it includes physical security services which deal with access control systems, manned security services, mobile patrols, and closed-circuit television (CCTV) monitoring. It is also inclusive of other security-related issues such as cybersecurity, emergency response service, and occupational health and safety services. During the forecast period, the global safety service market is expected to witness a high growth rate while every segment may have challenges to deal with.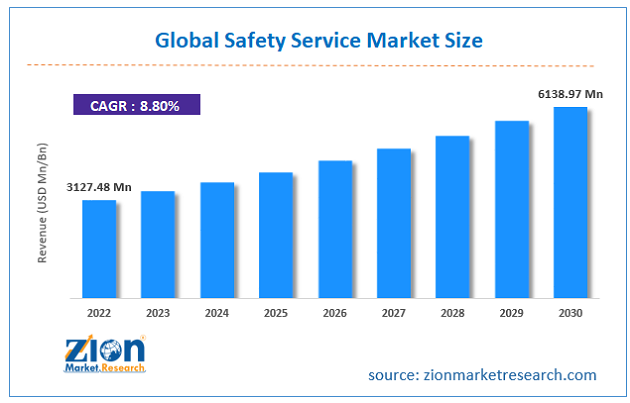 Request Free Sample
Key Insights:
As per the analysis shared by our research analyst, the global safety service market is estimated to grow annually at a CAGR of around 8.80% over the forecast period (2023-2030)
In terms of revenue, the global safety service market size was valued at around USD 3127.48 million in 2022 and is projected to reach USD 6138.97 million, by 2030.
The safety service market is projected to grow at a significant rate due to the growing security concerns
Based on offering segmentation, services were predicted to show maximum market share in the year 2022
Based on end-user segmentation, petrochemical was the leading user in 2022
On the basis of region, North America was the leading revenue generator in 2022
Safety Service Market: Growth Drivers
Growing security concerns to drive market growth
The global safety service market is expected to grow owing to the increasing concerns over the security of human resources and other assets across industries. The number of incidents including physical security threats, cyber-crimes, environmental hazards, and others has increased tremendously over the last few years. There are several factors that are responsible for the growing hostility across the world. Some of the main reasons include social and economic factors. For instance, although the Russia-Ukraine war currently exists between these two nations, its effect can be witnessed across the globe, with allied countries participating in the war if not entirely but by supporting one of the two countries.
In addition to this, the rising digitization across the globe has pushed the number of cyber-crimes to higher levels in the last decade. According to a report published by cybersecurity firm McAfee and the Center for Strategic and International Studies (CSIS), more than $945 billion have been lost in cybercrimes globally in 2020 alone.
Safety Service Market: Restraints
High cost of implementation to restrict the market growth
The implementation of security services of any kind acting as a protection against unwanted situations can be expensive. The cost further increases when more modern tools and technologies are used in the process. The final expenditure also includes other additional costs belonging to the human personnel employed to run these systems and tools. This is a major cause of concern in the global safety service market since not all countries or companies may be equipped with the necessary budgets to deploy advanced safety services. Currently, economic slowdown across the globe could lead to a higher loss of revenue.
Safety Service Market: Opportunities
Increasing opportunities in environmental safety to provide growth opportunities
The global safety service industry is expected to register higher growth opportunities owing to the increasing demand for ensuring that business operations have less impact on the environment as currently, they are the largest contributors to the rising levels of environmental pollution. This has led to businesses and corporations opting for measures that can help them reduce their carbon footprint and comply with regulations. Environmental safety services such as pollution control, waste management, and sustainability consulting are becoming more important and this could act as an excellent expansion opportunity for the industry players.
Safety Service Market: Challenges
Dynamic regulations to challenge market growth
One of the key challenges that most of the global safety service market players face is in terms of the dynamic nature of the regulations surrounding safety measures. Apart from being complex, they tend to vary from one industry to another and these rules are different in every country which further complicates the service standard. In addition to this, the rapidly changing technology makes it difficult for businesses to keep up with new developments to ensure competitiveness.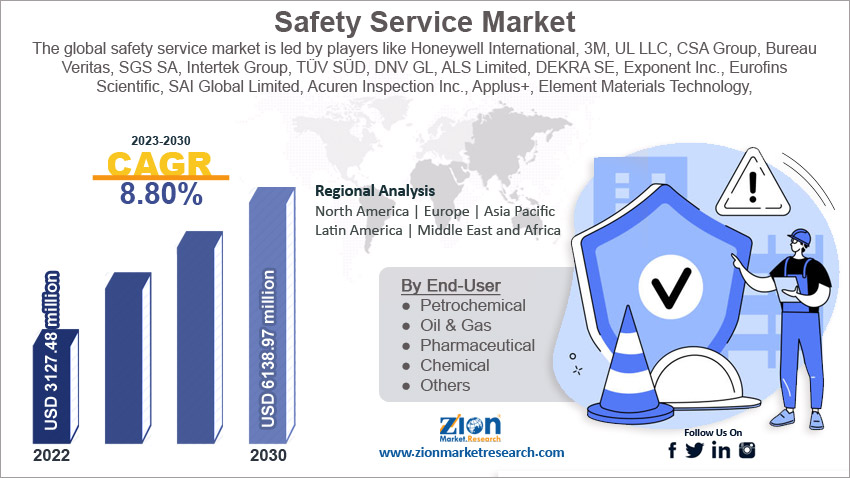 Request Free Sample
Safety Service Market: Segmentation
The global safety service market is segmented based on offering, end-user, and region.
Based on offering, the global market segments are services and solutions. The global market witnessed the highest growth in the services segment in 2022. It deals with processes such as providing expert advice, training, and support to help clients so that they can improve their safety protocols and ensure compliance. Some of the examples include consulting, training, inspections, audits, and equipment maintenance. On the other hand, solutions deal with providing the necessary tools such as software and product to help clients manage risks and improve safety. Some examples of solutions include safety equipment such as fire extinguishers and smoke detectors, and safety software such as emergency response management software and risk management software. In 2020, IBM's Global Technology Services segment made a revenue of USD 27.4 billion.
Based on end-user, the global market segments are petrochemical, oil & gas, pharmaceutical, chemical, and others. In 2022, the safety service industry that registered the highest growth was the petrochemical segment followed by the oil & gas sector. The growth is mainly due to the stringent rules and regulations that these industries are subject to due to the hazardous nature of their operations. They require specialized safety services in order to prevent any catastrophic accident and offer a higher degree of protection to their manpower and equipment. In addition to this, chemical industries are another set of significant contributors in the market and the services required by them may include hazard analysis, process safety management, and equipment maintenance to minimize risks. For instance, a 2021 report by Egypt Oil & Gas stated that companies in the US spend almost USD 170 billion per year on occupational injuries and illnesses.
Recent Developments:
In August 2021, Aquarious Global, a pararescue company responsible for developing breakthrough mobile offshore safety training for companies in the oil & gas sector, announced the launch of a new and advanced training system called the INSITU. The program is expected to train all personnel that operate on drilling decks, oil rigs, oil platforms
In April 2023, IBM Corporation, a leading technology giant, announced the launch of IBM Security QRadar Security Suite, a new tool enhancing the company's cybersecurity services. The QRadar Security Suite aims at integrating and accelerating the detection of threats, their investigation, and the response time for the entire incident lifecycle
Safety Service Market: Report Scope
Report Attributes
Report Details
Report Name
Safety Service Market Research Report
Market Size in 2022
USD 3127.48 Million
Market Forecast in 2030
USD 6138.97 Million
Growth Rate
CAGR of 8.80%
Number of Pages
217
Key Companies Covered
Honeywell International, 3M, UL LLC, CSA Group, Bureau Veritas, SGS SA, Intertek Group, TÜV SÜD, DNV GL, ALS Limited, DEKRA SE, Exponent Inc., Eurofins Scientific, SAI Global Limited, Acuren Inspection Inc., Applus+, Element Materials Technology, Lloyd's Register Group Services Limited, Mistras Group, NTS - National Technical Systems, Rockwell Automation Inc., RPS Group, Socotec Group, TE Connectivity Ltd., and VWR International.
Segments Covered
By Offering, By End-User, and By Region
Regions Covered
North America, Europe, Asia Pacific (APAC), Latin America, Middle East, and Africa (MEA)
Base Year
2022
Historical Year
2017 to 2021
Forecast Year
2023 - 2030
Customization Scope
Avail customized purchase options to meet your exact research needs. Request For Customization
Safety Service Market: Regional Analysis
North America to witness the highest growth
The global safety service market is expected to witness the highest growth in North America since currently, the US is the contributor amongst all other regions. The growth is mainly driven by the presence and the rising number of players in the oil & gas sector which is governed by stringent government regulations that enforce the use of advanced tools for mitigating risk associated with human resources and loss of other resources.
Furthermore, the regional government is using excessive curbing measures to reduce the environmental impact of business operations causing the commercial players to adopt environmental safety measures. In addition to this, the US is home to some of the largest security-providing companies, especially in terms of cybercrimes with client bases across the globe. Europe is another significant market for safety services due to its strict safety regulations and the presence of a large number of chemical, pharmaceutical, and manufacturing companies.
Safety Service Market: Competitive Analysis
The global safety service market is led by players like:
Honeywell International
3M
UL LLC
CSA Group
Bureau Veritas
SGS SA
Intertek Group
TÜV SÜD
DNV GL
ALS Limited
DEKRA SE
Exponent Inc.
Eurofins Scientific
SAI Global Limited
Acuren Inspection Inc.
Applus+
Element Materials Technology
Lloyd's Register Group Services Limited
Mistras Group
NTS - National Technical Systems
Rockwell Automation Inc.
RPS Group
Socotec Group
TE Connectivity Ltd.
VWR International.
The global safety service market is segmented as follows:
By Offering
By End-User
Petrochemical
Oil & Gas
Pharmaceutical
Chemical
Others
By Region
North America
Europe

France
The UK
Spain
Germany
Italy
Rest of Europe

Asia Pacific

China
Japan
India
South Korea
Southeast Asia
Rest of Asia Pacific

Latin America

Brazil
Mexico
Rest of Latin America

Middle East & Africa

GCC
South Africa
Rest of Middle East & Africa