Global Electric Vehicles Market Overview
The global electric vehicles market accounted for USD 142.8 Billion in 2020 and is expected to reach USD 586.6 Billion by 2028, growing at a CAGR of 20.7% from 2021 to 2028.
The contribution in increasing the Greenhouse Gases (GHG) emissions by the traditional fuel vehicles has paved the way to clean fuel vehicles. Electric Vehicles (EV) have gained popularity in such scenarios, considering a significant contributor to the new power system. These vehicles are operated on an electric motor which requires supply from the batteries.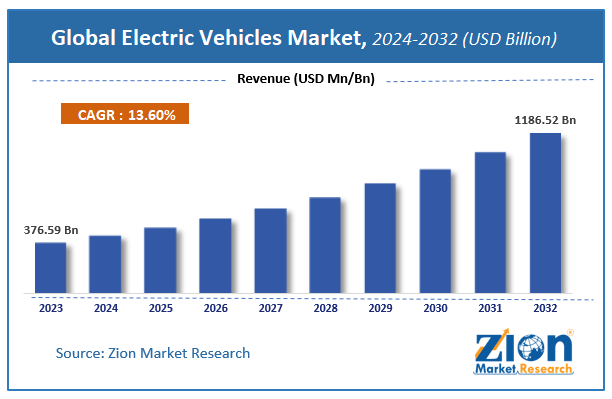 Request Free Sample
The market is primarily driven by various benefits offered by EVs over conventional fuel vehicles, including lower carbon emission, higher fuel economy, low maintenance, rise in fuel prices, ease of charging the vehicle, and government policies to increase the sales of EVs. Ultra-fast charging facilities have become more popular recently, providing increased power output. The car manufacturers are significantly investing in procuring EV batteries and cloud-connected charging devices. This trend is expected to continue over the forecast period.
COVID-19 Impact Analysis
With production lines paused, the supply chain disrupted, and the demand from consumers abridged, the EV market suffered greatly in the pandemic. Tesla Inc initially suspended the production but saw steady sales and profitable quarters in 2020, with the company delivering 1,80,570 vehicles in the 4th quarter. The European EV market saw double the sales in 2020 as that of 2019.
Growth Factors
With the government's strict regulations on Vehicle Emissions to curb air pollution, manufacturers are switching to EVs. For instance, European Union, the US, and China have implemented strict government regulations and have asked manufacturers to use the technologies to Reduce Greenhouse Gases. Improved Batteries having continuous growth with newer technologies like vehicle-to-grid (V2G) systems will ultimately make sure consumers adopt electric vehicles.
Along with imposing regulations, the government has been providing new policies and subsidies to stimulate the adoption of EVs. With consumers getting more benefits like reduced price or more EV battery stations and automakers on grants like exempting from the taxes, it has encouraged both the parties to buy and sell the EVs. The competition between the automakers has undoubtedly made sure there is an arrival of less cheap Electric Vehicles with the complete package, thereby allowing consumers to lean towards the EVs market only.
Global Electric Vehicles Market Report Scope:
Report Attributes
Report Details
Report Name
Electric Vehicles Market
Market Size in 2020
USD 142.8 Billion
Market Forecast in 2028
USD 586.6 Billion
Compound Annual Growth Rate
CAGR of 20.7%
Number of Pages
130
Forecast Units
Value (USD Billion), and Volume (Units)
Key Companies Covered
Tesla Inc, Volkswagen AG, Ford Motors, BMW, Daimler AG, General Motors, Nissan Motors Co. Ltd., Toyota Motor Corporation, among others. These companies are focusing on inventing new technologies to pull more market towards EVs.
Segments Covered
By Source Technology, By Vehicle And By Electric Powertrain
Regions Covered
North America, Europe, Asia Pacific (APAC), Latian America, Middle East and Africa (MEA)
Countries Covered
North America: U.S and Canada
Europe: Germany, Italy, Russia, U.K, Spain, France, Rest of Europe
APAC: China, Australia, Japan, India, South Korea, South East Asia, Rest of Asia Pacific
Latin America: Brazil, Argentina, Chile
The Middle East And Africa: South Africa, GCC, Rest of MEA
Base Year
2020
Historical Year
2016 to 2020
Forecast Year
2021 - 2028
Customization Scope
Avail customized purchase options to meet your exact research needs. Request For Customization
Source Technology Segment Analysis Preview
The Hybrid Electric Vehicle (HEV) held a share of 45.31% in 2020. HEV provides a combination of both electric motor and IC Engine, with the capability of conserving the energy that has been produced from different sources. It meets other objectives like improved fuel efficiency and an increase in power. The use of regenerative braking and automatic start and shutoff technologies have paved the way for HEV to rise in this segment. Plug-in Hybrid Electric Vehicle's (PHEV) future seems bleak due to high cost and hard to maintain, but the manufacturers are looking forward to reducing the sales price. Battery Electric Vehicle (BEV), Fuel Cell Electric Vehicle (FCEV), and others form the industry type segment.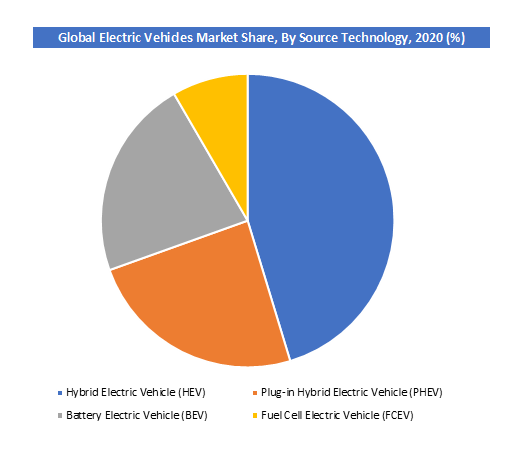 Request Free Sample
Vehicle Segment Analysis Preview
The passenger car segment is projected to grow at a CAGR of around 25.74% from 2021 to 2028. This is accredited to the rising demand for EVs especially in Europe and China. The two-wheelers and other passenger vehicles like cars and buses sales have witnessed increased sales numbers owing to the emergence of advanced batteries. Several other countries are also planning to replace the traditional fuel-based with electric vehicles. This trend will help the passenger car segment hold a substantial market share during the forecasted period. The commercial vehicle segment includes light and heavy commercial vehicles based on applications and the load capacity it has to bear. This segment is expected to witness notable growth during the forecast period as the EV market is witnessing frequent product launches in its commercial vehicles category.
Electric Powertrain Segment Analysis Preview
The Parallel segment is expected to witness substantial growth during the forecast period. This is accredited to its efficient functioning with the engine and motor to generate the power. The use of small battery packs and power from regenerative braking are some of the other factors that fuel the growth of parallel powertrains. This technology of braking allows the battery to recharge, and thus there is no requirement for an external generator.
Regional Analysis Preview
Asia Pacific is projected to grow at a CAGR of 54.05% during the forecast period. Asia Pacific EV market is likely to witness a significant increase in the demand for passenger cars due to enhanced production capabilities, especially in developing economies such as China and India. China holds the largest share in passenger car segments in the global EV market. The ever-rising levels of air pollution in APAC countries and the increase in demand for private vehicles have paved an opportunity to grow the market. The need is backed by the government's laws and subsidies to meet the objectives.
North America is expected to witness substantial growth during the forecast period. The rigid government regulations and improvement in charging infrastructure in the U.S. have led North America to contribute heavily to the global market. Tesla has been the largest manufacturer in California and will help the market witness the highest growth due to increased demand for commercial vehicles. Biden administration is on the path of electrifying the entire fleet and meet the sustainability achievements.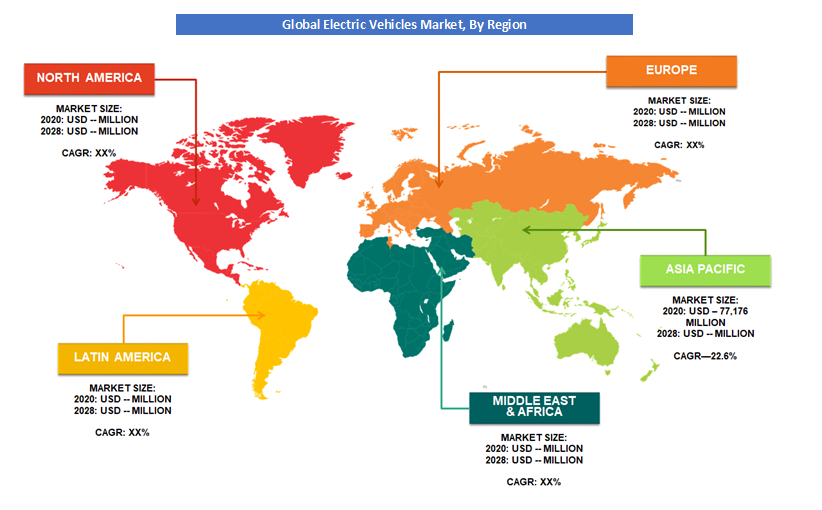 Request Free Sample
Key Market Players & Competitive Landscape
Some of the key players in the Electric Vehicle market include Tesla Inc, Volkswagen AG, Ford Motors, BMW, Daimler AG, General Motors, Nissan Motors Co. Ltd., Toyota Motor Corporation, among others. These companies are focusing on inventing new technologies to pull more market towards EVs.
Tesla Inc. (US) is among the leading top player in the electric vehicle market with the outset of producing the better innovative vehicle in terms of efficiency and enhancements in technologies. The EV trend set by Tesla Inc. is supported by environmental objectives too. The company has manufactured charging stations across the US and Canada. In addition to creating and selling high-speed EVs, the company has also developed Solar panels across the charging stations for power generations.
The global Electric Vehicles market is segmented as follows:
By Source Technology
Hybrid Electric Vehicle (HEV)
Plug-in Hybrid Electric Vehicle (PHEV)
Battery Electric Vehicle (BEV)
Fuel Cell Electric Vehicle (FCEV)
By Vehicle
Passenger Cars
Light Commercial Vehicles
Heavy Commercial Vehicles
By Electric Powertrain
By Region
North America
Europe

France
The UK
Spain
Germany
Italy
Rest of Europe

Asia Pacific

China
Japan
India
South Korea
Southeast Asia
Rest of Asia Pacific

Latin America

Brazil
Mexico
Rest of Latin America

Middle East & Africa

GCC
South Africa
Rest of Middle East & Africa