According to the report published by Zion Market Research, global demand for the Specialty Coatings market was valued at approximately USD 3.2 Billion in 2019 and is expected to generate revenue of around USD 4 Billion by end of 2026, growing at a CAGR of around 3-4% between 2020 and 2026.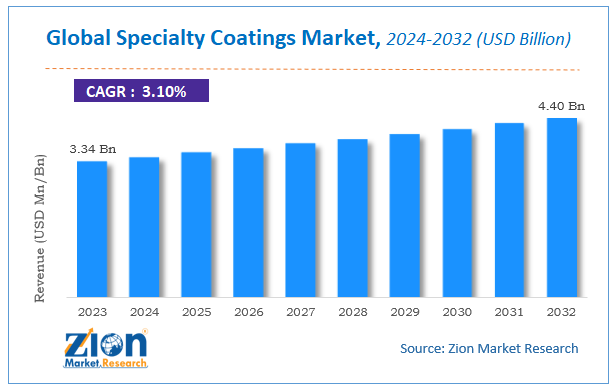 Request Free Sample
Global Specialty Coatings Market: Overview
The specialty coatings have many properties like antireflection, compatibility, excellent adhesive properties, enhanced corrosion protection, fire or temperature resistance, substrate, sealing, and temporary protection. Thus specialty coatings can be defined as a type of coating that provides performance as required by the applications, i.e., it meets the definition of a primer, topcoat, and self-priming. Specialty coatings include high-performance coatings based on solvent or low VOC water based solids.
Global Specialty Coatings Market: Growth Factors
In combination with the end-use-specific demand for coating products, an optimistic outlook toward the global paint & coatings industry is expected to drive the growth of specialty coatings. Increasing consumer requirements, including high performance, increased reliability, and extended service life, are expected over the projected timeframe to increase the demand for specialty coatings. On account of increased resistance to contaminants, heat, and abrasion, these coatings are expected to gain market share in both the residential and commercial segments. Strong demand growth from OEMs, especially in the automotive and chemical industries, is expected.
Global Specialty Coatings Market: Segmentation
The Specialty Coatings market is fragmented based on the material, and end-use industry. By material, the market is divided into epoxy, acrylic urethane, alkyd, and polyamide. On the basis of end-user, the Specialty Coatings market includes pulp and paper, refineries, petrochemical, OEM paints, oil and gas, power, marine, aerospace and defense, pipeline, fireproofing, railway, water, and wastewater, architectural, and Others. In the coming years, the increase in the paint and coating industry is projected to have a positive impact on the global market for specialty coatings in the years ahead.
Report Scope:
Region-wise, the global market is segregated into North America, Europe, Asia Pacific, Latin America, and Middle East & Africa.
Global Specialty Coatings Market: Regional Analysis
It is predicted that the Asia Pacific will remain the largest and fastest-growing region. Development in automobile production, combined with rising construction spending, is expected to have a positive effect on consumer demand in China, India, Indonesia, and Vietnam. The relatively mature markets of North America and Europe are projected to grow at below-average CAGR levels. In these areas, the specialty coatings industry is characterized by rising environmental and government legislation, combined with the rebound of the automotive and housing industries.
Global Specialty Coatings Market: Competitive Players
Some main participants of the Specialty Coatings market are Ashland, Axalta, Nicoat, Specialty Polymer Coatings Inc., PPG Industries, Evonik, U.S. Specialty Coatings, Inc., NV Specialty Coatings Srl, Bio Specialty Coatings, Evonik, Croda Coatings & Polymers, DOW Chemicals, among others.
Specialty Coatings Market: Regional Segment Analysis
North America
Europe

France
The UK
Spain
Germany
Italy
Rest of Europe

Asia Pacific

China
Japan
India
South Korea
Southeast Asia
Rest of Asia Pacific

Latin America

Brazil
Mexico
Rest of Latin America

Middle East & Africa

GCC
South Africa
Rest of the Middle East & Africa