Power Monitoring System Market Size And Industry Analysis
The global power monitoring system market size was worth around USD 4 billion in 2021 and is predicted to grow to around USD 6 billion by 2028 with a compound annual growth rate (CAGR) of roughly 5.64% between 2022 and 2028. The report analyzes the global power monitoring system market's drivers, restraints/challenges, and the effect they have on the demands during the projection period. In addition, the report explores emerging opportunities in the power monitoring system market.
Power Monitoring System Market: Overview
Power monitoring systems are electrical or power-driven devices that are used to analyze the energy utilization by any electric load carrier. The total power that an electrical device consumes over a certain period is called energy. Power meters or power monitoring systems are typically installed in domestic or commercial units to determine the extent of power consumption in alternating current settings. As of current times, the most in-demand power meters are devices that can be used not just to monitor power consumption but aid in managing power distribution efficiently. These systems are used to correctly measure the energy consumed during the stipulated time, control the quality of the electric current, along with relaying information from the load to the cloud or concentrator thus aiding better management of utilities in terms of energy used.
For optimization of the electric current management process, a system must be able to perform these tasks in real-time and instantly to avoid any mismanagement of power distribution. The global market cap is witnessing an influx of modern-day electric meters called smart meters. These devices can efficiently analyze and record different trends of electricity consumption, while also transmitting information to the corresponding electricity supplier for billing and regulatory purposes. Many homes and businesses are adopting smart meter technology to record every aspect related to data consumption. The intelligent device is useful in calculating other points as well like which resource is in function and for how long, making it a popular choice amongst end-users.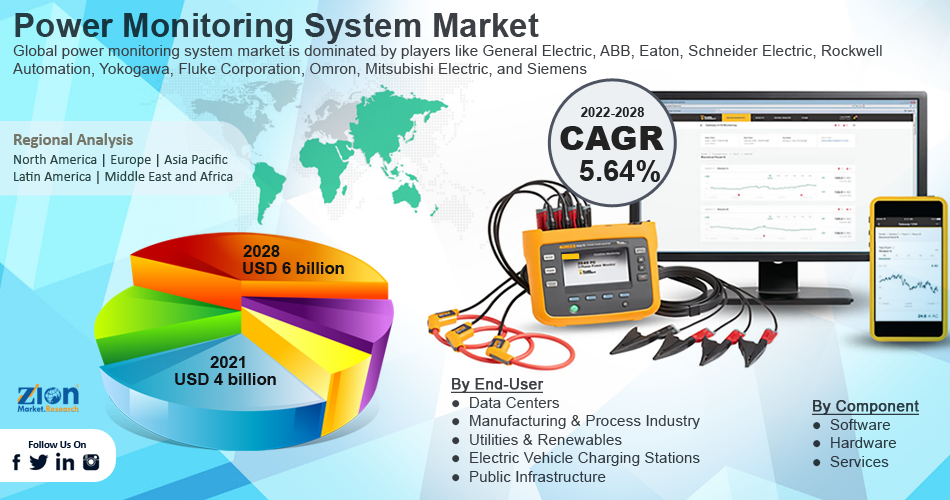 Request Free Sample
Key Insights
As per the analysis shared by our research analyst, the global power monitoring system market is estimated to grow annually at a CAGR of around 5.64% over the forecast period (2022-2028).
In terms of revenue, the global power monitoring system market size was valued at around USD 4 billion in 2021 and is projected to reach USD 6 billion, by 2028. Due to a variety of driving factors, the market is predicted to rise at a significant rate.
Based on end-user segmentation, utilities & renewables were predicted to show maximum market share in the year 2021
Based on component segmentation, hardware was the leading revenue-generating component in 2021.
On the basis of region, Asia-Pacific was the leading revenue generator in 2021
Covid-19 Impact:
The global market growth trend was halted due to Covid-19 driven by the closure of manufacturing units resulting in fewer products being rolled out in the market. There was also a lag because of supply chain disruptions which impacted the delivery of already manufactured products. Due to issues like the high requirement for electricity in hospital segments, there was a disturbance in the electricity distribution process consequently impacting the global market demand.
Power Monitoring System Market: Growth Drivers
Rapid industrialization to propel market growth during the forecast period
The global power monitoring system market is projected to grow owing to the rapid industrialization witnessed across the globe. Industrialization refers to the social, economic, and technological growth to move toward a manufacturing-driven economy. Urbanization is a direct consequence of industrialization as more people are compelled to move toward urban cities for better opportunities, living standards, and other aspects.
This ultimately has given rise to increased demand for constant power supply to meet the needs of an industrialized and urbanized region. For instance, Mumbai, the business center of India, is reported to use more than 3,000 to 3200 megawatts of energy per day. The New York City of the USA consumes more than 8000 megawatts per day. These numbers indicate the high demand for electrical power to run not just large industrial businesses but small segments as well as households.
The global market growth is also driven by the multiple initiatives undertaken by governments to upgrade electricity distribution processes in all regions including remote areas where constant electricity supply is a major concern. A steady electricity supply is not a luxury but a basic necessity for any developed or developing economy making it essential for the government to create elaborate plans to meet this basic need of its population as well as industrial or business sectors located in remote regions.
As per the Department of Electricity, US, power outages cost the country more than USD 150 billion yearly which goes on to show why governments are taking stringent actions to reduce power outages which may also aid the demand for power monitoring systems to aid equal power distribution plans.
Power Monitoring System Market: Restraints
High cost of equipment to restrict the market growth
The global market growth trend may be restricted because of the high cost of devices making them unaffordable for many low-income houses or small industries that did not wish to disclose the actual power consumption to avoid paying large bills. In many rural regions, due to a lack of awareness about the benefits of paying due bills, many incidents of electricity theft or incorrect electricity-related data have been reported. There is a general hesitancy observed amongst many end-consumers toward the adoption of power monitoring systems may be owing to the lack of stringent laws to regulate the installation of power meters or the non-willingness for installing devices.
Power Monitoring System Market: Opportunities
Increase in demand for energy to provide growth opportunities
The global power monitoring system market may obtain growth opportunities because of the increasing consumption of electricity. Almost all equipment, from smartwatches to large multinationals, runs on electricity. The electricity voltage requirement may vary but for today's commercialized world to run smoothly, a steady electricity supply is a necessity. The global electricity demand is slated to increase by 2% every year until 2040. With the emergence of technologies like e-vehicles, the electricity demand is higher than ever which may provide growth opportunities for global market expansion.
Power Monitoring System Market: Challenges
Tampering concerns to challenge market growth
Power monitoring systems are highly prone to tampering with external sources. This results in inaccurate data being relayed to the corresponding electricity supplier resulting in heavy losses. More steps in the direction of creating awareness about accurate data measurement are required so that more people are encouraged to install these devices. However, in rural areas, tampering incidents are on the rise which may challenge global market growth.
Power Monitoring System Market: Segmentation
The global power monitoring system market is segmented based on end-user, component, and region.
Based on end-user, the global market segments are data centers, manufacturing & process industry, utilities & renewables, electric vehicle charging stations, and public infrastructure. The global market is projected to be dominated by utilities & renewables during the forecast period owing to the rise in the installation of power meters to examine the generation and use of power. With recent strategies, investors are claiming to grow the utility business by almost 70% in the coming decade. Renewable is also witnessing a sudden surge in the global market driving the demand for related monitoring systems.
Based on component, the global market is divided into software, hardware, and services. The global market may witness the highest growth in the hardware segment as it has in the past since hardware products are more in number as compared to software items. As per the National Smart Grid Mission, India, around 4.2 million smart meters were installed in the country as of April 2022.
Recent Developments:
In September 2021, Sinclair Technologies, a global leader in the field of customizable land mobile radio communication solutions and a division of Norsat International, announced the launch of a new Power Monitoring System called IntelliSense series. The new product will aid in minimizing communication system downtime while avoiding any unnecessary repair or maintenance by tracking the overall performance and health of the public or commercial land mobile solutions.
In November 2020, Packet Power announced the release of 54 new wireless power monitoring products. With this, the company has managed to expand its already existing range of wireless remote monitoring systems. The products will include single-meter, multimeter, and branch circuits.
Power Monitoring System Market Report Scope:
Report Attributes
Report Details
Report Name
Power Monitoring System Market Research Report
Number of Pages
190
Key Companies Covered
General Electric, ABB, Eaton, Schneider Electric, Rockwell Automation, Yokogawa, Fluke Corporation, Omron, Mitsubishi Electric, and Siemens.
Segments Covered
By Product Type, By Application, and By End Use
Forecast Units
Value (USD Billion), and Volume (Units)
Regions Covered
North America, Europe, Asia Pacific (APAC), Latin America, Middle East and Africa (MEA)
Countries Covered
North America: U.S and Canada
Europe: Germany, Italy, Russia, U.K, Spain, France, Rest of Europe
APAC: China, Australia, Japan, India, South Korea, South East Asia, Rest of Asia Pacific
Latin America: Brazil, Argentina, Chile
The Middle East And Africa: South Africa, GCC, Rest of MEA
Base Year
2021
Historical Year
2016 to 2020
Forecast Year
2022 - 2028
Customization Scope
Avail customized purchase options to meet your exact research needs. Request For Customization
Power Monitoring System Market: Regional Analysis
Asia-Pacific to deliver favorable results for market growth
The global power monitoring system market is expected to be dominated by Asia-Pacific during the projection period owing to the rapid industrialization and urbanization of countries in this region. The regional growth is also aided by the rise in investments in electricity and power management systems by the government as well as private institutes. Manufacturing units in countries like China, India, Japan, and others are the biggest consumers of power monitoring systems and their demand may grow along with the growth in the regional manufacturing market. In China, manufacturing production grew by an average rate of 7% in the last decade, and as of 2021, the growth rate was at an all-time high of 40%.
Europe may also significantly contribute to the global market growth because of rising efforts in the direction of increasing electricity production to provide continuous and uninterrupted electricity supply driven by demand from industrial, commercial, and residential sectors. The regional growth may also be attributed to the rising investment in smart meters. North America is anticipated to grow significantly because of high power consumption in advanced countries like the USA, and Canada, propelling the need for better power distribution and management.
Power Monitoring System Market: Competitive Analysis
The global power monitoring system market is dominated by players like General Electric, ABB, Eaton, Schneider Electric, Rockwell Automation, Yokogawa, Fluke Corporation, Omron, Mitsubishi Electric, and Siemens.
The global power monitoring system market is segmented as follows:
By End-User
Data Centers
Manufacturing & Process Industry
Utilities & Renewables
Electric Vehicle Charging Stations
Public Infrastructure
By Component
Software
Hardware
Services
By Region
North America
Europe

France
The UK
Spain
Germany
Italy
Rest of Europe

Asia Pacific

China
Japan
India
South Korea
Southeast Asia
Rest of Asia Pacific

Latin America

Brazil
Mexico
Rest of Latin America

Middle East & Africa

GCC
South Africa
Rest of Middle East & Africa