Smart Electric Meter Market Size & Industry Overview
The Global Smart Electric Meter Market accounted for USD 15,295.0 million in 2020 and is expected to reach USD 27,710.6 million by 2028, growing at a CAGR of 8.90% from 2021 to 2028.
A smart electric meter is an electrical system that records the amount of electricity used over a period of time. These time cycles are usually an hour or less long. The data is then sent back to the utility and energy company for billing and reporting by the smart electric meter. This metre operates on a two-way contact system. The meter and the central system communicate with each other.
Smart energy metering devices are used to reduce peak electricity usage by allowing end-users to quickly track and reduce their power usage.
Low power generation eventually leads to unstable energy productivity because renewable energy output changes over time. However, since the metering system is capable of managing intermittent supply, it can compensate for this loss by monitoring the energy usage of different electronic devices.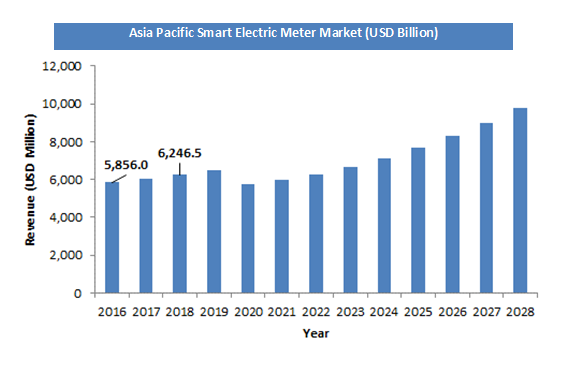 Request Free Sample
COVID-19 Impact Analysis
The COVID-19 outbreak has had a major effect on the global smart meter market. The biggest influence on many smart meter vendors at the start of the COVID -19 was manufacturing issues due to halted manufacturing. Non-essential industries, as well as demand for smart meters in residential, commercial, and industrial settings, have declined as a result of the lockout steps. As a result, smart meter manufacturing and delivery are returning to normal stages. Sales have begun to rebound for a number of producers.
Despite the fact that the COVID-19 pandemic has briefly halted field work on many major smart metering programmes, the demand is projected to remain strong, with the total amount of smart metre shipments relatively unchanged over the next three years.
Smart Electric Meter Market Growth Factors
One of the major growth drivers for the Smart Electric Meter Market is Government Initiatives. The global smart meter market is expected to develop at a rapid pace, owing to numerous government initiatives in major economies. Furthermore, funds from the American Recovery and Reinvestment Act (ARRA) have played an important role in the market's growth. The demand is also being boosted by the replacement of obsolete traditional meters and upgrades to outdated technology. The early penetration of smart meters, favourable government programmes, and strict regulations mandating smart meters in many states such as Texas and California are the factors driving consumer demand in the leading countries.
Another factor for the growth in this market is Development of Communication Network Infrastructure. The continuing and continual construction of the data network system helps to facilitate the production of advanced smart meters. The implementation of smart meters is aided by the availability of network networks such as 5G, 4G, radio frequency, and others. Manufacturers are continuously engaged in the development of advanced level smart meters in response to the expanding network infrastructure, thus contributing to the smart meters industry's growth.
Report Scope :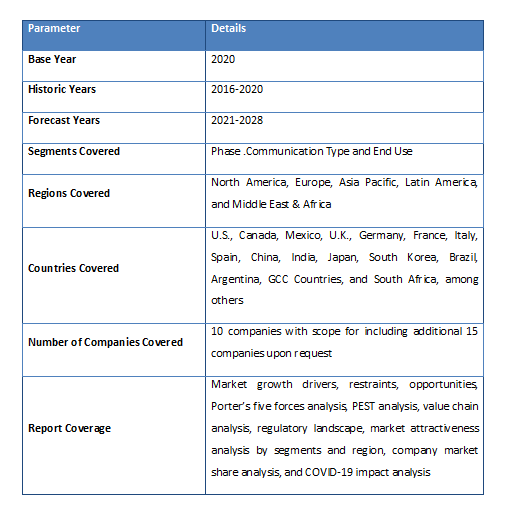 Request Free Sample
Phase Segment Analysis Preview
The Smart Electric Meter Market is divided into single-phase and three-phase segments based on phase. The three-phase sub-segment is projected to expand more quickly than the single-phase sub-segment. This rise can be due to the fact that it is being used in more industrial and consumer applications. Three-phase electric meters can handle more load and allow you to split the load into three phases.
The construction of three-phase electric meters is expected to increase as the number of industries and commercial buildings grows. Furthermore, the three-phase electric meters versatility is opening the way for these meters to be used in residential applications. Furthermore, single-phase electric meters are mostly found in residential buildings with lower power loads than industrial buildings because they are less costly and more accessible to residential customers.
End Use Segment Analysis Preview
Residential, Commercial, and Industrial sub-segments make up the end-use market. Suburban/urban apartments and detached bungalows are included in the residential end-use category. Among which Residential segment has leading the market with 88% residential customers. The reason is the increasing device requirements to satisfy energy demand. Both commercial buildings and aligned infrastructures, such as hotels, residential lodges, small to large retail malls, and offices, are included in the commercial end-use segment. Drug manufacturing and processing plants are included in the industrial section.
Over the projected era, the commercial end-use segment is expected to expand at a healthy pace. The legislative, administrative structure, and rising awareness of reducing energy use and aligned expenditures are all contributing to this domain's development.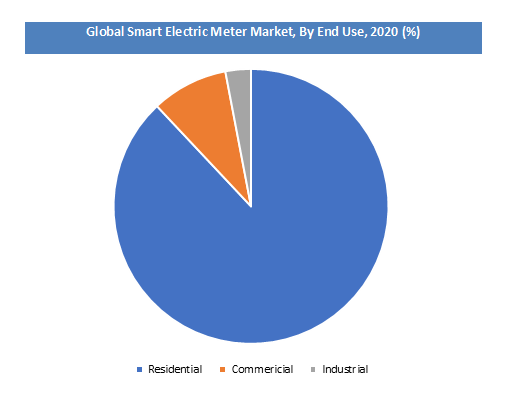 Request Free Sample
Region Segment Analysis Preview
The Smart Electric Meter Market is divided into five regions : North America, Europe, Asia Pacific, Latin America and Middle East Africa . Asia Pacific currently has the largest share of the Global Smart Electric Meters Market with 9.7% CAGR. It is due to the increasing adoption of smart meters to reduce unaccounted energy losses and put in tariff plans based on consumer use.
The installation of Smart Electric Meter has seen a significant increase in Europe. The increased adoption of renewable energy sources has been a major factor driving the demand in the area. New grids are being built in response to the growing use of green energy sources. Smart metres are favoured for modern systems because they are a new system with significant benefits over conventional meters.
Smart Electric Meter have been widely used in the Middle East and Africa, as well as Latin America. In the coming years, big smart meters rollouts are likely in Brazil and Mexico, two major Latin American countries.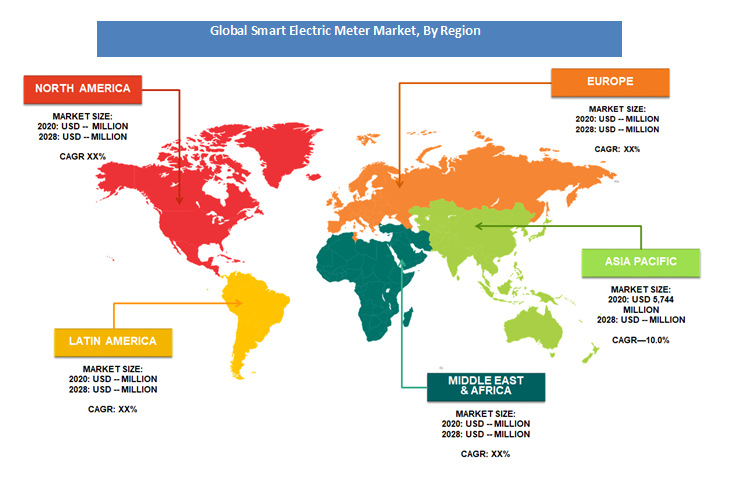 Request Free Sample
Key Market Players and Competitive Landscape
Some of the key players in the Smart Electric Meter Market include Itron, Siemens, Honeywell Elster, Osaki Electric, Sensus , Iskraemeco Group, Apator, Schneider Electric, General Electric, Larsen & Toubro Limited and others.
These key players have adopted various strategies such as product portfolio expansion, mergers & acquisitions, agreements, geographical expansion, and collaborations to enhance their smart meter market penetration.
Itron, which offers solutions to measure, control, and evaluate energy and water through smart electric meters and smart meters, acquired Comverge in June 2017, a company known for its automated cloud-based demand response, energy management, and customer service solutions.
Aclara purchased General Electric's power metering company in September 2015. Aclara's presence in the smart electric meters business was improved as a result of the acquisition. In the North American area, Aclara is known for its metering.
The Smart Electric Meter Market is segmented as follows:-
Phase
Communication type
Power Line Communication
Radio Frequency
Cellular
By End Use
Residential
Commercial
Industrial
By Region
North America
Europe

France
The UK
Spain
Germany
Italy
Rest of Europe

Asia Pacific

China
Japan
India
South Korea
Southeast Asia
Rest of Asia Pacific

Latin America

Brazil
Mexico
Rest of Latin America

Middle East & Africa

GCC
South Africa
Rest of Middle East & Africa