Industry Prospective:
The global soft drink concentrates market size was worth around USD 35.1 billion in 2021 and is predicted to grow to around USD 53.4 billion by 2030 with a compound annual growth rate (CAGR) of roughly 6.39 % between 2022 and 2030. The report analyzes the global soft drink concentrate market drivers, restraints/challenges, and the effect they have on the demands during the projection period. In addition, the report explores emerging opportunities in the soft drink concentrates market.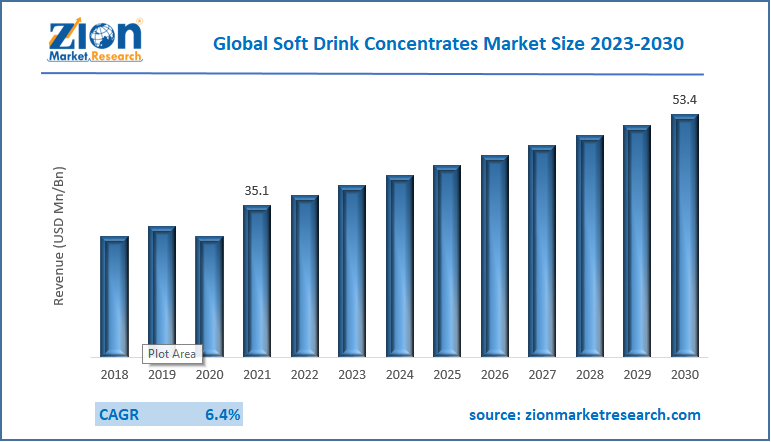 Request Free Sample
Soft Drink Concentrates Market: Overview
A concentrate is any substance that is deprived of the majority of the base component. In the case of liquids, the base component is the solvent. Generally, this involves the removal of water from a suspension or solution. A prime example is when water is removed from fruit juice. Manufacturing concentrates allows the weight of the solution to be reduced drastically and hence large volumes of the concentrates can be easily transported. A soft drink is made of carbonated water that is mixed with natural or artificial sweeteners along with additional flavoring agents.
Soft drink concentrates first originated in the form of the removal of water from orange juice in 1939. The main goal was to provide a sufficient supply of vitamin C to members of the troops participating in World War II. Soft drinks are first produced as highly concentrated syrups that can be later diluted using carbonated water just before bottling or consumption. They are also directly sold to the end customers owing to low cost and considerable reduction in weight. However, to provide longer shelf life most soft drinks have a high content of sugar or some preservatives.
Key Insights
As per the analysis shared by our research analyst, the global soft drink concentrates market is estimated to grow annually at a CAGR of around 6.39% over the forecast period (2022-2030)
In terms of revenue, the global soft drink concentrates market size was valued at around USD 35.1 billion in 2021 and is projected to reach USD 53.4 billion, by 2030.
The global soft drink concentrates market is projected to grow owing to the exponentially growing population and the sub-segment of end-consumers who consume soft drinks regularly.
Based on packaging segmentation, bottles were predicted to show maximum market share in the year 2021
Based on sales channel segmentation, retail was the leading channel in 2021
On the basis of region, North America was the leading revenue generator in 2021
Soft Drink Concentrates Market: Growth Drivers
Growing consumer database to propel market demand
The global soft drink concentrates market is projected to grow owing to the exponentially growing population and the sub-segment of end-consumers who consume soft drinks regularly. In November 2022, the world population will cross the 8 billion mark and the number is projected to reach closer to 8 billion by the end of 2030. This is an indication of the large consumer group that the food & beverages sector caters to. Realizing the opportunity that lies ahead, the global market players have amped up their marketing and sales activities to create consumer awareness resulting in more demand.
Other factors that could influence the growth trajectory of the global market include rampant urbanization, which means more people have the required disposable income to spend on food or drink items that do not necessarily count as basic needs. Rising accessibility has aided this trend for further growth as more people have access to modes of purchase. In many countries, soft drinks have become a part of everyday meals. In Spain, soft drinks are a part of leisure activity whereas, in other European nations, such drinks often accompany the meal out of old traditions.
Soft Drink Concentrates Market: Restraints
Health impact to restrict the market growth
Most soft drink concentrates contain high levels of artificially created flavoring agents and sweeteners that could lead to a negative impact on the overall health of the consumer. Drinking high amounts of a liquid containing sweeteners can lead to heart conditions, blood pressure, diabetes, obesity, and other metabolic disorders. These conclusions are scientifically-backed which is why many adults refrain from consuming soft drink concentrates and do not allow children to get addicted to them. Sugar drinks are high in calories. 100 grams of soft drinks contain around 38 calories. This could impact the global market growth during the projection period.
Soft Drink Concentrates Market: Opportunities
Growing product innovation to provide excellent growth opportunities
The global soft drink concentrates market is anticipated to benefit from the growing research & development activities undertaken by the market players resulting in higher product innovation. To counteract the hesitancy caused amongst the population owing to the addition of artificial sweeteners, many soft drink concentrate providers have switched to more natural forms of sugar like jaggery or honey that provide added benefits. Businesses have also realized the importance of the right marketing strategies and hence a smooth switch in messages conveyed through advertising can be observed.
Soft Drink Concentrates Market: Challenges
Strict regulatory landscape to challenge the market expansion
The global market may be subjected to a few roadblocks along the growth path due to the absence of standard regulatory protocols across regions as well as the presence of a varied strict regulatory landscape. These factors give rise to confusion as every nation has its own rules impacting the content of soft drink concentrates. In the absence of a standard rule, market players are subject to constantly switching production and marketing techniques depending on the territory in which the product is being sold.
Soft Drink Concentrates Market: Segmentation
The global soft drink concentrates market is segmented based on packaging, product type, sales channel, and region
Based on packaging, the global market is divided into bottles, stand-up pouches, and cans. In 2021, the bottles segment witnessed the highest growth since the majority of the market players prefer fiber or plastic bottles to store and transport products as they offer high protection against physical damage and are capable of restricting the entry of moisture from other contamination agents. However, with the growing enforcement of the plastic ban, the global market players may have to look for better and environment-friendly options as opposed to plastic bottles. In 2015, more than 300 million tonnes of plastic packaging ended up as waste.
Based on the sales channel, the global market divisions are retail, institutional sale, and online. The global market was dominated by the retail segment in 2021 which consists of supermarkets, hypermarkets, and all other types of brick-and-mortar shops that sell soft drink concentrates. Since retail chains offer multiple options under one roof, consumers prefer to opt for purchasing products from physical stores. As per a recent survey, more than 53% of the respondents preferred retail shops over other modes of purchase.
Recent Developments:-
In September 2022, Reliance Industries, India's leading multinational conglomerate, announced the acquisition of 'Campa Cola' allowing the brand to make a re-entry into the Indian market
In September 2021, Pioma Industries, makers of Rasna, a popular Indian soft drink brand, announced the launch of a new Indie Cola drink in competition with Pepsi and Coca-Cola
Soft Drink Concentrates Market Report Scope:
Report Attributes
Report Details
Report Name
Soft Drink Concentrates Market Research Report
Market Size in 2021
USD 35.1 Billion
Market Forecast in 2030
USD 53.4 Billion
Compound Annual Growth Rate
CAGR of 6.39%
Number of Pages
250
Forecast Units
Value (USD Billion), and Volume (Units)
Key Companies Covered
The Coca-Cola Company, Royal Crown Cola Company Inc., Pepsico Inc., Dr. Pepper Snapple Group Inc., Cott Corporation, Monster Beverage Corporation, Royal Cosun, Dohler Group, Big Red Inc., and David Berryman Limited are the leading players in the global soft drink concentrates market.
Segments Covered
By Packaging, By Product Type, By Sales Channel, and By Region
Regions Covered
North America, Europe, Asia Pacific (APAC), Latin America, Middle East and Africa (MEA)
Countries Covered
North America: U.S and Canada
Europe: Germany, Italy, Russia, U.K, Spain, France, Rest of Europe
APAC: China, Australia, Japan, India, South Korea, South East Asia, Rest of Asia Pacific
Latin America: Brazil, Argentina, Chile
The Middle East And Africa: South Africa, GCC, Rest of MEA
Base Year
2021
Historical Year
2016 to 2020
Forecast Year
2022 - 2030
Customization Scope
Avail customized purchase options to meet your exact research needs. Request For Customization
Soft Drink Concentrates Market: Regional Analysis
North America to register the highest growth during the projection period
The global soft drink concentrates market is anticipated to witness the highest CAGR in North America owing to high consumption rates in countries like Mexico, Canada, and the US. Constant product innovation is a major reason why regional companies are dominating the international market. The addition of natural sweeteners, zero-calorie drinks, and fresh fruit concentrates with no added preservatives, are examples of some of the changes made by businesses in North America to cater to all consumer segments. The US is home to some of the most dominating players like PepsiCo, which currently is the world's number one producer of soft drinks. In 2021, the company generated more than USD 80 billion in revenues. As per Statista, the company spent over USD 752 million on research & development activities.
Soft Drink Concentrates Market: Competitive Analysis
The Coca-Cola Company
Royal Crown Cola Company Inc.
Pepsico Inc.
Dr. Pepper Snapple Group Inc.
Cott Corporation
Monster Beverage Corporation
Royal Cosun
Dohler Group
Big Red Inc.
David Berryman Limited
The global soft drink concentrates market is segmented as follows:
By Packaging
Bottles
Stand Up Pouches
Cans
By Product Type
Non-Carbonated
Carbonated
By Sales Channel
Retail
Institutional Sale
Online
By Region
North America
Europe

France
The UK
Spain
Germany
Italy
Rest of Europe

Asia Pacific

China
Japan
India
South Korea
Southeast Asia
Rest of Asia Pacific

Latin America

Brazil
Mexico
Rest of Latin America

Middle East & Africa

GCC
South Africa
Rest of Middle East & Africa