Industry Prospective:
The global potato protein market size was worth around USD 395.4 Million in 2021 and is estimated to grow to about USD 869.10 Million by 2030, with a compound annual growth rate (CAGR) of approximately 7.20% over the forecast period. The report analyzes the potato protein market's drivers, restraints/challenges, and the effect they have on the demands during the projection period. In addition, the report explores emerging opportunities in the potato protein market.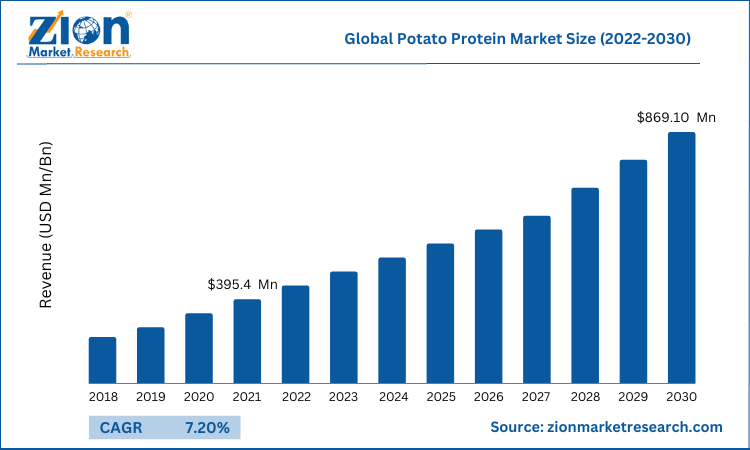 Request Free Sample
Potato Protein Market: Overview
Potato protein is a plant-based protein that is made from starch potatoes and potato starch. Potato proteins are majorly found in powder form and include a lot of protein, about 78 percent. A protein-rich liquid is formed during the extraction of starch from potatoes. After that, the proteins are concentrated, purified, and dried. Potato proteins have substantially greater quantities of critical amino acids than many cereal-based proteins or proteins derived from animals.
COVID-19 Impact:
The COVID-19 pandemic has had a negative impact on the food and beverage business, but it has had a far smaller impact on the potato protein market. To prevent the spread of the coronavirus, the movement of citizens was restricted around the world.
The majority of nations have closed borders, which has a direct impact on the export and import of potato protein, as well as the production process. Furthermore, the supply chain has stalled, disrupting the whole market. However, the increasing need for alternate protein sources and constant demand from vegan food consumers maintained the sale of potato protein through different sale channels. Furthermore, the market is expected to grow at a rapid rate with the occurrence of pre-pandemic conditions.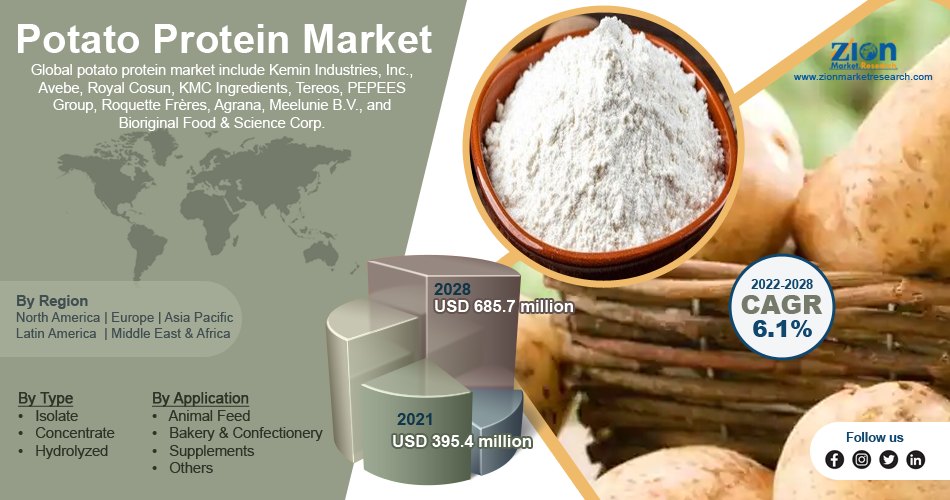 Request Free Sample
Potato Protein Market: Growth Drivers
Increasing need for plant-based proteins is expected to boost market growth.
The need for food is constantly increasing since the world's population is predicted to exceed ten billion people by 2050. The exponential rise of the human population is predicted to put a strain on animal protein supplies. This may be changed, however, by modifying the food composition and enabling a higher portion of the diet to be plant-based.
As a result, plant-based protein sources like potato protein have a lot of potential. Furthermore, because potato protein is pure and vegan, it does not require allergy labeling. Also, the demand for these items is increasing as a result of the growth in health-conscious customers throughout the world.
Furthermore, plant-based protein components are widely used in food, beverages, and supplements, boosting the worldwide potato protein market. Furthermore, as more individuals become vegan or reduce their meat intake, the need for potato protein is predicted to rise significantly, boosting the potato protein market demand. Soy proteins have historically dominated the plant-based protein components market; however, potato protein is seeing rising demand since it is acceptable for all types of livestock and may be largely replaced in protein-rich feedstuffs.
Potato Protein Market: Restraints
The widespread use of pea protein in the food sector is a key factor limiting the global expansion of market.
In the field of plant-based protein, pea protein is a widely accepted and used protein that has applications in food processing, supplements, animal feed, etc. Additionally, the protein concentration in peas is far more as compared to potatoes which makes it more profitable in the commercialization process. Moreover, the most of market players operating in the plant-based protein produce pea protein in mass quantities as it is more scalable and its international demand is more. Thus, the dominance of pea protein in the plant-based protein market primarily hinders the market growth.
Potato Protein Market: Opportunities
Increase in demand for plant proteins to have ample opportunities for the market growth
In response to the increased demand for plant protein, the potato protein market will expand. Consumers are always on the lookout for healthier alternatives to their current diet. They are attracted to items that offer both health and flavor advantages. Plant-based proteins are also gaining popularity in developing nations such as Peru, Indonesia, and Mexico, among others. Increased awareness of animal cruelty and rights is one of the key causes of this movement. The increased desire for functional foods that aren't made with animal protein will help the potato protein market develop even faster.
Potato Protein Market: Challenges.
Availability of alternative plant-based proteins
Rising adoption of soy and pea protein is one of the main risks to potato protein producers. The widespread use of pea protein in food is a key factor limiting the global expansion of the potato protein market. Aside from that, price is an indisputable component that may determine the market's potential for any product. Due to a lack of sufficient resources and high processing costs, plant-based proteins are often expensive. Despite the fact that the nutritious characteristics of potato proteins are the driving force behind the market, high costs in emerging nations may limit the industry's expansion.
Potato Protein Market: Segmentation
The global potato protein market is categorized into type, application, and region
Based on type, the market is bifurcated into concentrate, isolate, and hydrolyzed. Among these, the concentrate segment holds nearly 38% share of the overall market. This is mainly because concentrate products are widely used in a variety of functional foods such as cereals and yogurts. These products have appreciably fewer levels of cholesterol, fat, lactose, and immense amounts of protein, which makes them ideal for a large number of fitness enthusiasts. Thus, driving demand for these products due to their enormous nutritional perks drives the growth of the segment during the forecast period.
The application segment of the market is bifurcated into bakery & confectionery, animal feed, supplements, food and beverage, and others. The food and beverage segment held the largest market share in 2021 and is further predicted to occupy a dominant status and simultaneously grow at a significant CAGR during the forecast period. This is mainly due to the rise inclination towards dry-mix beverages, Ready-to-Drink (RTD) beverages, and milk protein concentrates and isolates among people due to their various nutritional benefits.
Recent Developments:
In February 2022, a Netherlands-based dominant ingredients company KMC created an innovative textured potato protein that can be used as an essential ingredient in plant-based meat due to the presence of distinctive properties of potato protein that are capable of revolutionizing the plant-based meat industry. Textured potato protein, having a meat-like structure and a frying crust, has immense nutritional perks. This comes amid KMS's goal to initiate the transition toward plant-based ingredients from animal-based ingredients so as to offer better products to the customers.
In April 2022, a pioneering UK-based potato supplier Branston announced that they have collaborated with an innovative technology provider named Root Extracts. This collaboration is specially done to create a potato plant protein for application in both vegetarian and vegan food. Branston mentioned in a statement that they will process secondary-grade low-value potatoes which are unfavorable for retail into beneficial plant-based protein with the help of its extraction facility in Lincolnshire, which is all set to be launched.
In November 2021, as demand for plant-based ingredients rises, Royal Avebe significantly boosts its Solanic potato-protein manufacturing.
Potato Protein Market Report Scope:
Report Attributes
Report Details
Report Name
Potato Protein Market Research Report
Market Size in 2021
USD 395.4 Million
Market Forecast in 2030
USD 869.10 Million
Compound Annual Growth Rate
CAGR of 7.20%
Number of Pages
180
Forecast Units
Value (USD Million), and Volume (Units)
Key Companies Covered
Kemin Industries, Inc., Avebe, Royal Cosun, KMC Ingredients, Tereos, PEPEES Group, Roquette Frères, Agrana, Meelunie B.V., Bioriginal Food & Science Corp, AKV Langholt, Sudstarke, Omega Protein Corporation, and PPZ Niechlow among others.
Segments Covered
By Application, By Type, And By Region
Regions Covered
North America, Europe, Asia Pacific (APAC), Latin America, Middle East and Africa (MEA)
Countries Covered
North America: U.S and Canada
Europe: Germany, Italy, Russia, U.K, Spain, France, Rest of Europe
APAC: China, Australia, Japan, India, South Korea, South East Asia, Rest of Asia Pacific
Latin America: Brazil, Argentina, Chile
The Middle East And Africa: South Africa, GCC, Rest of MEA
Base Year
2021
Historical Year
2016 to 2020
Forecast Year
2022 - 2030
Customization Scope
Avail customized purchase options to meet your exact research needs. Request For Customization
Potato Protein Market: Regional Landscape
North America region held a dominating market share and is predicted to grow exponentially
North America is the largest regional market for potato protein. The region is expected to contribute significant revenue to the global potato protein market over the forecast period.
This is attributed to the increasing demand for plant-based protein in the United States. Potato protein sales in the United States increased by over 5% year over year till 2020. By the end of 2028, the market is expected to reach a volume of around 29,000 tons.
Increased demand for processed foods with natural ingredients, as well as a preference for plant-based foods, are two significant drivers driving the potato protein industry's rise in the country. On the other side, the market in the Asia Pacific is likely to grow at a rapid rate. The food processing sector in China and India has grown significantly in recent years, and it is predicted to continue to develop strongly during the projection period. Rapid urbanization, changing dietary habits, raw material availability, and government policy liberalization have all aided the industry's rise in these nations.
Potato Protein Market: Competitive Landscape
Major players operating in the global potato protein market include:
Kemin Industries Inc.
Avebe
Royal Cosun
KMC Ingredients
Tereos
PEPEES Group
Roquette Frères
Agrana
Meelunie B.V.
Bioriginal Food & Science Corp
AKV Langholt
Sudstarke
Omega Protein Corporation
PPZ Niechlow
Global potato protein market is segmented as follows:
By Application
Animal Feed
Bakery & Confectionery
Supplements
Others
By Type
Isolate
Concentrate
Hydrolyzed
By Region
North America
Europe

France
The UK
Spain
Germany
Italy
Rest of Europe

Asia Pacific

China
Japan
India
South Korea
Southeast Asia
Rest of Asia Pacific

Latin America

Brazil
Mexico
Rest of Latin America

Middle East & Africa

GCC
South Africa
Rest of Middle East & Africa