Animal Feed Additives Market: Overview
The Global Animal Feed Additives Market accounted for USD 39.30 Billion in 2020 and is expected to reach USD 59.04 Billion by 2028, growing at a CAGR of 5.5% from 2021 to 2028.
The method of adding nutritive supplements or medications to livestock feed is known as animal feed additives. Fatty acids, nutrients, supplements, medication, or other additives are among them. It's used for intestinal absorption, and sanitation, and has a positive impact on digestive wellbeing. In response, the use of animal feed additives improves the animal's efficiency and well-being.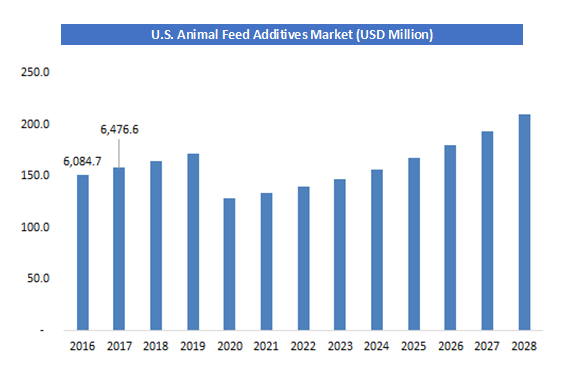 Request Free Sample
COVID-19 Impact Analysis
COVID-19's epidemic has posed significant social, economic, and medical problems. Whereas the medical sector is focused on creating medical treatments and effective diagnoses, the feed market is aimed to develop nutritious food for livestock that use feed additives to fight diseases by supplying immune protection.
Due to the rising COVID-19 pandemic outbreak in various regions/countries, the feed additives demand is expected to decrease in 2020 as a result of lockdowns in different nations, regional border closures, and delays in cross-border transit, which have caused supply chain disruptions. Regional governments' social distancing and other policies restrict the number of individuals who may work together in small areas. As a result, the COVID-19 pandemic had a major effect on the feed additives demand development in 2020.
Animal Feed Additives Market: Growth Factors
One of the major growth drivers for the Global Animal Feed Additives Market is the Rising Demand for Environmental Friendly Animal Production. Diseases affecting livestock animals, such as swine flu, foot and mouth infections, and bird flu, have increased questions about the safety and consistency of meat products. As a result, specialty chemicals are also being used. However, price inflation for grains like wheat, barley, and maize from other commercial foods is expected to stifle business development. The demand is being boosted by advances in emerging technology, steady improvements in final quality based on feed form, and changing regulatory patterns.
Another factor for the growth in this market is the Concern Pertaining to the Quality of Meat. The marbling score – a metric used to measure meat consistency – is causing increasing concern. This is primarily due to the starvation of livestock, which causes a variety of diseases and has a knock-on impact on the quality of meat eaten by the community, which contributes to infectious diseases in humans. With the world in desperate need of reducing the number of people suffering from infectious illnesses, there is a need for high-quality beef, which is fulfilled by providing nutrients to farm animals, resulting in an increase in demand for animal feed additives.
Type Segment Analysis Preview
Amino acids have led the market. Consumer awareness of the benefits of using feed additives to reduce disease incidence has piqued consumer curiosity. Protein's key components are amino acids, which are important for livestock health. Amino acids are involved in a number of processes, including gut health, food intake, reproduction, and metabolism. Antibiotics in animal feed stimulate growth and help to prevent infection. Antibiotics also increase meat consistency by increasing protein content while lowering the amount of fat.
Report Scope:
Livestock Segment Analysis Preview
Poultry was the most profitable livestock sector in 2020, with an estimated coverage of 36% of the market share. As a result of the rise in diseases such as bird flu, stricter controls and standards have been implemented, driving up demand for particular additives. Furthermore, global poultry meat production is projected to grow at a rapid pace, resulting in increased demand for poultry feed over the forecast period.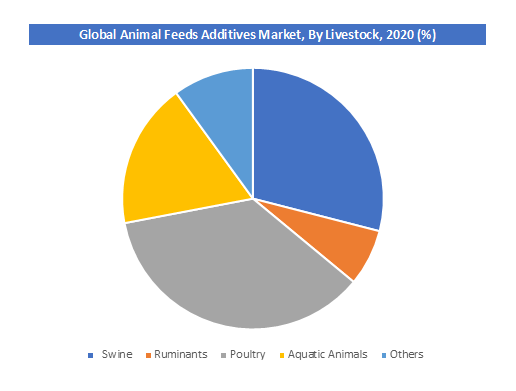 Request Free Sample
Animal Feed Additives Market: Regional Analysis Preview
Asia Pacific accounted for the largest share market segment with 7.7% CAGR in the animal feed additives market in 2019. Due to strong economic growth in emerging economies such as China, Indonesia, and India, the region has seen a significant increase in demand. The growing population and increasing living standards have boosted regional meat consumption, which is expected to continue to fuel product demand.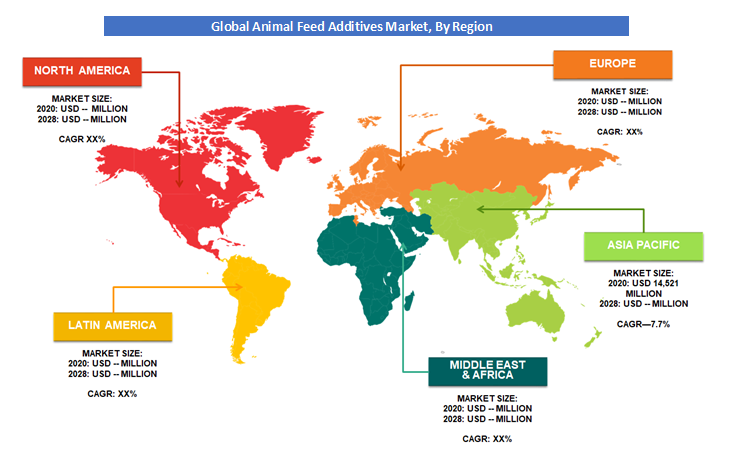 Request Free Sample
North America Is expected to be the second largest in the global market share in 2019. The demand for meat is likely to continue to be driven by strict meat quality regulations. Furthermore, demand is expected to be fueled by the high supply of raw materials such as dextrose, maize, and corn over the forecast period.
Animal Feed Additives Market: Key Players & Competitive Landscape
Some of the key players in the global animal feed additives market are BASF SE, Cargill Inc., Archer Daniels Midland Company, Evonik Industries AG, Nutreco N.V., Addcon Group, Aliphos Belgium S.A., Kemin Industries Inc., Koninklijke DSM N.V., and Phibro Animal Health Corporation.
They are vertically integrated into the supply chain, from raw material procurement to final product development. They are now engaged in ongoing R&D efforts to produce new technologies and are working to extend the product range.
Companies like BASF SE work with academic centers, industry partners, and livestock producers to develop feed options that meet the needs of the animals. By the end of 2020, BASF plans to expand its current vitamin A plant in Ludwigshafen, Germany, with 600 machines and 4,000 pipes that will be built into the process control system.
The Global Animal Feed Additives Market is segmented as follows:
By Form
By Types6
Antioxidants
Feed Acidifiers
Vitamins
Minerals
Binders
Antibodies
Others
By Livestock
By Region
North America

Europe

France
The UK
Spain
Germany
Italy
Rest of Europe

Asia Pacific

China
Japan
India
South Korea
Southeast Asia
Rest of Asia Pacific

Latin America

Brazil
Mexico
Rest of Latin America

Middle East & Africa

GCC
South Africa
Rest of the Middle East & Africa