Processed Animal Protein Market Size And Industry Analysis
The global processed animal protein market size was worth around USD 12.6 billion in 2021 and is predicted to grow to around USD 15.2 billion by 2028 with a compound annual growth rate (CAGR) of roughly 2.8% between 2022 and 2028. The report analyzes the global processed animal protein market's drivers, restraints/challenges, and the effect they have on the demands during the projection period. In addition, the report explores emerging opportunities in the processed animal protein market.
Processed Animal Protein Market: Overview
Processed animal protein was previously known as meat and bone meal since the original name was more consumer conscious. However, owing to multiple technological advancements the processed animal protein sector is now more science and research-driven than it was in the last few years. Processed animal proteins are a product of the rendering industry, which means they are derived by converting animal waste into a more usable and stable form. These proteins are used during the formulation of animal feed to aid improvement in the amino acid content of the feed. In many countries, owing to the risk of mad cow diseases, feeding processed animal feed to cattle or other forms of ruminants is prohibited and this aspect is regulated under strict laws.
However, they are widely used as low-cost animal proteins for cats and dogs in the USA. In Europe, before 2002, animal by-products were largely divided into high-risk or low-risk products. But since European Regulation 2002 was put into place, the categories have now expanded to three sections. Category 1 materials are more prone to causing human infections and are prohibited for consumption by humans. Category 2 materials may pose health risks and are not recommended for human consumption. Category 3 materials are derived from animals that are safe for human consumption and declared after a health inspection.
Only the products from category 3 sections are allowed to be used while manufacturing animal feed and can be consumed by humans as well without side effects. The global market cap is expected to capsize from some of the exceptional benefits offered by the processed animal protein that includes qualities like the presence of higher protein content than other sources like soya, rapeseed, or lupin along with the presence of transparent, complete, and traceable supply line to avoid any intra species consumption..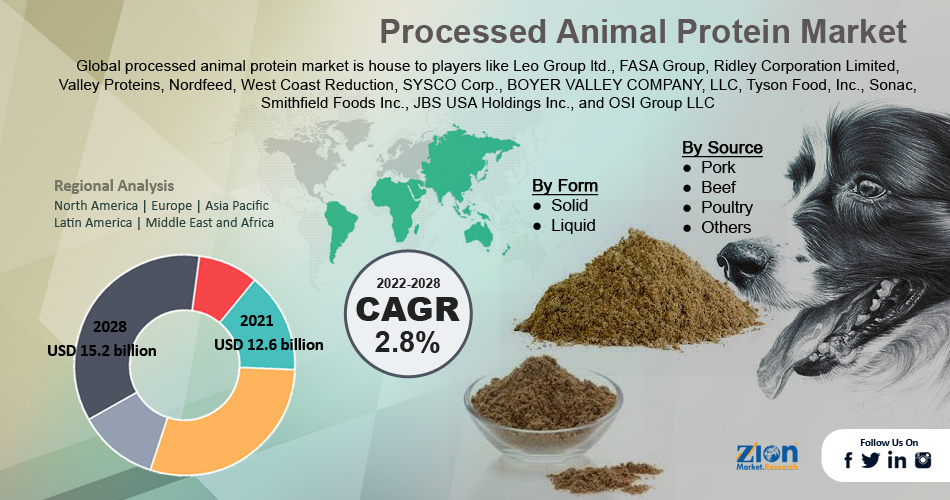 Request Free Sample
Key Insights
As per the analysis shared by our research analyst, the global processed animal protein market is estimated to grow annually at a CAGR of around 2.8% over the forecast period (2022-2028).
In terms of revenue, the global processed animal protein market size was valued at around USD 12.6 billion in 2021 and is projected to reach USD 15.2 billion, by 2028. Due to a variety of driving factors, the market is predicted to rise at a significant rate.
Based on form segmentation, the solid was predicted to show maximum market share in the year 2021
Based on source segmentation, poultry was the leading revenue-generating source in 2021.
On the basis of region, North America was the leading revenue generator in 2021
Covid-19 Impact:
The global market cap had a considerable impact due to Covid-19 which was majorly driven by an increase in demand for processed animal proteins for pets. However, owing to disruption in the supply chain and unavailability of raw materials, many manufacturers struggled with staying in sync with the changes observed in the supply and demand of products.
Processed Animal Protein Market: Growth Drivers
Benefits offered by processed animal protein to propel market growth
The global processed animal protein market is expected to gain momentum owing to the various health benefits offered by animal proteins for pets. Processed proteins derived from animals are known to contain higher quality protein than other vegetarian sources. As a result, more people are inclined towards adopting animal proteins in the diet forms of cats and dogs since it is free from other added calories and provides clean protein content. As per a study conducted by the Observer Research Foundation, rapid population growth has resulted in a tremendous demand for meat-based products.
When coupled with the introduction of industrial animal agriculture, the world has witnessed a growth of 4X in meat consumption in the last 50 years. This is indicative of the amount of products generated from the meat manufacturing industry and the rising efforts to make valuable use of these by-products like using them in the production of processed animal protein. Since the manufacturing of processed animal proteins is regulated by strict laws, it aids in consoling the safety concerns related to its consumption thus generating higher confidence amongst the population toward the adoption of processed animal protein for the health purposes of their housed animals.
The global market cap is expected to generate revenues resulting from the rising efforts undertaken by the population for the well-being of their pets, especially dogs and cats. As per a survey conducted by Statista, the US population spends more than USD 442 on pet food every year, as of 2022 thus propelling the global market demand.
Processed Animal Protein Market: Restraints
Extremely strict government regulations to restrict the market growth
The global market has witnessed a few opposing views related to several aspects of the processed animal protein market. For instance, feeding processed animal protein to animals themselves is a form of cannibalism amongst ruminants and is prohibited in various countries. This has resulted from studies showing that feeding animals such proteins could result in mad cow diseases which are deemed extremely dangerous for the animals as well as humans. Hence, processed animal protein is highly regulated even in countries where it is allowed for pet & human consumption and manufacturers have to follow extremely strict quality analysis and inspection before selling their products in the market.
Processed Animal Protein Market: Opportunities
Rise in pet adoption rate to provide market growth opportunities
The global processed animal protein market is expected to benefit from the rising pet adoption trend across the globe. More families or individuals are inclined toward assuming taking care of pets. The most common forms of pets are either cats or dogs. As per the American Society for the Prevention of Cruelty to Animals, more than 4.1 million shelter animals are adopted annually out of which 2 million are dogs and 2.1 million are cats. The adopting individual or family spends hefty amounts on the well-being of the pet including providing nutritious food items which are expected to act as a strengthening factor for the global market growth.
Processed Animal Protein Market: Challenges
Lengthy approval process for distribution to challenge market growth
Owing to the various conflicting concerns related to processed animal protein, manufacturers have to undergo a stringent and lengthy approval process to sell their products in the open market. These lengthy processes are resource-consuming and may impact the global market growth negatively because of the multiple regulatory steps involved in the process.
Processed Animal Protein Market: Segmentation
The global processed animal protein market is segmented based on form, source, and region.
By form, the global market is segmented into solid and liquid. The global market is dominated by the solid form of proteins owing to their easy storage and preference for human as well as pet consumption. Liquid forms need specialized storage units which may increase the overall cost of production and also require extra care for transportation. Since processed animal proteins have wide applications, they can be used in aqua feed, fertilizers, compound feed, etc. The inclusion level may vary anything from 5% to 30 % completely dependent on the species being fed.
Based on the source, the global market is divided into pork, beef, poultry, and others. There is a huge surge in demand for proteins originating from the poultry section driven by its accessibility, availability, high value, and versatility. Poultry farms do not require as expensive maintenance as other forms encouraging the market players to invest in this section. Other forms like beef and pork have witnessed a lesser adoption rate owing to the increasing number of reported health risks associated with their consumption. For instance, as per reports, the US beef consumption per capita has reduced by 1/3rd since the 1970s.
Recent Developments:
In April 2022, Tugon Kabuhayan, a food security advocacy group, pushed the Department of Agriculture to lift the ban imposed on Italian porcine processed animal protein since it is resulting in increasing first prices at a rate of P2 per kilogram. The group has advocated that the ban on Italian pork products should be changed by exempting PAP importers, as the raw material has proven to not affect the domestic swine industry.
In June 2022, Licious, India's largest direct-to-customer brand, became India's first SA8000-certified animal protein brand. The company is also pledged to take steps for becoming completely Environmental, Social and Governance (ESG) compliant. The certificate is the SA 8000:2014 Social Accountability, ISO 14001 Environmental Management, and ISO 45001 Occupational Health and Safety Management making the company amongst the only 10 global business organizations to receive quality certification from the British Standard Institution (BSI).
Report Attributes
Report Details
Report Name
Processed Animal Protein Market Research Report
Number of Pages
188
Key Companies Covered
Leo Group ltd., FASA Group, Ridley Corporation Limited, Valley Proteins, Nordfeed, West Coast Reduction, SYSCO Corp., BOYER VALLEY COMPANY, LLC, Tyson Food, Inc., Sonac, Smithfield Foods Inc., JBS USA Holdings Inc., and OSI Group LLC
Segments Covered
By Product Type, By Application, and By End Use
Forecast Units
Value (USD Billion), and Volume (Units)
Regions Covered
North America, Europe, Asia Pacific (APAC), Latin America, Middle East and Africa (MEA)
Countries Covered
North America: U.S and Canada
Europe: Germany, Italy, Russia, U.K, Spain, France, Rest of Europe
APAC: China, Australia, Japan, India, South Korea, South East Asia, Rest of Asia Pacific
Latin America: Brazil, Argentina, Chile
The Middle East And Africa: South Africa, GCC, Rest of MEA
Base Year
2021
Historical Year
2016 to 2020
Forecast Year
2022 - 2028
Customization Scope
Avail customized purchase options to meet your exact research needs. Request For Customization
Processed Animal Protein Market: Regional Analysis
North America to dominate the market scenario by 2028
The global processed animal protein market is projected to generate the highest revenue from North America since the region houses the largest meat-producing industry. More than 49.1% of the animal by-products in the US originate from the meat industry and most of them go to waste and have no further applications. To curb this, there are strict government regulations in place which have resulted in more steps toward processing the by-products in creating feather meal, blood meal, etc., thus reducing the environmental impact of the by-products. The regional growth may also be attributed to the rising investment in pet feed with manufacturers rolling out innovative and nutritious food items for house pets like cats and dogs.
Asia-Pacific may also generate high revenues owing to the growing number of players in markets like India, China, Japan, and others. With growing awareness, the demand for processed animal proteins has taken a huge jump in the regions propelling the manufacturers to invest more resources in meeting the growing demand. Europe is another promising market for high revenues since the government owing to the recent lifting of the ban on processed animal protein thus opening doors for regional market growth opportunities.
Processed Animal Protein Market: Competitive Analysis
The global processed animal protein market is house to players like Leo Group ltd., FASA Group, Ridley Corporation Limited, Valley Proteins, Nordfeed, West Coast Reduction, SYSCO Corp., BOYER VALLEY COMPANY, LLC, Tyson Food, Inc., Sonac, Smithfield Foods Inc., JBS USA Holdings Inc., and OSI Group LLC
The global processed animal protein market is segmented as follows:
By Form
By Source
By Region
North America
Europe

France
The UK
Spain
Germany
Italy
Rest of Europe

Asia Pacific

China
Japan
India
South Korea
Southeast Asia
Rest of Asia Pacific

Latin America

Brazil
Mexico
Rest of Latin America

Middle East & Africa

GCC
South Africa
Rest of Middle East & Africa