Pea Protein Market: Industry Prospective
The global Pea Protein market was worth around USD 864.6 million in 2021 and is estimated to grow to about USD 1,892.3 million by 2028, with a compound annual growth rate (CAGR) of approximately 13.9 percent over the forecast period. The report analyzes the Pea Protein market's drivers, restraints/challenges, and the effect they have on the demands during the projection period. In addition, the report explores emerging opportunities in the Pea Protein market.
Pea Protein Market: Overview
Pea protein powder is a dietary supplement manufactured from yellow pea protein. It's commonly used to boost the protein level in smoothies and shakes, and because it's naturally vegan and hypoallergenic, it's a good fit for practically any diet. Pea protein is an excellent source of high-quality protein and iron. Pea protein includes all nine necessary amino acids that the human body cannot produce and must obtain from foodstuffs, making it beneficial to muscular building, weight loss, and cardiovascular health.
COVID-19 Impact:
The COVID-19 pandemic had a number of impacts on the agriculture industry as a whole. Countries that produce yellow peas and chickpeas, which are the principal suppliers of pea protein, encountered problems such as impediments to export and transportation. The overall output of these pulses was also hampered by manpower shortages during peak harvest seasons. During the pandemic, however, demand for nutritious and functional meals increased. Pea protein is becoming more popular in affluent nations such as Germany, the United States, the United Kingdom, the Netherlands, and France, where vegan populations are on the rise. As the market gradually reopened, they were able to attain equilibrium in terms of pea demand and supply, and so the global pea protein market could be regarded to have experienced a low impact.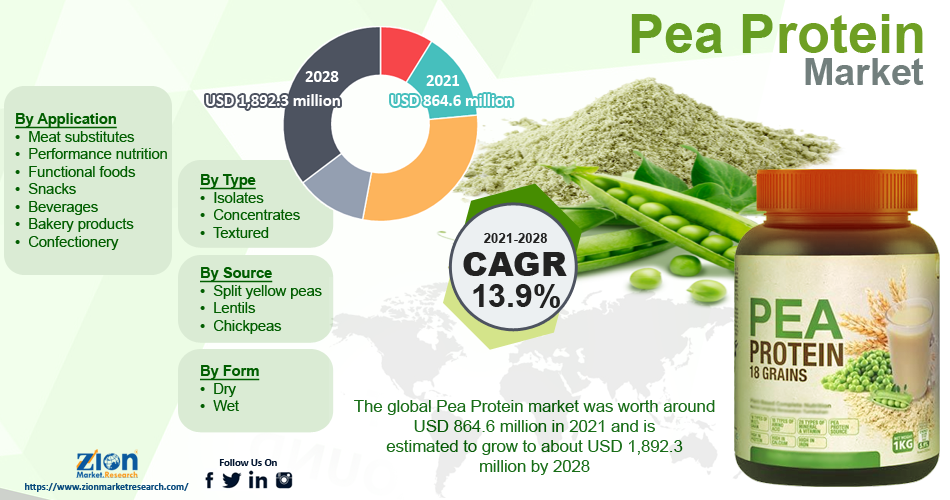 Request Free Sample
Pea Protein Market: Growth Drivers
The increasing popularity of plant-based products and vegan food consumers fueling the market growth.
Consumer eating choices have shifted dramatically around the world. A large portion of the population is increasingly preferring foods that are of non-animal origin and non-meat, which includes milk or milk-based products. This is primarily fueling the demand for pea protein across the world. Further, health issues including lactose intolerance and animal allergies, as well as a growing health consciousness among consumers, are driving the change in food preferences. As a result of these circumstances, customers have begun to favor plant-based proteins that are free of allergens. In addition to this, an increase in disposable income and the availability of products through several online channels are also contributing to the growth of the global pea protein market.
Pea Protein Market: Restraints
The high cost associated with the extraction and processing of pea protein is likely to hamper the market growth.
As a fact, soy protein has a higher level of consumer awareness than pea protein. Because of their large production capacity and great demand, soy protein manufacturers have achieved economies of scale. A pea, on the other hand, is a relatively new product. Wet fractionation is a high-cost process that involves four basic phases and needs a lot of heavy equipment, technology, and procedures. As a result, producers are not aggressively pursuing pea protein as a stand-alone product.
Pea Protein Market: Opportunities
The development of pea protein in new applications may offer a great opportunity for market expansion
Pea protein has limited applicability, and it was largely employed as a meat replacement in products that replace plant-based meat and nutraceuticals. Companies operating in the industry, on the other hand, are currently developing new plant-based goods and have effectively incorporated a variety of pea protein uses. Protein powders, nutrition bars, cereals, snacks, ready-to-eat meals, crisps, beverages, bakery, meal-replacement drinks, and confectionery & dairy replacements all include it.
Pea Protein Market: Challenges
Growth prospects are being hampered by supply restrictions.
The conversion ratio of pea protein extracted from various varieties of peas varies depending on the procedure and the type of pea employed. Peas should be transformed into proteins at a rate of 15 to 20 percent. If the supply of pea protein does not meet the requirements of food and beverage makers, they may move to pea protein substitutes, which might stifle the global pea protein market's growth.
Pea Protein Market: Segmentation
The global pea protein market is categorized based on type, form, source, application, and region. Based on the type, the global market is bifurcated into concentrates, isolates, and textured. By form, the market is divided into wet and dry. In terms of revenue, the dry form accounts for the lion's share. The source segment of the market is bifurcated into lentils, split yellow peas, and chickpeas. Split yellow peas dominate the market, accounting for more than 40% of the total. The application segment is split into meat substitutes, performance nutrition, functional foods, snacks, beverages, bakery products, and confectionery. Among these, the meat substitute segment is projected to register rapid growth over the forecast period.
Recent Developments
In January 2020, Merit Functional Food Corp, a joint venture firm of Burcon Nutrascience Corp, obtained a co-investment from the Protein Industry (Canada). Merit Functional Food Corp's quick expansion in the protein production business would be aided by this advancement. It would make Burcon's new pea and canola protein constituents easier to make.

In January 2020, Rouquette Freres has signed a multi-year agreement with the US located Beyond Meat to provide pea protein for the company's plant-based meat products. Roquette Freres' supply of pea proteins to the joint firm, Beyond Meat, is projected to rise as a result of the relationship.
Pea Protein Market: Regional Landscape
Europe controls more than 35% of the global pea protein market. This is largely due to the increasing vegan population in the region. In only four years, the number of vegans food consumers has almost doubled. In the previous four years, the number of vegans in Europe increased from 1.3 million to 2.5 million, accounting for 3.2 percent of the population. Moreover, the demand for disease nutrition and weight control is fueling the pea protein market's expansion in Europe. To meet consumers' health and wellness needs, major food & beverage businesses in Europe are focusing on creating products made with plant protein sources. The market in the Asia Pacific is still developing and is expected to offer better growth opportunities for the expansion of the pea protein market over the forecast period.
Pea Protein Market: Competitive Landscape
Key players functioning in the global pea protein market include Ingredion, Rouquette Freres, Puris Foods, Emsland Group, The Green Labs LLC, Fenchem Inc., DuPont, A&B Ingredients, The Scoular Company, Glanbia PLC, and Axiom Foods Inc.
The Global Pea Protein market is segmented as follows:
By Type
By Form
By Source
Split yellow peas

Lentils
Chickpeas
By Application
Meat substitutes

Performance Nutrition
Functional foods
Snacks
Beverages
Bakery products
Confectionery
By Region
North America
Europe

France
The UK
Spain
Germany
Italy
Rest of Europe

Asia Pacific

China
Japan
India
South Korea
Southeast Asia
Rest of Asia Pacific

Latin America

Brazil
Mexico
Rest of Latin America

Middle East & Africa

GCC
South Africa
Rest of the Middle East & Africa