Plastic Waste Management Market Size: Industry Prospective
The plastic waste management market size was around USD 33219.5 million in 2021 and is estimated to grow to about USD 39435.8 million by 2028, with a compound annual growth rate (CAGR) of approximately 2.9 percent over the forecast period.
The report analyzes the private hospital market's drivers, restraints/challenges, and the effect they have on the demands during the projection period. In addition, the report explores emerging opportunities in the private hospital market.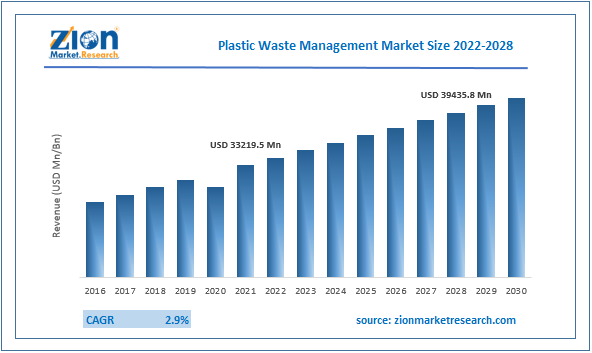 Request Free Sample
Plastic Waste Management Market: Overview
Plastic waste is described as the buildup of used plastic things in the environment. Over half of all plastic produced in the world is used for single-serve applications. When disposed of, the plastic is non-biodegradable and might remain intact for a long time. Plastic garbage that is not properly disposed of causes major environmental and human health problems. The key factors driving the plastic waste management market in the forecast period are increased awareness about environmental issues associated with plastic, as well as government implementation of strict regulations regarding plastic disposal, management, and recycling of toxic materials.
The adoption of bottles made from recycled plastics over those made from polymers derived from oil products is increasing market expansion, as is the packaging industry's increased demand for recyclable raw materials. Additionally, the development in industry and urbanization have an impact on the plastic waste management market. Furthermore, the development of the circular economy, the establishment of corporate and public sector partnerships in waste management, and the expanding demand for waste management in emerging countries provide attractive opportunities to market participants.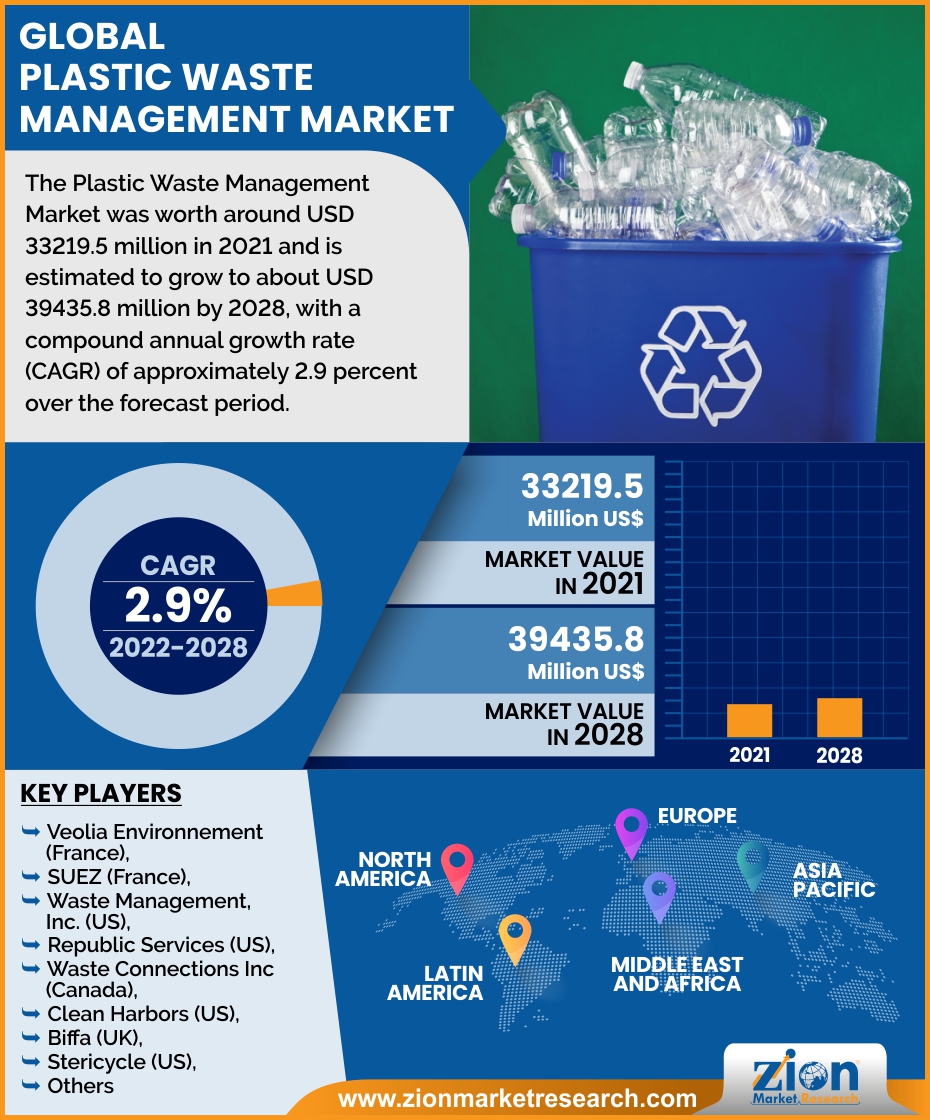 Request Free Sample
COVID-19 Impact:
The outbreak of covid-19 has had a substantial impact on global market growth. This industry, as well as several other commercial sectors around the world, have been forced to halt production because of the global health emergency caused by the Covid-19 impact. Many companies' production lines have been shut down for an extended length of time. Due to the nationwide lockdowns, informal waste pickers, who play an important role in plastic waste management, were either unable to supply recyclers with raw materials or could not find recyclers willing to acquire their materials. Investment and global stock market sectors have also suffered significant losses. Due to supply chain interruption, the year-on-year growth rate is expected to be lower than in recent years.
Plastic Waste Management Market: Driver
Exciting Initiatives by Market Leaders to Fuel Growth
Many of the world's biggest corporations involved in the plastics value chain have banded together to combat plastic pollution. For example, in January 2019, around 30 worldwide firms formed a new global 'Alliance to End Plastic Waste in London to combat garbage pollution, particularly plastic entering the oceans. This coalition has pledged to invest $1.5 billion over the next five years. Additionally, it has built a worldwide vision and comprehensive methods to address this issue. Infrastructure development, novel technology for plastic waste management, education and participation at all levels of communities, and cleaning up existing concentrated plastic polluted regions are all part of these efforts. Such initiatives encourage the use of plastic waste management services in order to achieve the long-term aim of eradicating plastic pollution.
Plastic Waste Management Market: Restraint
The high operating costs of plastic waste management provide a significant restrain to market growth.
Plastic waste management is a complex process that necessitates significant capital investment in order to successfully carry out numerous activities, including garbage collection and disposal. Furthermore, the garbage must be processed by skilled and highly motivated workers. This, in turn, raises operating costs and reduces profit margins. However, as new technologies are used, the influence of this constraint is likely to diminish during the forecast period.
Plastic Waste Management Market: Opportunities
Rising Demand From Emerging Economies
The global plastic waste management sector has seen a significant growth in product demand and supply of additional product distribution procedures following the opening of the international market with the release of lockdown procedures. The sudden availability of a local plastic trash collector in the market for plastic waste market management will provide a massive opportunity around the world, particularly in emerging economies. As a result, several industries have implemented key factors such as the development of more infrastructure, innovative ideas, and techniques related to the plastic waste management market, which enables these industries to grow rapidly, providing a significant opportunity to meet all of the demands from the global supply chain market.
Plastic Waste Management Market: Challenges
Difficulty in Managing the Supply Chain
The global pandemic has posed a significant threat to commercial sectors. During the pandemic, practically every company sector, including the plastic waste management market sectors, encountered significant difficulties in the manufacturing and delivery of products. Many investors and shareholders have suffered significant losses in their company sectors as a result of the closure of foreign marketplaces and tonnes of cargo shipments.
Plastic Waste Management Market: Segmentation
The Plastic Waste Management Market is segregated based on service, polymer type, source, and end-use application.
By service, the market is classified into Collection & transportation, Recycling, Incineration, and Landfills. During the forecast period, the landfills sector is expected to dominate the plastic waste management market in terms of volume. The presence of fewer recycling plants and incinerators leads to waste mismanagement, which contributes to an increase in plastic waste disposals and landfills. The recycling market is expected to expand rapidly throughout the review period. The multiple benefits of recycling, combined with a growing government initiative to promote recycling, are propelling this segment's rise.
By polymer type, the market is classified into Polypropylene (PP), Low-density polyethylene (LDPE), High-density polyethylene (HDPE), Polyvinyl chloride (PVC), Polyurethane (PUR), Polystyrene (PS), Polyethylene terephthalate (PET), and Others (thermoset and thermoplastics (not included in the above segmentation such as SPI code 7 plastics, melamine-formaldehyde, bakelite, and others polyester resins)). In the global plastic waste management market, polypropylene is expected to be the fastest-growing polymer sector. Because of its high availability and low cost, polypropylene has the largest share of the global plastic market.
By source, the market is classified into industrial waste and municipal waste. Among these, industrial waste is the market's largest and fastest-growing segment. Industries are thought to be the major source of plastic trash. The growing industrialization of developing economies is primarily responsible for the segment's rise. Due to the rigorous environmental restrictions, it is vital for industrial businesses to properly dispose of plastic trash. Furthermore, plastic recycling is critical to achieving economically and environmentally sustainable goals. Municipal plastic garbage is made up primarily of plastic waste created by households and commercial properties. The separation of plastic garbage from other municipal solid waste is critical to the growth of this industry. However, the rising population and fast urbanization are offering profitable chances for this industry to grow during the projection period.
By end-use application, the market is classified into Packaging, Building & Construction, Textile & Clothing, Automotive, Furniture, and Others (electrical & electronic components and appliances; specific applications in aerospace & defense, toys, and other stationery products). The packaging category, which dominated the market with the biggest share, is expected to rise throughout the forecast period due to a wide range of applications of plastic material in the packaging industry, which requires further recycling after primary application. The various advantages of recycled plastics (such as less pollution and decreased reliance on fossil fuels) and their widespread use in sustainable packaging solutions (such as containers, bottles, bags, films, and other protective packaging items) promote their demand.
Report Scope:
Recent Developments
In 2021, UPS Healthcare and Stericycle have formed a joint venture to provide medical waste sorting and disposal services. With this collaboration, both organizations hope to preserve public health while also contributing to the plastic circular economy in a responsible, safe, and sustainable manner.
Plastic Waste Management Market: Regional Landscape
During the projection period, Asia Pacific accounted for the greatest revenue share in the market. Rising per capita plastic trash creation, as well as fast urbanization and industrialization, are important reasons driving the demand for this sort of plastic waste management in the Asia Pacific. China is the country with the highest rate of plastic garbage generation. During the projection period, India is expected to have the quickest growth in the regional market. Plastic waste management market growth is being driven by the implementation of strong environmental policies and high collection rates of plastic garbage in developed countries such as Japan, South Korea, Australia, and New Zealand.
North America accounted for the global market's second-largest revenue share. In terms of collecting and treatment, the region has a well-established market. The considerable presence of solid waste management enterprises, as well as their distribution network, is a critical growth element for the North American market. The United States accounted for the highest share in the region, and the region is expected to rise over the forecast period. The United States is one of the world's leading manufacturers of plastic garbage.
Plastic Waste Management Market: Competitive Landscape
Some of the main competitors dominating the Plastic Waste Management Market include - Veolia Environnement (France), SUEZ (France), Waste Management, Inc. (the US), Republic Services (US), Waste Connections Inc (Canada), Clean Harbors (US), Biffa (UK), Covanta Holding Corporation (US), Stericycle (US), and Remondis SE & Co. KG (Germany).
The Plastic Waste Management Market is segmented as follows:
By service
By Polymer Type
Polypropylene (PP)
Low-density polyethylene (LDPE)
High-density polyethylene (HDPE)
Polyvinyl chloride (PVC)
Polyurethane (PUR)
Polystyrene (PS)
Polyethylene
terephthalate (PET)
Others (thermoset and thermoplastics (not included in the above segmentation such as SPI code 7 plastics, melamine-formaldehyde, bakelite, and other polyester resins))
By source
Residential
Industrial
Others (waste generated due to construction & demolition activities and agricultural waste)
By End-Use application
Packaging
Building & construction
Textile & Clothing
Automotive
Furniture
Others (electrical & electronic components and appliances; specific applications in aerospace & defense, toys, and other stationery products)
By Region
North America
Europe

France
The UK
Spain
Germany
Italy
Rest of Europe

Asia Pacific

China
Japan
India
South Korea
Southeast Asia
Rest of Asia Pacific

Latin America

Brazil
Mexico
Rest of Latin America

Middle East & Africa

GCC
South Africa
Rest of the Middle East & Africa