Global Recycled Polyethylene Terephthalate Market Overview
The Global Recycled Polyethylene Terephthalate market accrued earnings worth approximately 8.57 (USD Billion) in 2020 and is predicted to gain revenue of about 14.85 (USD Billion) by 2028, is set to record a CAGR of nearly 6.8% over the period from 2021 to 2028.
The report offers an assessment and analysis of the Recycled Polyethylene Terephthalate market on a global and regional level. The study offers a comprehensive assessment of the market competition, constraints, revenue estimates, opportunities, evolving trends, and industry-validated data. The report provides historical data from 2018 to 2020 along with a forecast from 2021 to 2028 based on revenue (USD Billion).
Recycled Polyethylene Terephthalate Market: Overview
Recycled PET is a kind of synthetic compound manufactured from used polyethylene terephthalate items and finds massive applications in myriad end-use sectors. The resins produced from recycled PET bottles are one of the major forms of recycled PET. Apart from this, recycled PET is utilized for making products such as fibers for polyester carpets, clothes for T-shirts, elongated underwear, luggage upholstery, athletic shoes, and sweaters. In addition to this, the product is also used in fiberfill for sleeping bags & winter coats, industrial strapping sheets, films, and vehicle components including luggage sacks, fuse boxes, grilles, door panels, bumpers, and PET containers for non-food items and food items.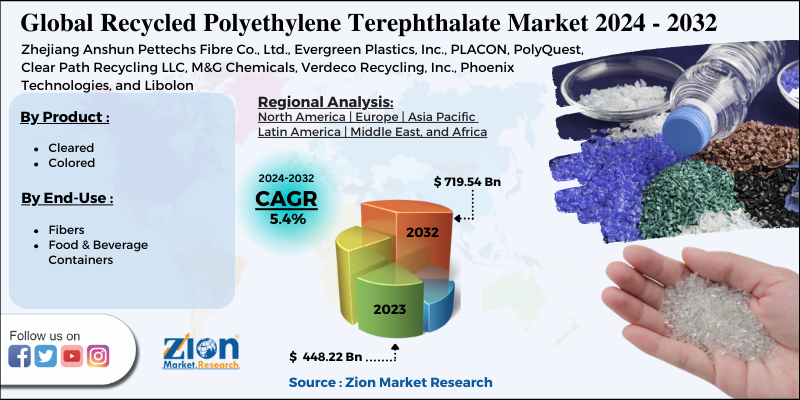 Request Free Sample
Recycled Polyethylene Terephthalate Market: Growth Drivers
Recycled PET is utilized massively in the fiber sector as it is highly sensitive to heat degradation & degradation from pollutants like PVC. Moreover, recycling of PET varies from each country. For instance, in Europe, Germany recycles nearly half of PET. Apart from this, countries such as Belgium, France, Holland, the UK, and Italy have been very active in recycling activities. All these aforementioned aspects will steer recycled polyethylene terephthalate industry growth in the upcoming years. Growing concerns pertaining to sustainability of natural resources in emerging economies in Europe and North American sub-continents will drive recycled polyethylene terephthalate market trends. Nonetheless, huge carcinogenic compound emission can put brakes on market growth.
Furthermore, tilting government preference towards setting up of recycling PET units in countries such as Indonesia, China, Vietnam, Thailand, and India will prop up product penetration in Asia Pacific zone in the foreseeable future. Apart from this, escalating use of the product in packaging sector will benefit recycled polyethylene terephthalate industry over the forecasting timeline. Humungous use of recycled PET in food & beverages as well as non-food packaging products will increase market size over assessment period.
Large-scale awareness pertaining to plastic recycling along with supportive government laws associated with recycling of plastic materials will proliferate business space in the next couple of years. Low costs of production in comparison to other kinds of polymers and increase product usage in myriad sectors will scale up recycled PET market expansion. High demand for packaged food items & bottled drinks will accelerate recycled polyethylene terephthalate industry surge over forthcoming decade.
Recycled Polyethylene Terephthalate Market: Report Scope
Report Attributes
Report Details
Report Name
Recycled Polyethylene Terephthalate Market Research Report
Market Size in 2020
USD 8.57 Billion
Market Forecast in 2028
USD 14.85 Billion
Growth Rate
CAGR of 6.8%
Number of Pages
210
Key Companies Covered
Zhejiang Anshun Pettechs Fibre Co., Ltd., Evergreen Plastics, Inc., PLACON, PolyQuest, Clear Path Recycling LLC, M&G Chemicals, Verdeco Recycling, Inc., Phoenix Technologies, and Libolon
Segments Covered
By Product, By End-Use and By Region
Regions Covered
North America, Europe, Asia Pacific (APAC), Latin America, Middle East, and Africa (MEA)
Base Year
2020
Historical Year
2018 to 2020
Forecast Year
2021 - 2028
Customization Scope
Avail customized purchase options to meet your exact research needs. Request For Customization
Competitive Landscape
Key participants profiled in the study include Zhejiang Anshun Pettechs Fibre Co., Ltd., Evergreen Plastics, Inc., PLACON, PolyQuest, Clear Path Recycling LLC, M&G Chemicals, Verdeco Recycling, Inc., Phoenix Technologies, and Libolon.
Regional Landscape
European Market To Record Massive Growth Over 2021-2028
The regional market growth over forecast timeline is due to presence of various multinational brands in the continent. In addition to this, humungous demand for pellets, bales, and flakes will embellish regional market trends. Reportedly, European Governments have set target of nearly 54.5% plastic recycling by 2030. Moreover, Germany, France, UK, Holland, and Belgium are anticipated to be some of the major regional revenue pockets.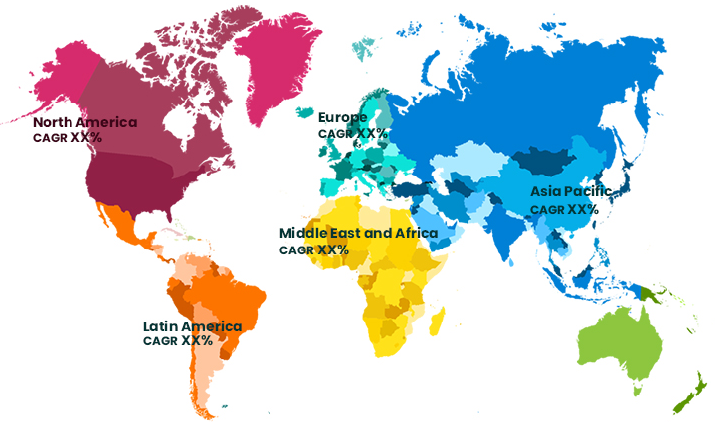 Request Free Sample
Recycled Polyethylene Terephthalate Market: Competitive Space
The global Recycled Polyethylene Terephthalate market profiles key players such as:
Zhejiang Anshun Pettechs Fibre Co., Ltd
Evergreen Plastics, Inc
PLACON
PolyQuest
Clear Path Recycling LLC
M&G Chemicals
Verdeco Recycling, Inc
Phoenix Technologies
Libolon
The global Recycled Polyethylene Terephthalate Market is segmented as follows:
By End-Use
Fibers
Food & Beverage Containers
By Product
By Region
North America
Europe

France
The UK
Spain
Germany
Italy
Rest of Europe

Asia Pacific

China
Japan
India
South Korea
Southeast Asia
Rest of Asia Pacific

Latin America

Brazil
Mexico
Rest of Latin America

Middle East & Africa

GCC
South Africa
Rest of Middle East & Africa