Analysis
Plastics include materials composed of various elements such as chlorine, carbon, nitrogen, hydrogen, oxygen, and sulfur. Plastics are macromolecules, formed due to polymerization and shaped by the application of reasonable amount of heat and pressure or another form of forces. Plastic materials types are distinguished depending on their physical properties, which can be classified as thermoplastic or thermosetting plastic materials. Plastics have become an essential part of our day to day life since most of the products that we use today is made up of plastic materials. A large amount of plastic wastes are generated across the world, which mostly comes from household and industries such as packaging, electronics, automobile, construction, and agriculture. Processed raw material which includes fossil fuel is lost in the form of plastic waste instead of recycling it into novel products. Various organizations such as Packaging and Packaging Waste Directive, the Waste Framework Directive, and the European Environment Agency have taken initiatives to recycle plastic and energy recovery.
Plastic is a robust material and it can lead to various problems such as uncontrolled disposal and municipal waste management. Recycling of plastic is essential for the society as it ensures energy recovery and carbon footprint reduction. For instance, in Europe, in 2012 nearly 25.2 million tons of plastic have been collected as plastic waste, and about 62% of it was recovered through recycling and energy recovery while 38% of it was dumped in landfills. Plastic is cheap and versatile, plastic that is recycled is used to manufacture various products such as garbage bags, bottles, containers, films, cloths, and carpet, among others. Plastic waste management market will benefit due to the usage of recycled plastic in industrial applications which is predicted to increase significantly over the forecast timeframe.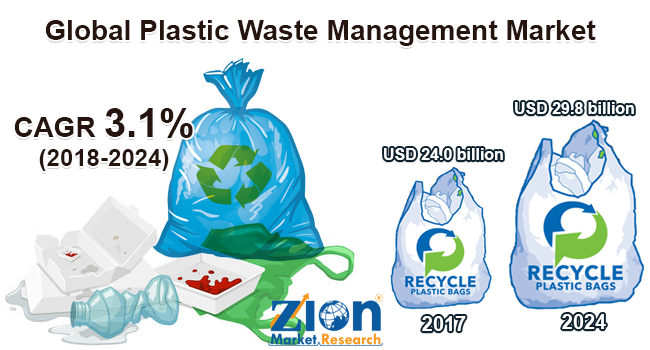 Based on the polymer type, the plastic waste management market is segmented into polystyrene (PS), polypropylene, polyvinyl chloride (PVC), polyethylene terephthalate (PET), and others. On the basis of services, the market is segmented into landfills, collection, recycling, and energy recovery. Based on the source, the market is categorized as industrial, residential, commercial & institutional, and others. Based on the end-use sector, the market is divided into wood and furniture, textiles, construction, packaging, and others.
Asia Pacific accounted for a substantial revenue share in 2017 for the plastic waste management market. The growth is attributed due to rising government regulation for waste management and increasing export activities for plastic waste from North America and Europe to Asian countries such as Thailand, Hong Kong, China, and India and has a positive impact on plastic waste management market in the region over the forecast period. Increasing environmental regulations in Latin America and the Middle East & Africa is expected to provide the future growth opportunities for plastic waste management in the coming years.
Some of the key players operating in plastic waste management market include Renova, Inc., Think Plastics Inc., Luxus Limited, TM Recycling GmbH, Hawkvale Limited, Kuusakoski Group, Hermion BV., PLASgran Ltd., United Plastic Recycling, and Hahn Plastics Limited. Strategic collaboration and acquisition are the major strategies adopted by major players to retain their position in the market.