Personal Cooling Device Industry Prospective:
The global personal cooling device market size was worth around USD 5.81 Billion in 2022 and is predicted to grow to around USD 8.32 Billion by 2030 with a compound annual growth rate (CAGR) of roughly 4.601% between 2023 and 2030. The report analyzes the global personal cooling devices market drivers, restraints/challenges, and the effect they have on the demands during the projection period. In addition, the report explores emerging opportunities in the personal cooling device market.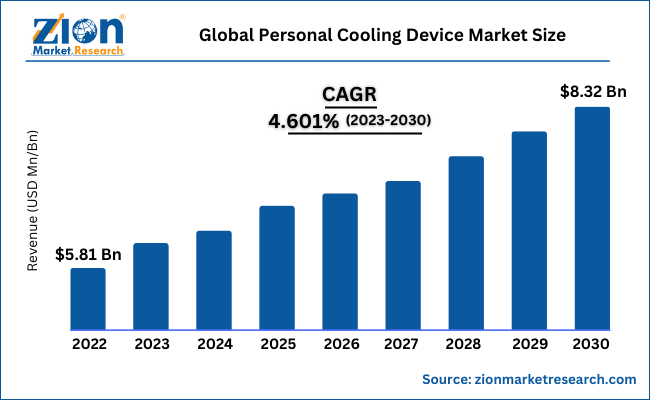 Request Free Sample
Personal Cooling Device Market: Overview
The personal cooling device industry refers to the segment of the larger consumer electronic group which deals with the production and distribution of wearable devices that are designed to cool or lower the wearer's body temperature. Typically, these devices are small, battery-powered, and portable. They can also be worn on the body or can be placed in proximity to the skin for providing cooling relief during hot or humid conditions. Some examples of personal cooling devices include portable fans, cooling vests, neck fans, and handheld misting devices. They are generally marketed for people who work in outdoor settings or who suffer from hot flashes due to a medical condition that can lead to overheating in the body. However, in recent times, the product is also used by practically anyone who wants to stay comfortable in the summer seasons.
Key Insights:
As per the analysis shared by our research analyst, the global personal cooling device market is estimated to grow annually at a CAGR of around 4.601% over the forecast period (2023-2030)
In terms of revenue, the global personal cooling device market size was valued at around USD 5.81 billion in 2022 and is projected to reach USD 8.32 billion, by 2030.
The personal cooling device market is projected to grow at a significant rate due to the rising temperature across the world
Based on product type segmentation, desk fans was predicted to show maximum market share in the year 2022
Based on distribution channel segmentation, online was the leading channel in 2022
On the basis of region, Asia-Pacific was the leading revenue generator in 2022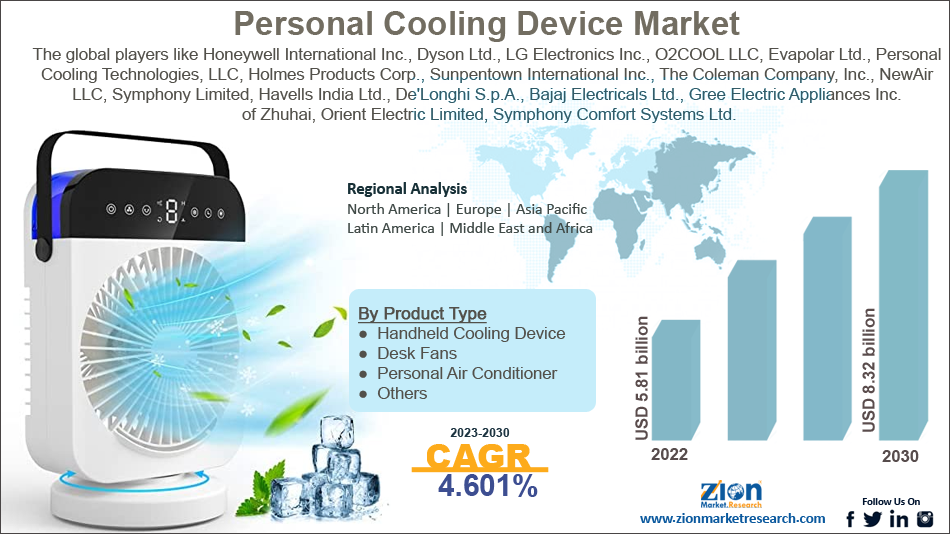 Request Free Sample
Personal Cooling Device Market: Growth Drivers
Rising temperatures across the world to propel market growth
The global personal cooling device market is projected to grow owing to the rising temperature across the globe. In recent times, several countries have broken decade-old records of the highest temperature recorded in the country or some parts of the nation. Scientists and studies have attributed the rise in temperature to global warming which is in turn connected to several other factors such as rampant urbanization, industrialization, use of non-renewable sources for energy generation leading to the emission of greenhouse gasses are some of the causes. For instance, in April 2023, the Guardian reported that an intense heat wave has already affected some parts of Asia countries at the beginning of the summer season in the eastern part of the world. In the same report, Maximiliano Herrera, a renowned climatologist also claimed that the high temperature of April can be termed as the 'worst April heatwave in Asian history. Such factors are likely to drive the demand for personal cooling devices, especially for people who work in outdoor areas.
Personal Cooling Device Market: Restraints
Limited awareness to restrict the market growth
Although personal cooling devices are helpful in reducing the overall temperature of the body and can relieve discomfort caused by soaring outside temperatures, the awareness rate surrounding the devices is relatively low. Currently, the largest part of the consumer group belongs to urban cities where they have more access to information and products. However, companies need to come up with other marketing initiatives to enter more rural areas that lack adequate financial status to deploy other means of cooling such as air conditioners.
Personal Cooling Device Market: Opportunities
Product innovation to provide growth opportunities
One of the key areas the global personal cooling device industry players can tap into is investing more resources in product innovation. They can continue to re-invent the product and make it more suitable for the specific needs of the customers belonging to separate areas. Furthermore, the higher efficiency of the device may attract more consumers in the coming years. In addition to this, the use of social medical and e-commerce platforms could also provide higher growth opportunities.
Personal Cooling Device Market: Challenges
Battery life and limited functionality to challenge market growth
Personal cooling devices do not have access to technology that powers traditional cooling systems such as air conditioners with large fans. This means that the device has limited functionality and it is not useful in extreme weather conditions. Furthermore, since these devices are powered by batteries, in case of lack of access to an electricity supply, the device may die down after some hours rendering it useless. This is especially applicable in countries or regions that lack adequate power generation facilities or infrastructure.
Personal Cooling Device Market: Segmentation
The global personal cooling device market is segmented based on product type, price, distribution channel, and region.
Based on product type, the global market segments are handheld cooling devices, desk fans, personal air conditioners, and others. In 2022, the highest growth was observed in the desk fan segment since they can be used either at home or in offices. These smaller fans provide cool breezes that can help lower body temperature. It can make the environment more comfortable and this may be beneficial to other people as well. Another significant contributing segment was the handheld cooling device segment which is mostly used by people during traveling or in situations that do not allow them access to traditional methods of cooling. However, it is crucial to note that the market is extremely dense and product preference may depend on the conditions in which the user lives. In April 2022, India's highest temperature was recorded at 38.9 degrees Celsius.
Based on price, the global personal cooling device market divisions are low-end and high-end.
Based on distribution channel, the global market segments are online and offline. The industry witnessed the highest growth in the online segment since during the pandemic most people or buyers switched to digital modes of shopping. Factors such as ease of buying, availability of more options, easy return policies, excellent customer service, and exhaustive social media marketing activities by the brands, are some of the leading causes in the segmental growth. Moreover, as the majority of the consumer base is from urban areas, they prefer to shop through online channels as opposed to traditional brick-and-mortar shopping. An estimate by Tidio claims that nearly 2.14 billion people shop online.
Recent Developments:
In March 2023, Symphony, an Indian multinational electronics company, announced the launch of a new range of personal cooling devices called Duet Mini. The company has announced the launch keeping in mind the changing needs of regional consumers that are currently living in soaring summer temperatures. Symphony, with its new product, is expected to tap into a new segment of consumers who have specific needs and requirements
In June 2022, Blaux Portable, a leading player in the industry, launched a new mini, portable air conditioner that can provide cooling effects rapidly and is designed for personal use. The new mobile AC is highly compact and lightweight without compromising its performance
In July 2020, Sony launched the Reon Pocket, a portable AC that can be charged using a USB-C chord
Personal Cooling Device Market: Report Scope
Report Attributes
Report Details
Report Name
Personal Cooling Device Market Research Report
Market Size in 2022
USD 5.81 Billion
Market Forecast in 2030
USD 8.32 billion
Growth Rate
CAGR of 4.601%
Number of Pages
214
Key Companies Covered
Honeywell International Inc., Dyson Ltd., LG Electronics Inc., O2COOL LLC, Evapolar Ltd., Personal Cooling Technologies, LLC, Holmes Products Corp., Sunpentown International Inc., The Coleman Company, Inc., NewAir LLC, Symphony Limited, Havells India Ltd., De'Longhi S.p.A., Bajaj Electricals Ltd., Gree Electric Appliances Inc. of Zhuhai, Orient Electric Limited, Symphony Comfort Systems Ltd., Breezair Pty Ltd., Vornado Air LLC, Climate Wizard Pty Ltd., Fujitsu General Limited, Carrier Global Corporation, Mitsubishi Electric Corporation, Haier Group Corporation, and Panasonic Corporation
Segments Covered
By Product Type, By Price, By Distribution Channel, And By Region
Regions Covered
North America, Europe, Asia Pacific (APAC), Latin America, Middle East, and Africa (MEA)
Base Year
2022
Historical Year
2017 to 2021
Forecast Year
2023 - 2030
Customization Scope
Avail customized purchase options to meet your exact research needs. Request For Customization
Personal Cooling Device Market: Regional Analysis
Asia-Pacific to witness steady growth during projected period
The global personal cooling device market is expected to witness the highest growth in Asia-Pacific during the forecast period. The growth rate is expected to be driven by multiple factors that work in the favor of the regional industry. The foremost reason is the presence of a large consumer database. India and China are home to close to 2.5 billion population since they are the most populated countries across the globe. This means that the personal cooling device industry players have high growth potential in this region. Furthermore, as of 2023, Asia is hit with the worst case of summer temperatures as almost all regions in South Asia are suffering from extreme cases of heat waves which have already resulted in several reported deaths and many people falling sick. In addition to this, these regions are witnessing a rise in the number of people that fall in the middle-income range which means that they are looking for facilities that are efficient but also cost-effective like personal cooling devices.
Personal Cooling Device Market: Competitive Analysis
The global personal cooling device market is led by players like:
Honeywell International Inc.
Dyson Ltd.
LG Electronics Inc.
O2COOL LLC
Evapolar Ltd.
Personal Cooling Technologies LLC
Holmes Products Corp.
Sunpentown International Inc.
The Coleman Company Inc.
NewAir LLC
Symphony Limited
Havells India Ltd.
De'Longhi S.p.A.
Bajaj Electricals Ltd.
Gree Electric Appliances Inc. of Zhuhai
Orient Electric Limited
Symphony Comfort Systems Ltd.
Breezair Pty Ltd.
Vornado Air LLC
Climate Wizard Pty Ltd.
Fujitsu General Limited
Carrier Global Corporation
Mitsubishi Electric Corporation
Haier Group Corporation
Panasonic Corporation
The global personal cooling device market is segmented as follows:
By Product Type
Handheld Cooling Device
Desk Fans
Personal Air Conditioner
Others
By Price
By Distribution Channel
By Region
North America
Europe

France
The UK
Spain
Germany
Italy
Rest of Europe

Asia Pacific

China
Japan
India
South Korea
Southeast Asia
Rest of Asia Pacific

Latin America

Brazil
Mexico
Rest of Latin America

Middle East & Africa

GCC
South Africa
Rest of Middle East & Africa