Global Ingestible Smart Pills Market Overview
The global Ingestible Smart Pills market accounted for USD 957.9 Million in 2020 and is expected to reach USD 1,700.5 Million by 2028, growing at a CAGR of 7.5% from 2021 to 2028.
The ingestible smart pill is a revolutionary technological innovation that has reduced the gap between healthcare and digital technology. Smart pills are basically medical devices and small embedded electronic appliances such as sensors, cameras, and trackers. This electronic device can be easily swallowed and provides a complete evaluation of the gastrointestinal tract (GIT). The emergence of these healthcare-cum-technology devices has addressed the soaring need for better diagnostics and monitoring. It has outperformed the conventional GI monitoring endoscopy with more convenient smart pill technology, which has now become the standard non-invasive diagnosis technique for motility disorders. Moreover, it helps physicians in real-time patient monitoring through remote controlling options.
COVID-19 Impact Analysis:
The pandemic has led to increasing demand for drugs, APIs, pills, and others. The second wave of deficiency is observed among various diseases patients which is needed to care. As the pandemic progresses, the manufacturer of pills works around the clock to ensure patients have access to the drugs they need.
The covid-19 has created an opportunity for the number of patients as there is high chance of adverse health effects of covid-19 on people. However, the covid-19 has positively impacted on the ingestible smart pill market.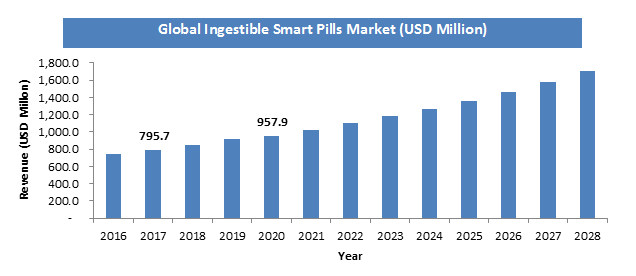 Request Free Sample
Growth Factors
The elderly population is more prone to gastrointestinal disorders. Capsule endoscope plays a pivotal role in early diagnosis and proper treatment. With new component innovations and hybrid imaging technologies, more patients undergo screening and diagnostic endoscopy. This particular factor is creating a positive impact on the smart pills segment. Also, this segment is seen as the next big frontier by component in the global ingestible smart pills market, where many of the novel and most interesting advances are expected to take place in the near future. The population with the utmost need for home health care services experiences difficulty in operating these devices. Therefore, creators and developers are striving to increase the usability and accessibility of smart pills, so that these devices offer valuable insights on user health. The devices are developed in such a manner that a layman can interpret the data easily. Most companies in this market provide compatible software that collects data over a long period of time and offers valuable information on patient health along with suggestions to improve lifestyle. These smart pill devices can also be connected to smartphones through the Bluetooth component. Thus, users can view data in a statistical and user-friendly format. This has increased market demand for smart pills globally.
Report Scope: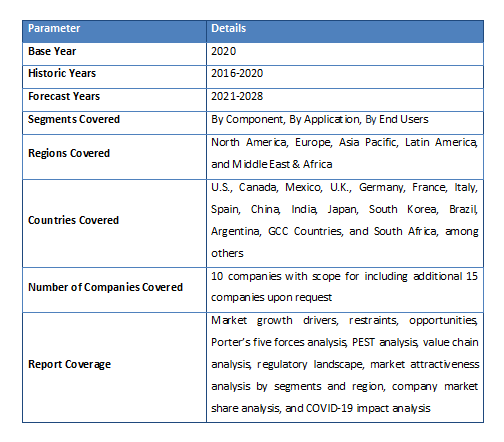 Request Free Sample
Component Segment Analysis Preview
Based on Component, the global Ingestible Smart Pills market is segmented into Smart Pills and Workstation. Smart pills are sub-segmented into Patient Monitoring and Capsule Endoscopy. Furthermore, the Capsule Endoscopy is segmented into Small Bowel Endoscopy, Esophagus Endoscopy, and Colon Endoscopy. Smart pills segment is expected to grow at fastest rate in the global market over the forecast period.
Application Segment Analysis Preview
On the basis of Application, the Ingestible Smart Pills market is segmented into Imaging, and Monitoring. Patient monitoring segment is expected to grow at fastest rate in global market over the forecast period.
End Users Segment Analysis Preview
Hospitals, clinics, research institutes and home health care are key end-users of the global ingestible smart pills market. The hospital's segment dominated the market in terms of revenue in 2020.
Regional Segment Analysis Preview
North America is anticipated to remain the leading region over the forecast period. Gastrointestinal diseases affect around 60 to 70 million Americans annually. Spending on gastrointestinal diseases in the U.S. has been estimated at $142 Million per year in direct and indirect costs. The Asia Pacific is expected to be the fastest growing region in the ingestible smart pills market during the forecast period reasons being the large geriatric population and increasing investment/expansion by companies.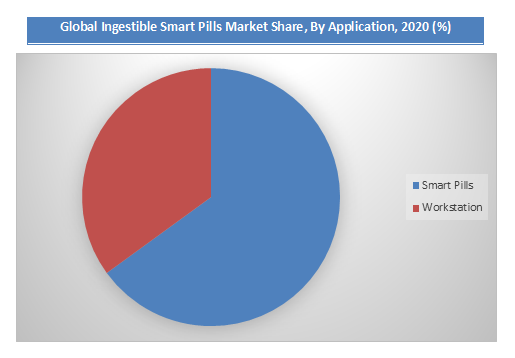 Request Free Sample
Key Market Players & Competitive Landscape
The major players operating in the Ingestible Smart Pills market are Body-Cap Medical, CapsoVision, Inc., Check-Cap Ltd, Chongqing Jinshan Science and Component (Group) Co., Ltd., Given Imaging Ltd., IntroMedic Co., Ltd., Medimetrics, Olympus Corporation, Philips Respironics, Proteus Digital Health, Inc.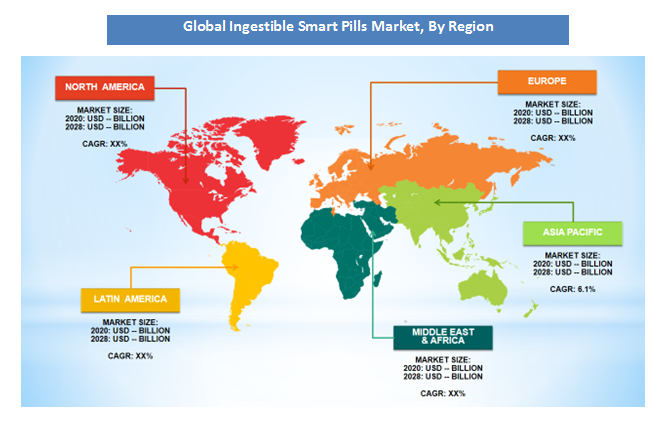 Request Free Sample
The global Ingestible Smart Pills market is segmented as follows:
By Component
Smart Pills

Patient Monitoring
Capsule Endoscopy

Small Bowel Endoscopy
Esophagus Endoscopy
Colon Endoscopy

Workstation
By Application
By End Users
Hospitals
Clinics
Research Institute
By Region
North America
Europe

France
The UK
Spain
Germany
Italy
Rest of Europe

Asia Pacific

China
Japan
India
South Korea
Southeast Asia
Rest of Asia Pacific

Latin America

Brazil
Mexico
Rest of Latin America

Middle East & Africa

GCC
South Africa
Rest of Middle East & Africa