Abstract
The report covers forecast and analysis for the infrared detectors market on a global and regional level. The study provides historic data of 2015-2017 along with a forecast from 2018 to 2024 based on revenue (USD Million). The study includes drivers and restraints for the infrared detectors market along with the impact they have on the demand over the forecast period. Additionally, the report includes the study of opportunities available in the infrared detectors market on a global level.
The report provides a transparent outlook on the infrared detectors market. We have included a detailed competitive scenario and portfolio of leading vendors operative in infrared detectors market. To understand the competitive landscape in the infrared detectors market, an analysis of Porter's Five Forces model for the infrared detectors market has also been included. The study encompasses a market attractiveness analysis, wherein type, technology, wavelength, end users, and regional segments are benchmarked based on their general attractiveness, market size, and their growth rate.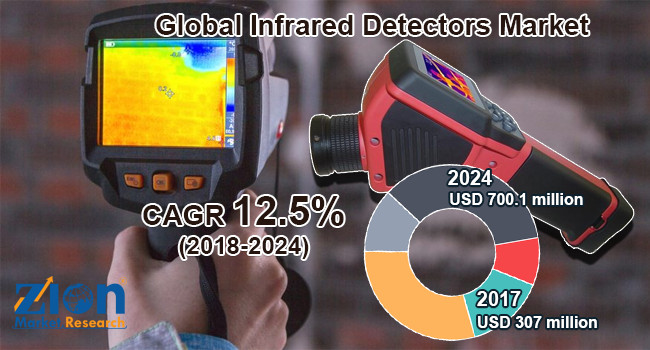 The report provides company market share analysis in order to give a broader overview of the key players in the market. In addition, the report also covers key strategic developments of the market including acquisitions & mergers, new product launch, agreements, partnerships, collaborations & joint ventures, research & development, product and regional expansion of major participants involved in the market on a regional basis
The study provides a crucial view of the infrared detectors by segmenting the market based on type, technology, wavelength, end users, and regions. All the product, technology, end users segments of infrared detectors market have been analyzed based on present and future trends and the market is estimated from 2018 to 2024. Based on the type, global infrared detectors market is bifurcated into pyroelectric, thermopile, mercury cadmium telluride (MCT), indium gallium arsenide (InGaAs), micro-bolometer and others (PBS & PBSE). Wavelength segment of infrared detectors includes shortwave infrared (SWIR), long wave infrared (LWIR) and mid-wave infrared (MWIR) detectors. Technology segment categorized into cooled IR detector technology and uncooled IR detector technology. Automotive, consumer electronics, medical, military, security, and others are the key end users of infrared detector market. The regional segmentation comprises the current and forecast demand for Europe, Asia Pacific, North America, Latin America, and the Middle East & Africa with its further divided into the U.S., France, Germany, the UK, China, India, Japan and Brazil for infrared detectors market for infrared detectors market.
The competitive profiling of key operating companies of infrared detectors market includes company and financial overview, business strategies adopted by them, their recent developments and product offered by them which can help in assessing competition in the infrared detectors market. Prominent players in the infrared detector market include Hamamatsu Photonics KK, Raytheon Co., ULIS, Texas Instruments Inc., FLIR Systems Inc., Melexis NV, Omron Corporation Murata Manufacturing Co. Ltd., Excelitas Technologies Corp., and Vigo System S.A. among others.
This report segments the global of infrared detectors market as follows:
Global Infrared (IR) Detectors Market: Type Segment Analysis
Mercury Cadmium Telluride
Indium Gallium Arsenide
Pyroelectric
Thermopile
Micro-bolometer
Others
Global Infrared (IR) Detectors Market: Technology Segment Analysis
Cooled IR Detector Technology
Uncooled IR Detector Technology
Global Infrared (IR) Detectors Market: Wavelength Segment Analysis
Short Wave Infrared (SWIR)
Long Wave Infrared (LWIR)
Mid Wave Infrared(MWIR)
Global Infrared (IR) Detectors Market: End-User Segment Analysis
Automotive
Consumer Electronics
Medical
Military
Security
Others
Global Infrared Detectors Market: Regional Segment Analysis
North America
Europe
Asia Pacific
Latin America
Middle East and Africa