Industry Prospective:
The global catalytic converter market size was worth around USD 49.25 billion in 2021 and is predicted to grow to around USD 76.7 billion by 2030 with a compound annual growth rate (CAGR) of roughly 9.3% between 2022 and 2030. The report analyzes the global catalytic converter market drivers, restraints/challenges, and the effect they have on the demands during the projection period. In addition, the report explores emerging opportunities in the catalytic converter market.
Catalytic Converter Market: Overview
A catalytic converter is a system required for controlling exhaust emissions. The converter is used to turn pollutants and toxic gasses that are the components of exhaust gas created in the internal combustion engine for the vehicle into less-toxic pollutants.
The conversion is achieved due to the catalysis of a redox reaction, a chemical reaction that causes a change in the oxidation state of the substrate. In most cases, international combustion engines that run on diesel or gasoline require the use of catalytic converters but the application of the device may also be found in stoves, kerosene heaters, or lean-burn engines. The widespread utilization of catalytic converters makes them highly sought-after devices in the mechanical world as they may also be used alongside mining equipment, electrical generators, buses, ships, forklifts, buses, and motorcycles.
Key Insights
As per the analysis shared by our research analyst, the global catalytic converter market is estimated to grow annually at a CAGR of around 9.3% over the forecast period (2022-2030)
In terms of revenue, the global catalytic converter market size was valued at around USD 49.25 billion in 2021 and is projected to reach USD 76.7 billion, by 2030.
The market is projected to grow at a significant rate due to the growing concern over air pollution across the globe
Based on type segmentation, diesel oxidation catalyst was predicted to show maximum market share in the year 2021
Based on material segmentation, rhodium was the leading material in 2021
On the basis of region, North America was the leading revenue generator in 2021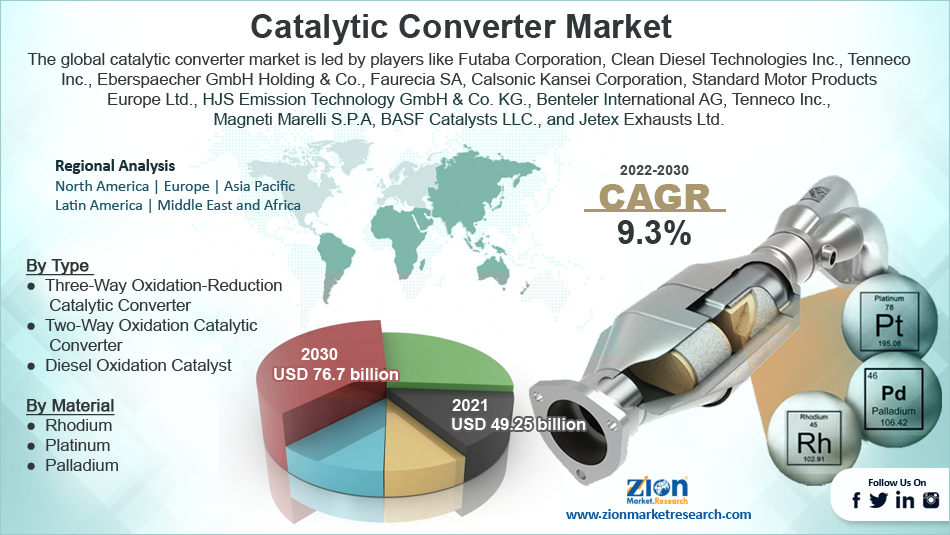 Request Free Sample
Catalytic Converter Market: Growth Drivers
Increasing concern over air pollution to propel market demand
The global catalytic converter market is projected to grow owing to the increasing concern over air pollution which is rising at an alarming rate across the globe. Apart from other factors, one of the major reasons for air pollution is the use of automotive vehicles that run on non-renewable resources of energy, particularly diesel or gas.
The burning of such fuel leads to the emission of harmful gasses like benzene, carbon monoxide, nitrogen dioxide, formaldehyde, and hydrocarbons. Carbon monoxide, when inhaled, can cause oxygen displacement in the blood which means that the organs like the brain and heart may not get sufficient oxygen. As per the World Health Organization, the joint effects of household air pollution and ambient air pollution results in the premature death of almost 7 million people annually. The United States Environmental Protection Agency states that the emission quantity of carbon dioxide from regular passenger cars is around 4.6 metric tons.
Catalytic Converter Market: Restraints
High price of maintaining catalytic converts to restrict market expansion
Catalytic converters are expensive devices and the main reason for the high cost is the use of precious metal in making the converters. They are made of materials like platinum, rhodium, or palladium which are rare and exceptionally high in cost. Almost all modern-age cars are equipped with a catalytic converter and replacing a standard converter may cost between UD 500 to USD 2,200. The high price factor could greatly restrict global market expansion.
Catalytic Converter Market: Opportunities
Rising strategic measures by market players to open new doors for further growth
The global catalytic converter market is registering a high number of strategic measures, like partnerships, joint ventures, and acquisitions, undertaken by the players and businesses operating in the segment which could potentially create growth opportunities. These partnerships are aimed at creating a larger consumer database while improving the overall efficiency of the product. For instance, in 2021, the world witnessed a collaboration between the researchers at Leeds and Cats and Pipes. The former group has managed to create a new synthetic material that can aid accelerate the removal of carbon monoxide and nitrogen oxide, which is currently in the testing phase. Cats and Pipes is an automotive company.
Catalytic Converter Market: Challenges
Growing theft incidences to act as a major challenge
One of the major challenges registered in the global market is the growing catalytic converter theft incidences. In January 2023 report published by NBC4 Washington, in the last 3 years, catalytic converter thefts have skyrocketed in DC Washington. The main reason for the high associated crime rate is the expensive nature of the material used to manufacture the device as well as the ease at which it can be stolen. The global market players as well as consumers have to invest in ways to protect against the loss of the device.
Catalytic Converter Market: Segmentation
The global catalytic converter market is segmented based on type, material, and region
Based on type, the global market is segmented into three-way oxidation-reduction catalytic converter, two-way oxidation catalytic converter, and diesel oxidation catalyst. The global market was dominated by the diesel oxidation catalyst segment since this type of converter is the most used with compression-ignition engines and 2021 registered high sales of passenger diesel-run cars. Almost 50% of the total car sales in Europe were diesel-powered vehicles. However, the increasing shift toward greener vehicles could lead to a decrease in the demand for diesel oxidation catalysts. Three-way oxidation-reduction catalytic converter was the second most revenue-generating type in 2021.
Based on material, the global market is divided into rhodium, platinum, and palladium. The global market registered the highest growth in the rhodium segment and may grow at a CAGR of 7.9% during the forecast period because the material is more cost-effective than its counterparts. It also offers better performance in terms of the reduction of hazardous gasses. Although palladium and platinum are similar in many ways, the demand for platinum is higher to produce diesel catalytic converters whereas platinum leads the demand value for petrol-powered cars.
Recent Development:
In July 2022, Ford India recalled selected BS6 models of passenger cars including Freestyle, Aspire, Figo, and Ecosport due to concerns over compliance with emission norms. The main areas to be corrected, as per the company, were diesel particulate filter efficiency and issues related to oil life. If the vehicles are found non-compliant, a new catalytic converter will be installed

In November 2022, Dayton police launched a new campaign targeted to curb the growing incidences of catalytic converter theft. The program consists of etching a sticker on the converter with a fluid that can be easily tracked in case the device gets stolen
Catalytic Converter Market Report Scope:
Report Attributes
Report Details
Report Name
Catalytic Converter Market Research Report
Market Size in 2021
USD 49.25 Billion
Market Forecast in 2030
USD 76.7 Billion
Compound Annual Growth Rate
CAGR of 9.3%
Number of Pages
193
Forecast Units
Value (USD Billion), and Volume (Units)
Key Companies Covered
Futaba Corporation, Clean Diesel Technologies Inc., Tenneco Inc., Eberspaecher GmbH Holding & Co., Faurecia SA, Calsonic Kansei Corporation, Standard Motor Products Europe Ltd., HJS Emission Technology GmbH & Co. KG., Benteler International AG, Tenneco Inc., Magneti Marelli S.P.A, BASF Catalysts LLC., and Jetex Exhausts Ltd.
Segments Covered
By Type, By Material And By Region
Regions Covered
North America, Europe, Asia Pacific (APAC), Latin America, Middle East and Africa (MEA)
Countries Covered
North America: U.S and Canada
Europe: Germany, Italy, Russia, U.K, Spain, France, Rest of Europe
APAC: China, Australia, Japan, India, South Korea, South East Asia, Rest of Asia Pacific
Latin America: Brazil, Argentina, Chile
The Middle East And Africa: South Africa, GCC, Rest of MEA
Base Year
2021
Historical Year
2016 to 2020
Forecast Year
2022 - 2030
Customization Scope
Avail customized purchase options to meet your exact research needs. Request For Customization
Catalytic Converter Market: Regional Analysis
North America to register the highest growth
The global catalytic converter market is projected to register the highest growth in North America with the US and Canada acting as the major regional market shareholders. The growth could be driven by the growing sales revenue in the automobile segment propelled by an increasing number of product launches, innovation, financial assistance, and the general lifestyle requiring the use of personal vehicles for transportation. The US government and regulatory bodies have laid heavy emphasis on controlling air pollution in the country which could lead to higher demand for high-performance catalytic converters.
The federal government has initiated multiple programs to bring down the number of catalytic converter thefts which is a major area of concern especially for luxury car owners since they are the most vulnerable group in terms of car-related crimes. The increasing number of players along with rising investments in research & development activities related to catalytic converts may also help with regional growth.
Catalytic Converter Market: Competitive Analysis
The global catalytic converter market is led by players like
Futaba Corporation
Clean Diesel Technologies Inc.
Tenneco Inc.
Eberspaecher GmbH Holding & Co.
Faurecia SA
Calsonic Kansei Corporation
Standard Motor Products Europe Ltd.
HJS Emission Technology GmbH & Co. KG.
Benteler International AG
Tenneco Inc.
Magneti Marelli S.P.A
BASF Catalysts LLC.
Jetex Exhausts Ltd.
The global catalytic converter market is segmented as follows:
By Type
Three-Way Oxidation-Reduction Catalytic Converter
Two-Way Oxidation Catalytic Converter
Diesel Oxidation Catalyst
By Material
Rhodium
Platinum
Palladium
By Region
North America
Europe

France
The UK
Spain
Germany
Italy
Rest of Europe

Asia Pacific

China
Japan
India
South Korea
Southeast Asia
Rest of Asia Pacific

Latin America

Brazil
Mexico
Rest of Latin America

Middle East & Africa

GCC
South Africa
Rest of Middle East & Africa