Market Overview
The global Automotive Vehicle-To-Everything (V2X) Market accounted for USD 414 Million in 2020 and is expected to reach USD 6,735 Million by 2028, growing at a CAGR of 41.7% from 2021 to 2028.
The transmission of data from a vehicle to any unit that can impact the vehicle is known as vehicle-to-everything (V2X) communication. It is a vehicular transportation system that combines V2V (vehicle-to-vehicle), V2P (vehicle-to-pedestrian), V2I (vehicle-to-infrastructure), V2G (vehicle-to-grid), and V2D (vehicle-to-desktop) (vehicle-to-device). Because two V2X senders are in each other's collection, V2X communication is often based on WLAN knowledge and operates directly among cars or communications, which outline a vehicular ad-hoc network. As a result, no communications or infrastructure are required for cars to communicate, which is a critical component for ensuring security in distant or underdeveloped locations. Because of its low latency and ability to interact instantly, it is particularly well suited for V2X communication. In a nutshell, vehicle-to-everything communications describe a totally linked vehicle that can communicate with other traffic signals, pedestrians, vehicles, tollgates, and the owner's home in order to be safe, clean, and eventually autonomous and self-driving.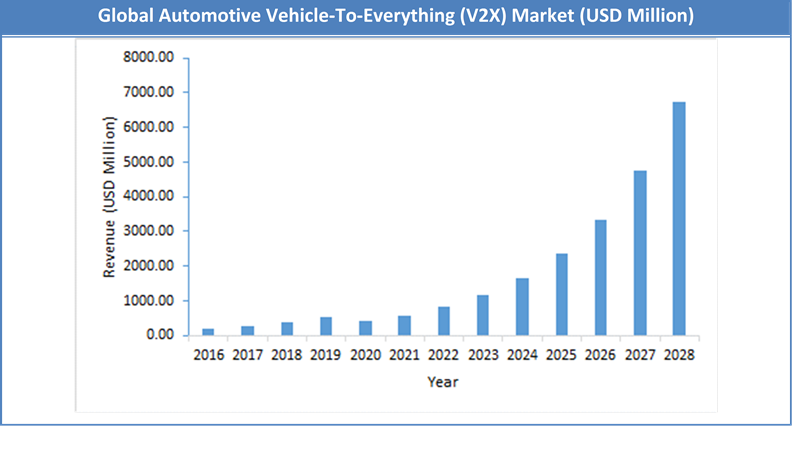 Request Free Sample
COVID-19 Impact Analysis
The COVID-19's global effects are already being seen, and the automotive V2X market will be considerably impacted in 2020. There are fears that the lockdown would be extended, which would severely stifle industrial activities in all sectors, including the car industry. As a result of the imposed lockdown, manufacturing units all across the world have ceased production, potentially affecting the purchase of automobiles with vehicle-to-everything (V2X) technologies. The COVID-19 crisis is causing market uncertainty, supply chain interruption, business deterioration, and a rise in panic among client segments. Different areas' governments have already announced total lockdowns and temporary shutdowns of industries, negatively impacting overall production and sales. As a result, the worldwide automobile V2X market has been significantly damaged by the spread of the COVID-19 pandemic. Due to COVID-19, Car OEMs and numerous advanced mobility players have been among the hardest hit in the industry. Due to macroeconomic factors, shifting consumer behavior, and regulatory developments, this could have a direct long-term impact on the automotive sector. Although, with the COVID-19 epidemic forcing endless changes into our daily lives, the automotive industry is keeping an eye on how changes in customer behavior may affect the adoption of technologies like vehicle-to-everything (V2X).
Growth Factors
The major growth factors of Automotive Vehicle-To-Everything (V2X) Market are: Adoption of associated vehicles is increasing, connected vehicles allow cars to connect with other vehicles, road infrastructure, and the cloud via a V2X platform. Automotive dealers, fleet operators, and drivers can use these services to optimize resource utilization, increase safety, and automate key driver responsibilities, all while collecting vital data such as vehicle performance and road conditions. Connected vehicles gather data from their surroundings and communicate it to one another, as well as connect to intelligent transportation infrastructure and send real-time traffic data to transportation authorities for better road management and infrastructure planning. As a result, the demand for connected car services has risen, owing to an increase in demand for basic vehicle connectivity applications like real-time updates, navigation, and in-car infotainment.
Rapid growth in urbanization & industrialization, Industrialization and urbanization have increased as a result of the rapid economic development in various developed countries around the world. In addition, the V2X-based intelligent transport system (ITS) has been created in recent years, and it is regarded as a crucial enabling technology for improving road safety, traffic efficiency, and driving experience. Furthermore, macroeconomic reasons such as rising disposable income, rising employment rates, and rising overall GDP are spurring initiatives such as smart cities with smart infrastructures, which are likely to move the automotive V2X market forward. Besides, the continued development and commercialization of cellular technology and related infrastructure is propelling worldwide growth. These include 5G, LTE, and radio access technology (RAT), which help smart transportation applications like collision warning and avoidance, lane keeping assistance, and obstacle recognition work better.
Report Scope:
Connectivity Segment Analysis
Currently, the automotive V2X systems in use in cars are based on Dedicated Short-Range Connectivity (DSRC). The DSRC connectivity type market will be driven by the existing cost advantages of DSRC over cellular connectivity. Because of the cost-benefit and ease of deployment, DSRC connectivity is becoming more popular among tier 1 and tier 2 providers, which will expand the market. Cellular connectivity, with its extensive coverage, may appear to be a profitable connectivity option, but it is not without its limitations. Because of its vast reach, cellular connectivity will take a long time to deploy. The modem hardware necessary to meet the V2X requirements of the car industry is quite costly. However, with reliable cellular connectivity for V2X and a well-thought-out rollout strategy, the technology has a bright future ahead of it.
Communication Segment Analysis
V2X communication in automobiles refers to a variety of communication protocols that are commonly employed in active safety systems such as adaptive cruise control, blind spot recognition, and lane change assist, among others. These elements will become obligatory in the near future as safety rules become more stringent. As a result, Vehicle-to-Vehicle (V2V) technology is projected to take over the market in the near future. The integration of V2I and V2N communication might aid in the resolution of issues such as traffic congestion and minimize emissions caused by traffic. It would also allow for the expansion of handy services like e-parking and automated toll payments. As a result, the aforementioned characteristics would hasten the expansion of the vehicle V2X industry. The automotive V2X market is projected to be dominated by the V2V communication segment. Forward collision warning (FCW) and lane shifting warning are two elements of V2V that improve vehicle safety (LCW). The public's and government's growing safety concerns as a result of increasing traffic accidents is a major driving force behind the expansion of the vehicle V2V market. Cadillac CTS and Mercedes-Benz E-Class are among the vehicles equipped with V2V technology.
Regional Segment Analysis
North America holds the greatest market share of 45% in the automotive v2x market. The region includes technologically advanced countries like the United States and Canada, allowing for easy technological adoption. The region is also one of the world's greatest automotive marketplaces; according to OICA, the region accounts for around 26% of the world's automobile population on the road. As a result, traffic congestion and excessive greenhouse gas emissions are two of the region's most pressing issues. Better traffic control and fewer gas emissions would result from the introduction of V2X technologies. As a result, the automotive v2x market is experiencing significant growth.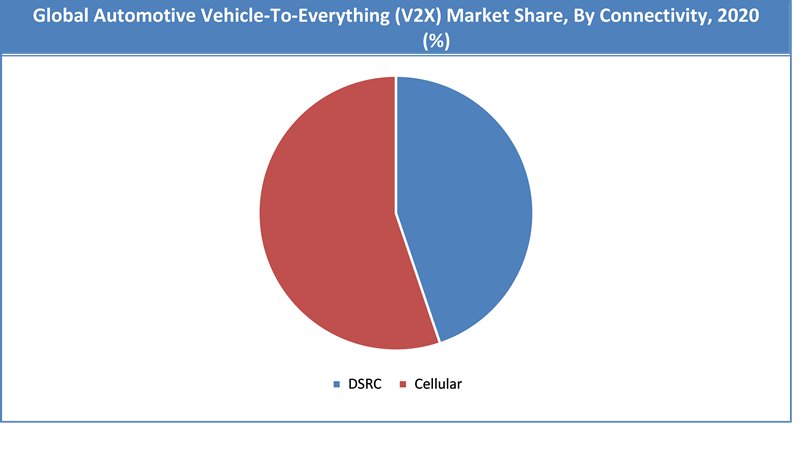 Request Free Sample
The Europe region is projected to grow at a CAGR of 37.4% over the forecast period. The European automobile industry is governed by strict safety and pollution regulations. Also, as safety regulations become more stringent, features like adaptive cruise control and blind-spot detection that require V2V communication will become standard, allowing the vehicle V2X industry to develop. The upgraded infrastructure in Europe makes V2X deployment simple. The presence of major players such as Robert Bosch GmbH, Continental AG, and Delphi Technologies, as well as widespread adoption of V2X-equipped vehicles, are projected to have a major impact on the European automotive V2X market. Furthermore, companies such as 5GAA, BMW Group, Ford, and Groupe PSA have partnered up with Qualcomm and Savari to demonstrate C-V2X communications in European nations such as France and Germany.
Key Market Players & Competitive Landscape
Some of key players in Automotive Vehicle-To-Everything (V2X) Market are Continental AG, Infineon Technologies AG, Toyota Motor Corporation, Delphi Automotive PLC, Savari Technologies Pvt. Ltd., Denso Corporation, Volkswagen AG, General Motors Company, Daimler AG, and BMW Group, among others.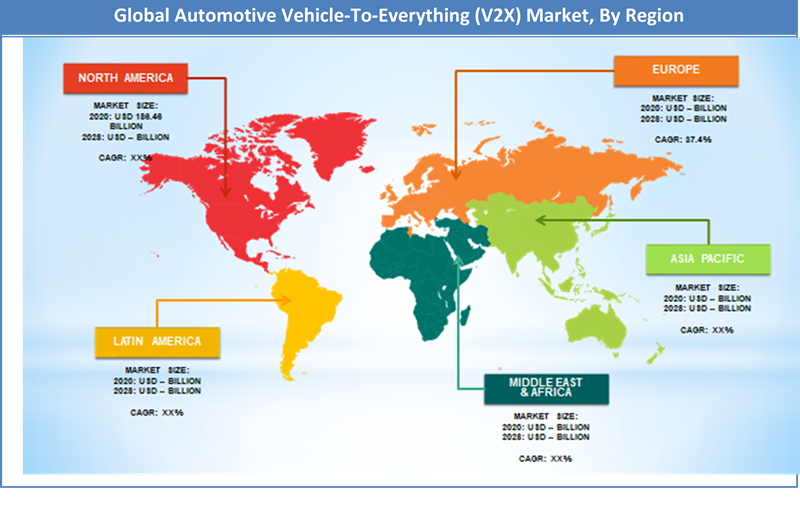 Request Free Sample
The global Automotive Vehicle-To-Everything (V2X) market is segmented as follows:
By Connectivity Type
By Vehicle
By Communication Type
Motor Vehicle To Motor Vehicle
Motor Vehicle To Home
Motor Vehicle To Network
Motor Vehicle To Grid
Motor Vehicle To Infrastructure
By Region
North America
Europe

France
The UK
Spain
Germany
Italy
Rest of Europe

Asia Pacific

China
Japan
India
South Korea
Southeast Asia
Rest of Asia Pacific

Latin America

Brazil
Mexico
Rest of Latin America

Middle East & Africa

GCC
South Africa
Rest of Middle East & Africa