Market Overview
The global Temperature Sensor market accounted for USD 5.8 Billion in 2020 and is expected to reach USD 7.7 Billion by 2028, growing at a CAGR of around 3.6% between 2021 and 2028.
A temperature Sensor is nothing but a tool typically an RTD or thermocouple provides for temperature measurement through an electrical signal. Temperature sensor plays an important role in various applications like food processing, medical devices, HVAC environmental control, chemical handling and automotive under the hood monitoring. Mounting significance of advanced & portable healthcare devices and high-performing sensor devices will propel the expansion of the temperature sensor market within the years ahead. Fierce competition and saturation witnessed across the Pc sector, however, is foreseen to hinder the expansion propensity of the temperature sensor market within the near future. Nevertheless, massive product applications across oil & gas, food & beverages, aerospace & defense, and chemicals sectors will further leverage the expansion graph of the temperature sensors market within the coming years.

Request Free Sample
COVID-19 Impact Analysis
In the era of a COVID-19 pandemic, when a high temperature could be a sign of being ill with COVID-19, it could be a helpful smartphone feature to have. Temperature Sensors are employing IoT connectivity to hurry COVID-19 screening. Polysense Technologies and Semtech have joined forces to develop a series of physical body temperature monitoring devices that supported Semtech's LoRa LPWAN. The sensors offer real-time data to frontline healthcare workers and quickly screen individuals with heat, one of the foremost common symptoms of COVID-19.
Growth Factors
The major growth drivers that impact the temperature sensors market are new technological advancements in the petrochemical industry. The growing huge demand for medical sensors owing to the rise within the number of diseases boosts the expansion of the thermistor sort of temperature sensor. Another foremost driver for temperature sensors in consumer electronics is that the substantial growth of tablets and mobile phones owing to research and development's immense innovations.
Report Scope: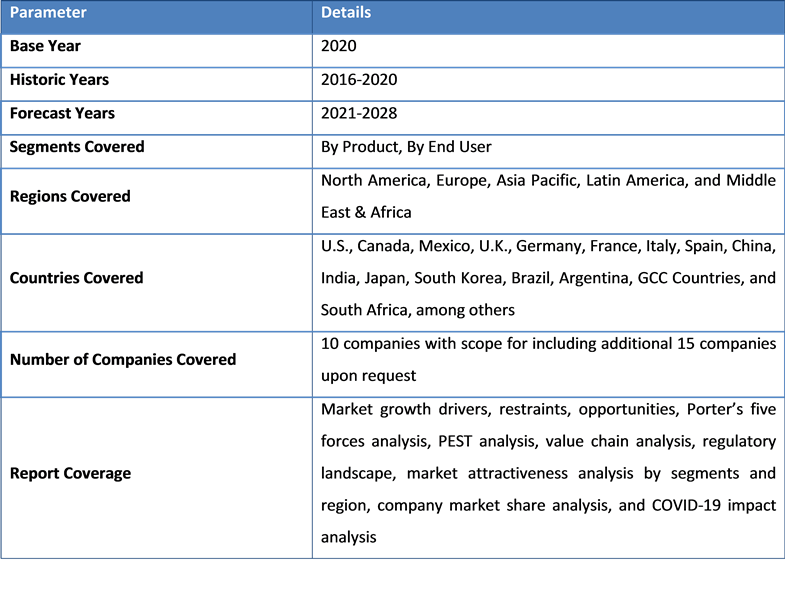 Request Free Sample
Segment Analysis Preview
The main products available in this temperature sensor market are Thermocouple, Thermistor, Temperature Sensor, Resistive Temperature Detector, Bimetallic Temperature Sensor, Infrared Temperature Sensor, and Fiber Optic Temperature Sensor. Among them, the demand for Thermocouple is relatively higher and the trend is anticipated to remain so over the next few years.
Based on application, the chemicals end-user industry segment is projected to hold the largest share in the temperature sensor industry during the forecast period. Temperature sensors play an important role in the chemicals end-user industry. Processes such as refining, heat tracing, cracking, and incineration, and systems such as sanitary systems and piping systems use temperature sensors for temperature monitoring and control.
Regional Analysis Preview
Regionally, North America has been leading the worldwide temperature sensor market and is anticipated to continue on the dominant position within the years to return. Favorable state guidelines to market the expansion of medical & healthcare sectors are the most factor behind the dominance of the North American temperature sensor market. For the record, in 2018, North America contributed quite 40% towards the general temperature sensor market share 2018.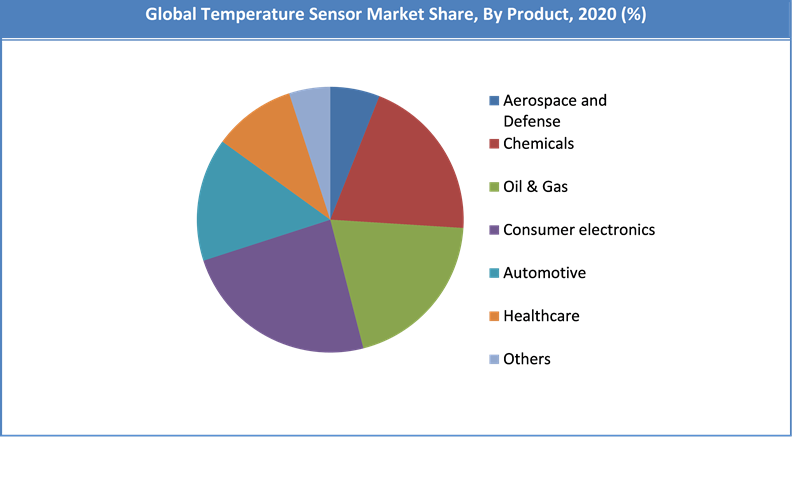 Request Free Sample
Key Market Players & Competitive Landscape
The key players of temperature sensor market include ABB Ltd., General Electric Co., Panasonic Corp., ON Semiconductor, NXP Semiconductors N.V., Maxim Integrated Products Inc., Infineon Technologies AG, STMicroelectronics N.V., Honeywell International Inc., Microchip Technology Inc., Analog Devices Inc., Kongsberg Gruppen, Siemens and Texas Instruments Inc.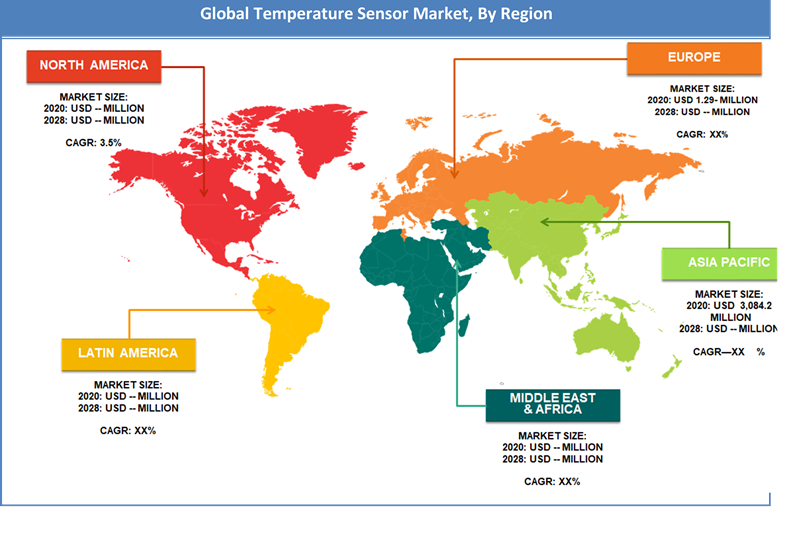 Request Free Sample
The global Temperature Sensor Market is segmented as follows:
By Product
Thermistor
Thermocouple
Infrared Temperature Sensor
Fiber Optic Temperature Sensor
Resistive Temperature Detector
Bimetallic Temperature Sensor
Others
By End-User
Food and Beverage
Aerospace and Defense
Chemicals
Consumer electronics
Automotive
Healthcare
Others
By Region
North America
Europe

France
The UK
Spain
Germany
Italy
Rest of Europe

Asia Pacific

China
Japan
India
South Korea
Southeast Asia
Rest of Asia Pacific

Latin America

Brazil
Mexico
Rest of Latin America

Middle East & Africa

GCC
South Africa
Rest of Middle East & Africa