Analysis
A temperature sensor is an electrical device, generally a thermocouple or RTD (Resistance Temperature Detector) that provides for temperature measurement through an electrical signal. A thermocouple is a temperature-measuring device made from two dissimilar metals that generate an electrical voltage in direct proportion to changes in temperature. A temperature sensor plays an important role in many applications including petrochemical, automotive, consumer electronics, and aerospace and defense.
Temperature sensor market is mainly driven by increasing demand for high-performance sensor instruments, and increasing demand for consumer electronics. Moreover, rapid advancement in technology and growing demand for body-worn temperature sensors is expected to open new avenues for the market growth in the next few years. Additionally, increasing importance of advanced and portable healthcare equipment and growing automotive sector are expected to trigger the growth of this industry in the coming years. However, increasing competition with newest technologies & Saturation in Pc Market is expected to impede the market growth in the near future.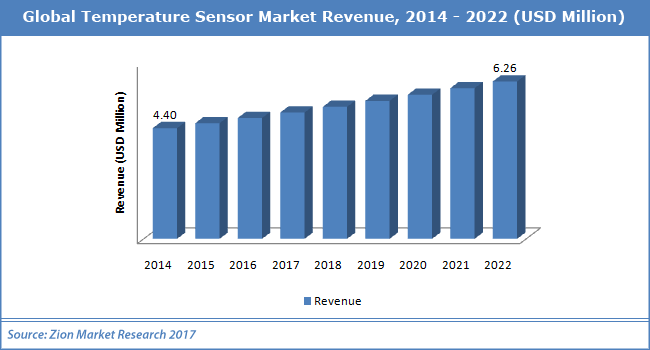 The temperature sensor market is segmented by its products into thermistor, resistive temperature detector, thermocouple, infrared temperature sensor, fiber optic temperature sensor, bimetallic temperature sensor and others. The thermocouple is expected to the major segment of the temperature sensor and accounted for largest share of the global demand in 2016 due to their wide applications across process and non-process industries. The thermistor is also expected to grow at a significant rate.
Among all end-User, food and beverage segment is expected dominated the temperature sensor market due to the rising concerns pertaining to food safety and increasing government regulations on storage and transportation of food products. Consumer electronics and oil & gas industry also expected to the attractive segment in this market.
Geographically, North America acquired the majority of share temperature sensor market due to increasing government initiatives to improve the medical and healthcare industry. It accounted for over 41% share of the entire market in 2016. North America was followed by Europe and Asia Pacific. Asia pacific is anticipated to experience promising growth in the temperature sensor market in the coming years. It is expected to grow at the highest CAGR rate due to the increased demand for consumer electronics and the oil and gas industry in the region.
Some of the key players in temperature sensor market include Panasonic Corp., ON Semiconductor, NXP Semiconductors N.V., Maxim Integrated Products Inc., ABB Ltd., General Electric Co., Infineon Technologies AG, STMicroelectronics N.V., Honeywell International Inc., Microchip Technology Inc., Analog Devices Inc., Kongsberg Gruppen, Siemens and Texas Instruments Inc.