Industry Prospective:
The global hairbrush market size was worth around USD 944.72 Million in 2022 and is predicted to grow to around USD 1,340.56 Million by 2030 with a compound annual growth rate (CAGR) of roughly 4.64% between 2023 and 2030.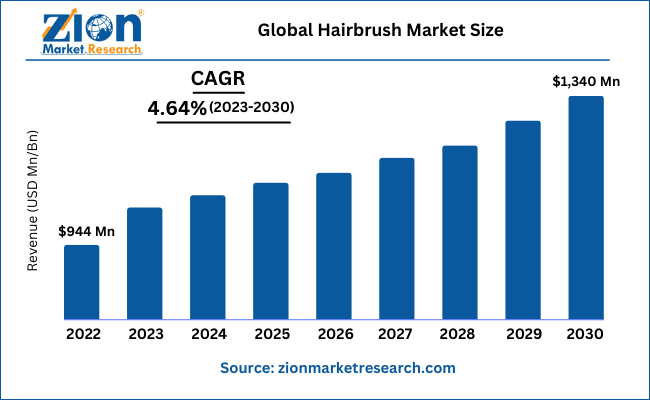 Request Free Sample
The report analyzes the global hairbrush market drivers, restraints/challenges, and the effect they have on the demands during the projection period. In addition, the report explores emerging opportunities in the hairbrush industry.
Hairbrush Market: Overview
A hairbrush is a consumer good that is used to detangle or groom hair. The product is usually made of a handle and bristles made of a variety of materials such as plastic, metal, or natural fibers like boar hair. The bristles are generally arranged in rows and can either be widely spaced or tightly packed depending on the end use of the hairbrush. The industry deals with the production and distribution of the most common personal care item used by men, women, and children alike. The market is extremely competitive as it is currently home to a large number of international brands as well as domestic or local producers. Furthermore, the product is used by people of all economic backgrounds, however, the pricing of hairbrushes or the material used in its product may vary between persons. During the forecast period, the industry is expected to continue its high growth momentum.
Key Insights:
As per the analysis shared by our research analyst, the global hairbrush market is estimated to grow annually at a CAGR of around 4.64% over the forecast period (2023-2030)
In terms of revenue, the global hairbrush market size was valued at around USD 944.72 million in 2022 and is projected to reach USD 1,340.56 million, by 2030.
The hairbrush market is projected to grow at a significant rate due to the growing demand for sustainable packaging
Based on application segmentation, personal was predicted to show maximum market share in the year 2022
Based on end-user segmentation, women were the leading users in 2022
On the basis of region, Asia-Pacific was the leading revenue generator in 2022
Request Free Sample
Hairbrush Market: Growth Drivers
Growing population rate to propel market growth
The global hairbrush market is expected to grow owing to the increasing population rate of the world. In November 2022, the world population crossed the 8 billion mark and the United Nations (UN) has predicted that it may cross 9.5 billion by 2050. Hairbrushes are personal care items and it is recommended that every person should use a personal hairbrush instead of sharing it with multiple people. Since it can cause an infection that may pass from another user. Some common infections or conditions reported due to improper hygiene are lice, dandruff, fungal infections, and bacterial infections. As the number of consumers continues to rise, the industry can expect higher growth during the forecast period. In addition to this, hairbrushes generally do not tend to last for a longer period, especially the ones made of poor or inexpensive materials such as plastic. This requires hairbrushes to be replaced regularly thus leading to the continuous demand in the industry.
Hairbrush Market: Restraints
Growing number of alternatives to restrict market expansion
The haircare industry is extremely competitive and generally tends to register frequent new product launches at regular intervals. This has led to growth restrictions in the global market since buyers have a range of options to choose from in terms of hair grooming products such as combs, hair picks, and electric hair styling tools. Consumers may choose to use modern tools instead of traditional hairbrushes for better results. Additionally, the industry players find it difficult to crack a marketing strategy that helps them stand out from the competition since a majority segment of the consumers may not buy a particular brand as hairbrushes are not considered extremely critical personal items.
Hairbrush Market: Opportunities
Increasing research and development to provide growth opportunities
The global hairbrush market is expected to witness higher growth opportunities owing to the increasing investment in research and development of more effective hairbrushes. For instance, companies are investing in using new materials for bristles. They are diverting resources to adding new designs to the overall structure of the comb for better results. For instance, Dyson, a revolutionary technology company that is known for its range of hairstyling products, invests more than USD 283 million in research.
Hairbrush Market: Challenges
Lack of waste management system to challenge market growth
One of the key challenges faced by the global hairbrush industry is the lack of a proper waste management system in place. This is especially applicable to manufacturers that use plastic as raw material for producing hairbrushes. The product cannot be used if the bristles undergo the slightest damage. This has led to the piling of massive plastic-based hairbrushes across the world without the presence of a waste disposal system developed by the authorities.
Hairbrush Market: Segmentation
The global hairbrush market is segmented based on end-user, product type, application, and region.
Based on end-user, the global market segments are women, men, and children. In 2022, the women segment witnessed the highest growth in the industry. Although hair brushes are used by people of all genders and age groups, women constitute a larger part of the market share since studies have suggested that women spend more money on haircare and hair styling products as compared to men or children. Furthermore, since most women tend to have longer hair than men, their hair needs more care and may have specific needs for detangling or grooming. This is another major reason why women spend more on efficient hairbrushes. However, it should be noted that the men segment is steadily rising as the more male population is showing interest in personal grooming activities. Studies suggest that hairbrushes should be replaced within 6 months to 1 year of use.
Based on product type, the hairbrush industry divisions are vented brush, paddle brush, round brush, and others.
Based on application, the global market segments are personal and professional. Currently, the highest revenue is in the personal care segment as individuals use the product for their personal grooming needs such as detangling hair, smoothing hair, and creating various hairstyles. The hairbrushes used in professional settings tend to be more expensive since they are specially made for professional use and parlor or hair salons use the same brush on multiple clients after cleaning and sterilizing. With the rising population and increasing awareness rate, the demand for more efficient hairbrushes is expected to rise in the coming years. India's population in April 2023 reached more than 1.4 billion.
Recent Developments:
In February 2020, Tangle Teezer, a hair care label with a massive following on social media and among celebrities, announced the launch of its product in India. The brand has already registered more than 40 million units sold globally in the last decade. The popularity of the Tangle Teezer is due to its multi-tasking abilities and its foldable structure along with several other reasons
In September 2021, Vega, a leading personal care brand in India, showcased its first-ever TV commercial with its brand ambassador. The new range of hairbrushes is called VEGA Hair Brush and its digital advertisement is a testimony of the company's growing revenue along with its aggressive marketing strategy
In April 2022, GIMME Beauty, a leading haircare and beauty brand, was ranked the number 1 selling item on Amazon. The company sold more than 7000 units of its hairbrush in a weekend
Hairbrush Market: Report Scope
Report Attributes
Report Details
Report Name
Hairbrush Market Research Report
Market Size in 2022
USD 944.72 Million
Market Forecast in 2030
USD 1,340.56 Million
Growth Rate
CAGR of 4.64%
Number of Pages
218
Key Companies Covered
BaBylissPROm, Denman, Mason Pearson, Wet Brush, Tangle Teezer, Spornette, Olivia Garden, Kent Brushes, Brush Strokes, Ibiza Hair, Cricket, Conair, Remington, Braun, ForPro, Philips, Scunci, Panasonic, Goody, GHD, Tek, Revlon, Scalpmaster, BFWood, and Diane.
Segments Covered
By End-User, By Product Type, By Application, and By Region
Regions Covered
North America, Europe, Asia Pacific (APAC), Latin America, Middle East, and Africa (MEA)
Base Year
2022
Historical Year
2017 to 2021
Forecast Year
2023 - 2030
Customization Scope
Avail customized purchase options to meet your exact research needs. Request For Customization
Hairbrush Market: Regional Analysis
Asia-Pacific to emerge as a dominant player
The global hairbrush market is expected to be dominated by Asia-Pacific during the forecast period mainly due to the larger consumer base in Asia countries, especially India and China. These two nations are home to more than 40% of the world's population. With the growing number of people, rising disposable income, and growing access to products using social media platforms are some of the crucial reasons for regional growth. In addition to this, the countries are witnessing a massive rise in the personal care segment with the growing number of domestic players that are targeting the needs of the local population since the demographic needs of people may change depending on the region they reside in. Furthermore, South Korea is emerging as a tough competition for international beauty brands caused by innovation and consistent launch of new personal care products.
Hairbrush Market: Competitive Analysis
The global hairbrush market is led by players like:
BaBylissPROm
Denman
Mason Pearson
Wet Brush
Tangle Teezer
Spornette
Olivia Garden
Kent Brushes
Brush Strokes
Ibiza Hair
Cricket
Conair
Remington
Braun
ForPro
Philips
Scunci
Panasonic
Goody
GHD
Tek
Revlon
Scalpmaster
BFWood
Diane.
The global hairbrush market is segmented as follows:
By End-User
By Product Type
Vented Brush
Paddle Brush
Round Brush
Others
By Application
By Region
North America
Europe

France
The UK
Spain
Germany
Italy
Rest of Europe

Asia Pacific

China
Japan
India
South Korea
Southeast Asia
Rest of Asia Pacific

Latin America

Brazil
Mexico
Rest of Latin America

Middle East & Africa

GCC
South Africa
Rest of Middle East & Africa