Industry Perspective:
The global Social Media Management market size accounted for USD 12.70 Billion in 2020 and is expected to reach USD 43.07 Billion by 2028, growing at a CAGR of 15.2% from 2021 to 2028.
The act of participating, evaluating, scheduling, and creating content on various social media platforms like Twitter, Instagram, and Facebook is known as social media management. To build a strong social media presence, social media management services and solutions are used. It also serves as a means of engaging with and interacting with the intended audience. Individuals and organizations can expand their reach and visibility with the help of social media management.
The need for cloud social media management systems is predicted to rise over the next five years, owing to a number of causes, including widespread adoption of social media and vast volumes of data created across a variety of industries, including banking, finance, retail, and e-commerce, government and public sector, and manufacturing. Key growth factors for the market include a growing requirement to realize an increased ROI on social media strategy, a growing focus on market and competitive intelligence, and an expanding requirement for social media measurement to improve the customer experience.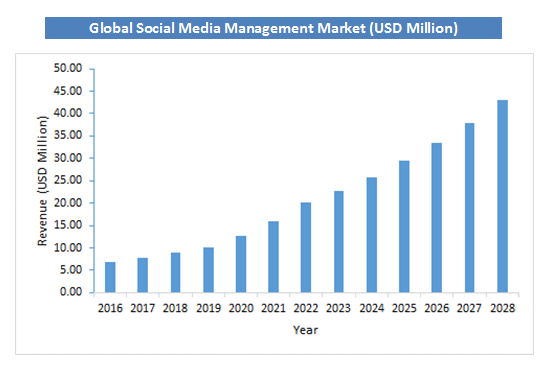 Request Free Sample
To know more about this report, request a sample copy.
COVID-19 Impact Analysis
The COVID-19 epidemic has proven the importance of data and how analytics can help with pandemic planning. Significant prospects for social media analytics vendors can be identified as organisations try for sustainability and survive the effects of this epidemic. Notable efforts are being made to use advanced analytics to better grasp the real-time pandemic scenario through social media interactions around the world. In addition, the government, public agencies, and hospitals are using social media platforms to interact with the public and raise awareness about the precautions that must be taken in the event of a pandemic.
Media firms and stakeholders are also looking for new methods to communicate with their audiences, and they have rejuvenated their business strategies by using social media to do it. In order to keep connected with their audience, many content creators are working from home. Analytics-driven social media management is a terrific approach to anticipate viewer demand and creating new methods to communicate with them.
Growth Factors
The two major growth factors of the Social Media Management Market are: Enhanced market awareness and competitive knowledge, Profit margins are continuing to be impacted by global competition, and businesses are continually looking for ways to cut costs. To surpass their competitors, companies must combine demographic, competitive, and business information with consumer data to uncover the complexities. Organizations are attempting to find gaps by examining sales and various markets. Customers have been more brand awareness in recent years. They want higher quality, lower pricing, and faster product and service delivery. Advanced analytics is being used to aid in the achievement of market objectives.
Cloud use is on the rise because companies are using Software-as-a-Service (SaaS) to supply cloud computing solutions, and cloud adoption is believed to have surged recently. Business users are constantly on the search for the most effective yet cost-efficient solutions. Cloud computing allows businesses to outsource their operational IT tasks to a third-party provider. All of the risks and responsibilities are assumed by cloud service providers. Due to its range of benefits, such as flexibility, reliability, scalability, and low costs, cloud computing is likely to develop at an even faster rate in the next years, according to industry experts and cloud suppliers. The cloud deployment mode is used for SaaS, Infrastructure-as-a-Service (IaaS), and Platform-as-a-Service (PaaS).
Social Media Management Market? Report Scope:
Report Attributes
Report Details
Report Name
Social Media Management Market Research Report
Market Size in 2020
USD 12.70 Billion
Market Forecast in 2028
USD 43.07 Billion
Compound Annual Growth Rate
CAGR of 15.2%
Number of Pages
150
Forecast Units
Value (USD Billion), and Volume (Units)
Key Companies Covered
Amazon, IBM, Oracle, Falcon.io ApS, Google, Hootsuite Media Inc., Salesforce.com, Sprout Social, Inc., Sysomos, Zoho Corporation Pvt. Ltd., among others.
Segments Covered
By End-Users, By Application, By Service And By Region
Regions Covered
North America, Europe, Asia Pacific (APAC), Latin America, Middle East and Africa (MEA)
Countries Covered
North America: U.S and Canada
Europe: Germany, Italy, Russia, U.K, Spain, France, Rest of Europe
APAC: China, Australia, Japan, India, South Korea, South East Asia, Rest of Asia Pacific
Latin America: Brazil, Argentina, Chile
The Middle East And Africa: South Africa, GCC, Rest of MEA
Base Year
2021
Historical Year
2016 to 2020
Forecast Year
2022 - 2030
Customization Scope
Avail customized purchase options to meet your exact research needs. Request For Customization
Travel & hospitality, manufacturing, media & entertainment, telecom & IT, government & public sector, healthcare & life sciences, retail & e-commerce, BFSI, and others are some of the end-user segments of the industry. Because social media platforms have considerably impacted banking connections with their users in a variety of ways, which has resulted in greatly improved customer service, the BFSI segment accounts for the highest share in the worldwide social media management market. In addition, to improve functioning, BFSI companies listen in on customer discussions for consumer complaints in brand references. Only social media management tools can provide such measuring, analyzing, and monitoring capabilities. As a result, the developing possibilities have greatly improved the segment's growth.
Application Segment Analysis
Risk management and fraud detection, competitive intelligence, customer experience management, sales, and marketing management, and others are some of the applications that the market can be divided into. Due to the growing requirement for intelligence solutions to obtain a competitive edge in the social media management market, the competitive intelligence segment has hegemony over others. It encompasses all of the operations that a company engages in to track competitors' actions, monitor client engagement and dialogue, and so on. Social media platforms provide a wealth of information about customers, including their experiences, attitudes, and needs. Due to the ability of analytics tools to extract and analyse data from numerous data sources, which gives chances for the identification and mitigation of fraudulent actions, the risk management and fraud detection application is predicted to be the fastest-growing application in the social media analytics market during the projection period.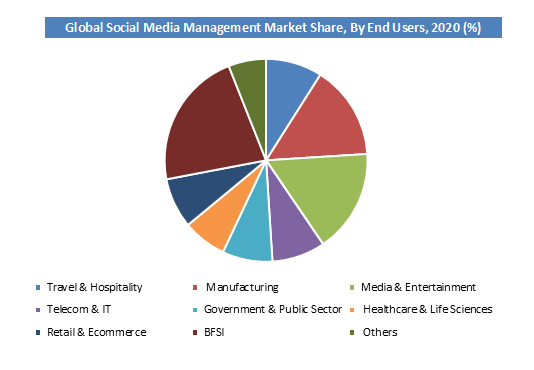 Request Free Sample
Regional Segment Analysis
North America holds the greatest share of 35%, of the worldwide social media management market, because of the greater adoption rate of social media platforms in the area. The most significant revenue contributor to the worldwide social media analytics industry in North America. The social media analytics market in the region is undergoing substantial changes. The strong growth rate in North America can be ascribed to the expanding use of big data technology, the expanding volume of data across sectors, and rising company investments in real-time analytics. Because of the large number of people who use social media, firms like Amazon, IBM, and Oracle have been using social media analytics to produce insights and acquire a better understanding of customer behavior, which helps them make better commercial and strategic decisions.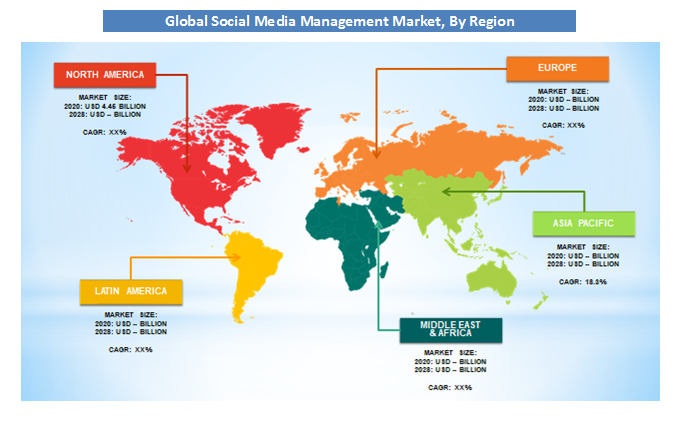 Request Free Sample
The Asia Pacific region is projected to grow at a CAGR of 18.3% over the forecast period.
Asia Pacific is predicted to rise rapidly during the projection period due to the increasing penetration rate of smartphones and internet connections in growing and growing regions. The Asia Pacific market is likely to contribute significantly to global revenue growth. Increased penetration of SMEs in developing nations like China and India, as well as a growing desire to expand prospective consumer bases in this region, are predicted to fuel the expansion of social media management software, tools, services, and solutions in Asia Pacific.
Key Market Players & Competitive Landscape
The social media analytics market is highly competitive, with multiple companies contributing to the market's fragmentation. In the market under investigation, there are a number of players who specialise in a specific vertical of the market business, as well as others who only provide monitoring services.
Some of the key players in the Social Media Management market are
Amazon
IBM
Oracle
Falcon.io ApS
Google
Hootsuite Media Inc.
Salesforce.com
Sprout Social, Inc.
Sysomos
Zoho Corporation Pvt. Ltd.
The global Social Media Management market is segmented as follows:
By End-Users
Travel & Hospitality
Manufacturing
Media & Entertainment
Telecom & IT
Government & Public Sector
Healthcare & Life Sciences
Retail & E-commerce
BFSI
Others
By Application
Risk Management & Fraud Detection
Competitive Intelligence
Customer Experience Management
Sales & Marketing Management
Others
By Service
Managed Services
Professional Services
By Region
North America
Europe

France
The UK
Spain
Germany
Italy
Rest of Europe

Asia Pacific

China
Japan
India
South Korea
Southeast Asia
Rest of Asia Pacific

Latin America

Brazil
Mexico
Rest of Latin America

Middle East & Africa

GCC
South Africa
Rest of Middle East & Africa