Industry Prospective:
The global waste management software market size was worth around USD 9,350 million in 2021 and is predicted to grow to around USD 16,000 million by 2028 with a compound annual growth rate (CAGR) of roughly 8% between 2022 and 2028. The report analyzes the global waste management software market drivers, restraints/challenges, and the effect they have on the demands during the projection period. In addition, the report explores emerging opportunities in the waste management software market.
Waste Management Software Market: Overview
Any material that cannot be used or is not wanted is defined as waste. Once the primary use is over, the products generated thereafter are considered waste and do not have any value attached to them which means that they are discarded. Waste management, also called waste disposable, is the process of finding ways of managing the waste from its production till the time it is finally disposed of.
The entire process is made of collecting the waste, transporting it to the site, and treating the waste content followed by the end-step of disposable. However, the process has to be followed as per regional laws and includes monitoring of the entire process. If waste management authorities fail to follow rules laid down by regulatory bodies, they may have to face serious implications.
Waste management may seem like picking up trash and discarding it, but it is not that simple. Since waste can be of different kinds ranging from household waste to hazardous substances and every waste has to be treated as per the category they fall in. With the advent of technology and its expansion in every sector, various players have adopted software to help them regulate waste for optimum management. The software is designed as per the need of the client of the industry they are created for. The applications help users not only with disposing of the waste but also with logistics, management, and invoicing involved.
Key Insights
As per the analysis shared by our research analyst, the global waste management software market is estimated to grow annually at a CAGR of around 8% over the forecast period (2022-2028)
In terms of revenue, the global waste management software market size was valued at around USD 9,350 million in 2021 and is projected to reach USD 16,000 million, by 2028. Due to a variety of driving factors, the market is predicted to rise at a significant rate
Based on deployment type segmentation, on-premise was predicted to show maximum market share in the year 2021
Based on application segmentation, healthcare was the leading application in 2021
On the basis of region, North America was the leading revenue generator in 2021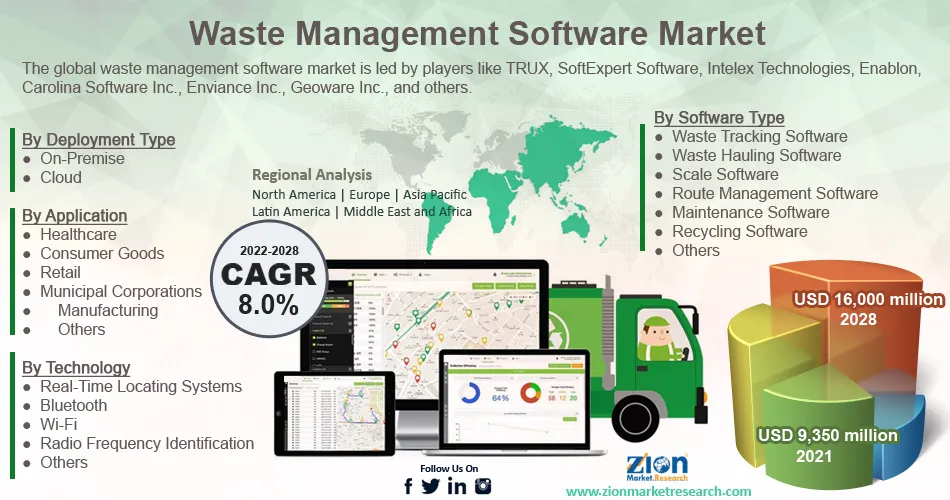 Request Free Sample
Waste Management Software Market: Growth Drivers
Growing waste to pull more consumers during the projection period
The global waste management software market is projected to grow owing to the increased number of waste generated across industries throughout the world daily. All small or major sectors generate waste in some or other forms which are discarded at the end of the day. For instance, the retail sector is one of the largest producers of waste every year. If the waste generated is not discarded properly, it can lead to severe levels of pollution and an increased carbon footprint, and the cost of reversing these effects is way too high. To control improper management of waste, companies have started adopting better systems and incorporating technology to help them achieve their goals which are expected to positively influence global market growth.
Waste Management Software Market: Restraints
High cost of set-up to restrict market expansion
The global market expansion is likely to take a setback owing to the high cost associated with the set-up and maintenance of waste management software. The cost is not only monetary but also in terms of resources that go into operating software for instance the need for skilled employees. To avoid such high investment, companies may avoid using the technology thus restricting further expansion. If the person responsible for such systems is not skilled enough, the whole purpose of using technology gets defeated.
Waste Management Software Market: Opportunities
Withholding companies responsible for their actions to provide growth opportunities
With growing awareness and as a proactive step toward a sustainable future, regulatory authorities have started holding companies responsible for their actions on the environment. Most of the businesses went unnoticed for the impact the business was having on the ecosystem but in recent times, the world has witnessed organizations taking ownership of polluting the environment for business gains. This trend could nudge more leaders to adopt better technology to aid improve waste management.
Waste Management Software Market: Challenges
Less awareness to challenge the addition of new players
One of the key challenges that may arise during the projection period is less awareness about the benefits associated with the use of waste management software. Small and mid-sized firms may hesitate to adopt the product due to the high cost of not realizing the return on investment over the years. The system, with time, will allow the users to contribute to a rich ecosystem but the lack of this realization is a major hindrance for the time being.
Waste Management Software Market: Segmentation
The global waste management software market is segmented based on deployment type, software type, application, technology, and region
Based on deployment time, the global market segments are on-premise and cloud with the former leading the segmental growth in 2021. The high adoption rate was due to the lesser cost of installing on-premise systems in comparison to cloud services. Other associated benefits like better data security, higher ownership of information, and lack of dependency on third-party could have also contributed to more users preferring on-premise software. In a recent survey, more than 98% of business owners chose the on-cloud deployment type as compared to their counterparts. It has also resulted in lower internet costs for organizations.
Based on application, healthcare, consumer goods, retail, municipal corporations, manufacturing, and others are the global market divisions. Healthcare is one of the leading sectors to show a high product adoption rate in recent times owing to the immense medical waste that is generated per hospital per day. Since hospital-generated waste can also be sometimes considered hazardous it is crucial to have an advanced system in place to help hospital staff manage unuseful products. In India alone, more than 56,000 tons of bio-medical waste are recorded every year.
Recent Developments
In September 2021, the municipal corporation of Pune city in India announced its plan to deploy software systems that will help the body to track and monitor solid waste generated across the city. The corporation will be using Global Positioning Systems (GPS)-based write bands
In November 2021, the Kerala state government, India announced that it will launch a mobile application to track and manage inorganic waste. The application will be launched in all the t0 municipalities, 6 municipal areas, and 300 village bodies
Waste Management Software Market Report Scope:
Report Attributes
Report Details
Report Name
Waste Management Software Market Research Report
Market Size in 2021
USD 9,350 Million
Market Forecast in 2028
USD 16,000 Million
Compound Annual Growth Rate
CAGR of 7.41%
Number of Pages
205
Forecast Units
Value (USD Million), and Volume (Units)
Key Companies Covered
TRUX, SoftExpert Software, Intelex Technologies, Enablon, Carolina Software Inc., Enviance Inc., Geoware Inc., and others.
Segments Covered
By Deployment Type, By Software Type, By Application, By Technology and By Region
Regions Covered
North America, Europe, Asia Pacific (APAC), Latin America, Middle East and Africa (MEA)
Countries Covered
North America: U.S and Canada
Europe: Germany, Italy, Russia, U.K, Spain, France, Rest of Europe
APAC: China, Australia, Japan, India, South Korea, South East Asia, Rest of Asia Pacific
Latin America: Brazil, Argentina, Chile
The Middle East And Africa: South Africa, GCC, Rest of MEA
Base Year
2021
Historical Year
2016 to 2020
Forecast Year
2022 - 2028
Customization Scope
Avail customized purchase options to meet your exact research needs. Request For Customization
Waste Management Software Market: Regional Analysis
North America to lead with the highest revenue
The global waste management software market is projected to witness the highest growth in North America owing to growing product awareness and accessibility. With the majority of the key players located in the US, more companies have easy access to deploy such software on the premises. The regional growth may also be driven by the increasing pressure of the government and regulatory bodies in the US and Canada on large and small corporations to reduce their carbon footprint while also monitoring the waste disposal process of these businesses.
For instance, IKEA, a major furniture retail chain, managed to reduce its carbon footprint by 1.6 million tonnes in the fiscal year 2021. These rising efforts by key players. As per estimates the retail sector of the United States witnesses the return of more than 5 billion pounds of clothing material every year. All of this ends in the landfills not only causing loss to the merchants but also impacting the environment.
Waste Management Software Market: Competitive Analysis
The global waste management software market is led by players like TRUX, SoftExpert Software, Intelex Technologies, Enablon, Carolina Software Inc., Enviance Inc., Geoware Inc., and others.
The global waste management software market is segmented as follows:
By Deployment Type
By Software Type
Waste Tracking Software
Waste Hauling Software
Scale Software
Route Management Software
Maintenance Software
Recycling Software
Others
By Application
Healthcare
Consumer Goods
Retail
Municipal Corporations
Manufacturing
Others
By Technology
Real-Time Locating Systems
Bluetooth
Wi-Fi
Radio Frequency Identification
Others
By Region
North America
Europe

France
The UK
Spain
Germany
Italy
Rest of Europe

Asia Pacific

China
Japan
India
South Korea
Southeast Asia
Rest of Asia Pacific

Latin America

Brazil
Mexico
Rest of Latin America

Middle East & Africa

GCC
South Africa
Rest of Middle East & Africa