Global Analytical Standards Market Overview
The global Analytical Standards market accounted for USD 1.61 Billion in 2020 and is expected to reach USD 2.60 Billion by 2028, growing at a CAGR of 7.1% from 2021 to 2028.
An analytical standard is a feature that is used to scale the purity and quality of a drug or prepared treatment. They deliver safety, efficacy, and quality medications by assimilating procedures, formulations, and substances. The key components needed in order to achieve optimal performance and compliance with the help of analytical instruments are reagents and standards. However, the testing, production, and documenting of analytical standards and reagents become complex and time-consuming due to technical and regulatory requirements. The standard quantity of the analyte is used to standardize the analytical procedure. As a result, the accuracy of standardization is largely determined by the glassware and reagents us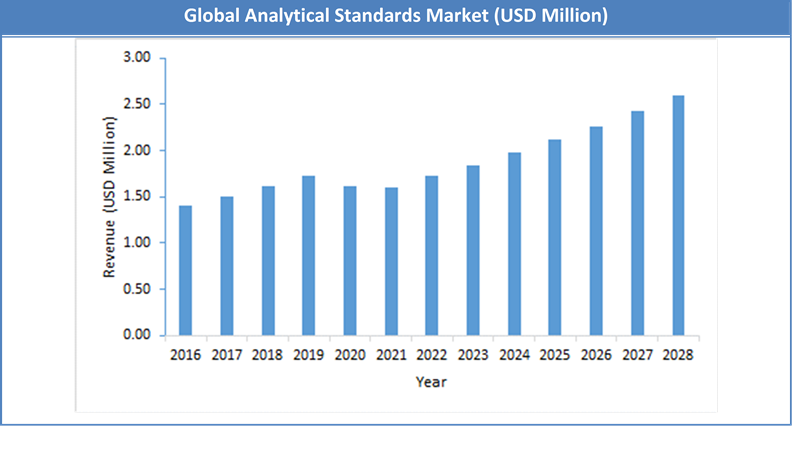 Request Free Sample
COVID-19 Impact Analysis
The COVID-19 pandemic has had a considerable impact on the market for analytical standards. The analytical instruments business is confronted with production and supply chain problems, such as timely delivery of products to end-users and meeting an uneven demand for products and services. The analytical standards market is also facing a period of negative growth in the short term, possibly due to factors such as a drop in demand for products from end consumers, limited activity in most of the markets. In most industries, inadequate funding by academic and research institutes, temporary closures of major academies, supply chain disruptions and challenges in providing essential/after-sales services due to congestion. These factors have reduced the need for analytical standards from end users.
Growth Factors
The major growth factors of Analytical Standards Market are: Concerns about food safety and quality are growing among the general public, Food contamination is a major concern worldwide. Consuming unsafe and adulterated foods can cause food infections, mercury poisoning, allergic reactions, and food poisoning. For example, about 1.7 billion cases of diarrhea in children occur each year worldwide (Source: World Health Organization 2020). In addition, 600 million people get sick from consuming contaminated food, of which about 420,000 dies from foodborne illness each year (Source: Centers for Disease Control and Prevention, January 2020).
Developing healthcare infrastructure in underdeveloped markets, during the projected period, improving infrastructure will be critical to the expansion of clinical microbiology product manufacturers and distributors. This is due to the rising frequency of infectious diseases like HIV, tuberculosis, influenza, and malaria, as well as increased R&D efforts in developing countries to develop breakthrough genomic tools for disease diagnosis. Improvements in healthcare infrastructure, rising healthcare expenditure, and increased availability and affordability of low-cost clinical microbiology products all contribute to the market's growth. Several government measures to strengthen and extend healthcare infrastructure have been conducted in emerging countries (especially in China and India) in line with the current trend.
Report Scope:
Technique Segment Analysis
The large market share of this segment is due to factors such as the presence of a large number of mature and emerging suppliers offering a wide range of chromatographic standards globally and the increasing use of chromatography. Increased in environmental testing, food testing, cosmetic, chemical, research, forensic and petroleum and petrochemical industries due to its advantages over other analytical techniques such as selectivity Its high filtration, sensitivity, reliability, and flexibility. This technique's prominence can be due to its superior effectiveness in identifying and removing contaminants using the simplest basic methods. Their approach of speedy and precise sample separation in various formats involves a diverse set of components. The use of this equipment in conjunction with other analytical instruments, such as mass spectrometers, boosted the technique's acceptance. As a result, easier interoperability with fewer staff has reduced the overall cost of analysis, which is likely to drive the segment's growth.
Product Type Segment Analysis
Organic standards are expected to account for the majority of the worldwide analytical standards market by 2020. Identifying and measuring real and prospective organic contaminants occurring during synthesis, purification, and storage is crucial in analytical chemistry from a regulatory and product safety standpoint. Growing demand for organic standards in determining organic impurities in industries such as pharmaceutical, food, and beverage, as well as a strong preference for organic standards, are driving demand. Organic standards are made for quality control investigations, method validation, and chromatography instrument calibration, such as GC, GC-MS, and HPLC. Environmental analysis laboratories, research and development laboratories, food analysis laboratories, and forensic laboratories all use organic analytical standards.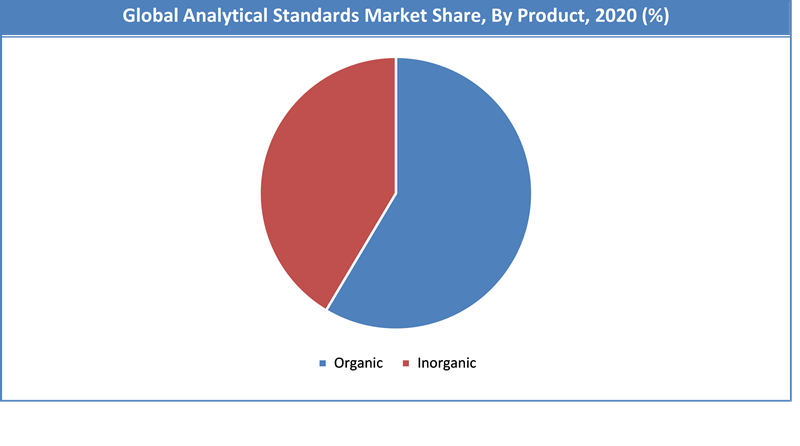 Request Free Sample
Regional Segment Analysis
North America has the greatest market share in the global market of 40% in 2020, because of increased life science research funding. Other factors, such as the vast number of current clinical studies and government backing for large research expenditures, are expected to drive global market expansion. Due to the presence of a large number of important companies with higher affordability and favorable government programmes to produce breakthrough drugs, the highest income can fluctuate. According to a report released by the United States Department of Health and Human Services in January 2020, 37,832 people in the United States were diagnosed with HIV in 2018, with 38,000 new HIV infections recorded each year. As a result, high-quality medications and other items with greater safety safeguards must be developed in a shorter time frame. As a result, demand for analytical standards such as Abacavir sulphate, as well as other novel compounds under development, is increasing.
The Asia Pacific region is projected to grow at a CAGR of 9.6% over the forecast period. Due to increased demand for outsourcing services in comparatively underdeveloped economies, Asia Pacific is expected to grow at the quickest rate throughout the projection period. Delivery centers in China, Manila, and India commonly support outsourcing services in this region. China is becoming more attractive as a delivery destination for onshore and nearshore clients situated in Japan. One of the primary reasons driving the market's growth is projected to be the quick expansion in pharmaceutical production to fulfil the rising need for effective healthcare in the region.
Key Market Players & Competitive Landscape
Some of key players in the Analytical Standards Market are Spex Certiprep, Agilent Technologies Inc., Waters Corporation, Restek Corporation, Cayman Chemical Company, Ricca Chemical Company, Sigma-Aldrich Co. L.L.C., Accustandard Inc., Merck KGAA, and Lgc Standards, among others.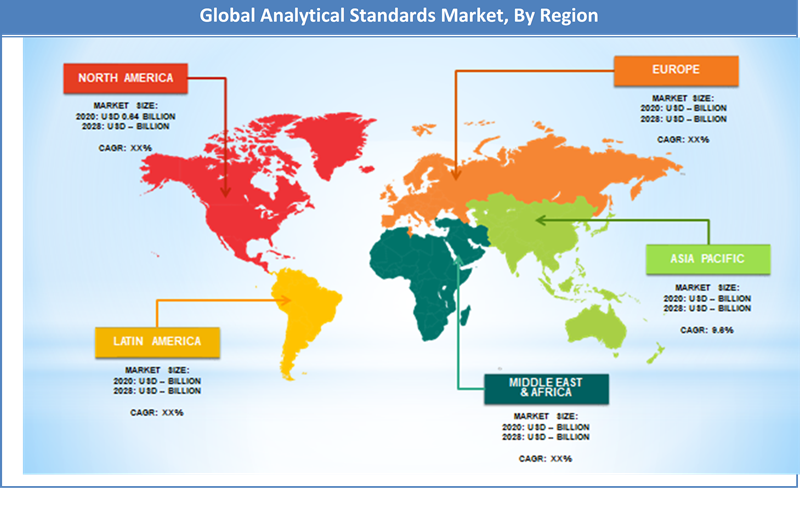 Request Free Sample
The global Analytical Standards market is segmented as follows:
By Application
Food & Beverages Standards
Forensic Standards
Veterinary Drug Standards
Petrochemistry Standards
Environmental Standards
Pharmaceutical Standards and Life Science Standards
By Technique
Chromatography
Spectroscopy
Titrimetry
Physical Property Testing
By Product Type
By Region
North America
Europe

France
The UK
Spain
Germany
Italy
Rest of Europe

Asia Pacific

China
Japan
India
South Korea
Southeast Asia
Rest of Asia Pacific

Latin America

Brazil
Mexico
Rest of Latin America

Middle East & Africa

GCC
South Africa
Rest of Middle East & Africa