Veterinary Vaccine Industry Prospective:
The global veterinary vaccine market size was worth around USD 12.80 billion in 2022 and is projected to reach USD 25.48 billion by 2030 with a compound annual growth rate (CAGR) of roughly 8.91% between 2023 and 2030.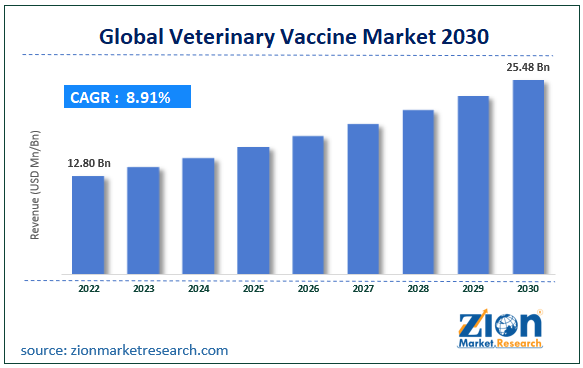 Request Free Sample
The report delves deeper into several crucial aspects of the global veterinary vaccine industry. It includes a detailed discussion of existing growth factors and restraints. Future growth opportunities and challenges that impact the veterinary vaccine market are comprehensively addressed in the report.
Veterinary Vaccine Market: Overview
Veterinary vaccines are biological preparations that are targeted toward the health and well-being of animals. These vaccines, similar to vaccines meant for human protection, perform the role of preventing diseases in animals which in turn helps safeguard the interest of humans as a consequence of interdependence in terms of the ecological food chain. The main reason for the use of veterinary vaccines is to ensure the welfare of companion animals while also helping in increased livestock production cost-effectively and safely. It is also used to prevent any form of animal-to-human spread of diseases. Since the expected results are different, the approach to vaccine development for animals also changes. It includes the development of crude vaccines to defined subunit vaccines, and naked deoxyribonucleic acid (DNA) injections. The first veterinary vaccine ever developed was in 1879 for chicken cholera. Since then there have been multiple research and developments associated with veterinary vaccines.
Key Insights:
As per the analysis shared by our research analyst, the global veterinary vaccine market is estimated to grow annually at a CAGR of around 8.91% over the forecast period (2023-2030)
In terms of revenue, the global veterinary vaccine market size was valued at around USD 12.80 billion in 2022 and is projected to reach USD 25.48 billion, by 2030.
The veterinary vaccine market is projected to grow at a significant rate due to the growing efforts by the regional government to ensure livestock safety against deadly diseases
Based on route of administration segmentation, subcutaneous was predicted to show maximum market share in the year 2022
Based on product segmentation, attenuated live vaccines was the leading product in 2022
On the basis of region, North America was the leading revenue generator in 2022
Veterinary Vaccine Market: Growth Drivers
Growing efforts by regional governments to ensure livestock safety against deadly diseases to drive market growth
The global veterinary vaccine market is projected to be fueled by the increasing efforts undertaken by regional governments to ensure the safety of livestock against deadly diseases. Countries with existing laws have initiated stringent implementation programs related to livestock and animal health after the impact of Covid-19 which is believed to have originated from bats. A recent report by the Animal and Plant Health Inspection Service (APHIS), from the United States Department of Agriculture, has listed the 2018 Farm Bill passed by the government which allows the agency to support animal disease prevention and further management. As per the bill, funds were allocated for the establishment of the National Animal Vaccine along with National Animal Disease Preparedness and Response Program (NADPRP) and Veterinary Countermeasures Bank (NAVVCB) further strengthening the impact of the bill. APHIS has already provided around USD 40 million so far to support more than 180 projects for animal welfare and vaccination.
Growing number of animal-to-human disease transfer cases to drive further growth
As per the latest understanding from research, multiple diseases spread from animals to humans, especially livestock. These include conditions such as campylobacterosis, ringworm, listeriosis, Q fever, chlamydiosis, rabies, yersiniosis, leptospirosis, salmonellosis, cryptosporidiosis and infections with pathogenic strains of Mycobacterium paratuberculosis, Escherichia coli, campylobacteriosis, MRSA, and Anthrax. While there may not be preventive vaccines against all diseases, world leaders and international or regional healthcare agencies are working toward ensuring curbing certain conditions from the source. Rabies, a fatal zoonotic disease causing more than 50,000 deaths annually worldwide, can be prevented by feeding dogs with oral anti-rabies vaccines. This method is promoted by the World Health Organization (WHO) and World Organization for Animal Health (OIE).
Veterinary Vaccine Market: Restraints
Emerging reports of the impact of veterinary vaccines on humans to restrict market expansion
In the last few years, certain cases have been reported highlighting the exposure of humans to veterinary vaccines either due to unintentional inoculation or other sources of exposure. However, the global market does not have sufficient data on either confirming or declining the existence of such situations which has led to human and animal welfare agencies raising questions about the efficiency of veterinary vaccines. In addition to this, the cost of storing animal vaccines is relatively high as these storage facilities have to be equipped with advanced systems to avoid any form of unwanted accidents. Research shows that cold storage facilities alone cost more than 70% of the total expense. Countries in the grip of economic turmoil may not be financially equipped to handle such expenses thus restricting the growth in the veterinary vaccine industry.
Veterinary Vaccine Market: Opportunities
Rising number of novel animal vaccine development to provide growth opportunities
The global veterinary vaccine market is expected to come across higher growth opportunities led by the increasing research & development (R&D) and the development of novel vaccines for animals. For instance, in December 2022, a vaccine developed by researchers at the University of Florida for the treatment of brucellosis affecting small ruminants, showed a remarkable response in terms of promoting conferring long-term immunity in mice. The new mucosal vaccine prototype is likely to help reshape protection against brucellosis in mice. Meanwhile, in August 2022, the Indian Council of Agricultural Research (ICAR), developed an effective vaccine against the Lumpy skin condition affecting cattle.
In 2022 alone, the condition had led to the death of more than 1.55 lakh cattle as reported. In addition to this, there is a rise in the investments observed globally toward the development of new animal vaccine centers. In March 2023, the Bill & Melinda Gates Foundation, Biological Sciences Research Council (BBSRC), and the Foreign, Commonwealth and Development Office (FCDO), in a joint partnership, worked toward laying the foundation of a new center at the Pirbright Institute. The center is designed to promote and accelerate animal vaccine development and fight the battle against infectious animal diseases.
Veterinary Vaccine Market: Challenges
Lack of ancillary infrastructure to challenge the market expansion
One of the key challenges that the veterinary vaccine industry players are expected to face is the lack of supporting or ancillary infrastructure that can ensure the implementation of animal vaccination policies laid down by the governments. Moreover, the cost of certain vaccines is significantly high which can limit owners of companion pets on a limited budget to provide vaccines to their pets. The first year of dog vaccination can range between USD 20 to USD 60 per month for the most basic vaccines and the cost may vary depending on the medical condition the vaccine is supposed to work against.
Veterinary Vaccine Market: Segmentation
The global veterinary vaccine market is segmented based on route of administration, animal type, product, and region.
Based on the route of administration, the global market segments are intramuscular, subcutaneous, and intranasal. During 2022, the subcutaneous segment covered over 41% of the market share. These injection sites are typically behind the neck or shoulder blades of most animals. Subcutaneous injection sites facilitate ease of administration and effective absorption in the body. It is generally considered less painful for animals and veterinarians can easily locate the injection site promoting further adoption rate.
Based on animal type, the veterinary vaccine industry divisions are companion and livestock with the latter holding the highest market share in this segment. The growing trend of livestock culture is promoted by increased consumption of meat-based products across fast-food retail chains, hotels, and other eating places. The rising spread of animal-to-human diseases and the severity of these conditions have resulted in the mass adoption of livestock animal vaccines. McDonald's, a fast-food retail chain, is known to use more than 25 million cows per year for burger patties as reported by Iskcon Birmingham.
Based on product, the global market segments are inactivated vaccines, attenuated live vaccines, DNA vaccines, subunit vaccines, and recombinant vaccines. In 2022, the attenuated vaccine segment controlled close to 35.9% of the market share since it is the oldest vaccination method currently being used. The growing research on further application of attenuated live vaccines could cause higher segmental growth in the coming years. However, the recombinant segment is expected to grow at the fastest CAGR by 2030.
Veterinary Vaccine Market: Report Scope
Report Attributes
Report Details
Report Name
Veterinary Vaccine Market Research Report
Market Size in 2022
USD 12.80 Billion
Market Forecast in 2030
USD 25.48 Billion
Growth Rate
CAGR of 8.91%
Number of Pages
225
Key Companies Covered
Boehringer Ingelheim Animal Health, Zoetis, Elanco Animal Health, Merck Animal Health, IDEXX Laboratories, Ceva Santé Animale, MSD Animal Health, Virbac, Vetoquinol, Heska Corporation, Zomedica Pharmaceuticals Corp., HIPRA, Biogenesis Bago, Zoetis India Ltd., and Biogénesis Bagó.
Segments Covered
By Route of Administration, By Animal Type, By Product, and By Region
Regions Covered
North America, Europe, Asia Pacific (APAC), Latin America, Middle East, and Africa (MEA)
Base Year
2022
Historical Year
2017 to 2021
Forecast Year
2023 - 2030
Customization Scope
Avail customized purchase options to meet your exact research needs. Request For Customization
Veterinary Vaccine Market: Regional Analysis
North America controlled one-fourth of the total market share in 2022
The global veterinary vaccine market is expected to be led by North America during the forecast period. In 2022, the region contributed nearly 25.1% of the total global revenue due to higher livestock nurturing sites as well as the increased spread of several zoonotic conditions. The countries of the US and Canada have strict systems in place to ensure mass animal vaccine programs are not only rolled out but implemented under guidance. In addition to this, the existence of a robust veterinary healthcare infrastructure further helps regional growth.
The US was home to nearly 121,461 vets in 2021 as per the American Veterinary Medical Association. There have been several research studies that have provided successful results in terms of novel veterinary vaccine development. In January 2023, the US Department of Agriculture (USDA) approved the first-of-its-kind vaccine for honey bees which will treat the condition of American foulbrood. It is a severe bacterial infection and the vaccine developer is a Georgia-based biotech company called Dalan Animal Health. In June around 4 vaccines were approved by the Food & Drugs Administration (FDA) of the US including vaccines for dogs and cattle. The companion pet care segment is also crucial for regional revenue as there are a growing number of pet adopters in these nations.
Veterinary Vaccine Market: Competitive Analysis
The global veterinary vaccine market is led by players like:
Boehringer Ingelheim Animal Health
Zoetis
Elanco Animal Health
Merck Animal Health
IDEXX Laboratories
Ceva Santé Animale
MSD Animal Health
Virbac
Vetoquinol
Heska Corporation
Zomedica Pharmaceuticals Corp.
HIPRA
Biogenesis Bago
Zoetis India Ltd.
Biogénesis Bagó.
The global veterinary vaccine market is segmented as follows:
By Route of Administration
Intramuscular
Subcutaneous
Intranasal
By Animal Type
By Product
Inactivated Vaccines
Attenuated Live Vaccines
Subunit Vaccines
Recombinant Vaccines
By Region
North America
Europe

France
The UK
Spain
Germany
Italy
Rest of Europe

Asia Pacific

China
Japan
India
South Korea
Southeast Asia
Rest of Asia Pacific

Latin America

Brazil
Mexico
Rest of Latin America

Middle East & Africa

GCC
South Africa
Rest of Middle East & Africa