Free Analysis
Augmented Reality (AR) is a live direct or indirect view of a physical, real-world environment whose objects are augmented by sensors of computer-generated input such as sound, graphics video, or GPS data. Hardware components used for augmented reality include processor, contact lenses, display, sensors and input devices. Smartphone and tablets are major computing devices used for augmented reality (AR). In order to enable rapid development augmented reality (AR) uses some software such as software solutions, software developer kits, and cloud services that are implemented in hardware devices.
The major factors which are fueling the augmented reality (AR) market growth are high penetration of smartphone and tablet worldwide. Increasing demand of technology base head mounted display (HMD) also have large application in medical, e-commerce, aerospace and defense which in turn driving augmented reality (AR) market. It is used in marketing, retail, commercial that may boost the AR market. Effective use of AR technology in retail and marketing further open ups new doors for the market penetration. For example, shopping experiences with the help of user's location and android applications for smartphones such as virtual changing room and adoption of AR technique will help users to visualize products realistically from any remote location. The gaming sector is also estimated to offer more interactive and engaging applications and products. The recent launch of Pokemon Go has experienced high demand in among users. Augmented reality market also has application in sight-seeing, e-learning, tourism, and facility management. Adoption of smart glasses is predicted to exhibit the significant market growth in consumer sector. Several companies are trying to manufacture more user friendly and light weight glass.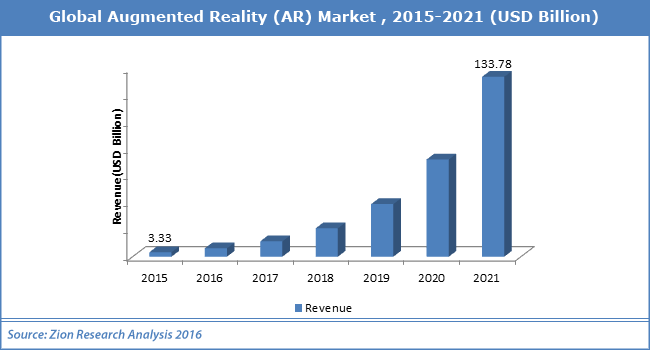 However, user interface (UI) may restraint the market growth because of its technical inefficiency in determining various physical obstacles. Another drawback of augment reality is that these products do not see hundred percent real since they are the digital reaction which can hamper the market growth.
Augmented Reality (AR) market is segmented on the basis of few parameters such as components, display, and application. The hardware component is expected to show significant growth in the augmented Reality (AR) market in near forecast period. The commercial applications such as e-learning, tourism, and e-commerce are expected to exhibit robust growth due to the high penetration of smartphones, and tablet.
Asia pacific is predicted to acquire the highest share for augmented reality market. China is estimated to drive the regional growth due to increasing investments in augmented reality devices and software. Also, China's several chipset manufacturers are planning to adopt AR technology by immensely investing funds in this technology. Many companies in North America are also investing in augmented reality market through collaboration and strategic partnership with another key player.
Some of the major players of augmented reality (AR) market are Immersion, Magic Leap, Daqri LLC, Apple, Blippar, Sony, Wikitude, Microsoft, PTC, Google, Infinity Augmented Reality, CyberGlove Systems Inc., ODG, Eon Reality, Inc., and Samsung Electronics among others.