E-Commerce Industry Market Size And Industry Analysis
The global e-commerce industry market size was worth around USD 13.1 trillion in 2021 and is predicted to grow to around USD 56 trillion by 2028 with a compound annual growth rate (CAGR) of roughly 27.42% between 2022 and 2028. The report analyzes the global e-commerce industry market's drivers, restraints/challenges, and the effect they have on the demands during the projection period. In addition, the report explores emerging opportunities in the e-commerce industry market.
E-Commerce Industry Market: Overview
The E-commerce industry refers to the marketplace where products or services are bought and sold electronically and does not require brick-and-mortar shop transactions. All of the processes take place through the internet and require minimal human intervention during the entire process, from the selection of the product to the final payment step. E-commerce relies heavily on technologies like electronic funds transfer, mobile commerce, internet marketing, electronic data interchange (ED), supply chain management, automated data collection systems, and inventory management systems to name a few.
Typically, e-commerce businesses use the web for at least one part of the purchase process whereas some sellers or buyers may choose to conduct the rest of the steps via other modes like emails. Electronic commerce is divided into 3 main categories. The first category is online retailing which refers to the purchase of products via the internet. This is followed by the next category called electronic markets which is a form of information system that is used by many different organizations that fall under either one or multiple tiers in the economic value chain.
The third category is the online auctions category which describes auctions conducted over the internet with each auction site having its own rule for buying or selling products. The e-commerce industry has managed to change the way transactions have occurred involving buying and selling our products, the payment models, and the entire consumer experience itself. It has allowed products and services to be more accessible to people with all brands under one roof and at a higher price transparency rate thus helping the market gain popularity amongst the general masses as well as business organizations. Every country has its own set of rules governing the e-commerce industry and companies have to adhere to the rules when running their business in the region.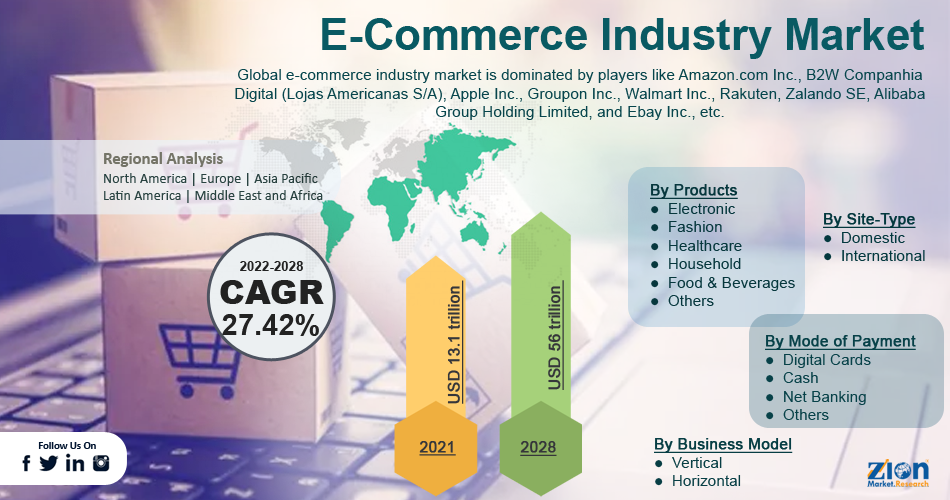 Key Insights
As per the analysis shared by our research analyst, the global e-commerce industry market is estimated to grow annually at a CAGR of around 27.42% over the forecast period (2022-2028).
In terms of revenue, the global e-commerce industry market size was valued at around USD 13.1 trillion in 2021 and is projected to reach USD 56 trillion, by 2028. Due to a variety of driving factors, the market is predicted to rise at a significant rate.
Based on product segmentation, fashion was predicted to show maximum market share in the year 2021
Based on the mode of payment segmentation, digital cards were the leading revenue-generating payment modes in 2021.
On the basis of region, North America was the leading revenue generator in 2021
Covid-19 Impact
The global market cap showed an extremely positive response to Covid-19 which was driven by the closure of almost all brick-and-mortar selling units for all items ranging from personal care to food & beverages. In the beginning, during the complete lockdown witnessed across regions, the global market suffered losses but once the segments were open for operation, it witnessed an exponential rise in its growth rate. As per the United Nations Conference on Trade and Development (UNCTAD), the percentage of online shoppers increased from 53% in 2019 to 60% in 2020, across 66 countries that were surveyed
E-Commerce Industry Market: Growth Drivers
Ease of shopping and availability of options to propel market demand
The global e-commerce industry is expected to grow owing to the benefits it offers to its customers that are way ahead of the ones offered in any physical shop. Some of the main benefits include ease of shopping and availability of multiple options under one roof, giving the buyer multiple choices to choose from originating from a consumer-focused approach. As per Spendmenot, a US citizen spends an average of 41 minutes shopping for groceries offline, this number is drastically reduced when shopping online or via e-commerce sites which is why as per the website's report, more than 64% of the US citizens bought their groceries online.
The e-commerce industry has managed to bring all brands on one site, giving customer more authority and control over their spending habits. It is more reasonable for companies to sell their products via the internet since creating a physical store may require more investments and other resources. Online stores have been known to produce more profit since they are easy to manage and require relatively less investment. As per the US Department of Commerce, in 2017, online sales made a business of USD 119 billion in the fourth quarter, which accounted for around 9% of total retail sales.
E-Commerce Industry Market: Restraints
Concerns related to seller authenticity to restrict the market growth
Over the years, there has been a steady growth in the reported cases related to the selling of faulty products, or brand impersonation causing rising concerns regarding seller authenticity. As per Nabcore, a specialist in brand protection and tracking, more than 1 in every 6 consumers has been duped by fake products while shopping from e-commerce platforms. According to a 2018m report by Moneylife, more than 38% of Indian online shoppers received counterfeit products. Brand impersonation is a loss not just for the customers but for the companies as well. Such factors may restrict global market growth unless e-commerce service providers upgrade systems that can verify the authenticity of the products as well as the sellers
E-Commerce Industry Market: Opportunities
Technical upgradation by service providers to enhance growth opportunities
Consumer preference has changed over the years. Users are more aware of the valuable time and money they spend on products or services. This has forced organizations to upgrade their services along with consumer experience. The need to stay ahead in the game is also propelled by the rising number of online platforms selling the same product which ultimately has given rise to healthy competition between players subsequently resulting in providers working toward bettering their services thus encouraging more consumers to their platforms. This cycle of constant growth and increase in consumer databases is expected to provide global e-commerce industry market expansion opportunities.
E-Commerce Industry Market: Challenges
Cyber-security threats to challenge market growth
E-commerce websites house some of the most confidential data related to their users like home addresses, bank details, safety pin codes, email IDs, and telephone numbers are the most common data saved. This makes the online sites a hub spot for regular cyber-security threats with many digital attackers trying to get access to the data. As per a 2021 report by VentureBeat more than 57% of cyber-attacks on e-commerce sites were bot-driven. SOCRadar stated that digital attacks on online sites increased by 37% in the third quarter of 2021. These factors may create challenges for the global market growth
E-Commerce Industry Market: Segmentation
The global e-commerce industry market is segmented based on products, mode of payment, site type, business model, and region.
Based on products, the global market is divided into electronic, fashion, healthcare, household, food & beverages, clothing, and others. The global market was dominated by fashion products in 2021, Inditex, a global fast-fashion brand, made over USD 8.25 billion in online sales. A growing number of brands now preferring to sell more items online either via their website or by collaborating with other e-commerce giants is expected to aid segmental growth.
Based on the mode of payment, the global market is divided into digital cards, cash, net banking, and others. The global market generates the highest revenue from the digital cards segment. As per CCBill.com, more than 82% of the American population prefers to use digital cards like credit & debit cards to make online purchases.
Based on site type, the global market is segmented into domestic and international. Generally, consumers prefer to buy from domestic sites, however, given the restricted number of available options, many people also prefer to shop from international websites, however, the final cost of the products increases when bought from international sellers owing to the addition of custom duties. For example, for gifts that are between £135 and £630, a customs duty of 2.5% is levied on them.
Based on the business model, the global market segments are vertical and horizontal. Vertical e-commerce sites are platforms that specialize in product categories and sell only one type, for instance, HealthKart, India's number one online supplement seller. Amazon.com is the world's most famous form of horizontal e-commerce dealing with a wide range of products on its site. As of 2022, the market value of Amazon is USD 1357.65 trillion.
Recent Developments:
In August 2022, GoKwik partnered with Truecaller, a caller identification platform to instantly verify customers resulting in a seamless and enhanced shopping experience to reduce returns for digital-first and e-commerce brands. GoKwik is an India-based company specializing in using artificial intelligence to solve merchant-first problems like cash on delivery conversion rates for direct-to-customer & e-commerce players and return to origin.
In April 2022, the government of India announced that it will launch an open network for digital commerce (ONDC) in competition with Amazon, the world's leading e-commerce site. With this launch, the government plans to directly compete and end the dominance of companies like Walmart and Amazon in the Indian e-commerce market.
E-Commerce Industry Market Report Scope:
Report Attributes
Report Details
Report Name
E-Commerce Industry Market Research Report
Number of Pages
195
Key Companies Covered
Amazon.com Inc., B2W Companhia Digital (Lojas Americanas S/A), Apple Inc., Groupon Inc., Walmart Inc., Rakuten, Zalando SE, Alibaba Group Holding Limited, and Ebay Inc., etc.
Segments Covered
By Product Type, By Application, and By End Use
Forecast Units
Value (USD Billion), and Volume (Units)
Regions Covered
North America, Europe, Asia Pacific (APAC), Latin America, Middle East and Africa (MEA)
Countries Covered
North America: U.S and Canada
Europe: Germany, Italy, Russia, U.K, Spain, France, Rest of Europe
APAC: China, Australia, Japan, India, South Korea, South East Asia, Rest of Asia Pacific
Latin America: Brazil, Argentina, Chile
The Middle East And Africa: South Africa, GCC, Rest of MEA
Base Year
2021
Historical Year
2016 to 2020
Forecast Year
2022 - 2028
Customization Scope
Avail customized purchase options to meet your exact research needs. Request For Customization
E-Commerce Industry Market: Regional Analysis
Asia-Pacific to register the highest CAGR during the projection period
The global e-commerce industry market is projected to be dominated by Asia-Pacific in the coming years owing to the surging rise of e-commerce players and the exceptionally high adoption rate of online platforms for buying and selling. The regional market growth is projected to be driven by China and India, two of the countries housing over 2.9 billion of the entire world population which is an important factor contributing to the high demand for products being sold either offline or online. Alibaba, China's leading multinational technology company specializing in retails, e-commerce, and other related fields is currently growing at a slightly faster rate than Amazon.
In the fiscal year 2021, Alibaba's revenue rose by more than 41%. North America is expected to generate high revenues because of the presence of companies like Amazon, Walmart, eBay, Etsy, and others. These companies, headquartered in the USA, have a presence across the globe and have a record number of buyers and sellers associated with them. In 2020, Walmart's online sales went up by 79%. In 2022, the company generated over USD 47.8 billion in revenues which is 11% more than the sales figure in 2020, as verified by Statista.
E-Commerce Industry Market: Competitive Analysis
The global e-commerce industry market is dominated by players like
Amazon.com Inc.
B2W Companhia Digital (Lojas Americanas S/A)
Apple Inc.
Groupon Inc.
Walmart Inc.
Rakuten
Zalando SE
Alibaba Group Holding Limited
Ebay Inc., etc.
The global e-commerce industry market is segmented as follows:
By Products
Electronic
Fashion
Healthcare
Household
Food & Beverages
Others
By Mode of Payment
Digital Cards
Cash
Net Banking
Others
By Site-Type
By Business Model
By Region
North America
Europe

France
The UK
Spain
Germany
Italy
Rest of Europe

Asia Pacific

China
Japan
India
South Korea
Southeast Asia
Rest of Asia Pacific

Latin America

Brazil
Mexico
Rest of Latin America

Middle East & Africa

GCC
South Africa
Rest of Middle East & Africa