E-commerce Logistics Market Size Overview
The Global E-commerce Logistics Market size was USD 72,683.2 Million in 2020 and is expected to reach USD 118,847.4 Million by 2028, growing at a CAGR of 6.6% from 2021 to 2028.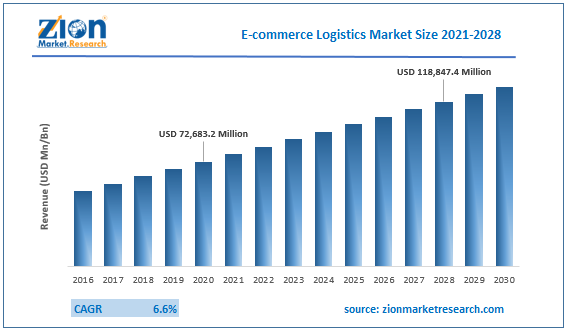 Request Free Sample
Logistic service enables e-commerce merchants to outsource services including transportation, warehousing, shipping, and other value-added services such as return management and urgent parcel service. The spread of e-commerce and the resulting rise in the number of online buyers, especially in emerging economies is anticipated to give rise to market growth.
Regardless of what type of business it is to say, a manufacturer, wholesaler, or retailer, and no matter what category of products the business is selling, now is the time to adopt digital transformation. Omnichannel will become a norm in the coming years and E-Commerce logistics will have a demand like never before.
COVID-19 Impact Analysis
The COVID-19 pandemic has resulted in firing the growth of the E-Commerce Logistics Market. E-commerce players are looking for substitute warehousing locations to help in the continuity of their business, along with mitigating delivery delays. With the rising awareness of social distancing among consumers in developing nations like India, people have started opting for online platforms more than before, even in rural areas. Further, extended lockdowns in several countries have resulted in disrupting the supply chain. E-commerce logistics players are leveraging options, such as contactless deliveries, to mitigate the risk of infection, further boosting the demand for online sales. Also, several retailers across the country are going online to expand their reach. They are opting for Omni channel mediums which boost the requirement for E-Commerce Logistics. It has offered a wider choice of goods to customers at competitive pricing, thus boosting e-commerce sales.
E-commerce Logistics Market: Growth Factors
One of the major reasons for the e-commerce logistics market to flourish is due to an increase in internet penetration, a rise in the adoption of smartphones, favorable demographics, the surge in acceptability of online payment, and the emergence of several new e-commerce players on social media. Further, supportive government initiatives to boost infrastructure development and implantation of laws which support like GST in India, have improved the delivery of e-commerce goods across the globe. Moreover, the indirect growth of the e-commerce logistics market is growing m-commerce sales, internet and mobile penetration, highly advanced door-to-door shipping, convenient payment methods, exciting discounts, and expansion into the new emerging markets through e-business.
It helps the market players to scrutinize in-depth market trends and outlook coupled with the factors driving the market, as well as those hindering it. Enhance the decision-making process by understanding the strategies that underpin commercial interest with respect to client products, segmentation, and distribution. E-commerce logistics market is expected to grow substantially is forecasted period.
Report Scope:
Service Segment Analysis Preview
The E-Commerce Logistics market accounted for more than 40% of the global revenue in 2020. With the boost in the e-commerce industry, e-commerce companies prefer to outsource shipping and transportation services to third-party fulfillment service providers and concentrate on other key business operations. Thus, transportation services account for the largest revenue share in the E-Commerce Logistics market.
The warehouse and storage services sub-segment also held a considerable revenue share in 2020. And with the increasing lockdown worldwide, the requirement is expected to grow as manufacturers and distributors need to hold the items for even longer duration.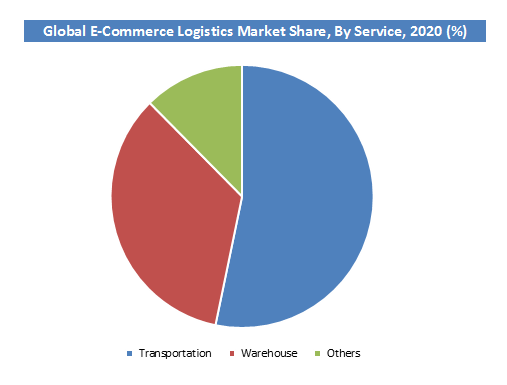 Request Free Sample
Operational Area Segment Analysis Preview
The increase in cross-border e-commerce activities is one of the critical factors that will trigger the e-commerce logistics market growth during the forecast period. There is a growing customer preference for cross-border e-commerce because of the rise in per capita income and the increasing accessibility to foreign brands. Vendors get the opportunity to expand their businesses outside their saturated home market and tap into the newer market through cross-border e-commerce, which will help in promoting foreign trade, thereby increasing international operational area. Also, a rise in domestic operational area can be seen because of the rise in lockdown within countries and supply of item from one city to another and within cities.
E-commerce Logistics Market: Regional Analysis Preview
The Asia Pacific region held a share of 40% in 2020. This is attributable to the presence of top buyers of digital and online shopping. Moreover, the increasing usage of E-Commerce Logistics in various sectors is expected to generate huge demand for the market in this region.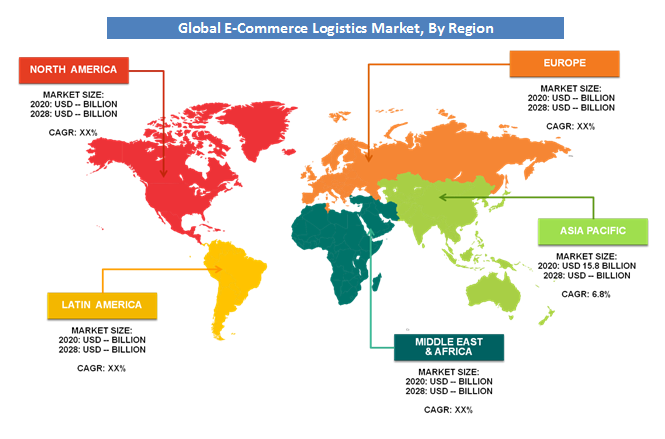 Request Free Sample
The Asia Pacific region is projected to grow at a CAGR of 20.4% over the forecast period. This is also the highest growing region owing to growing customers and mobile phone users in this region. Also, tapping of untapped markets like rural sectors in developing economies like India is fueling the market. Moreover, countries such as China, Japan, and South Korea are among the top 10 exporters of merchandise and account for a large portion of global e-commerce sales.
E-commerce Logistics Market: Key Players & Competitive Landscape
Some of the key players in the E-Commerce Logistics market are DHL, Aramex, FedEx, Deutsche Bahn, UPS, CEVA Logistics, Nippon Express, Rhenus Group, C.H. Robinson, Kerry Logistics, Sinotrans, and CSC Logistics, The Panalpina Group, Kuehne + Nagel, EStore Logistics, Kenco, SF Express, Deppon, ZTO, STO, and Yunda Express, among others.
These companies are focused on adopting organic growth strategies, such as product launches and expansions, to sustain their position in the dynamic market.
The global E-Commerce Logistics market is segmented as follows:
By Service
Transportation
Warehousing
Others
By Operational Area
By End user
Business- to – Business
Business- to - Consumer
By Region
North America
Europe

France
The UK
Spain
Germany
Italy
Rest of Europe

Asia Pacific

China
Japan
India
South Korea
Southeast Asia
Rest of Asia Pacific

Latin America

Brazil
Mexico
Rest of Latin America

Middle East & Africa

GCC
South Africa
Rest of the Middle East & Africa