Industry Prospective:
The global spend analysis software market size was worth around USD 1835 Million in 2022 and is predicted to grow to around USD 4000 Million by 2030 with a compound annual growth rate (CAGR) of roughly 10.25% between 2023 and 2030. The report analyzes the global spend analysis software market's drivers, restraints/challenges, and the effect they have on the demands during the projection period. In addition, the report explores emerging opportunities in the spend analysis software industry.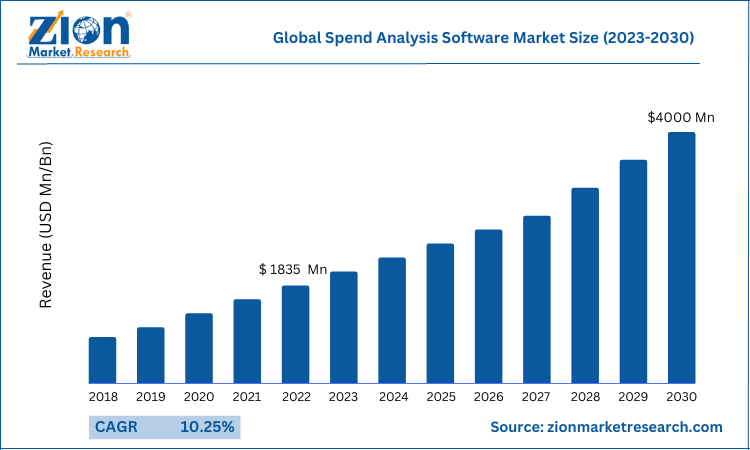 Request Free Sample
Spend Analysis Software Market: Overview
Spend analysis is the audit of expenditures related to procurement in any organization. The audit aims to aid cost reduction and improve all efficiency of the business as well as supplier relationships. Spend analysis works on spend data which is information related to a company's payments for goods and services to other parties or suppliers. Many times, spend analysis and spend analytics are used interchangeably however, there is a significant difference between the two terms.
Spend analytics is the process of collecting, cleaning, classifying, and analyzing the information, whereas, spend analysis is an analysis of data with the end goal of cutting unnecessary or extra costs. In spend analytics, data is managed where they are grouped, unnecessary data is removed, and presented for further analysis. Spend analysis refers to the study of specific data to understand the flow of information that will provide statistics insights for further business decisions.
Spend analysis software is designed to ease the task of humans by manually checking individual information and trying to make sense of it. It is designed to improve a company's return on investment (ROI) by easing the process of reviewing spending habits across all sectors and making crucial cuts to help the company make smart choices.
Spend Analysis software not only aids the analysis of data but helps firms improve other functions as well like budgeting, supplier, contract, & inventory management, and product development. Standard software will review past purchase orders to help find ways to save costs in future orders. Spend analysis software will follow three main segments to provide key deliverables: visibility, analysis, and process.
Key Insights
As per the analysis shared by our research analyst, the global spend analysis software market is estimated to grow annually at a CAGR of around 10.25% over the forecast period (2023-2030).
In terms of revenue, the global spend analysis software market size was valued at around USD 1835 million in 2022 and is projected to reach USD 4000 million, by 2030.
The spend analysis software industry cap may benefit from the rising need and demand for correct data management from small to large-scale firms.
Based on business function segmentation, procurement software was predicted to show maximum market share in the year 2022
Based on industry segmentation, retail was the leading revenue-generating industry in 2022.
On the basis of region, North America was the leading revenue generator in 2022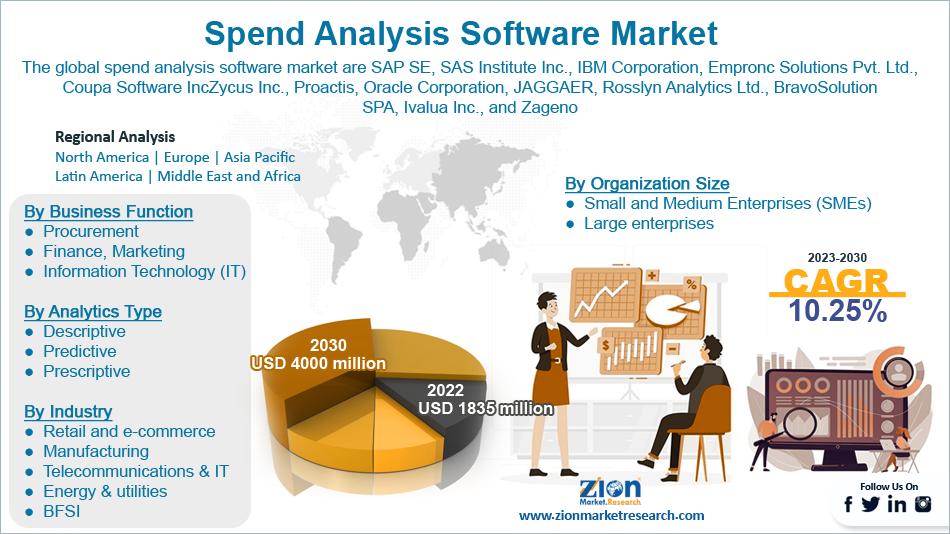 Request Free Sample
To know more about this report, Request a sample copy
Covid-19 Impact:
Great emphasis is being placed by organizations to improve their cost-effectiveness driven by the unpredictable market situations arising as a direct consequence of Covid-19. Since the virus changed the way businesses run, more companies are now interested in understanding even the small costs to decide on means of improving profits and overall growth of the company.
Spend Analysis Software Market: Growth Drivers
Increasing need for accurate data management to aid the global market climb
The global spend analysis software market cap may benefit from the growing need and demand for accurate data management from small to large-scale firms. With increased digitalization, almost all sectors irrelevant to the company size are moving towards digitizing as many processes as possible. This is partly due to the immense data that is generated in business operations and partly to reduce human error in handling complex and bulky information.
Adoption of information technology (IT) in business processes has proven to show positive results, better profits, and smart decision-making for executives resulting in overall growth in technology. This also provides the human resource with enough time to look at more valuable information and become a part of analysis and decision-making rather than working on just numbers. With the help of digital transformation, studies have indicated a 40% improved operation efficiency. It also aids in a reduction in product development costs by 24%. According to a 2020 International Monetary Fund (IMF) report, 65% of the world's gross domestic product (GDP) will be digitized by 2020.
Due to the benefits offered by spend analysis software in reducing company costs and time, the global market may witness significant growth during the projection period.
Spend Analysis Software Market: Restraints
Data security concerns to restrict the market growth
When a firm uses spend analysis software, it is essentially moving the data to the cloud where there is a chance of security breaches and data leakage. Cyber-attacks and data security breaches are always risk factors and companies must use advanced versions or IT infrastructure to upgrade internet security protocols. In 2021%, the average number of security breaches increased by over 15% from the last year. Such factors are expected to impede the global spend analysis software industry growth trend.
Spend Analysis Software Market: Opportunities
Customized services to provide ample market growth opportunities
Every organization is different and so are its needs. Realizing the segmentation and differentiation between company requirements, software providers are now providing customized versions of standard software programs fulfilling an organization's demands. Spend analysis software creators are also focusing on accommodating small and mid-sized firms and enabling services based on their budgets which will help the global spend analysis software market to increase in consumer databases. Another factor that will help create more opportunities is the increase in marketing and advertising strategies adopted by international and domestic players to generate mass awareness about the products and related services.
Spend Analysis Software Market: Challenges
Hesitant end-users toward technology adoption to challenge the market expansion
A lot of companies face certain hesitations toward accepting technology and are more comfortable with old ways of functioning. Hence it is important that spend analysis software creators keep such end-users and make the software as user-friendly as possible. Complex software may gain less traction amongst small-sized firms that lack the necessary IT human resources to help them navigate through technology.
Spend Analysis Software Market: Segmentation
The global spend analysis software market is segmented based on business function, analytics type, organization size, industry, and region.
Based on business function, the global market segments are procurement, finance, marketing, and information technology. The global market is dominated by the procurement function since essentially the software deals with procurement-related data and helps firms decide on cost reduction. An average of 10% cost reduction is expected by deploying analysis software in procurement functions.
Based on analytics type, the spend analysis software industry is divided into decisive, predictive, and prescriptive. The predictive analysis segment led the global market in 2021 since it helps in leveraging profit and revenue. The predictive analysis market was over USD 7 billion on 2019
Based on organization size, the global market is segmented into small and medium enterprises (SMEs) and large enterprises. As per the 2020 report by Small Business Trends, around 67% of small businesses spend around USD 10,000 annually on analytics.
Based on industry, the spend analysis software industry segments are retail & e-commerce, manufacturing, telecommunication & IT, energy & utilities, and BFSI. Retail has the highest number of applications of spend analysis software. Generally, the average gross profit margin in retail is over 50% which can be increased further with the aid of spend analysis software.
Recent Developments:
In March 2022, Xeeva, an artificial-intelligence-driven Spend Management, and Procurement software company enhanced the deliverables through its spend analytics platform called XVA. With the new release, the customers of the company can now evaluate and make decisions regarding application-generated savings with the help of an improved user interface
In July 2019, Bluescope, a global steel leader, announced a partnership with Capgemini resulting in the launch of the Finance & Accounting (F&A) solution to digitize segments related to finance and accounting. The product will improve and optimize the operational activities of Bluescope by enhancing efficiency, cost-effectiveness, and improved productivity levels.
Spend Analysis Software Market Report Scope:
Report Attributes
Report Details
Report Name
Spend Analysis Software Market Research Report
Market Size in 2022
USD 1835 Million
Market Forecast in 2030
USD 4000 Million
Compound Annual Growth Rate
CAGR of 10.25%
Number of Pages
220
Forecast Units
Value (USD Million), and Volume (Units)
Key Companies Covered
SAP SE, SAS Institute Inc., IBM Corporation, Empronc Solutions Pvt. Ltd., Coupa Software IncZycus Inc., Proactis, Oracle Corporation, JAGGAER, Rosslyn Analytics Ltd., BravoSolution SPA, Ivalua Inc., and Zageno
Segments Covered
By Business Function, By Solution, By Analytics Type, By Organization Size, By Industry, And By Region
Regions Covered
North America, Europe, Asia Pacific (APAC), Latin America, Middle East and Africa (MEA)
Countries Covered
North America: U.S and Canada
Europe: Germany, Italy, Russia, U.K, Spain, France, Rest of Europe
APAC: China, Australia, Japan, India, South Korea, South East Asia, Rest of Asia Pacific
Latin America: Brazil, Argentina, Chile
The Middle East And Africa: South Africa, GCC, Rest of MEA
Base Year
2022
Historical Year
2017 to 2021
Forecast Year
2023 - 2030
Customization Scope
Avail customized purchase options to meet your exact research needs. Request For Customization
Spend Analysis Software Market: Regional Analysis
Asia-Pacific to grow at the highest CAGR in the coming years
The global spend analysis software market is expected to be dominated by the Asia-Pacific during the forecast period, majorly driven by the competitive regional market of China. The global market is witnessing a rise in saving and expenditure related to spending analysis software. The regional growth is expected to be driven by segments like telecommunications, banking, central government, manufacturing, and professional services. All of these segments have led the global market for many years.
The high CAGR in the region may also be attributed to the presence of many small and medium enterprises that are willing to adopt technological changes to upgrade their revenues and make higher profits. China is projected to grow exponentially due to the exponentially rising business-related data as a consequence of increased urbanization along with higher market penetration of the internet, smartphones, & smart devices and increased research activities in machine learning, artificial intelligence, and the need to understand consumer preference.
The E-commerce segment in India is growing at a CAGR of 19.25% and is expected to generate a revenue of USD 111 billion by 2026. With the growing e-commerce business, the need for spend analysis software is expected to grow as well
North America is projected to hold considerable market share owing to the technological advancements in the region along with the presence of key players and better spending capacity of firms as compared to other regions.
Spend Analysis Software Market: Competitive Analysis
Some of the key players in the global spend analysis software market are:
SAP SE
SAS Institute Inc.
IBM Corporation
Empronc Solutions Pvt. Ltd.
Coupa Software IncZycus Inc.
Proactis
Oracle Corporation
JAGGAER
Rosslyn Analytics Ltd.
BravoSolution SPA
Ivalua Inc.
Zageno
The global spend analysis software market is segmented as follows:
By Business Function
Procurement
Finance, Marketing
By Solution
Services
Spend Analysis Software
By Analytics Type
Descriptive
Predictive
Prescriptive
By Organization Size
Small and Medium Enterprises (SMEs)
Large enterprises
By Industry
Retail and e-commerce
Manufacturing
Telecommunications & IT
Energy & Utilities
BFSI
By Region
North America

Europe

France
The UK
Spain
Germany
Italy
Rest of Europe

Asia Pacific

China
Japan
India
South Korea
Southeast Asia
Rest of Asia Pacific

Latin America

Brazil
Mexico
Rest of Latin America

Middle East & Africa

GCC
South Africa
Rest of Middle East & Africa