Description
The Point-of-Care (POC) Data management Systems market is set for a rapid growth over the forecast period. In terms of revenue, the global POC data management systems market accounted for USD 819.08 Million in 2019 and is expected to reach USD 1,303.36 Million by 2026, growing at a CAGR of 6.86%
Global POC Data Management Systems Market: Overview
Point of care testing (POCT) refers to health diagnostic tests conducted on-site or nearby patients for immediate clinical practice. Managing and recording patient test data for regulatory enforcement has been a tedious job for medical professionals. Numerous organizations have developed POC data management systems to assist medical practitioners resolve obstacles when managing patient information. POC data management systems enable the tracking, processing and display of patient medical records from various point of care devices in central data management systems.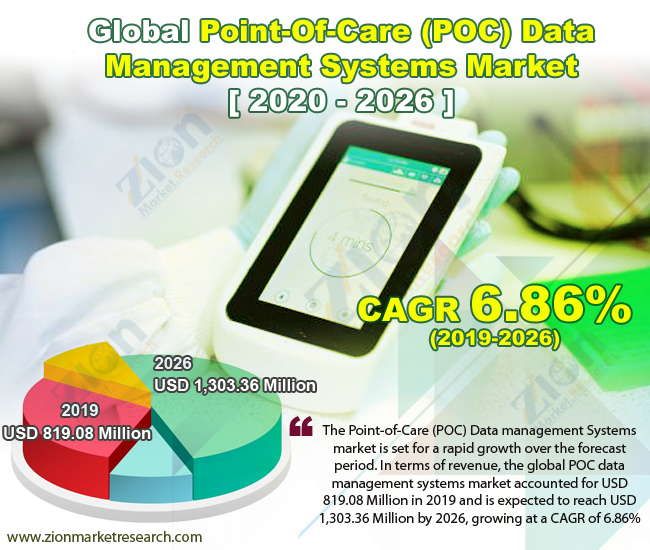 Global POC Data Management Systems Market: Growth Factors
Point-of-care innovations allow hospitals and clinics to spend more time and cash in technologies that help speed up the flow of patients through practice and streamline the daily workflow of nurses and doctors by reducing long waits. In response to the value change in healthcare and advances in technology, the demand for point-of-care testing is rising. The need for POCT is motivated by many factors. Some of these include an increase in infectious diseases, a rise in lifestyle-related diseases such as heart disease and diabetes, an increasing preference for patients to use home-based POC devices, and technical developments to develop devices that are quicker and simpler to use.
For instance, around 425 million adults have diabetes across the globe. This figure is projected to grow to over 640 million by 2040. As diabetes continues to grow around the world, so must the attempt to raise awareness. In Asia Pacific, nearly 37 percent adults are predicted to be diagnosed with diabetes. According to the International Diabetes Federation, in 2019, the number of patients with diabetes worldwide was 463 million. Global expenses for the treatment of diabetes are expected to increase from USD 760 billion in 2019 to USD 845 billion in 2045. More than 50% of diabetes patients who have been infected with COVID-19 are in critical conditions or admitted in hospitals, according to the latest study by the Centers for Disease Control and Prevention (CDC).
In addition, as medical data analytics are more widely used to support patient-centered treatment and population health management, it is important to have POCT results electronically incorporated inorder to include outcome monitoring metrics and key performance indicators. According to the Japanese Nursing Association survey, the EMR scheme was adopted by about 63 percent of hospitals in Japan from September to October 2019. The country's government has been encouraging the use of the system since the beginning of the 2000s. In the United States, electronic medical records (EHR) spending increased from 2015 to 2019 at an annual rate of 5.4 percent, reaching USD 14.5 billion in 2019.
Impact due to the outbreak of COVID-19
The outbreak of COVID-19 placed a significant stress on worldwide healthcare systems that are straining to accommodate the volumes of patients needing life-saving treatment. Numerous governments have endured or are preparing for shortages of vital medical supplies such as surgical masks, life-saving ventilators, face shields, or even patient's physical space and beds. In a world of increasingly high-tech healthcare devices, these almost basic necessities have become a priority. The U.S. FDA granted emergency use approval for the first POC test for the diagnosis of COVID-19 in March 2020. A quick molecular test can be used in various patient-care environments in addition to high- and moderate-complexity laboratories.
Global POC Data Management Systems Market: Segmentation
POC tests can dramatically improve infectious disease control, mainly in developing nations where access to timely medical care is a struggle and health infrastructure is limited. Moreover, the use of new technology for the detection of infectious diseases is also fuelled by government funds and grants for the production of innovative products. These programs have promoted the affordability of these assessments for people in developing and underdeveloped countries. The growing number of clinics offering POC tests for the rapid transmission of infectious diseases in the coming years are projected to increase market development.
Global POC Data Management Systems Market: Regional Analysis
By Geography, the POC data management systems market is segmented into North America, Europe, Latin America, Asia Pacific, and Middle East and Africa.
North America and Europe accounted for large market shares in the global market and are predicted to gain market share by 2025. Well-established health care facilities, high budgets for health care infrastructure, a rise in the prevalence of lifestyle diseases and an increase in demand for preventive health care are factors driving the market in these regions. The demand for POC data management systems in Europe is expected to grow at a significant pace during the forecast period, due to the researchers conducted by the region to develop innovative products.
Asia Pacific is expected to grow a substantial rate, owing to the strong focus on the development of the healthcare sector in the region through beneficial laws for new technology and commercialization. The developing countries such as India and China will largely drive the market in the region due to an increased focus on medical research and studies. The market in the region will also gain traction due to the growing number of academic institutions, hospitals, and medical devices.
Global POC Data Management Systems Market: Competitive Players
The major players in the global POC data management systems market include Siemens Healthineers, Abbott Laboratories, HemoCue AB, Radiometer Medical ApS, Thermo Fisher Scientific, Inc., TELCOR, Inc., Randox Laboratories Ltd., Hedera Biomedics srl, Esaote SpA, and Seaward Electronic Ltd. among others.
The report segment of global POC data management systems market are as follows:
Global POC Data Management Systems Market: Component Segment Analysis
Global POC Data Management Systems Market: Disease Segment Analysis
Infectious Disease
Cancer
Others
Global POC Data Management Systems Market: End-User Segment Analysis
Hospital
Diagnostics Laboratories
Physicians Clinics
Global POC Data Management Systems Market: Regional Segment Analysis
North America
Europe

France
The UK
Spain
Germany
Italy
Rest of Europe

Asia Pacific

China
Japan
India
South Korea
Southeast Asia
Rest of Asia Pacific

Latin America

Brazil
Mexico
Rest of Latin America

Middle East & Africa

GCC
South Africa
Rest of Middle East & Africa