Shrink Film For Beverage Multipacks Industry Prospective:
The global shrink film for beverage multipacks market size was worth around USD 1237 million in 2022 and is predicted to grow to around USD 2035 million by 2030 with a compound annual growth rate (CAGR) of roughly 6.53% between 2023 and 2030.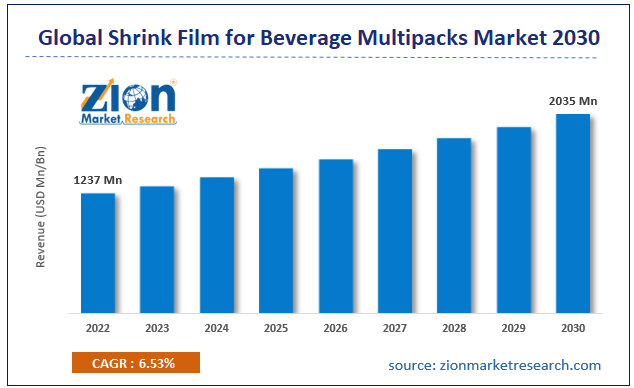 Request Free Sample
The report delves deeper into several crucial aspects of the global shrink film for beverage multipacks market. It includes a detailed discussion of existing growth factors and restraints. Future growth opportunities and challenges that impact the shrink film for beverage multipacks industry are comprehensively addressed in the report.
Shrink Film For Beverage Multipacks Market: Overview
A shrink film, also known as shrink wrap, is a polymer material with a high degree of versatility. It is generally used for the packaging of finished goods. Shrink film for beverage multipacks is specially designed to shrink wrap used to protect and package multipacks of beverages including alcohol and fruit drinks. Shrink films require two main components for functioning and these components are a heat source and the right kind of shrink film. Beverage multipacks can be safely packaged using these polymers by applying heat to the film which is generally passed through either a gas or electric heat gun or by using a conveyor heat tunnel. These elements assist in tightly wrapping the film around the placed item and the resultant packaging solution offers benefits such as transparency, clarity, durability, resistance to external contaminants, and superior-grade protection to the product.
Key Insights:
As per the analysis shared by our research analyst, the global shrink film for beverage multipacks market is estimated to grow annually at a CAGR of around 6.53% over the forecast period (2023-2030)
In terms of revenue, the global shrink film for beverage multipacks market size was valued at around USD 1237 million in 2022 and is predicted to grow to around USD 2035 million, by 2030.
The shrink film for beverage multipacks market is projected to grow at a significant rate due to the growing sale of beverage multipacks
Based on type segmentation, printed shrink film was predicted to show maximum market share in the year 2022
Based on application segmentation, water & carbonated soft drinks was the leading application in 2022
On the basis of region, North America was the leading revenue generator in 2022
Shrink Film For Beverage Multipacks Market: Growth Drivers
Increasing sale of beverage multipacks to drive market growth
The global shrink film for beverage multipacks market is projected to grow owing to the increasing sale of beverage multipacks. The market for beverages, including alcoholic and non-alcoholic drinks, is highly dynamic in terms of product availability and consumer demand. With the rise of ready-to-drink beverages, the consumption level of fruit-based drinks has grown rapidly. This can be attributed to the research & development (R&D) activities undertaken by beverage manufacturers who invest heavily in understanding consumer trends and expectations. Furthermore, the rise in the number of product offerings with each brand adopting intense product diversification strategies based on factors such as regional per capita income, spending habits, and general demand has helped the beverages market reach new heights in the last decade. Multipacks offer more advantages than contemporary stand-alone drinks. For instance, multipacks tend to be priced lower than individual drinks. They are more suitable for the urban population or people who have limited time to spend on grocery shopping. In December 2021, Red Bull, a leading provider of energy drinks, launched an exclusive multipack range of sugar-free drinks priced at £4.69 per pack. During the launch event, the company stated that it observed an incremental growth of nearly 85% in the multipacks segment of beverages.
Shrink Film For Beverage Multipacks Market: Restraints
Negative impact of shrink films on the environment to restrict market expansion
Shrink films are plastic-based polymers. Currently, the three main shrink films used in the packaging sector are polyethylene (PE), polyvinyl chloride (PVC), and polyolefin (POF). Research indicates that PE does not have sufficient recycling capabilities. Moreover, several countries do not have effective plastic recycling systems. On the other hand, even if PVC is recycled, it promotes the use of harmful additives and tends to interfere with the recycling of other plastic products. In case PVC is dumped in landfills, it can lead to the release of harmful and toxic additives in the soil leading to reduced soil quality. As reported by Earth.Org, more than 400 million tonnes of plastic waste is generated every year across the globe. This has led to the regional governments holding companies accountable for causing plastic pollution. Recently, the Indian government fined Hindustan Coca-Cola Beverages for an amount of INR 50.66 crore. Such factors are likely to impede global shrink film for beverage multipacks market growth during the projection period.
Shrink Film For Beverage Multipacks Market: Opportunities
Untapped growth potential of emerging economies to create avenues for higher growth
The global food & beverages (F&B) industry is steadily showing progress in emerging economies that are home to a growing segment of middle-income families. This has allowed beverage manufacturers to experiment with new drinks in regions with high demand for all forms of beverages. In August 2020, Hindustan Coca-Cola Beverages (HCCB) inaugurated a new high-speed multi-packTetra manufacturing line in its current facility located in the Bidadi Industrial Area of Bengaluru city. The new line has a capacity of 440 packages per minute (ppm) and is completely integrated with the filling, processing, and packaging of the products. In addition to this, the growing impact of e-commerce in reaching remote locations has created higher growth opportunities for beverage multipack providers as they have gained access to a new set of consumers. Using shrink film for packaging instead of other methods provides more than functional benefits. It does not add to the weight of the packaged material thus reducing total freight or transportation costs. Moreover, the sealed items are protected from external contaminants while being easily stackable as there is no risk of the packaging breaking into smaller pieces which further encourages e-commerce sellers to adopt shrink films for selling beverage multipacks.
Shrink Film For Beverage Multipacks Market: Challenges
The high cost of shrink films and the availability of alternatives to challenge market expansion
The global shrink film for beverage multipacks industry may witness challenging situations during the forecast period due to the high cost of producing shrink films. In addition to buying shrink films, end-users also have to invest in purchasing a shrink wrap machine which may act as added cost as these machines can cost anything between USD 250 to USD 3500 depending on the end expectations. The use of shrink film also necessitates the assistance of manual labor in case of the absence of an automated system. Currently, multipack beverage producers have a range of alternatives to shrink film packaging with each solution offering certain advantages. There is a growing trend of adopting substitutes such as stretch hoods which can lead to a loss of revenue. Other factors such as changing international trade relationships, rapidly rising prices of raw materials, and market fluctuations in the price of shrink films could impede higher growth trends.
Shrink Film For Beverage Multipacks Market: Segmentation
The global shrink film for beverage multipacks market is segmented based on application, type, and region.
Based on application, the global market segments are water & carbonated soft drinks, alcoholic beverages, and others. In 2022, the highest growth was observed in the water & carbonated soft drinks segment as the demand for water-based products is consistent across the globe. The rise in domestic and international tourism along with an increasing number of supermarkets and hypermarkets offering several options in terms of beverage multipacks, and the growing influence of the e-commerce segment in the sale of multipacks has contributed to higher growth in the segment. In September 2021, Red Bull reported an increase of 23% in sales from the multipacks and larger formats segment. Product diversification has played a crucial role in the higher demand for multipacks as companies continue to experiment with new packaging solutions.
Based on type, the shrink film for beverage multipacks industry is divided into unprinted shrink film and printed shrink film. The highest growth was observed in the unprinted shrink film segment due to higher affordability. Since these packaging solutions cannot be branded, they tend to have greater applications as opposed to printed shrink films which may not be used for other purposes. Moreover, they are ideal for small and medium-sized companies working on limited budgets while even the larger corporations prefer using unprinted shrink films. In August 2021, Coca-Cola announced its plan to discontinue the use of plastic shrink wrap which will be replaced by KeelClip which is developed by Graphic Packaging, a fiber-based packaging solutions provider. With this move, the company aims to remove nearly 34,000 kg of plastic packaging per year from use in the supply chain.
Shrink Film for Beverage Multipacks Market: Report Scope
Report Attributes
Report Details
Report Name
Shrink Film for Beverage Multipacks Market Research Report
Market Size in 2022
USD 1237 Million
Market Forecast in 2030
USD 2035 Million
Growth Rate
CAGR of 6.53%
Number of Pages
220
Key Companies Covered
Sealed Air Corporation, Coveris Holdings, Berry Plastics Corporation, Reynolds, Amcor, Sigma Plastics, Clondalkin, and Polyrafia.
Segments Covered
By Application, By Type, and By Region
Regions Covered
North America, Europe, Asia Pacific (APAC), Latin America, Middle East, and Africa (MEA)
Base Year
2022
Historical Year
2017 to 2021
Forecast Year
2023 - 2030
Customization Scope
Avail customized purchase options to meet your exact research needs. Request For Customization
Shrink Film For Beverage Multipacks Market: Regional Analysis
North America to hold control over highest market share
The global shrink film for beverage multipacks market is expected to be dominated by North America during the forecast period. The growth rate may be attributed to the presence of an ever-expanding F&B sector and the role of supermarkets in the sale of beverage multipacks. The growing rate of product innovation, diversification, and increasing use of new packaging solutions to attract a large consumer base could further drive the regional market. Given the strong stance of the US government on plastic pollution, there is a growing segment for eco-friendly shrink films. In December 2022, CORTEC Corporation launched EcoShrink™. The product is an environment-friendly shrink wrap that is certified as commercially compostable. The presence of key beverage companies operating on an international scale helps in greater progress in regional revenue. Europe is the second-largest revenue-generating region. Countries including the UK, Germany, France, Italy, and Spain have a high demand for beverage multipacks. Product innovation could be crucial to regional expansion as European leaders roll-put stricter laws against environmental pollution caused by the packaging industry.
Shrink Film For Beverage Multipacks Market: Competitive Analysis
The global shrink film for beverage multipacks market is led by players like:
Sealed Air Corporation
Coveris Holdings
Berry Plastics Corporation
Reynolds
Amcor
Sigma Plastics
Clondalkin
Polyrafia
The global shrink film for beverage multipacks market is segmented as follows:
By Application
Water & Carbonated Soft Drinks
Alcoholic Beverages
Others
By Type
Unprinted Shrink Film
Printed Shrink Film
By Region
North America
Europe

France
The UK
Spain
Germany
Italy
Rest of Europe

Asia Pacific

China
Japan
India
South Korea
Southeast Asia
Rest of Asia Pacific

Latin America

Brazil
Mexico
Rest of Latin America

Middle East & Africa

GCC
South Africa
Rest of Middle East & Africa