The global Polymer Nanomembrane market, which was estimated at about 519 (USD Million) in 2019 and is predicted to accrue earnings worth 1,101 (USD Million) by 2026, is set to record a CAGR of nearly over 10.1% during 2020-2026. The report offers valuation and analysis of Polymer Nanomembrane market on a global as well as regional level. The study offers a comprehensive assessment of the industry competition, limitations, sales estimates, avenues, current & emerging trends, and industry-validated market data. The report offers historical data from 2016 to 2019 along with a forecast from 2020 to 2026 based on value (USD Million).
Report Scope :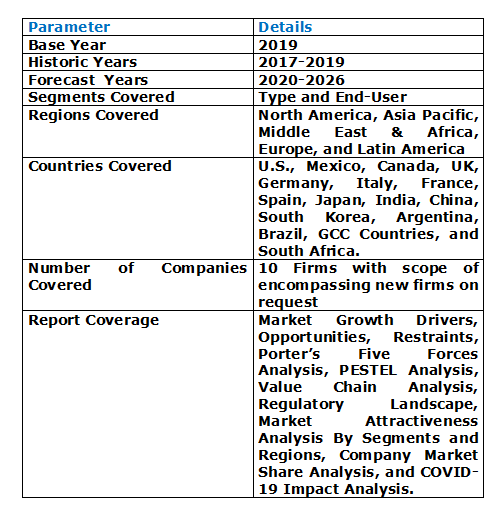 Request Free Sample
Polymer Nanomembrane Market: Overview
Emergence of nanotechnology has resulted in creation of nanomembrane for polymers. Nanomembrane is a kind of Nano-technological object that can be altered without any use or support of any particular device. Furthermore, nanomembrane is a synthetic structure having thickness lesser than 100nm. Additionally, polymer nanomembrane is developed from organic polymer nanocomposites having less than 100 nm thickness. Apart from this, polymer nanomembrane is used in drug delivery as well as biomolecule. Furthermore, Nanomembrane is used in Nanofiber and Nanofiltration and hence the use of polymer nanomembrane has gained traction in the recent years. In addition to this, polymer nanomembrane has found massive application in wastewater treatment industry.
Polymer Nanomembrane Market: Growth Drivers
Exploding population across the globe leading to scarcity of water has compelled the governments for investing in waste water treatment activities. This, in turn, has raised the demand for polymer nanomembrane in the current years. In addition to this, extensive utility of polymer nanomembrane in Pharmaceutical, Chemical, Biomedical, Oil & Gas, Electronics, and Food & Beverage will drive market trends. Apparently, new product developments witnessed across the globe will prompt the expansion of polymer nanomembrane industry over 2020-2026. Citing an instance, in 2020, researchers of Hong Kong University of Science and Technology produced world's strongest polymer nanomembrane referred as ultrathin polymer nanofilms that are porous, transparent, water proof and gas permeable. Additionally, the product can be utilized in cutting edge technologies, wearable equipment, desalination, solar cells, medical protection, and electronics. Such strategic moves will upsurge the growth of polymer nanomembrane market over the upcoming years.
Moreover, polymer nanomembrane is utilized in sea water desalination, removing of carbon dioxide, polluted water purification, and removing of pollutants from exhaust gas. This, in turn, will steer the size of polymer nanomembrane market over forecast timeline. Apart from this, the product is also used in sensors of MEMS equipment, thereby enhancing the market penetration across the globe.
Regional Landscape
North America To Account Majorly Towards Overall Market Size By 2026
The growth of polymer nanomembrane market in North America over prognostic period can be credited to massive product penetration in countries such as the U.S. and Canada due to rise in urbanization and acceptance of new water treatment techniques. In addition to this, enforcement of strict laws pertaining to environmental pollution owing to pollutant discharge in water bodies will help polymer membrane industry explore new avenues of growth in region. Furthermore, laws such as clean water act enacted by the U.S. government for ensuring high water quality standards will culminate into humungous the regional market growth. Strong infrastructure facility, favorable government legislations, and demand for effective water management services are likely to enhance the product popularity in the sub-continent over the coming years.
Competitive Landscape
Key players profiled in the study include MICRODYN-NADIR GMBH, DuPont De Nemours, Inc., Toray Industries, Inc., Nitto Denko Corporation- Hydranautics, Koch Separation Solutions, Alfa Laval AB, Pall Corporation, Synder Filtration, Inc., Pentair - X-Flow, and Sumitomo Electric Fine Polymer, Inc.
The global Polymer Nanomembrane Market is segmented as follows:
By End-User:
Chemical
Oil & Gas
Water & Wastewater Treatment
Electronics
Pharmaceutical & Biomedical
By Type:
PAN
PE
PVC
Polyamide
PP
PC
PTFE
By Region
North America
Europe

France
The UK
Spain
Germany
Italy
Rest of Europe

Asia Pacific

China
Japan
India
South Korea
Southeast Asia
Rest of Asia Pacific

Latin America

Brazil
Mexico
Rest of Latin America

Middle East & Africa

GCC
South Africa
Rest of Middle East & Africa