Abstract
Polyethylene is a vinyl polymer manufactured from ethylene monomer via polymerization reaction. Polyethylene characteristically is a single molecule of long-chain carbon atoms having two hydrogen atoms bonding with a carbon atom each. High-density polyethylene and low ethylene polyethylene are two common forms of polyethylene in the market today. Each molecule of LDPE is a branched polyethylene structure as compared to linear structured polyethylene molecule. HDPE has higher molecular strength than that of LDPE.
Rising investments in the infrastructure sector, low cost for feedstock, diversifying consumer goods market, increasing investment in infrastructure domain, the positive economic outlook of developing economies and low manufacturing (processing) cost are some of the factors driving global polyethylene market for the forecast period. Global investments in infrastructure sector are anticipated to reach $ 94 billion by 2040 according to World Bank estimates. Of the total investment, sanitation, electricity, and sustainable living houses will attract the bulk of the infrastructure investment. Rising demand for plastic recycling centers, stringent government regulations towards petrochemical products, fluctuating fossil fuel prices, and demand for green plastics will restraint polyethylene market growth for the forecasted period 2017-2024.
The entire market for polyethylene is segmented in terms of types and applications. By types, polyethylene market is bifurcated into high-density polyethylene (HDPE), low-density polyethylene (LDPE) and others. HDPE being relatively strong and cheaper in production holds the largest market share for the forecasted period. HDPE is commonly used in the manufacturing of bottles, insulators, containers, and wires. In terms of application, global polyethylene market is classified as automotive, plumbing, wires and others.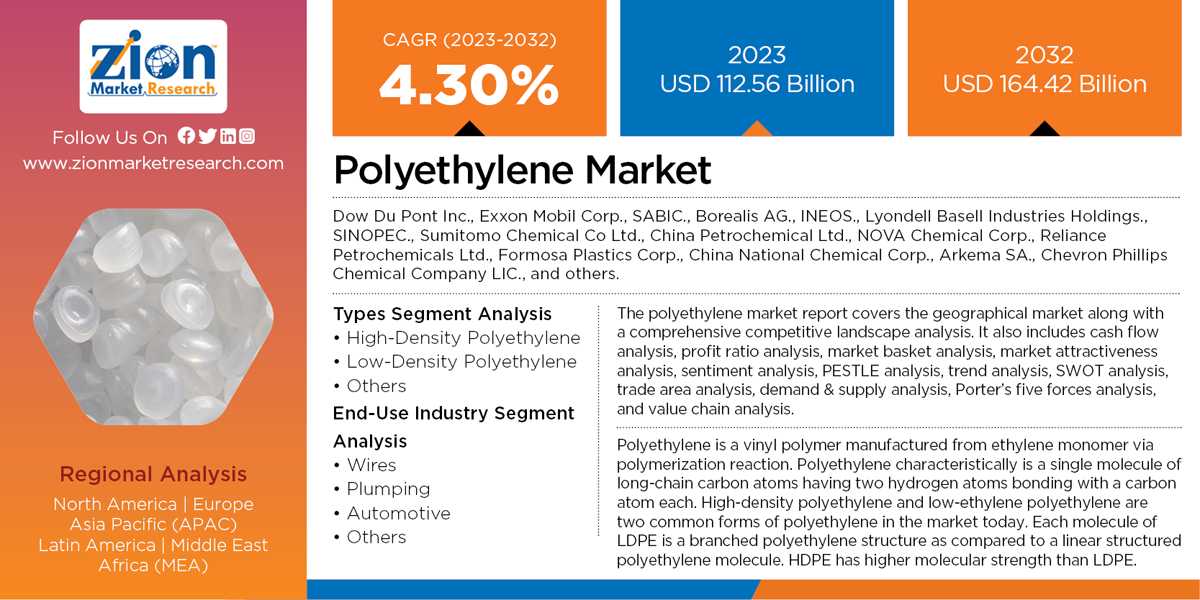 Regionally, Asia Pacific is the largest market for polyethylene both in terms of volume and revenue. Polyethylene market in the Asia Pacific is propelled by growing middle-class consumers and thriving industries. Production of Poly Vinyl Chloride (PVC) a basic form of polyethylene within Asia Pacific countries is estimated to reach approximately 50 million metric tons by 2024 increasing from 32 million metric tons in 2017 according to Vinyl Council of Australia. Developing economies like India and China, transitional economies like Vietnam, Indonesia and Thailand are amongst the key markets for polyethylene in the Asia Pacific for the forecast period. North America and Europe are key markets for polyethylene in terms of revenue generation. The market of both above regions is anticipated grow steadily within the forecasted period 2017-2024. Total revenue anticipated for polyethylene in North America is likely to reach approximately $ 35 billion in 2018. Construction and consumer electronics are key sectors driving growth for polyethylene market in North America and Europe.
Dow Du Pont Inc., Exxon Mobil Corp., SABIC., Borealis AG., INEOS., Lyondell Basell Industries Holdings., SINOPEC., Sumitomo Chemical Co Ltd., China Petrochemical Ltd., NOVA Chemical Corp., Reliance Petrochemicals Ltd., Formosa Plastics Corp., China National Chemical Corp., Arkema SA., Chevron Phillips Chemical Company LIC., are some of the key players within global polyethylene market
The report segments global Polyethylene Market as follows:
Polyethylene Market: Types Segment Analysis
High-Density Polyethylene
Low-Density Polyethylene
Others
Polyethylene Market: End-Use Industry Segment Analysis
Wires
Plumping
Automotive
Others
Polyethylene Market: Regional Segment Analysis
North America
Europe
Asia Pacific
Latin America
Middle East and Africa